It's time to mosey on over to Oklahoma City! If we take the interstate, it's only about an hour and a half from Tulsa but we are not on this road trip to take the fastest way, are we?
We are slowing things down and experiencing the road – like the famous quote says – as a journey and not just trying to get to our destination.
Let's see what we discovered on the Route 66 drive from Tulsa to Oklahoma City!

Rock Café: The Inspiration for Sally from Cars
The first stop of the day is at Rock Café in Stroud, another Pixar Cars related stop. Sally, the lavender Porsche motorcar in the movie, is based on the wonder of Rock Café, Dawn. She traveled the world yet found herself owning a small café in a tiny town because of her love and passion for Route 66.
The building itself, established in 1939, is on the National Register of Historic Places. It was built with rock unearthed during the paving of Route 66 and has been restored despite a dreadful tornado and fire throughout the years.
Unfortunately, she wasn't in today so we looked around and decided to eat lunch. Even though we recently had breakfast, we decided to share a meal once we saw someone eating the Jaeger Schnitzel, fried pork with mushroom gravy. Lots and lots of gravy.
Never would I have expected to find a traditional German meal on the menu of a café in the center of Oklahoma and it rivaling some of the "best" German places we've tried over the years.
Arcadia Round Barn
Originally built by a local farmer in 1898 and restored in 1992, we had to take a peek inside the red round barn in Arcadia. At one time, the barn was one of the most photographed landmarks on Route 66. It is now a resource for Route 66 information and shop along the route.
Soda Galore at POPS
Just down the road from the round barn is POPS, a diner, gas station, and roadside attraction all rolled into one place. They carry over 700 kinds and 8,000 bottles of pop to choose from; from I-dare-you-to-drink-this types like Ranch Dressing and Fungal Fruit to sounds-delicious-how-many-should-we-get types like Blueberry Cream and Pomegranate Ginger Ale.
After spending about an hour perusing the enormous soda selection and picking up a few, we were ready for Oklahoma City!
National Cowboy & Western Heritage Museum: A Route 66 Must-Stop
As convenient as it could get, the National Cowboy & Western Heritage Museum is right on Route 66 driving into Oklahoma City. The first question that might come to mind is if two city slickers belong in a cowboy museum? The answer is a definitive YES!
The museum provides an inside glimpse into the Western world; its history, heritage and culture. From the Cowboy gallery to the American Rodeo display to the Hall of Great Westerners and Performers to the authentic prairie town; we could have spent days in the museum and still not scratched the surface.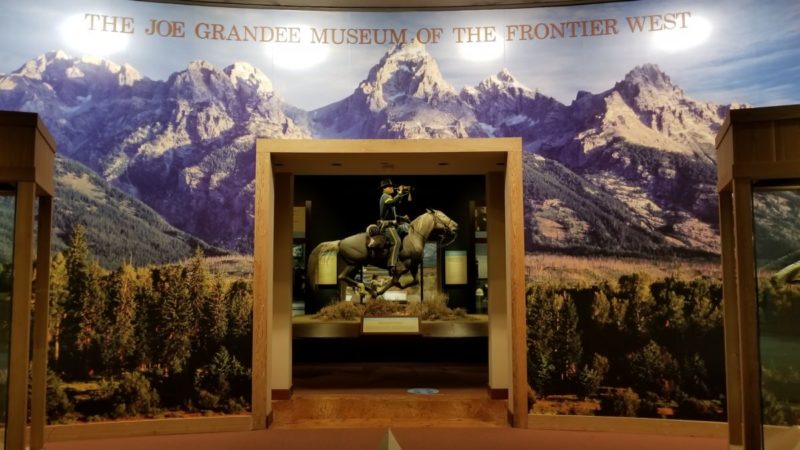 One highlight of the museum is the extensive collection of art which brings the vastness and beauty of the wild terrain of the West right to you.
Another few exhibits that stood out were the Rodeo and Hall of Famers. We enjoyed learning about the ins and outs of the rodeo and watching a short film about the progression of Western films from the very beginning.
The American Cowboy exhibit delves into the rich ranching culture of the working cowboy. I don't think there's anything in the Western world the museum does not cover!
After spending the afternoon in the museum, we deemed it a must-stop on Route 66.
The Real Deal in Historic Stockyards City
Why not continue the cowboy culture theme and head over to Historic Stockyards City, home of the largest stockyards in the world. The Western district, southwest of downtown Oklahoma City, is as authentic as authentic can get.
"Don't worry, we like Yankees down here," a smiling rancher says to me as he shakes my hand after a brief introduction.
Main Street is lined with a number of shops filled with Western wear to don you from top to bottom and unique stores with handmade products and housewares. If country music is your thang, Rodeo Opry along Exchange Avenue offers live music. The mission of Main Street is to preserve Western culture and they are doing a bang up job.
A visit to the area is not complete without having dinner at Cattlemen's Steakhouse, the longest continually operated restaurant in the state of Oklahoma. Its colorful history from its humble beginnings in 1910 to pumping out illegal spirits during the prohibition to the fate of the business on a roll of dice, adds to Cattlemen's charm.
Locals and visitors alike flock to the Stockyards staple as a gathering place not just a meal. The walls are covered with pictures of presidents, movie stars, pro athletes, famous rodeo riders, and music icons all who have visited the long-standing restaurant.
In fact, one of the steaks, the Presidential Choice T-Bone, earned its title from President Bush's visit. He preferred the T-Bone when dining in Oklahoma City. Of course, the hubs had to order the hearty portion of Strip and Filet!
I had the Pepper Steak, a smaller sirloin topped with peppercorn sauce. Both delicious meals came with a salad, homemade rolls, and a baked potato. There's a reason Cattlemen's is still thriving after 100 years in business! We will be back, maybe to try the famous calf fries we keep hearing so much about.
Deep-fried calf testicles. Would you dare?
A Nightcap at Bleu Garten
Before heading back to the hotel, we stopped at Bleu Garten in the Midtown district for a nightcap. It has taken the concept of a food truck park but made it better!
Lights sparkle above, local craft beer is on tap, people are laughing as giant Jenga pieces fall, live music is sung, and food trucks are parked waiting for you to sample whatever goodies are being created. We sat and enjoyed every minute of it.
Breakfast at Kitchen 324
We began our second day in Oklahoma City at Kitchen 324, a seasonally inspired café, craft bakery and coffee curator. Located only a few blocks from the splendid Skirvin Hotel where we are staying, it was a quick walk.
I saw Fried Green Tomato Benedict on the menu and had to get it. C'mon fried green tomatoes? Yes, please. The hubs ordered the Bacon and Monterey Jack Strata, kind of like a quiche bread casserole combo. Both served with crispy potatoes and strong coffee, the ideal combo to get us ready for the long day.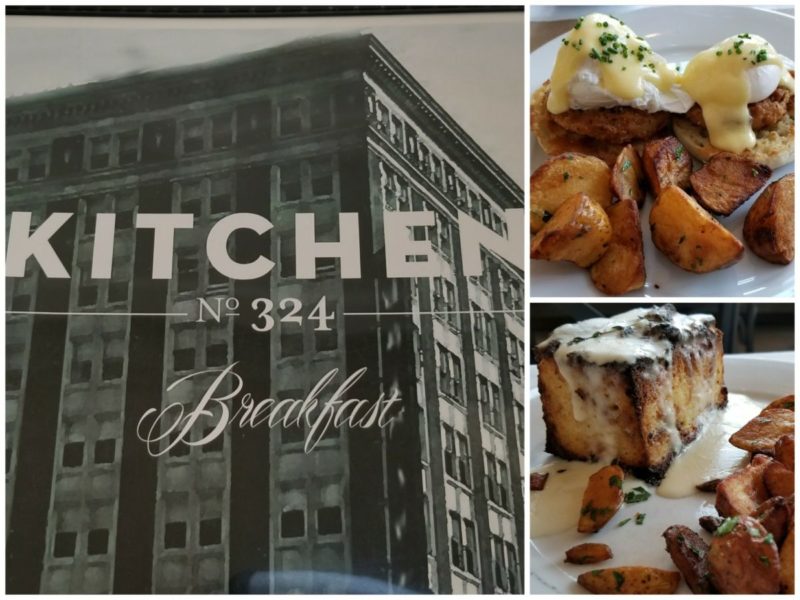 Oklahoma City National Memorial and Museum
The Oklahoma City National Memorial and Museum is a place of remembrance, respect, and the remarkable resilience of a community that came together in its darkest times.
It honors all that were lost and all those left behind.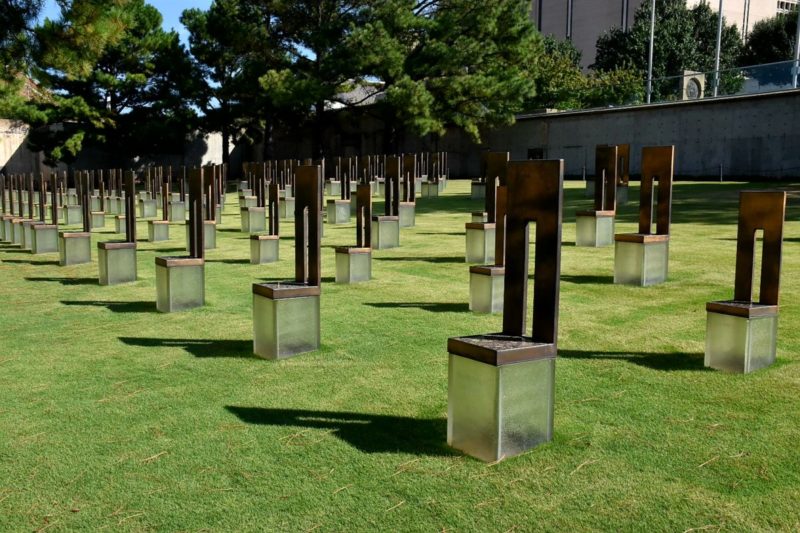 The museum takes visitors on a journey through the horrific day – starting at the beginning of the typical April morning, to the moment the bomb rumbled throughout the city, to the search efforts for victims, the worldwide coverage, the manhunt for the suspects, the capturing of Timothy McVeigh and the trial and aftermath of one of the worst domestic terrorist attacks in U.S. history.
A somber yet must-do experience when in Oklahoma City.
Lunch at The Jones Assembly
We were lucky to secure reservations at The Jones Assembly, a hopping new restaurant and music venue located on Film Row. Even with reservations we had to wait about fifteen minutes for our table but no worries for us as we planted ourselves at the large wood and iron bar to start with drinks.
With classic cocktails, craft beer, an extensive wine list, and an inventive beverage program, it was hard to choose. We couldn't pass up a chance to try a local craft beer and a Moscow Mule since both are poured directly from a tapper.
As we were seated, we noticed National Lampoon's Vacation playing on the big screen – must be fate as we are in the middle of our big road trip!
Start here for Day One of our Route 66 Road Trip
The food is described as "refined regional cuisine" and that's what we were served. The burger is dressed with tillamook cheddar, roasted tomato, crispy shallot, pickle relish, and dijonnaise on a brioche bun, served with frites.
The BB Salad is tossed with grilled chicken, lardon, avocado, gruyére, spiced hazelnut, red onion, sourdough crouton and Green Goddess dressing. The Jones Assembly has appetizing cuisine in a fabulous atmosphere: chic and modern yet welcoming.
21c Museum Hotel
With seven locations established and two more in the works, the concept of a multi-venue contemporary art museum, coupled with a boutique hotel and chef-driven restaurant, is gaining popularity. I do not consider myself a contemporary art aficionado but art itself intrigues me so we stopped in to take a tour.
The art installations are on the first floor of the hotel along with the lobby and are free to the public. I think the term, "You either love it or hate it" was coined by someone describing modern art. It always invokes a strong feeling, whether that feeling be adoration or dislike. We discovered a little bit of both at 21c Museum but isn't that the point of art? To stimulate the mind.
Stonecloud Brewing Company
There is a heat wave going on, it is in the nineties so we decide to cool off with an ice cold beer at Stonecloud Brewing Company before heading over to the botanical gardens. The first thing we notice is the bright Sunshine Laundry Cleaners neon sign on top of the building.
The historic Sunshine Laundry Cleaners building on the west side of downtown OKC was originally constructed in 1929. It served the local community for many years, providing industrial laundry services to local hospitals, hotels, and restaurants. The business closed in the mid-1980s and the building was left abandoned until Stonecloud decided to renovate and breathe life back into it.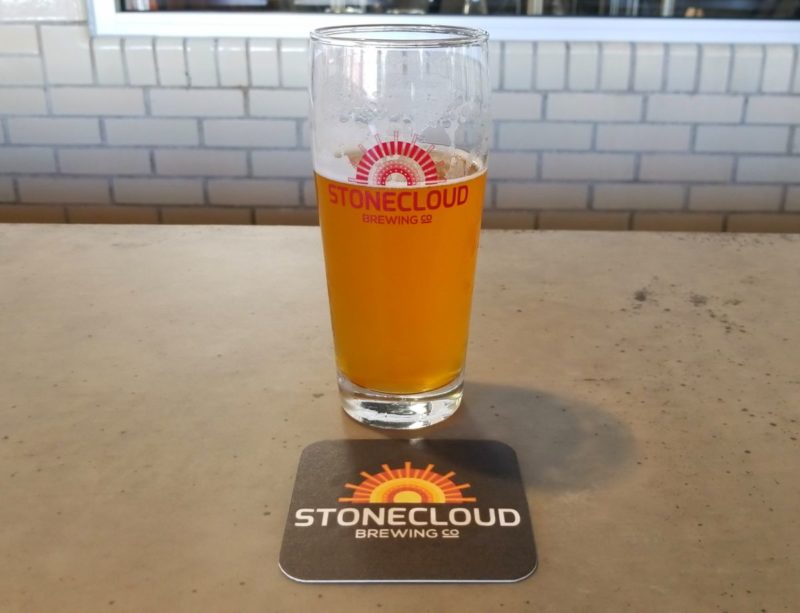 I enjoyed the Astrodog IPA, not too hoppy with a faint grapefruit flavor. The hubs decided to go the sour route with Black Rain, a blackberry blueberry petite sour. After a short break chatting up the friendly bartender, it's time to walk over to the botanical gardens.
Myriad Botanical Gardens
One of our favorite spots in Oklahoma City is the Myriad Botanical Gardens. We love green spaces in the middle of a cityscape! The 15-acre park is home to outdoor gardens, a children's garden, and the Crystal Bridge Tropical Conservatory.
The free outdoor space has ornamental gardens, a children's garden, playground, Great Lawn, lake, an off-leash dog park, water features including splash fountains for children and walking and jogging paths.

The 13,000 square feet conservatory is home to 750 varieties of plants, a cascading waterfall and a sky bridge to experience aerial views into the tropical forest. The Myriad Botanical Gardens is THE place to be to escape city life and experience nature.
A Night Out in Bricktown
Did you know there is a river walk in Oklahoma City? We didn't! It's similar to San Antonio with restaurants, bars and activities lining the water but on a smaller scale. The former warehouse district, just a short walk from downtown, is now a hub for entertainment. We walked the whole strip before the sun went down to get the lay of the land.
Then at sunset we took a cruise on the mile-long canal on a Bricktown Water Taxi. If we realized earlier that the pass is an all-day on and off admission, we would have purchased it sooner and taken a ride during the day and night. Our driver was not only amusing, he filled us in on many fun and interesting facts during the 40-minute trip.
We finished the night with a few drinks and a pizza at Bricktown Brewery, Oklahoma's first craft brewery.
The Luxurious Skirvin Hilton Hotel
On our last day in Oklahoma City, we woke up and appreciated that the hotel had a breakfast buffet available. And what a breakfast buffet it is! The buffet included a made-to-order omelet, fruit, yogurt, granola, smoked salmon, deli meats, sausage, bacon, pancakes, potatoes, and much more.
We loved our stay at the restored Skirvin Hilton Hotel and highly recommend the place. Circa 1911, the historic hotel is in the perfect location, has lavish décor, and comfortable rooms.
Once the host to such notable figures as Harry Truman, Dwight D. Eisenhower, Elvis, Frank Sinatra, Jimmy Hoffa, and Bob Hope, the Skirvin closed its doors in 1988 and sat neglected for the next 19 years. After more than $50 million dollars in renovations, the hotel reopened as the Skirvin Hilton in 2007.

It's time to checkout and say goodbye to Oklahoma City but first we have a few stops we want to make on the way out.
The Wheeler District
On the Water Taxi ride in Bricktown, the driver told us that the former Santa Monica Pier Ferris wheel – our final destination on Route 66 – is now located on the river at The Wheeler District. Of course, we had to stop by!
Cheever's Café on Route 66
Cheever's Café has quite the historic tale. The first baby born in 1889 the year Oklahoma City officially became a city was named Oklahoma Belle Cunningham who later married Lawrence Cheever.
In 1938, the husband and wife moved to the family home and added a flower shop in the front. Three generations of Cheevers worked and lived in the building that is now a popular restaurant along old Route 66.
Much of the original building is still intact. The neon "flowers" sign decorates the wall and the flower display case is now used to store fresh herbs, wine bottles, and desserts.
Lunch started with herbed rolls and butter we could not stop eating even though we knew we had our meals coming. Entrees we selected were the contemporary-style comfort foods of chicken fried steak with jalapeno cream gravy and garlic skinned mashed potatoes and roasted chicken enchiladas with salsa verde, garlic cream sauce, and cilantro rice.
Our excellent meal ended with a roasted pecan ice cream ball. This divine creation is made up of vanilla ice cream rolled in pecans roasted with brown sugar and red chile then smothered in chocolate sauce.
Lunch at Cheever's was an outstanding way to end our visit in Oklahoma City. On to Texas we go, our fifth state of the road trip. Farewell OKC and thanks for a great time!
Don't forget to sign up below to be the first to know when a new post comes out so you can follow along on our adventures!
Have you been to Oklahoma City? What was your favorite thing to do?

*Thank you Visit OKC and it's associates for hosting us in the city. As always, all thoughts and opinions are my own.*
Like it? Share it!