Located in the heart of Arizona, Sedona is a city of beautiful landscapes, artists, and impressive stucco architecture. The area is a photographer's dream as every hour the sunlight changes the perceived shape of the surrounding topography.
While the town has plenty to offer in the way of shops and restaurants, our focus is on the most beautiful places to overlook the city and best hiking in Sedona amongst the many beautiful valleys and red rocks of this unique location!
Be Prepared – Tips for Hiking in Sedona
Most of the trailheads around Sedona require you to hang a Red Rock Pass in your vehicle, however, a National Park Pass is also accepted. Click HERE for more information on which trails require a pass, how much they cost, where to purchase them and which days are free.
When adventuring on any trails, I always recommend wearing a sturdy pair of hiking shoes. These men's hiking shoes are waterproof and have a protective sole and these women's hiking shoes have a breathable mesh line with a contoured footbed. Or you can always go a high ankle boot, check out these cute boots for women or these best-selling omni grip boots for men.
Bring a good day pack to carry snacks and water.
While cell reception is pretty good here, it's worth it to download a map of the area in your favorite map app for offline access to hiking trail information.
Pack snacks and/or lunch depending on how long you'll be hiking.
To stay hydrated, always bring more water than you think you need especially if hiking in Sedona in July or August, the hottest months of the year. Bring a reusable leakproof water bottle to eliminate waste.
Wear a hat and/or sunglasses and apply sunscreen beforehand.
When visiting the hiking trails around Sedona please remember, to leave no trace. Stay on the trails and always pack it in and pack it out.
Disclaimer: This post contains affiliate links, if you book through our link we will receive a small commission at no additional cost to you. Thanks for supporting the blog!
What is the Best Month to Go to Sedona Arizona?
For mild temperatures and blooming flowers, the best months to visit Sedona are March through May. Spring is the perfect season for hiking, but it's also the busiest.
If you are interested in fewer people but still mild temperatures, consider visiting in the fall during October and November.
Looking for other beautiful places to visit in Arizona? Here's our Guide to Antelope Canyon, a bucket list adventure!
PRO TIP: Sedona is a short detour off of Route 66 as it passes through Arizona, and the drive along U.S. route 89A from Flagstaff to Sedona is one of the most beautiful in North America! Click here to see our favorite Arizona Route 66 attractions.
Sedona Hiking Trails Map
If you're looking for hikes in Sedona, we've got you covered!
Continue to Scroll to the Bottom for a 3 Day Hiking Itinerary!
1. Cathedral Rock Hike
Elevation Gain: 741 Feet
Distance: 1.2 Mile Out and Back
Difficulty: Moderate
Time: 1.5-2 hours (including some time for photos at the top)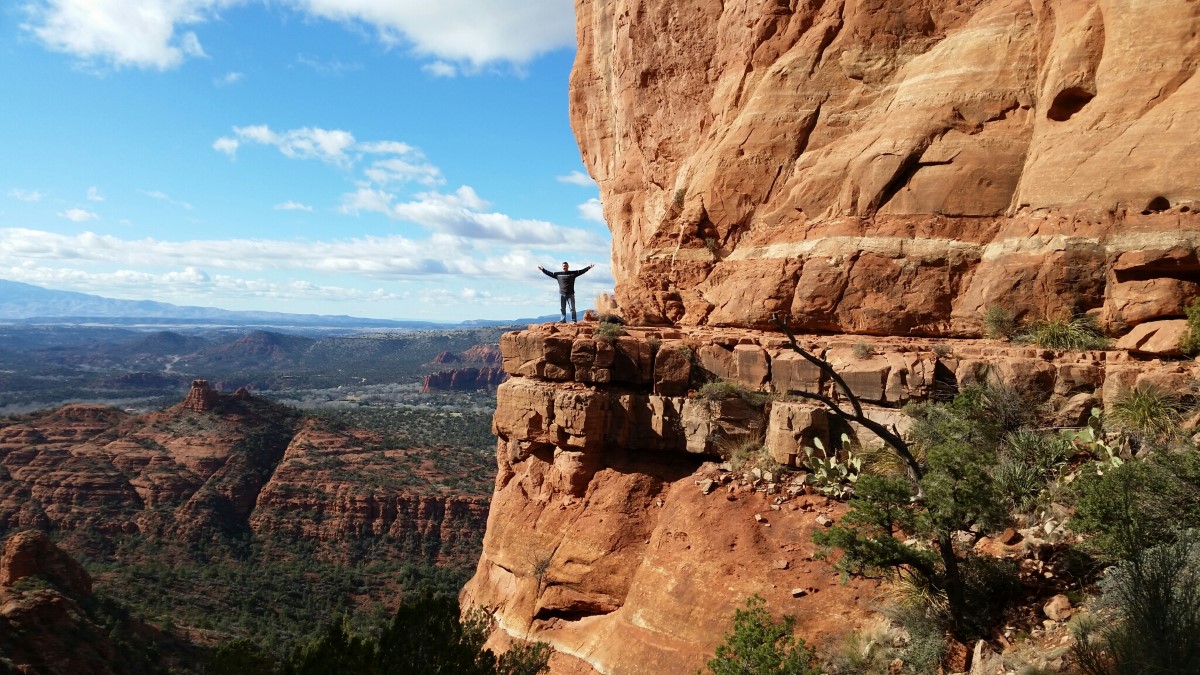 The Cathedral Rock hike is our favorite hike in Sedona for views!
We're not the only ones who feel this way which is why you need to start early to make sure you get a parking spot at the trailhead. The cooler morning air will help you as you climb your way to the overlook.
PRO TIP: Another bonus of an early start for photographers is that you'll have the sun at your back when taking photos at the top since the best shots are to the west.
The hike starts out flat and easy to the base of Cathedral Rock.
After that, it's a steady uphill climb on a rocky surface and includes scrambling in some sections.
You may wonder what all the fuss is about until you crest the summit, where you'll be rewarded with expansive views overlooking the desert valley and are offered a one-of-a-kind photo opportunity!
Even though this trail is considered to be moderately difficult most anyone will be able to do this hike, but those with physical impairments or a fear of heights will want to reconsider the hike due to the scrambling required to get to the top.
2. Courthouse Butte and Bell Rock Loop Trail
Elevation Gain: 357 Feet
Distance: 3.9 Mile Loop
Difficulty: Moderate
Time: 2 Hours
The Courthouse Butte and Bell Rock Loop Trail is a great year-round trail that has only minor elevation changes making it a relatively easy hike.
There are many neat red rock formations as well as the well-known 'bell rock' and 'baby bell' formations which are a highlight of this trail.
Most of the hike is in the open with low-lying brush and rock formations and as a result, there is very little opportunity for shade so sunscreen remains a must.
If doing this hike in the summer months we recommend an early start to avoid the midday heat.
The nearest parking is at either the Courthouse Vista Trailhead parking lot or the Courthouse Loop South Trailhead.
3. Chicken Point Overlook
Elevation Gain: 350 Feet
Distance: 3 Mile Loop
Difficulty: Easy
Time: 2 hours
This overlook can be reached from two different trailheads via two different trails and each of them has similar distances and elevation gains. Both trailheads also get very busy during peak season so plan accordingly.
If you are coming from the north you can park at the Broken Arrow Trailhead and take the Broken Arrow trail to the overlook. The advantage of this parking area is that there is no requirement to have the previously mentioned park passes to park here.
If coming from the south, your best bet is to park at the Little Horse Trailhead where you can take the Little Horse Trail to the overlook. Parking at this trailhead requires either the Red Rock Pass or National Park Pass.
4. Midgley Bridge Picnic Area and Wilson Canyon Trail
Elevation Gain: 426 Feet
Distance: 2.7 Mile Out & Back
Difficulty: Moderate
Time: 2 hours
This is a great stop en route to or from Flagstaff as it's on the scenic Route 89A, and even if you're not up for a hike the views of the Midgley Bridge are worth the minor detour.
This is obviously a good picnic area and if you're up for a hike, the Wilson Canyon Trail starts here. The trail is a relatively short hike through rocky riverbeds and provides shade which is great if you're doing this one at lunchtime.
5. Sedona Airport Scenic Overlook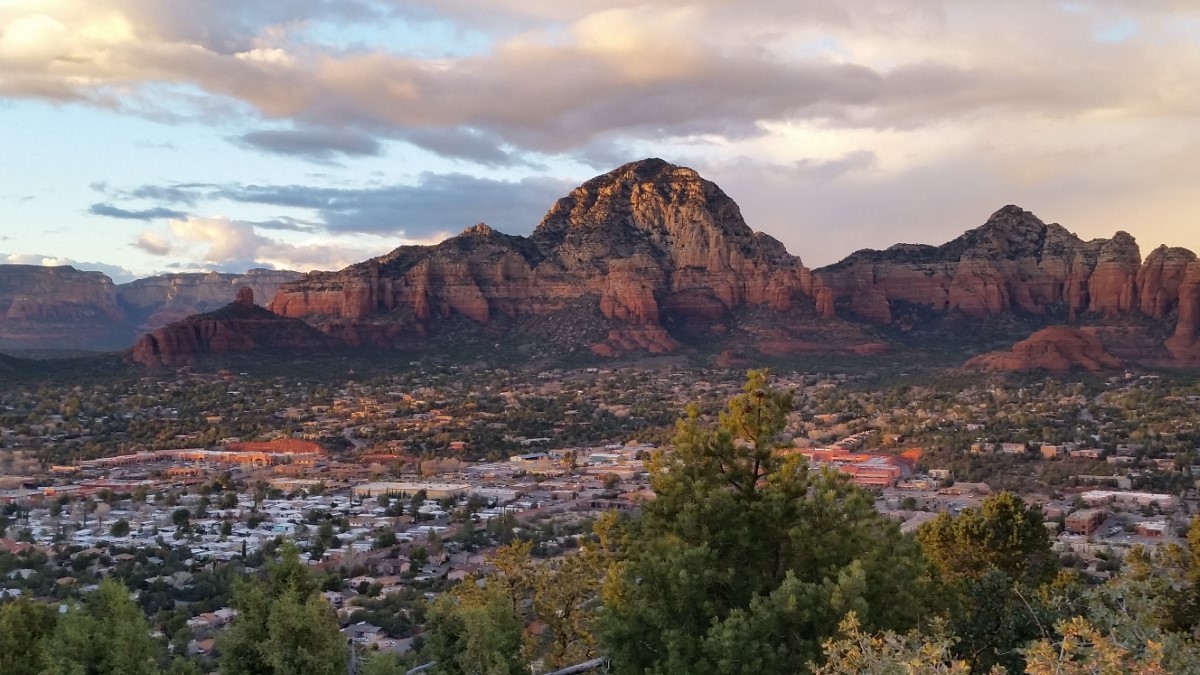 The Sedona Airport Scenic Overlook is an overlook en route to the Sedona Airport from downtown Sedona.
It's an easy and short drive which is why we recommend doing it twice!
Once during the day for great rock formation and city views and again at sunset, where you can enjoy the play of shadows cast by the setting sun as the beams of light hit the multitude of red rock formations.
If you have time for a quick stop before or after your Sedona Airport Scenic Overlook visits, quickly detour at the base of Airport Rd to the Airport Mesa Scenic hiking trailhead.
From the parking lot you can climb up to the Sedona Trail Viewpoint and the Airport Mesa Vortex, both of which are visible from the parking lot and short, fun hikes to nearby viewpoints and a vortex.
PRO TIP: The Sedona Airport Scenic overlook gets busy at sunset so arrive early to get a good spot for pictures. Be prepared to pay a charge of $3 to park across the street if you don't get there early enough to secure on-street parking.
6. Rachel's Knoll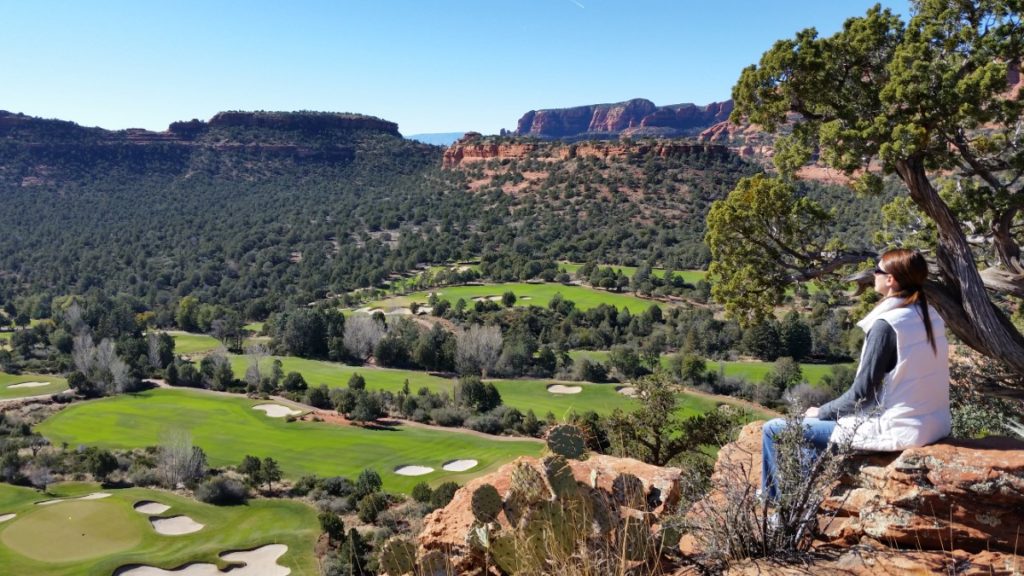 Rachel's Knoll is an amazing viewpoint at the peak of a hill surrounded by beautiful mountains and canyons with a golf course at its feet.
A mix of natural beauty meets modern amenity, this location is tucked inside an upscale gated community known as the Seven Canyons.
Lucky for us it is still accessible for a small fee.
When approaching the gate, let them know you intend to visit Rachel's Knoll and they will let you in after directing you where to go.
When you arrive at the parking lot at the top of the knoll, there is a walkway along the crest of the hilltop that is definitely worth exploring.
Here you will also find a plaque honoring Rachel Lunt who had bought this land and felt it was so special that it needed to be a place for everyone to enjoy. It remained open to the public until her death in 2001, when her children sold the land with an agreement to keep the knoll open for everyone.
The buyers did not honor the agreement and it wasn't until the children took them to court that this gated community was again open to the visitors of Rachel's Knoll.
7. Boynton Canyon Trail
Elevation Gain: 1,167 Ft
Distance: 7.3 Mile Out & Back
Difficulty: Easy
Time: 4-5 Hours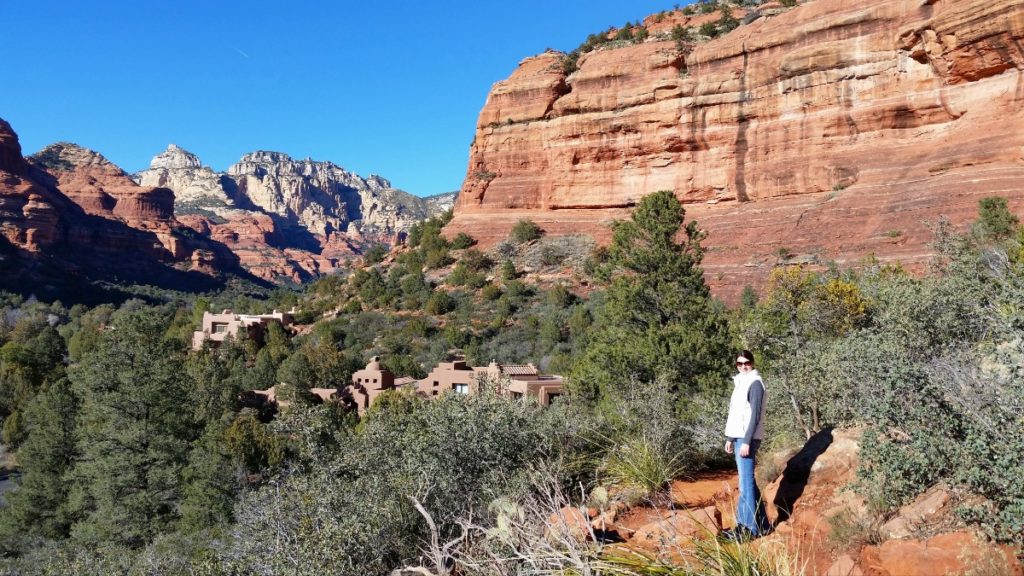 This hike is incredible and will take a good portion of your day. Due to its location, we recommend combining this hike with the relatively quick and easy visit to Rachel's Knoll.
Park at the Boynton Canyon Trailhead, where the trail begins as a dusty and shrub-covered landscape. You will need one of the aforementioned parking passes and conveniently there are toilets available here.
The trail proceeds along a slope which overlooks the Enchantment Resort. Once past the resort, the trail continues north into the canyons where the trail becomes increasingly wooded and shaded.
Halfway along the trail is a fork in the road where you can take a detour to the north to see the Subway Cave and Sinagua ruins. If you're short on time you can save an hour by skipping these but they're worth the additional walking.
Continuing on the main trail will take you into a steep canyon with heavy forest until the terminus at the End of Vista Trail. This short trail is a quick climb offering an overlook at the peak.
8. Montezuma Well
Elevation Gain: 80 Feet
Distance: 0.4 Mile Loop
Difficulty: Easy
Time: 30 Min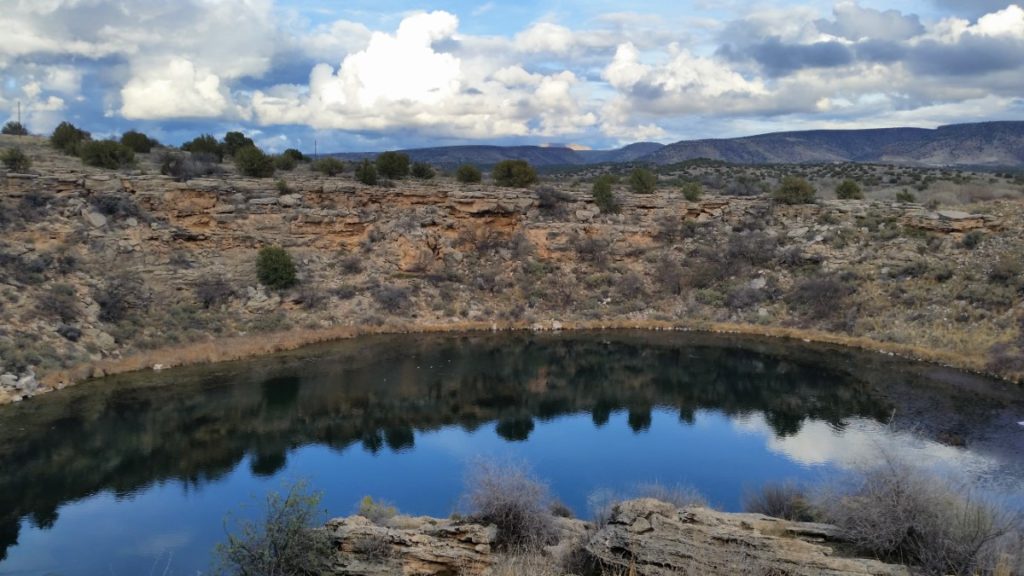 This is a short and sweet paved walkway that takes you to an overlook of the Montezuma Well. The well is a sinkhole in the desert floor that has Sinagua dwellings along its perimeter.
This trail, which is 30 minutes south of Sedona, is wheelchair and stroller accessible which makes this a great trail for families and groups of all ages.
We recommend doing the Montezuma Well Trail after completing either the Cathedral Rock or Courthouse Butte and Bell Rock Loop Trails as both of these are off AZ-179 between Sedona and Montezuma Well.
The car ride after either of these trails will give your legs a break before doing the short Montezuma Well Trail to end your day of hiking.
9. Harding Spring Trail
Elevation Gain: 757 Feet
Distance: 1.4 Miles Out & Back
Difficulty: Moderate
Time: 1 hour
This wooded trail has a steep incline up to 2 overlooks that make up for the effort. This trail is less busy than most and there is plenty of shade provided by the tall pines.
Parking is directly across the street from the trailhead. Those with bad knees may want to bring hiking poles for the return descent.
If you do this hike, add a stop at the Oak Creek Vista for some amazing views of the canyon and an overlook of the windiest section of 89A halfway between Sedona and Flagstaff.
10. Marg's Draw Trail
Elevation Gain: 393 Feet
Distance: 3.8 Mile Out & Back
Difficulty: Easy
Time: 1.5 hours
Marg's Draw Trail connects the Huckaby Trail to the Broken Arrow trail. There is very little shade but plenty of rock formations including the famous Snoopy Rock which resembles Charlie Brown's dog Snoopy laying on his back.
This trail is great if you want a mostly level, easy stroll with views of red rock and impressive rock formations. It's proximity to downtown Sedona makes it a short drive to get to as well.
You can access Marg's Draw from the Huckaby Trailhead, Broken Arrow Trailhead or Marg's Draw Trailheads.
Marg's Draw Trailhead accesses the trail via a .4 mile connector adding another .8 miles to the hike and Huckaby Trailhead requires that you walk .2 miles of the Huckaby Trail each way to connect to Marg's Draw for a total addition of .4 miles of hiking. For this reason, we'd recommend parking at the Broken Arrow Trailhead and hiking Marg's Draw Trail north from there.
11. Montezuma Castle National Monument Trail
Elevation Gain: 35 Feet
Distance: .3 Miles Out & Back
Difficulty: Easy
Time: 30 minutes
This short easy walk to see the cliff castle will be one of the memorable sites of your trip.
Technically located in Camp Verde, the Montezuma Castle National Monument is only 30 minutes from downtown Sedona and is a must-see in the area.
The impressive well-preserved dwelling of the Sinagua Indians dates back to AD 1000.
A 3 Day Sedona Hiking Itinerary
Because some of the trails are in close proximity, there is a way to do a majority of them in a logical manner that saves time and reduces the number of miles driven. This itinerary assumes you are starting each day in Sedona.
Day 1: Start early and drive to Cathedral Rock Trailhead. This will ensure you secure parking and hike when it's the coolest out.
Total Time: 15 minutes driving and 2 hours hiking.
After hiking Cathedral Rock, drive to Montezuma Well to do the short hike and enjoy a packed lunch. If you prefer to eat out you can stop at the Village of Oak Creek either before or after exploring Montezuma Well as it's on the way in either direction.
Total Time: 30 minutes of driving and 1 or 2 hours to eat and explore the well.
Leaving Montezuma Well head back towards Sedona stopping at the Courthouse Loop South Trailhead. Here you will hike the Courthouse Butte and Bell Rock Loop Trail.
Total Time: 25 minutes of driving and 2 hours hiking.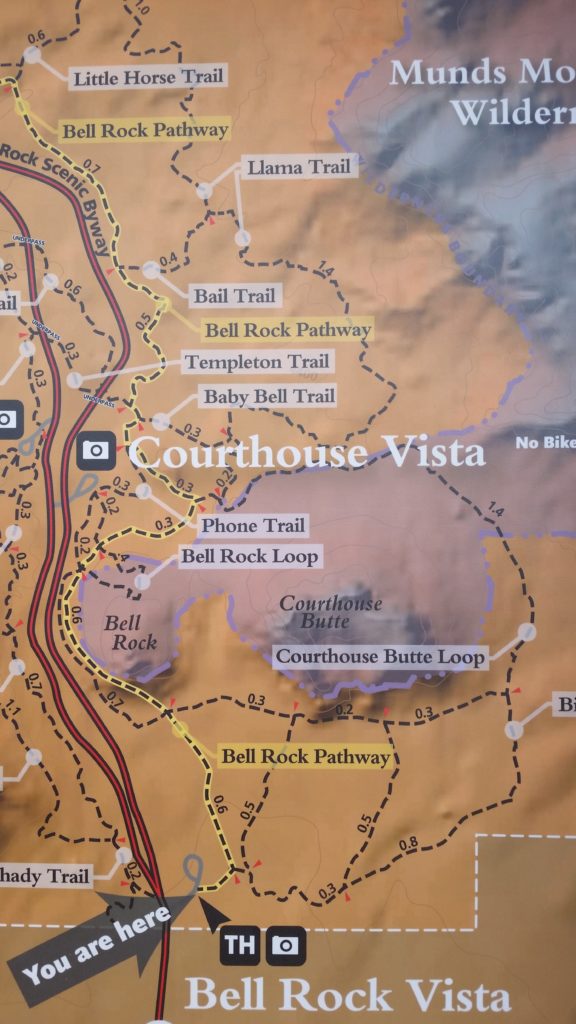 If you're all hiked out, then consider heading to the Montezuma Castle National Monument instead of hiking the Courthouse Butte and Bell Rock Loop Trail.
After the hike, drive back to downtown Sedona to freshen up for a nice dinner. Stop and check out the Chapel of the Holy Cross on your way back to Sedona.
Total Time: 25 minutes of driving including a stop at the Chapel of the Holy Cross.
Day 2: After breakfast head up the beautiful 89A and stop at the Harding Spring Trail (parking is across the street from the trailhead).
Total Time: 20 minutes of driving and 1 hour of hiking.
After hiking the trail, continue north on 89A and drive through the windiest section of the roadway stopping at the Oak Creek Vista.
The Oak Creek Vista has a huge parking lot, many picnic areas, and an amazing overlook of the valley and the winding 89A below.
Total Time: 10 minutes of driving and 30 minutes to walk the short paved walkway to the overlook.
After enjoying all the views at Oak Creek Vista, head back down the windy 89A and stop at the Midgley Bridge Picnic area.
Explore the bridge and consider eating a packed lunch either before or after hiking the Wilson Canyon Trail (optional).
Total Time: 25 minutes driving and 2 hours hiking (optional).
If you didn't hike the Wilson Canyon Trail, now is a great time to drive to the Broken Arrow Trailhead and hike either Marg's Draw Trail to the north or to the Chicken Point Overlook to the south. Total Time: 10 minutes driving and 1.5 to 2 hours of hiking depending on which trail you choose to do.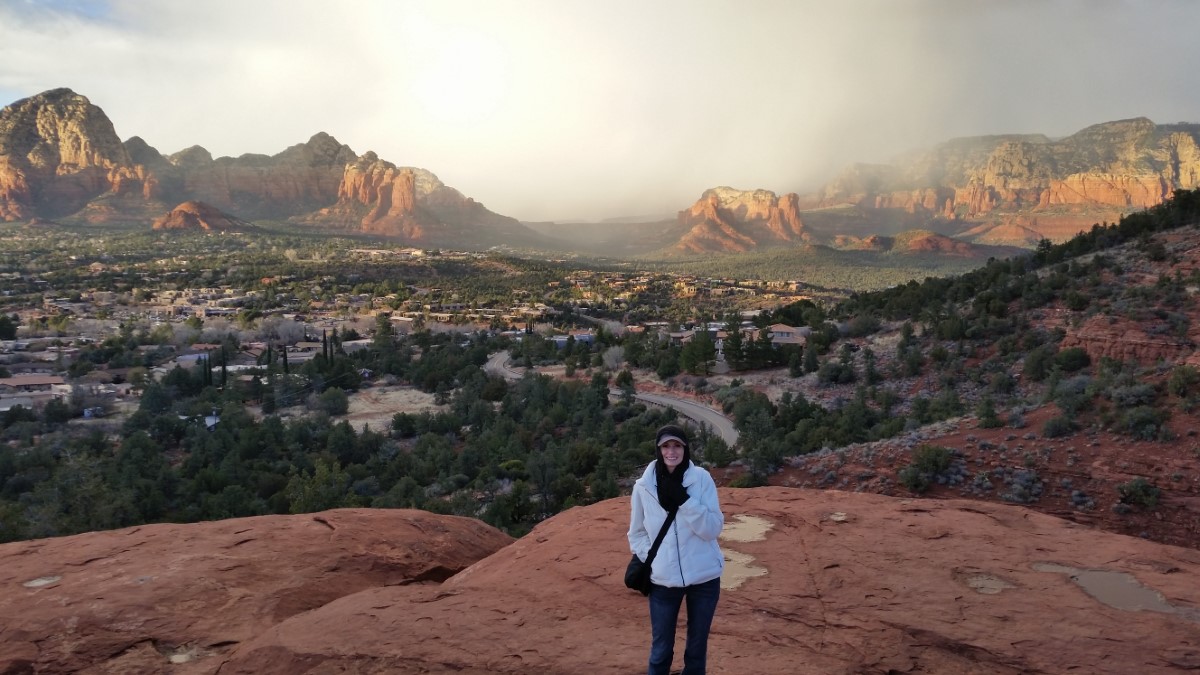 Depending on how much time you have before sunset, consider driving to the Airport Mesa Scenic Hiking Overlook for 30 minutes of exploring and then the Sedona Airport Scenic Lookout to watch the sunset prior to heading in for the night.
Total Time: 10 minutes driving and 30 minutes hiking if stopping at Airport Mesa Scenic Overlook on the way to the Sedona Airport Scenic Lookout.
Day 3: As always, start early and head to the Boynton Canyon Trailhead to get parking and an early start for a long day of hiking.
Bring plenty of water and pack a lunch for this epic hike.
Total Time: 15 minutes of driving and 6 hours of hiking which includes eating lunch and exploring the Subway Cave.
After your day of hiking and exploring, stop at Rachel's Knoll on your return to Sedona.
Total Time: 10 minutes of driving and 30 minutes of exploring Rachel's Knoll.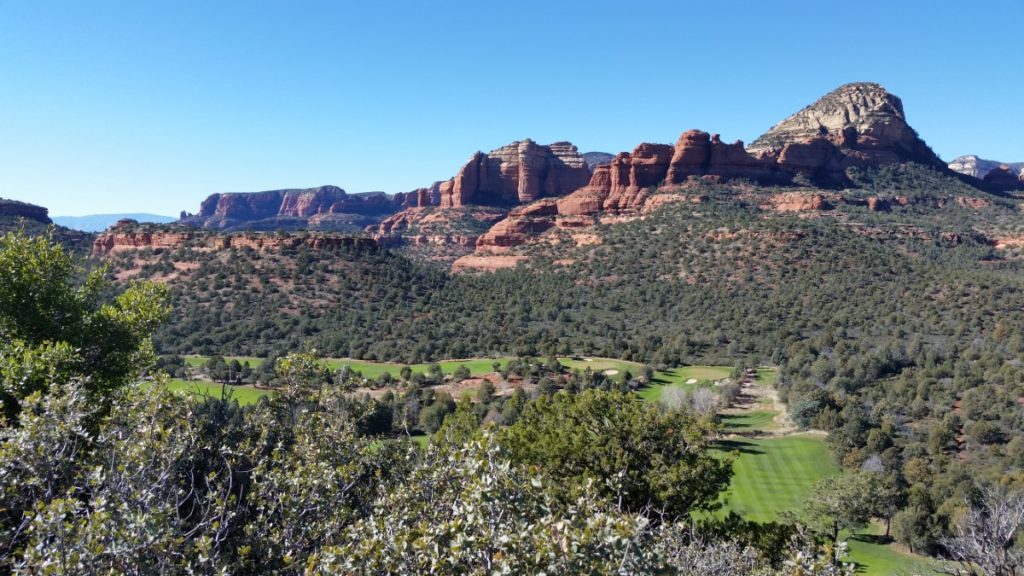 Make another stop for sunset at the Sedona Airport Scenic Overlook and the Airport Mesa Scenic Hiking Overlook if you didn't have time to do it on Day 2.
Total Time: 25 minutes of driving plus however much time you spend watching sunset.
There are many other great hikes and points of interest around Sedona, but this is an efficient way to see many of the most popular hikes and overlooks in a compressed amount of time.
If you like hiking, check out our national park itineraries:
Have you been to Sedona? If so, what do you think are the best Sedona hiking trails? Share your favorites in the comments below.
Pin for Later!