As a side trip from Yellowstone National Park or as a separate stay, you should spend at least two days in Grand Teton National Park to experience just how grand it really is. If you are planning a trip, make sure you put the hike to Inspiration Point Grand Teton on your itinerary!
After you read all there is to know to plan your hike, keep reading for some other must-experience things to do in the park and other helpful tips for your visit.
READ NEXT: YELLOWSTONE ITINERARY
Everything You Need to Know about Hiking Inspiration Point Grand Teton National Park
If there's only one hike you could do in Grand Teton National Park, we highly recommend Inspiration Point into Cascade Canyon. It's family-friendly, isn't too difficult with spectacular views, and even has a waterfall!
Here are all the details you need to know to plan your hike and don't forget to keep reading for our detailed account, pictures, tips, and other recommended things to do in the park below.
How Long is the Inspiration Point Hike? 5.8-mile loop round trip from the Jenny Lake Loop Trail or you can shorten it to a 2.2-mile loop accessible by shuttle across Jenny Lake – which we recommend to save on time, beat the crowds, and to spend more time in this beautiful area.
Inspiration Point Elevation Gain: 800 feet.
Difficulty: Easy to Moderate.
Duration: 2 – 4 hours. Depends on if you shorten the hike by taking the lake shuttle and how many breaks you take.
Best Time of Year: Spring through the Fall. Summer is the peak tourist season so plan accordingly.
Grand Teton Weather: The park is open all year long with the coldest months being January, February, November, and December with heavy snow and limited road access. Spring warms up but still can have an occasional snowstorm and rainy days. Summers have an average temperature of 77 degrees. July and August are the warmest and driest months which is why they are the most popular months to visit.
Sun Exposure: Some shade on hike up but all sun at the top.
Shuttle Information: Full price ticket: $20 per adult, $17 for seniors (62 and older), $12 for children, and free for children 2 and under. Find information on updated prices and shuttle hours here.
Pets: No pets allowed.
Bathrooms: At boat dock.
Parking: Jenny Lake Parking Lot
HOT TIP: To save $13 per person get up early and take the 7:00 am shuttle across Jenny Lake. The first boat of the day is $5 (cash-only) instead of $18 a person.
Grand Teton Hiking Tips:
Inspiration Point is a popular hike, begin early to not only save money on the shuttle but to avoid the crowds.
Beware of loose rocks and uneven footings on your way up.
Be extra careful when it is raining or just rained. The steps are smoothed out and can be slippery.
Remember all fossils, plants, rocks, and artifacts should remain in the park and unharmed.
WHAT TO PACK AND WHAT TO WEAR: Wear sturdy shoes (no flip-flops), carry a lightweight daypack (click to see a recommended bag), and put on sunscreen before you head out. For the hike, you'll want to pack the following:
Water (the NPS recommends two quarts per person for a two-hour hike)
Snacks
Hat and/or Sunglasses
Camera
What It's Like to Hike up to Inspiration Point Grand Teton
Once you get off the shuttle, take the Cascade Canyon Trail to Hidden Falls, roughly 1/2 a mile.
Just past Canyon Creek you reach the junction for Hidden Falls, one of the favorite waterfalls in Grand Teton National Park.
Take the short detour to view the falls, then return to the main trailhead for a steep 1-mile climb to Inspiration Point.
Unfortunately, Hidden Falls was closed during our visit due to a storm so make sure to check with the ranger whether or not it is open during your time in the park. (Currently open.)
Here, you'll reach the most strenuous part of the hike where you'll climb roughly 400 feet in elevation to Inspiration Point.
Be extra careful in this section as you will encounter a narrow section that has rocky footing and a steep drop-off.
So if you are hiking with children, do not let them run up ahead.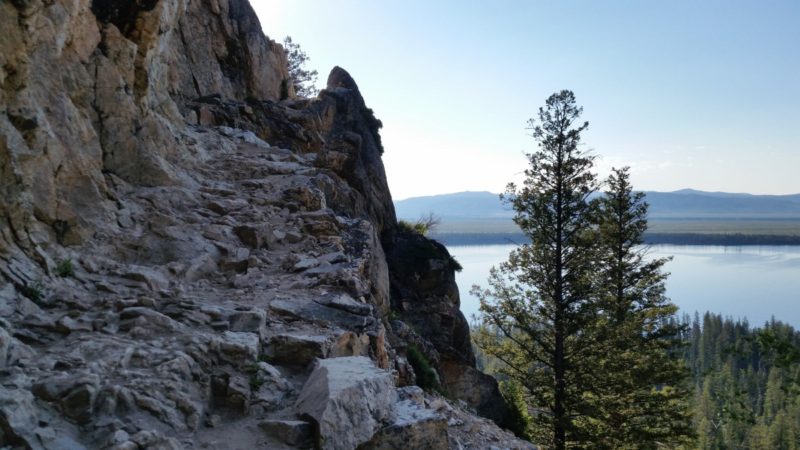 Once you reach the top, you'll be rewarded with fantastic views of Jenny Lake from above and the Cathedral Group of the tallest mountains in the Teton Range from below.
The 12,325-foot Teewinot Mountain, 13,770-foot Grand Teton, and 12,928-foot Mt. Owen make up the trio and can be seen from the point.
RELATED: THERE'S ALSO AN INSPIRATION POINT MONTANA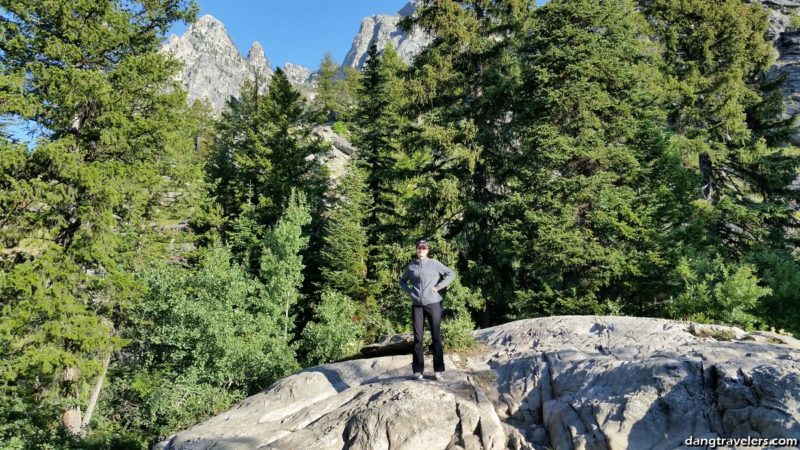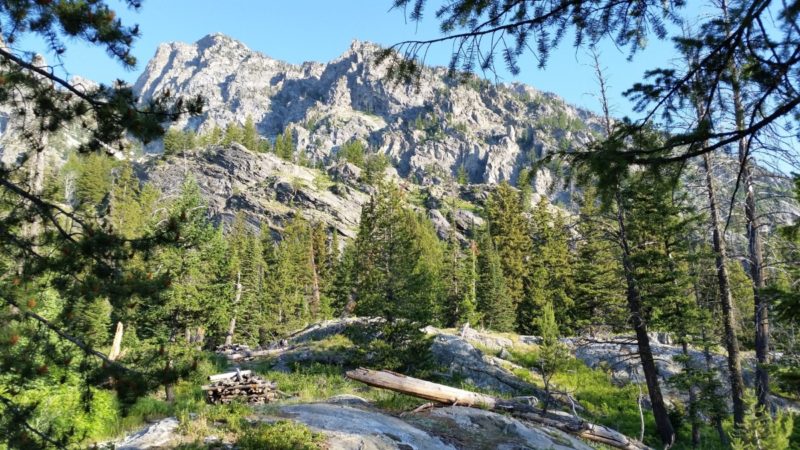 Other Best Things to Do in Grand Teton National Park
Drive the 43-mile Scenic Loop inside the Park
From Grant Village Campground on the southern end of Yellowstone, Grand Teton National Park isn't too far of a drive. One of the best things to do if you only have one day in Grand Teton National Park is to drive the scenic loop inside the park.
Even though the Tetons are Yellowstone's neighbor, the park has a completely different feel. As you drive out of Yellowstone, the mountain range greets you in the distance.
Once inside the park, stop at Colter Bay on Jackson Lake. The paved path from the visitor center along the lake is a nice stroll.
Then, drive up the narrow road to Signal Mountain which provides breathtaking panoramic views of Jackson Lake, the valley, and the mountain ranges.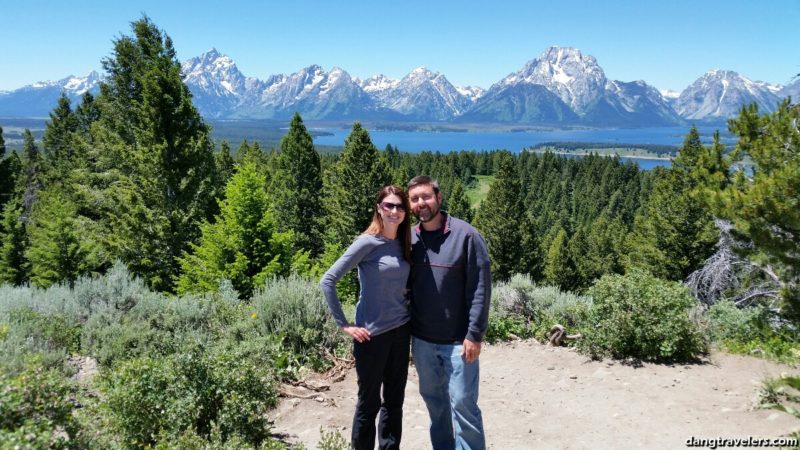 Take Antelope Flats Road for wildlife viewing and then Mormon Row to see some of the most photographed barns in the country, Moulton Barns.
Have Lunch at Signal Point Lodge
We stopped in Signal Point Lodge for a heaping mound of nachos (this is the half order by the way) and a few drinks. I had a huckleberry lemonade which had a unique flavor and the hubby tried a local IPA.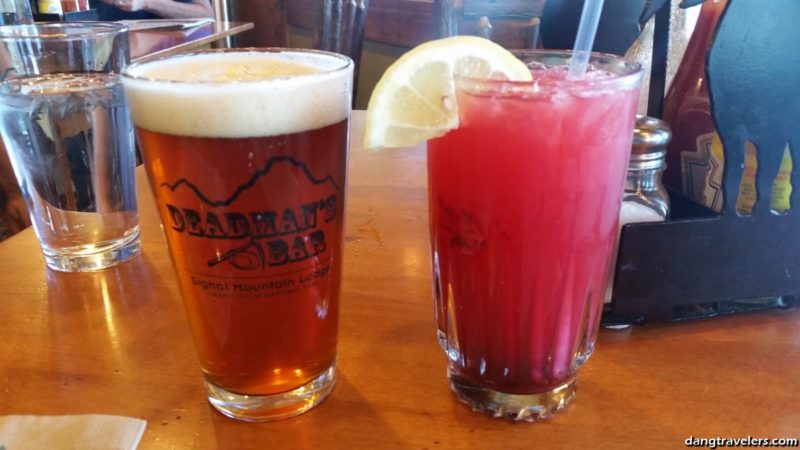 Stay for a Sunset
Once the sun begins to tuck away behind the mountains, a warm glow appears and it softens the beautiful views. It's also a great time to see wildlife throughout the park.

Rent a Canoe on Jackson Lake
We ended the day with a canoe ride on Jackson Lake. We rented it for two hours since it was the minimum at $19 an hour before tax. We had a blast making our way around the small islands and taking in the mountainous views.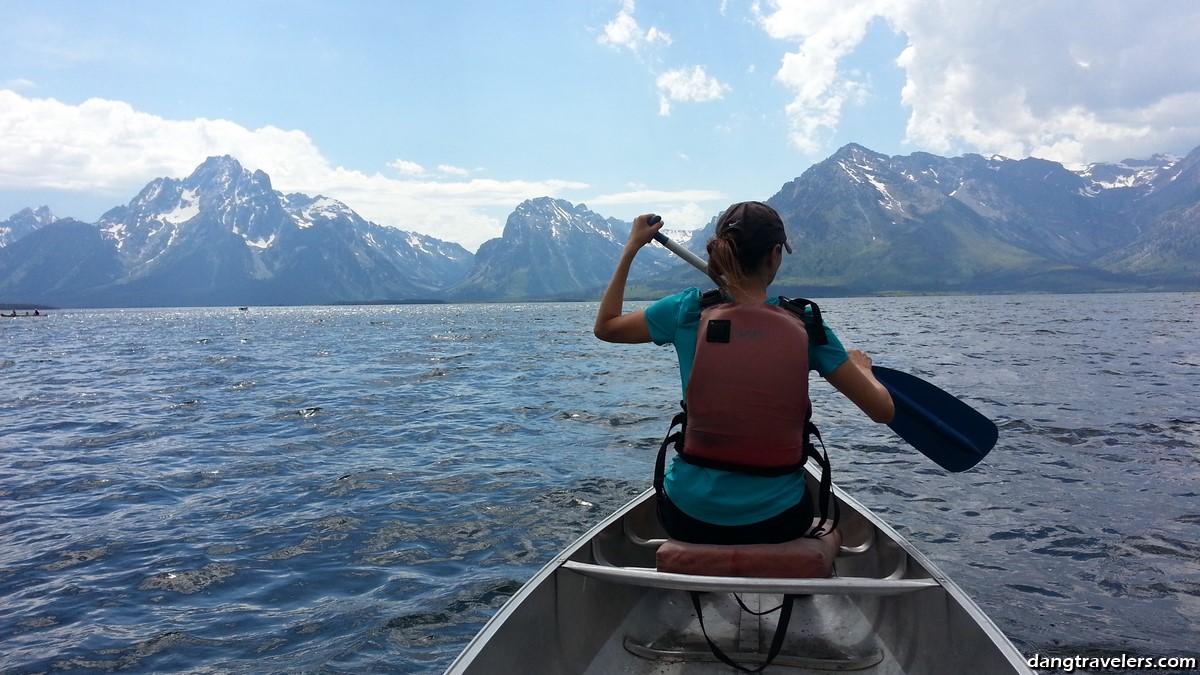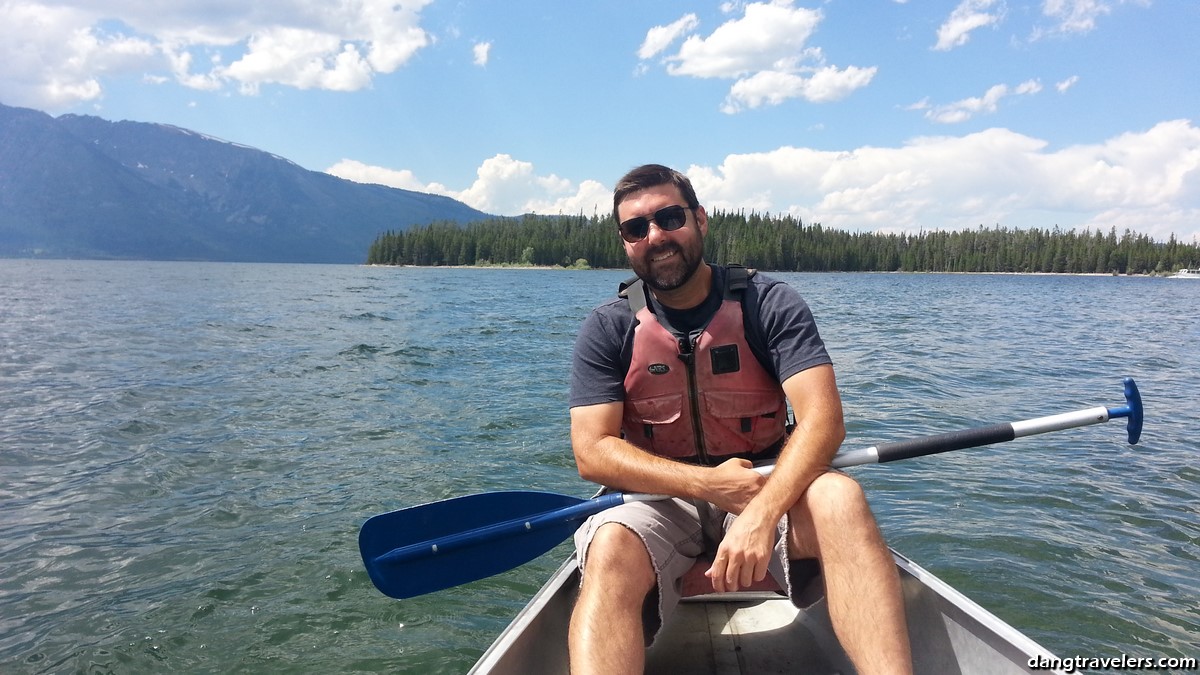 Tips on Visiting Grand Teton National Park
If you want to photograph the popular barns of Mormon Row, drive to the barns then turn around. The road is rough and dusty and doesn't provide any additional views.
To save $10 a person on the Jenny Lake shuttle ($18 ride for $5), take the 7:00 am boat. It is cash only and is the first boat to go out for the day. Bring a jacket, the ride is chilly!
Free Wi-Fi near the general store at Colter Bay
Trailers are not allowed on the narrow drive up to Signal Mountain's peak.
Have you hiked Inspiration Point in Grand Teton National Park? What was your experience like, tell us in the comments below!

Like it? Pin it for Later!