The most prominent feature in the state of Washington is Mount Rainier's towering glacier-capped volcano. Standing at 14,410 feet high with almost blinding intensity, the park's centerpiece is jaw-droppingly beautiful. And the best day hike to experience it in its full glory is the Skyline Trail Mount Rainier National Park.
Everything You Need to Know about Hiking Skyline Trail Mt Rainier
Below are all the details you need to know to plan your hike and don't forget to keep reading for our detailed account and pictures below.
Skyline Trail Hike Distance: 5.5-mile loop.
Skyline Trail Mt Rainier Elevation Gain: 1,700 feet.
Skyline Trail Mt Rainier Difficulty: Strenuous with sections of snow even in the summer months.
Length of Time: 4 1/2 Hours. More if you take a lot of pictures and videos like us.
Best Time of Year: Summer.
Mt Rainier Skyline Trail Weather: The park is open all year long (many closures during winter months) with its peak busy months being July and August, the warmest months of the year. The climate is usually cool and rainy with average temps in the 60s and 70s in the summer. The coldest months are January, February, March, and December with an average of 121 snowy days totaling 670 average inches a year.
*Check with the rangers on the Skyline Trail conditions before departing for the hike.*
Sun Exposure: All sun, no shade.
Trailhead: Near the north side of the upper parking lot, next to the visitor center.
Pets: No pets allowed.
Bathrooms: Bathrooms at the Henry M. Jackson Visitor Center and a pit toilet at Panorama Point Mt Rainier during summer only.
Parking: Adjacent to the Visitor Center in the Paradise section of the park.
RELATED: ANOTHER AWESOME HIKE IN MT RAINIER – TOLMIE PEAK TRAIL
HIKING TIPS:
Begin the hike early for fewer people on the trail and parking availability.
Pack out all trash.
The trail can be closed or washed out with snow so make sure to check trail conditions beforehand.
Also, take a look at our recommended guide for Sunrise Area in Mt Rainier.
Stay at least 100 yards from all wildlife on your visit. That means no close selfies!
Stay on the trail and do not pick any wildflowers! Remember all plants, rocks, and artifacts should remain in the park and unharmed.
Pets are not allowed on trails in Mount Rainier National Park.
WHAT TO PACK AND WHAT TO WEAR: You'll want to dress in layers as the temps can change quickly. Plus, even though you'll be sweating on the steep climb up, you'll be cool in the beginning and on the way down.
Wear sturdy trail runners or hiking shoes, carry a lightweight daypack (click to see a recommended bag), and put on sunscreen before you head out.
Disclaimer: This post contains affiliate links, if you book through our link we will receive a small commission at no additional cost to you. Thanks for supporting the blog!
For the hike, you'll want to pack the following:
Water (the NPS recommends two quarts per person for a two-hour hike)
Snacks and lunch
Hat and/or Sunglasses
Camera or GoPro
We have been fortunate to visit some of the most stunning and jaw-dropping landscapes of America and Canada. Read about our other national park experiences of the trip:
What It's Like to Hike the Skyline Trail Mount Rainier
You'll find the Skyline Loop Trail in one of the most popular areas of the park, Paradise. Aptly named for its spectacular views and glorious meadows.
It sits at 5,400 feet on the south slope of the mountain and was named by Virinda Longmire in 1885. She was overwhelmed with its paramount beauty as the wildflowers bloomed and exclaimed, "Oh, what a paradise!"
The area is accessed through the Nisqually entrance and it is highly recommended to arrive early for your visit.
With limited time to explore, we are always on a mission to find the best hikes. Mixing it up from easy to strenuous hikes with various scenery, the national parks never disappoint.
The Skyline Loop Trail is one of our favorite hikes within Mount Rainier National Park. See the Skyline Trail map below.
Skyline Trail Loop, Via the High Skyline Trail
The Skyline Trail loop via the High Skyline Trail combines all the best the area has to offer: wildflowers, waterfalls, creeks, glaciers, and up-close views of Mount Rainier.
Fortunately, we had perfect 70-degree temps and sunshine throughout the day. Hopefully, if you visit in the summer you will too.
In late July and early August, it is a wildflower extravaganza in Mount Rainier National Park.
The beginning of the trail will lead you through meadows of subalpine wildflowers providing a colorful foreground to the striking mountain.
The park is home to an array of flowers: Rosy spirea, avalanche lilies, Western pasque, lousewort, magenta paintbrush, and purple lupine.
Much of the lower portion of the trail is packed gravel and easy to navigate.
Next, you'll pass two waterfalls: Myrtle Falls and Sluiskin Falls, along with a few creeks before a constant ascent to the snow-covered part of the trail.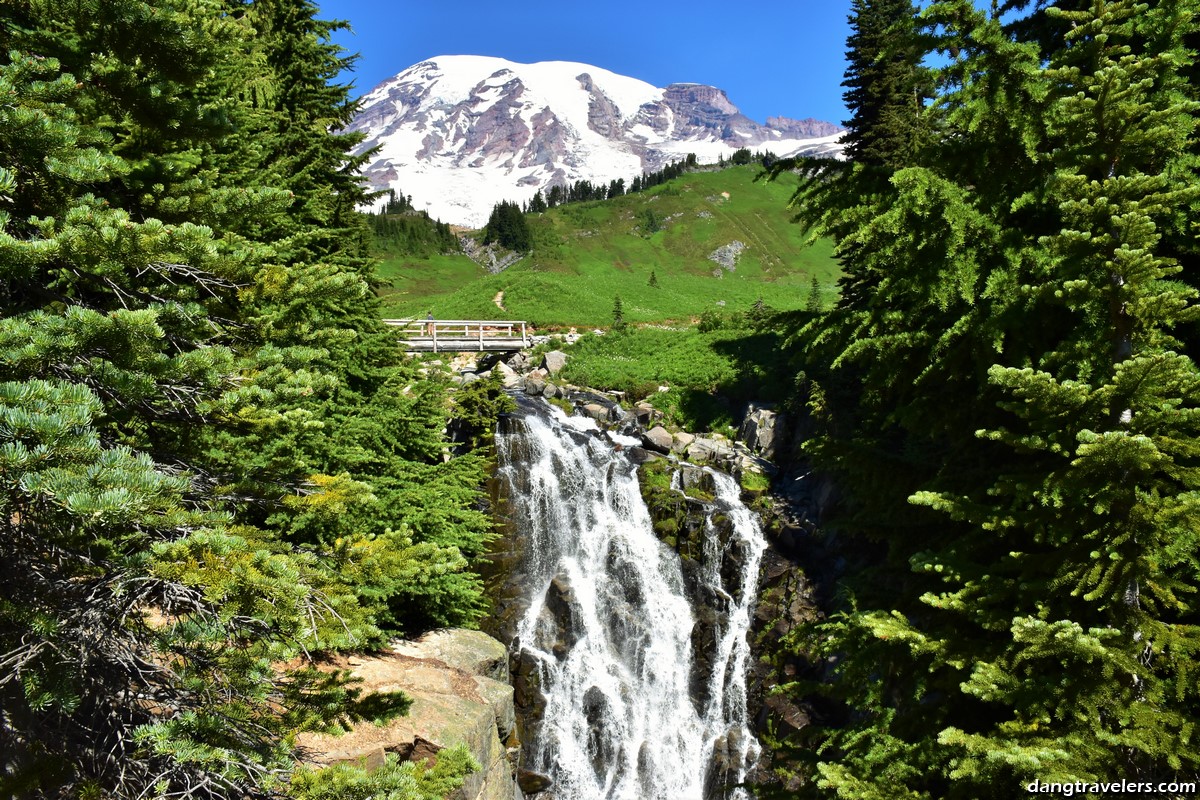 Don't even bother putting your camera away because the views keep exploding with every step. With all the greenery, it's hard to imagine the amount of snow that accumulates here throughout the year.
Because of its close proximity to the ocean, Mount Rainier is a magnet for storms and has an average snowfall of 640 inches a year. The record high was during the 1971-72 season with 1,122 inches on record almost completely burying the inn!
As you continue to climb, the views will keep growing more inspiring and impressive.
At 6,800 feet high, reaching Panorama Point was the pinnacle of the hike.
Up close and personal is Mt. Rainier on one side and expansive views of Paradise Valley, Mount St. Helens, Mount Adams, and even Mount Hood in the distance on the other side.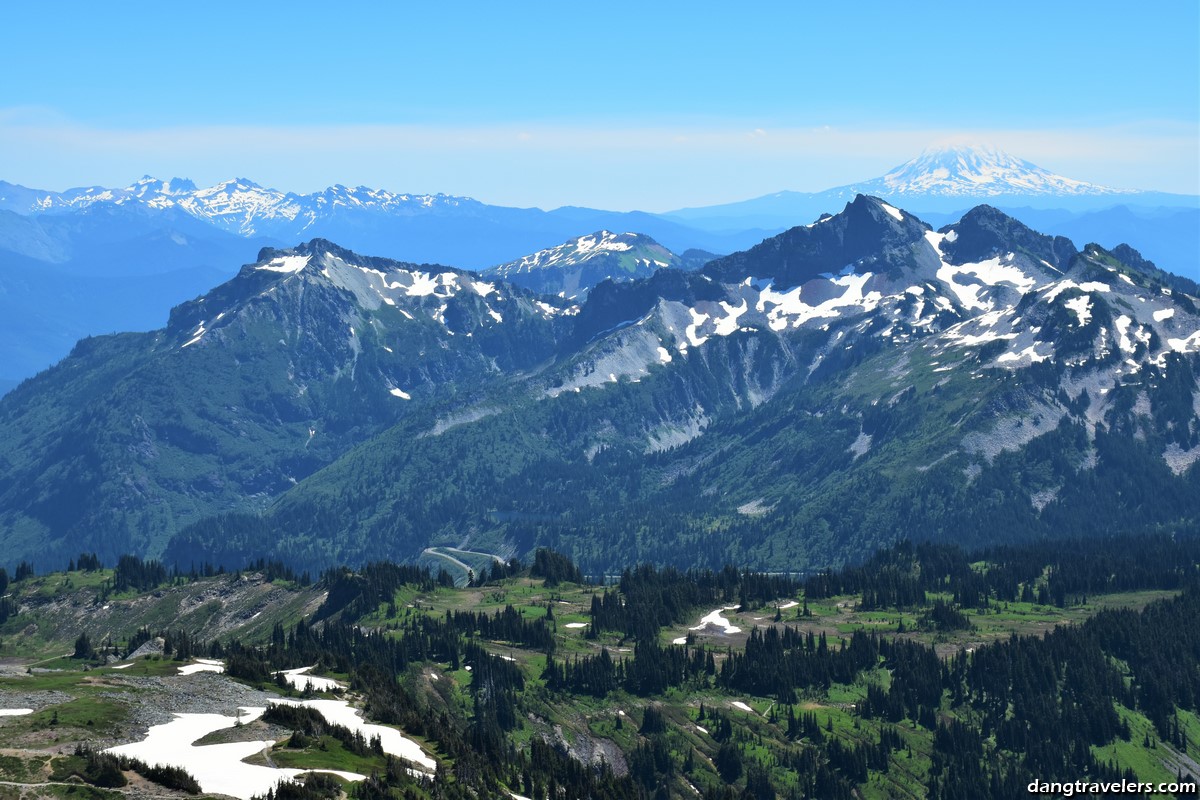 Spend some quality time up here taking in all the breathtaking views. You've earned it!
It took us about 4 ½ hours to complete the loop including stops for pictures and lunch.
You can easily see why we think the Skyline hike is one of the best day hikes in Mount Rainier National Park. It is challenging yet rewarding, and it was one of our favorite days in the park!
And we are not the only ones. Recent reviews are as follows:
"We have hiked many NP trails and this one gets into the top three trails of all time (so far!). If you are only going to do one thing at Mt. Rainier, this is it. It IS strenuous but little kids and adults in their 70s were doing it—just at a slower pace. It is so beautiful you will forget all about the effort to get to the top once you are there."
"Such a lovely walk, can be quite steep at the start but definitely worth it the views are stunning and you can then go onto different walks from here."
Leaving the Paradise Section in Mt Rainier
HOT TIP: Don't let your day end here, on the way out make sure to stop at Narada Falls and Reflection Lake.
Do you have a favorite hike in Mount Rainier National Park? Tell us in the comments below.
And don't forget to sign up below to be the first to know when a new post comes out so you can follow along on our adventures!
Like it? Pin It!