SUMMER ROAD TRIP, DAY 48
Our escapades took us to the east side of Mount Rainier National Park today. We strolled through a magical forest, hiked up to a peak with incredible views and ended the day at one of the most photographed places of the park.



Grove of the Patriarchs Trail
Although Grove of the Patriarchs Trail is one of the easiest hikes in Mount Rainier at 1.5 miles round trip, it is probably one of the most memorable as well. Walking through the canopied old-growth forest, you can't help but be in awe of its greatness. Glowing green moss clings to the ancient trees that soar into the sky. It is nature at its finest; exuding strength, endurance and survival. After walking the trail, we continued up north to the Sunrise area.
And so our epic 80 day summer road trip continues – 12 U.S. states, 1 Canadian province and 11 national parks. For the upcoming months, I will be sharing with you our highlights, lowlights, adventures, favorite spots, best tips and our thoughts on three months of road tripping and living in a pop up. I'll try to answer any and all of your questions too! You can also follow our journey via Facebook, Twitter or Instagram.


Miles Driven: 107


Total Road Trip Miles Driven: 7,166

Average Gas Price per Gallon: $2.69


State: Washington


All States Visited: Wisconsin, Minnesota, South Dakota, Wyoming, Montana, British Columbia & Alberta Provinces


If you would like to see our full itinerary, start at the beginning here. And Start at Day One here.
Sunrise Area – East to Dege Peak Trail
With my legs a bit tired from yesterday, we were looking for a moderate hike at the Sunrise area. We settled on Dege Peak (pronounced Day-Gay) a 4.2 mile hike with an 800 foot elevation gain. The trail is parallel to the road, but we didn't mind since it provides outstanding mountain views along the way and even more impressive views from the summit.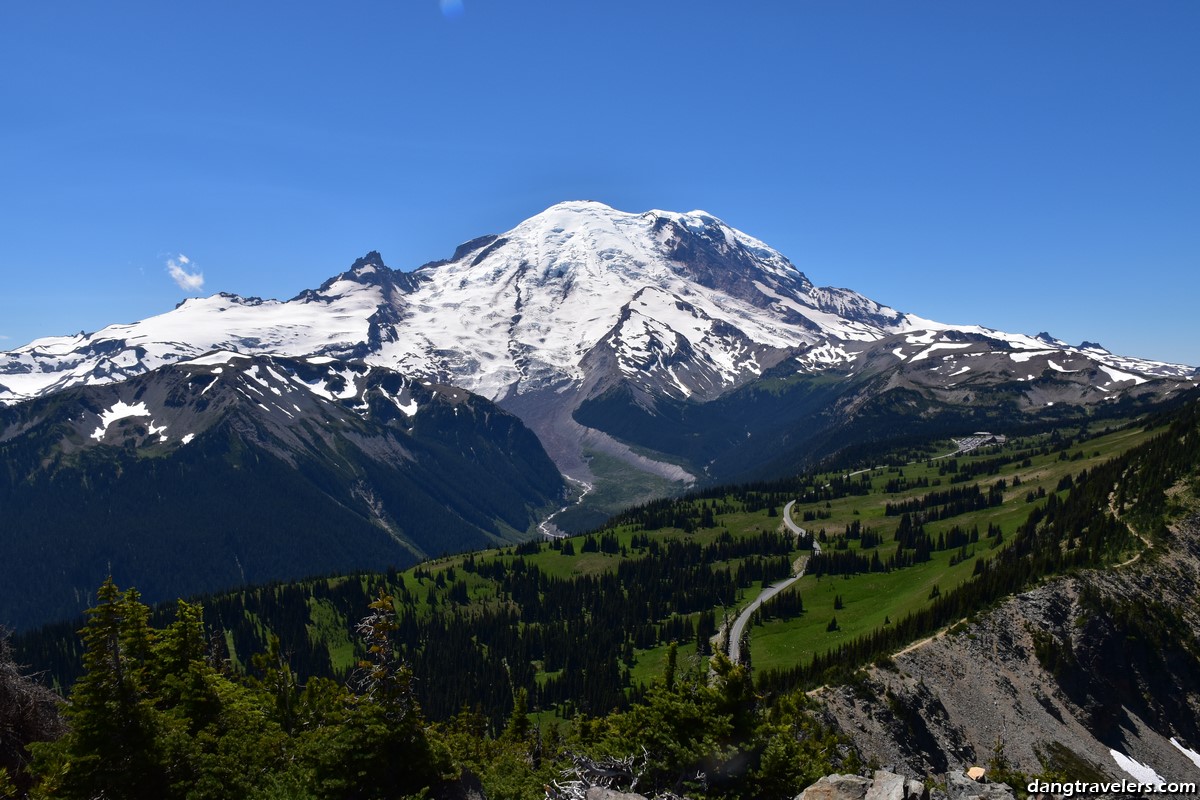 Tipsoo Lake
On the way back to our campground, we stopped at Tipsoo Lake, one of the most photographed areas in the park. We took a short walk through vibrant colors of yellow, pink and purple around the shore of the lake. We are loving all the wonderful wildflowers!
Don't forget to sign up below to be the first to know when a new post comes out so you can follow along on our adventures!
Next: Best Hike in Mt. Rainier

Do you have any questions for Dang Travelers about our visit to Mount Rainier? As us in the comments below!
Like it? Pin It!