Whether you are looking for a stroll through a magical forest, a hike up to a peak with incredible views, or a walk to one of the most photographed lakes in the park, this list has you covered. From easy to difficult, here are the best Mt Rainier hikes.
Be Prepared – Hiking Essentials & Tips
It's always a good idea to wear a sturdy pair of hiking shoes when hiking. These men's waterproof hiking shoes are waterproof and have a protective sole and these women's breathable hiking shoes have a breathable mesh line with a contoured footbed. Or you can always go with a high ankle boot, check out these cute boots for women or these nice boots for men.
Wear a good day pack for all your necessities including a small first aid kit.
Since there's usually no reception, download the Chimani Travel Guide app and the Mount Rainier guide within the app which works offline for maps and hiking trail information.
Pack snacks and/or lunch depending on how long you'll be hiking.
To stay hydrated, always bring more water than you think you need. Bring reusable water bottles to eliminate waste.
Wear a hat and/or sunglasses and apply sunscreen beforehand.
When visiting Mt Rainier please remember, to leave no trace. Stay on the trails and always pack it in and pack it out.
Disclaimer: This post contains affiliate links, if you book through our link we will receive a small commission at no additional cost to you. Thanks for supporting the blog!
Mt Rainier Hikes Map
If you are planning to road trip to other national parks in Washington as well, make sure to read my other articles: A Charming Bavarian Village in Washington.
For more national park planning, head over to my Olympic National Park Guide or How to Spend a Few Days in North Cascades National Park.
And now for the best Mount Rainier hikes! Always remember to check current situations as the national park does have snow even in the summer.
1. Grove of the Patriarchs | Ohanapecosh Area
Elevation Gain: 0 feet
Distance: 1.5 miles
Difficulty: Easy
Time: 45 minutes to 1 hour
Restroom: Near the trailhead and parking lot.
Unfortunately, the Grove of the Patriarchs is closed at the moment due to flooding but keep checking the NPS website for details on when it will open.
Let's start with an easy yet unforgettable trail. If you are looking for Mt Rainier hikes for beginners, the Grove of the Patriarchs is the place.
Your adventure begins as you cross the river to the forest via a suspension bridge.
Giant old-growth trees soar above you on the path and furry green moss clings to the rock walls and the base of the ancient trees.
You'll feel like Alice in Wonderland after she drinks the potion and shrinks down to miniature size while wandering through these magical woods.
2. Tipsoo Lake Loop
Elevation Gain: 39 feet
Distance: .8 miles
Difficulty: Easy
Time: 20 minutes
Located off of Highway 410, the Tipsoo Lake Loop is one of the most popular areas in the park, especially for families, simply because of its pure beauty and easy accessibility.
I highly recommend combining the easy hike with the above Grove of the Patriarchs and the below Dege Peak since all are in the Sunrise section of Mount Rainier.
The loop around the lake follows the shoreline through vibrant yellow, pink and purple wildflowers with incredible views the entire walk.
The best time to visit Tipsoo Lake is from June through October when the weather is fair and there's a high chance to encounter blooming wildflowers.
Read Next: Another interesting side trip from Mount Rainier National Park, roughly 2 hours south, is to Mount St. Helens National Volcanic Monument. It's surprisingly beautiful and of course, super interesting as well.
3. Silver Falls Loop
Elevation Gain: 300 feet
Distance: 3 miles
Difficulty: Easy
Time: 1.5 to 2 hours
This is another family-friendly trail, and it's a favorite of the Mt Rainier hikes because it's easy, short, and leads to dramatic views of a beautiful cascading waterfall.
En route, you'll experience a cool bridge crossing, Ohanapecosh Hot Springs, old growth trees, a forest stream, and bright green mossy ledges.
4. Dege Peak
Elevation Gain: 800 feet
Distance: 4.2 miles
Difficulty: Moderate
Time: 1.5 – 2 hours
The trail is parallel to the road, but it provides outstanding mountain views along the way and even more impressive scapes from the summit.
Dege Peak (pronounced Day-Gay) traverses subalpine meadows and is a gentle climb to a jaw-dropping 360-degree view of the surrounding area.
On a clear day, you can see all the way out to Mount St. Helens, Mount Adams, Mount Baker, and Glacier Peak.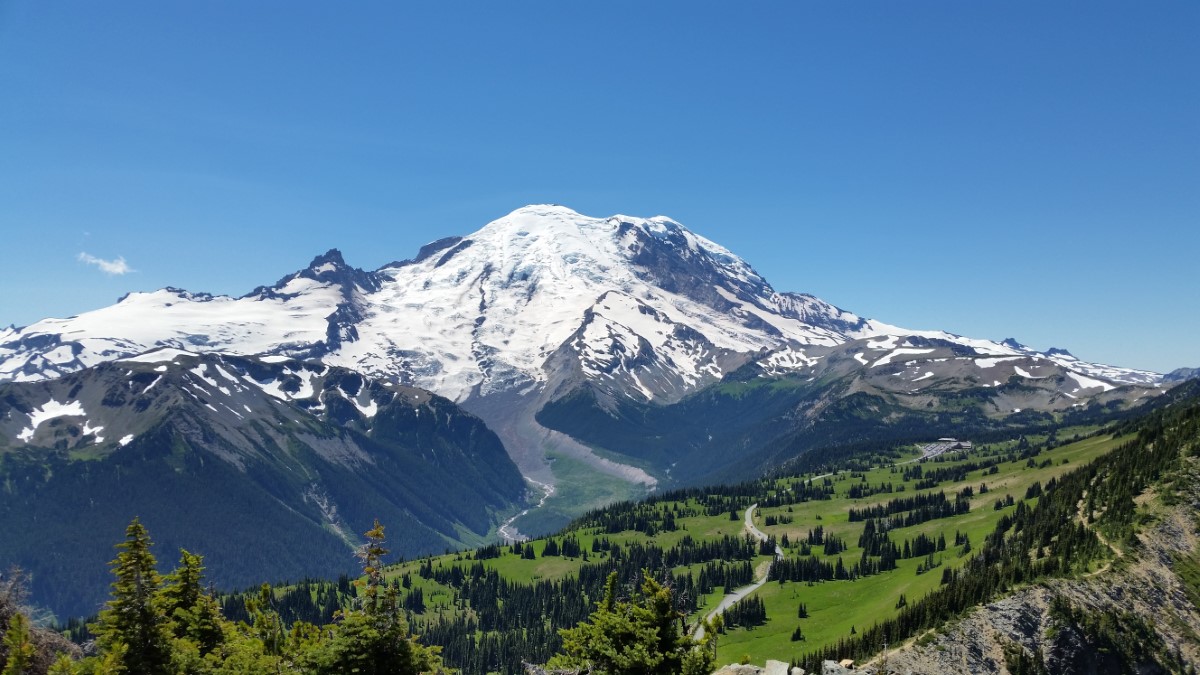 5. Reflection Lake to Narada Falls
Elevation Gain: 930 feet
Distance: 3.6 miles
Difficulty: Moderate
Time: 2 hours
Open in the summer season from June through September, the Reflection Lake to Narada Falls hike is another must-do while visiting the park.
The out-and-back trail renders one of the most iconic views of Mount Rainier in the park.
It's a combination of reflecting alpine lakes, breathtakingly gorgeous mountain peaks, and a cascading waterfall.
6. Tolmie Peak Trail
Elevation Gain: 1,100 feet
Distance: 6.5 miles
Difficulty: Strenuous
Time: 2 – 3 hours
The Tolmie Peak Trail is one of our favorites of Mt Rainier hikes.
Click here, Hiking the Tolmie Peak Trail, to read about our day on the trail and to see more pictures.
It begins with a relatively flat stroll from Mowich Lake through an enchanting wooded forest before gently climbing to the unforgettable Eunice Lake.
You'll meander through meadows full of wildflowers and bear grass before sauntering back and forth on the gentle switchbacks that lead to the fire tower and one of the most impressive views of Mount Rainier.
Continue a few hundred yards past the fire tower for the official end of the trail at the summit for more views.
Pack a lunch so you can sit, refuel, and enjoy the view before heading back.
Hot Tip: Pack a bathing suit if you're hiking in the summer so you can jump in Mowich Lake to cool off at the end of the hike.
7. Skyline Trail
Elevation Gain: 1,700 feet
Distance: 5.5 miles
Difficulty: Strenuous
Time:
The first section of the Skyline Trail Mt Rainier hike will take you past two picturesque waterfalls: Myrtle Falls and Sluiskin Falls.
Along the way, you'll also cross a few creeks before the snow-covered part of the trail.
As you continue the hike, the views keep getting more inspiring and impressive.
At 6,800 feet high, you'll reach the summit, Panorama Point. Mt. Rainier is front and center on one side with expansive views of Paradise Valley, Mount St. Helens, Mount Adams, and even Mount Hood on the other side.
Do you have a favorite hike in Mount Rainier National Park? Share with us in the comments below!