SUMMER ROAD TRIP, DAYS 50 – 53:
GOODBYE WASHINGTON
For our last few days in Washington, we developed night terrors about the "dangerous sleeping giants" that lurk here, then took a wonderful hike to a tranquil waterfall to calm our nerves. We are a little sad to leave, but excited for the next adventures of the road trip. One more state park and national monument, three more national parks, and six more states are all coming up!
Active Volcanoes… What? Where?
With the peaceful and beautiful scenery in Washington, it's easy to overlook the fact that at any minute we could hear the words, "The mountain is going to blow!" Let's be real people: we are surrounded by active volcanoes! There are five to be exact: Mount Saint Helens, Mount Adams, Mount Rainier, Glacier Peak, and Mount Baker.
Okay, so we didn't completely freak out. But I'll admit, it came as quite a surprise to me that Washington has one quarter of the total active volcanoes in the lower 48 states. Needless to say, I wanted to know what was going on and see with my own eyes the devastation caused by an eruption. So we headed over to Mount St. Helens.
Mount St. Helens National Volcanic Monument
Do you know where you were on May 18th, 1980 when Mount St. Helens finally blew? I have no recollection as I was still a baby in diapers, but most of the people we met or overheard at the monument knew exactly where they were when they heard the news.
After lying dormant for 123 years, the mountain first displayed volcanic activity in March with minor earthquakes and cautionary spouts of steam. When the 5.1-magnitude earthquake shook the area months later, it triggered a vicious eruption that propelled the top 1,313 feet and north face of Mount St. Helens right off. The eruption caused one of the world's largest recorded landslides causing 150,000 acres of forest devastation. 57 people lost their lives and many more were affected by the catastrophic event.
Nature's Resilience
After reading the overwhelming statistics and hearing the stories associated with the eruption, we expected the area to be a barren wasteland. The last thing we expected was to find beauty and growth. It is almost inconceivable that after such a horrific occurrence that nature could rebound so quickly. It hasn't recovered to its original appearance, but a new and different landscape is now in its place. The area was designated Mount St. Helen's National Volcanic Monument by Congress in 1982. I'm glad we took a side trip from Mount Rainier to visit the monument and surrounding area. So what do you do when you discover you are in the middle of an active volcanic range? Take a hike!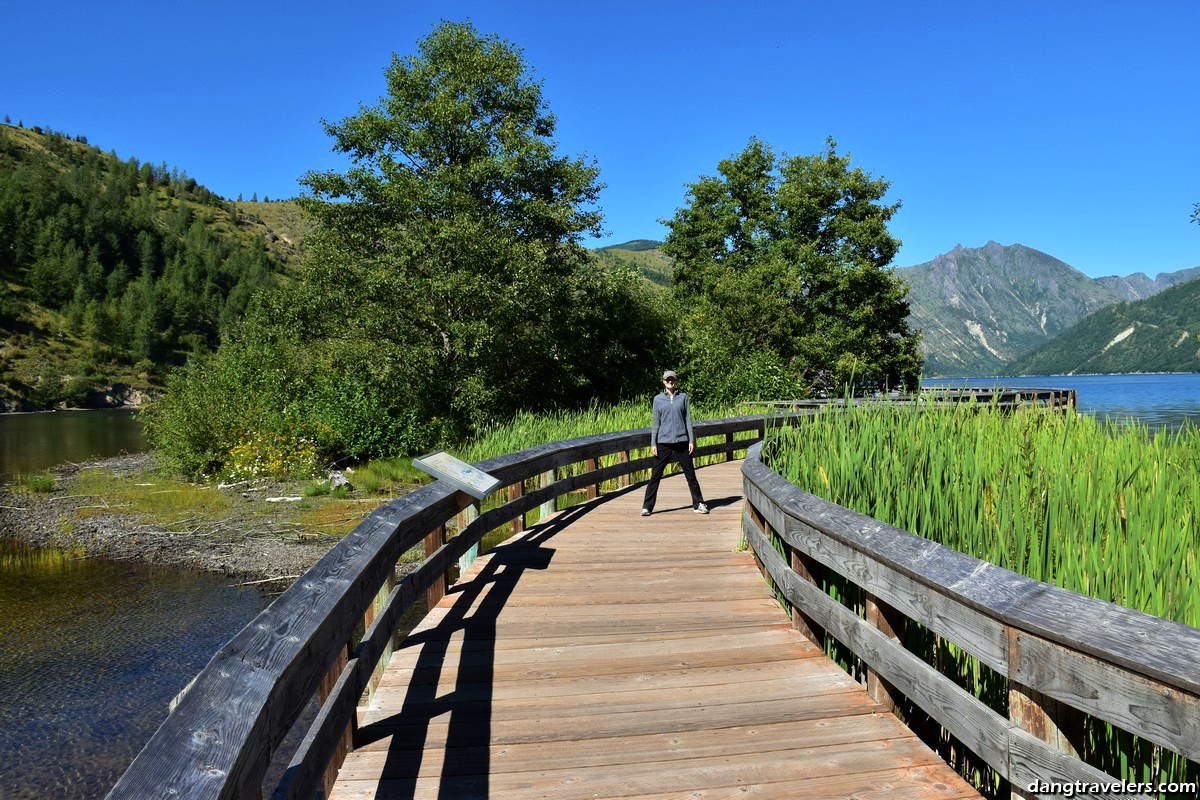 And so our epic 80 day summer road trip continues – 12 U.S. states, 2 Canadian province and 13 national parks. For the upcoming months, I will be sharing with you our highlights, lowlights, adventures, favorite spots, best tips and our thoughts on three months of road tripping and living in a pop up.  I'll try to answer any and all of your questions too!  You can also follow our journey via Facebook, Twitter or Instagram.


Miles Driven: 564


Total Road Trip Miles Driven: 7,942


Average Gas Price per Gallon: $2.69


State: Washington & Oregon


All States Visited: Wisconsin, Minnesota, South Dakota, Wyoming, Montana, British Columbia & Alberta Provinces


If you would like to see our full itinerary, start at the beginning here. And Start at Day One here.

Silver Falls Trail at Mount Rainier National Park
I know an eruption is not likely and it would never have kept us from visiting, but it is interesting to learn about the geological destructive forces of nature. After we were enlightened that an immediate threat didn't exist while hiking around the area, we headed back to Mount Rainier National Park.
We met up with Rob from the 2 Travel Dads blog and had a great time hiking the Silver Falls Trail with him, his friend and family. Silver Falls Trail is an impressive, relatively flat 2.7-mile hike in the Ohanapecoch area that packs a lot in a short hike. You'll find a beautiful cascading waterfall with clear blue water surrounded by lush green vegetation. Read more about our day here.
On the Road Again
The next day, we took down the pop up and headed south to Baker City, Oregon. I was in a state of pure bliss at the thought of a few hotel stays in my future.
Mount St. Helens – Know Before You Go
Access to the monument is limited; local roads lead to overlooks and visitor centers.
Local roads are only open late May or early June to late October depending on weather.
Hiking trails are accessible in the area, permit required.
Johnston Ridge Observatory (open 10am – 6pm, May – October) is the closest to the crater and provides panoramic views. A 16-minute video and interpretive exhibits present the past and present story of Mount St. Helen.
Monument Pass is required for developed sites and visitor centers: Ages 0 – 15 free, America the Beautiful Pass and Federal Recreation Passes are accepted.
The line may be long, but if you already have a pass you are allowed to move forward instead of waiting.
Don't forget to sign up below to be the first to know when a new post comes out so you can follow along on our adventures!
Next: Twin Falls in Idaho

Have you ever visited an active volcano? What was your experience like?
Like it? Pin It!