SUMMER ROAD TRIP, DAYS 54 & 55
I have never set foot in Idaho so excuse me if I sound uninformed when I say, the biggest thing Idaho has going on is potatoes. It's the only thing that came to mind when I realized our road trip would take us through the state. I could not think of one other thing it was known for. Oh wait, I know the capital city is Boise, but that's about it. Come to find out, Idaho has a lot going on!


Malad River Canyon – An Unplanned Detour
Our first stop in Idaho is at the Devil's Washbowl in Malad Gorge State Park in Hagerman. We noticed the sign right off Interstate 84 and decided at the last minute to take a detour to check it out. We are so glad we did because we would have never known we were driving over the dramatic 250-foot deep canyon formed by the Malad River.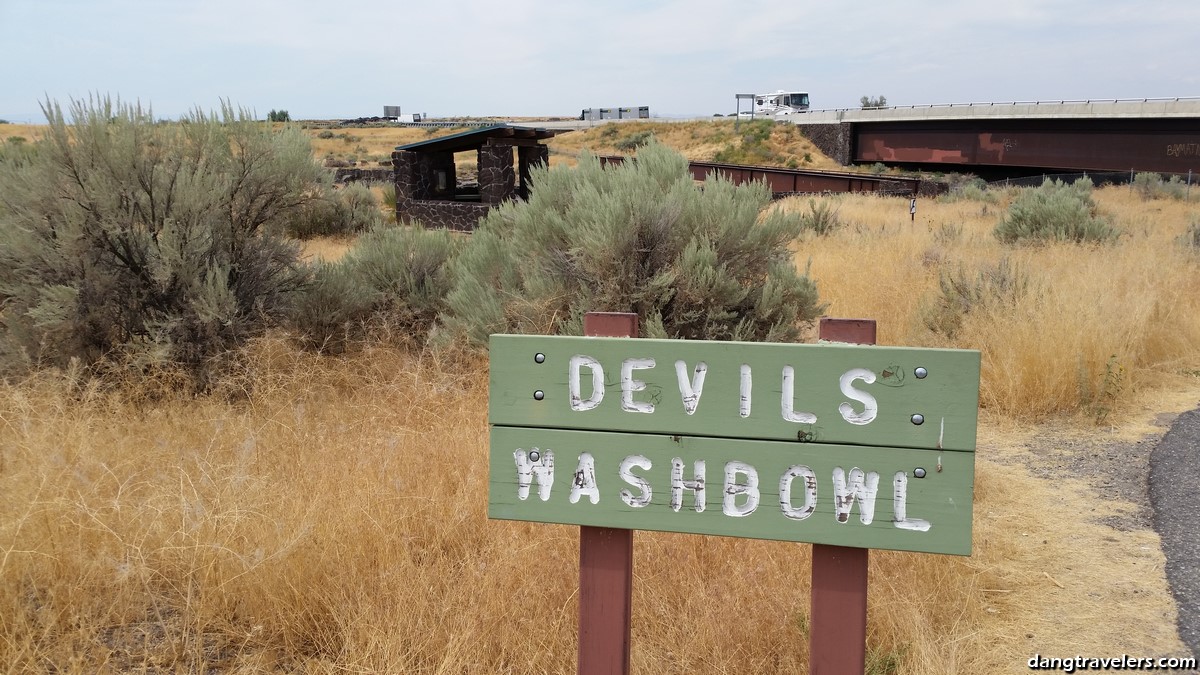 Twin Falls – Where the Fearless Go
Twin Falls claim to fame is the daredevil Evel Knievel's attempt to power rocket over Idaho's Snake River Canyon in 1974. His parachute deployed early, pushing him toward the raging river. Luckily, he dropped in on land and only suffered minor injuries including a broken nose. Unsuccessful, but still an impressive effort.
The 500-foot deep canyon is still the place for the fearless. The Perrine Bridge spans over the canyon and is popular for free-falling BASE jumpers. It is allowed year round without a permit. We were excited to catch one while we were walking along the trail. I don't think I'd have the stomach for it, but it sure looks exhilarating.
In Twin Falls, we stayed at Hampton Inn for only $19 because we cashed in our Hotels.com free night reward. They give a free night (up to the average cost spent for the total) for every qualifying 10 nights booked through their site.
Shoshone Falls Park – Rainbows and Waterfalls
Shoshone Falls Park, just a short drive from downtown Twin Falls, is a must-stop in the area. At 212 feet high, the falls are slightly taller than Niagara Falls. In the spring, the runoff surges causing a more mighty display than what we are seeing. Admission is $3.00 per car and provides access to picnic spots and a swimming area.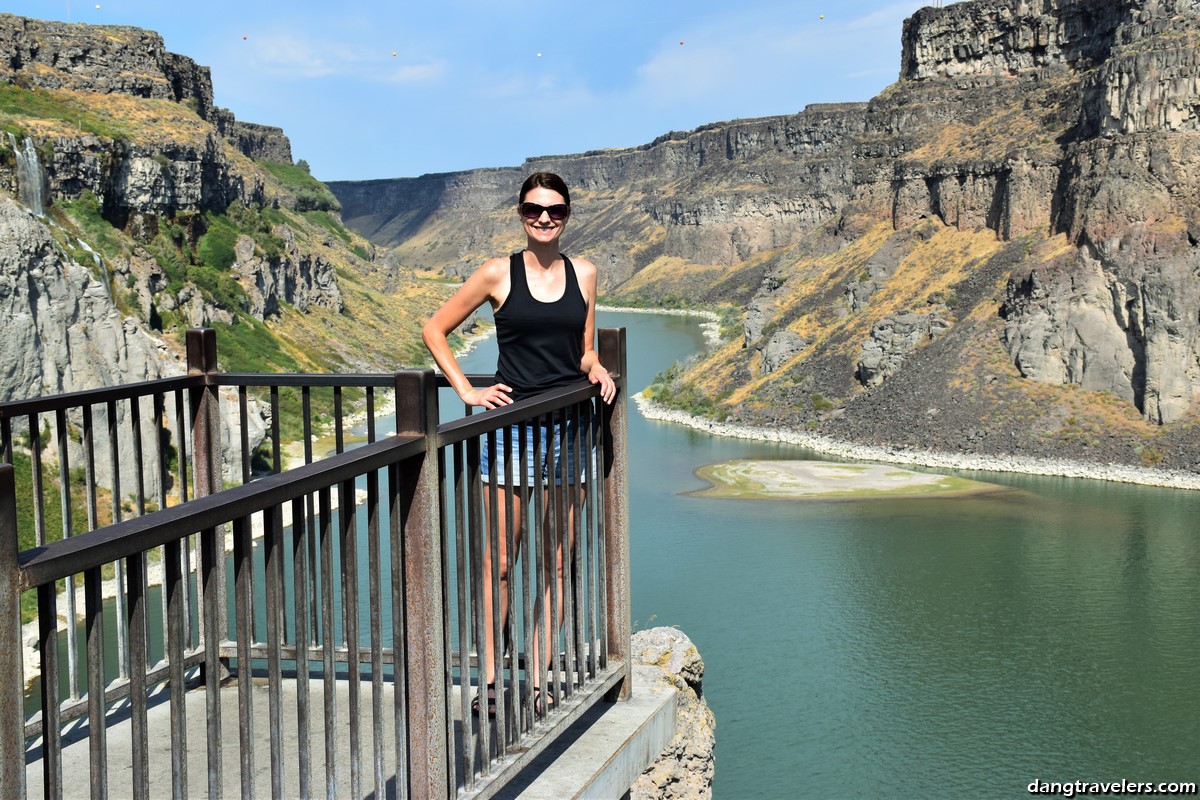 A Surreal Experience at Craters of the Moon National Monument & Preserve
Moonwalking, aliens and charcoal are all things you'll think of when traversing through this strange land. Craters of the Moon National Monument and Preserve is an expansive volcanic lava field in southwestern Idaho. Its bizarre landscape has lava tube caves, volcanic rifts, cinder and splatter cones.
"A weird and scenic landscape, peculiar to itself." ~ President Calvin Coolidge
Make sure to get a free permit at the Visitor Center for access to the caves. We drove the 7-mile loop and stopped at all the short hikes and ended our day exploring three lava tube caves. Climbing rocks and ladders to explore a cave created by lava is a kid's (or my husband's) dream. My nephews would love something like this! We put on our headlamp and laced up our shoes to begin the escapade.
This slideshow requires JavaScript.
Pocatello, Idaho
We stayed overnight in Pocatello at a Rodeway Inn and Suites in the heart of University of Idaho's campus. We've had good and bad experiences at Rodeway Inns on this trip. This particular one is in bad shape. They've been the cheap option ($61) so we deal with it, but nothing like our previous stay at Hampton. I'm just happy when I wake up in the middle of the night, I don't have to put my shoes on and walk outside to the bathroom!
Portneuf Valley Brewery
For dinner, we took a short walk over to Portneuf Valley Brewery. The food was excellent. We were going to share our meals, but neither of us wanted to give them up. My husband ordered the Happy Camper IPA and Belligerent Ass Nut Brown. To which I couldn't help but say, you are what you drink. Good thing I didn't order their Bitter Bitch! I enjoyed the Krystal Weizen, a light crisp summer beer. After dinner, we were back at the hotel gearing up for another day on the road.
Utah, here we come!
And so our epic 80 day summer road trip continues – 12 U.S. states, 2 Canadian province and 13 national parks. For the upcoming months, I will be sharing with you our highlights, lowlights, adventures, favorite spots, best tips and our thoughts on three months of road tripping and living in a pop up.  I'll try to answer any and all of your questions too!  You can also follow our journey via Facebook, Twitter or Instagram.


Miles Driven: 499


Total Road Trip Miles Driven: 8,441


Average Gas Price per Gallon: $2.29


State: Idaho


All States Visited: Wisconsin, Minnesota, South Dakota, Wyoming, Montana, British Columbia & Alberta Provinces, Washington, Oregon


If you would like to see our full itinerary, start at the beginning here. And Start at Day One here.

Don't forget to sign up below to be the first to know when a new post comes out so you can follow along on our adventures!
Next: Arches National Park

Like it? Pin It!