Change is good for the soul; whether it is a change within a relationship, career, or life in general. Even a change in scenery can be refreshing and rejuvenating. We have been on the road for almost two months and have experienced the magnificence of nature within ten diverse national parks. There have been glistening rivers, jagged peaks, milky blue waters, snow-capped mountains, and lush forests.
Is it time for a change? As we drive into Arches National Park, my eyes fixate on rugged arid land with glowing red rock and delicate natural formations and I realize, it was time for a new landscape.
Join us as we fall head over hiking boots in love with Utah! Use the Arches National Park itinerary below to plan your trip.


RELATED: CANYONLANDS NATIONAL PARK ITINERARY
Introduction to the Park
In the southeastern part of Utah, Arches National Park contains the largest number of sandstone arches in the country. Combined, the park has over 2,000 formations.
A 40-mile scenic drive delivers access to the various hiking trails and viewpoints along the route.
How Many Days in Arches National Park
You may be asking yourself how much time do you need at Arches National Park. One full day of exploring the park could be enough time to get a feel for it and complete some short hikes, but we recommend two days. Especially when visiting in the summer; it is nice having extra time to break up the hikes early in the day and later in the evening to avoid the midday heat.
Plus, two days will allow you time to explore one or two longer trails as well.
Read Next: The Best Hiking Trails in Arches
Best Time to Visit
The best time to visit Arches National Park is in the shoulder season. Daytime temps are bearable in the spring and fall averaging between 60 and 80 degrees.
In the summer, temperatures can hit a blistering 100 degrees, and be very uncomfortable for hiking.
RELATED: NATIONAL PARK ROAD TRIP ITINERARY
Know Before You Go
$30 per car, $25 per motorcycle, $15 per person on foot/bike for Arches by itself.
Southeast Utah Parks Pass is a good choice if visiting other parks in the area – $55.00. Valid for one year through the month of purchase. Admits one (1) private, non-commercial vehicle or its pass holder to Arches and Canyonlands national parks, and Natural Bridges National Monument.
Park is open year-round.
Visitor Center open 7:30 am – 6:00 pm (mid-June – early September), 8:00 am – 4:30 pm (early September – Nov. 1st), 9:00 am – 4:00 pm (rest of the year).
Potable Water available at Visitor Center and Devils Garden Campground Only.
Pack a sturdy pair of women's hiking shoes or men's hiking shoes, whichever applies. I prefer trail runners or hiking shoes that don't cover my ankles since it tends to rub, but if you prefer hiking boots, make sure to pick a durable and breathable pair.
Bring a good day pack to carry lunch, snacks, and water for your daily hikes.
Leashed pets only in parking areas and campgrounds, not on trails or backcountry areas.
Stay hydrated, bring and drink plenty of water throughout the day.
Stay on trails to protect fragile soil.
Parking is permitted only in designated areas and is strictly enforced.
Not many shaded areas in the park – Always wear or bring sunscreen and/or hat.
READ MORE: 10 BEST HIKES IN SOUTHERN UTAH
Where to Stay – Moab
A good home base for the week is Canyonlands RV Resort & Campground in the town of Moab, only 3.5 hours from Salt Lake City and 90 minutes from Grand Junction. The town is in an ideal location: 5.5 miles south of the entrance to Arches National Park, 30 miles northeast of Dead Horse Point State Park, 32 miles northeast of Island in the Sky Visitor Center in Canyonlands National Park, and 76 miles east of the entrance to Needles District, Canyonlands National Park.
Moab has various lodging options including hotels, motels, resorts, B&B's, and campgrounds. It is a gateway to a playground for the adventurous: hiking, four-wheel-drive excursions, white-water rafting, canoeing, biking, and horseback riding.
Continue below for our Arches National Park 2 Day Itinerary
Arches National Park Itinerary: Day 1
Start early, the middle of the day catches high temperatures and crowds. We head straight to the furthest point in the park to take one of the limited parking spaces at a popular trail.
Devil's Garden Trail – Out and Back
Devil's Garden Trail is one of the longest and most difficult trails in Arches. Only the last two and a half miles are moderate, the beginning section is easy and flat. Eventually, the trail has a 1,000-foot elevation gain and also has stretches of rock climbing.
The trail can be taken as a 7.2-mile loop trail by eight arches, through a section that is considered primitive. We choose to walk to the more easily accessed six arches by hiking the out and back trail, roughly 6.5 miles.
The first two arches we come to are the Pine Tree Arch and the Tunnel Arch.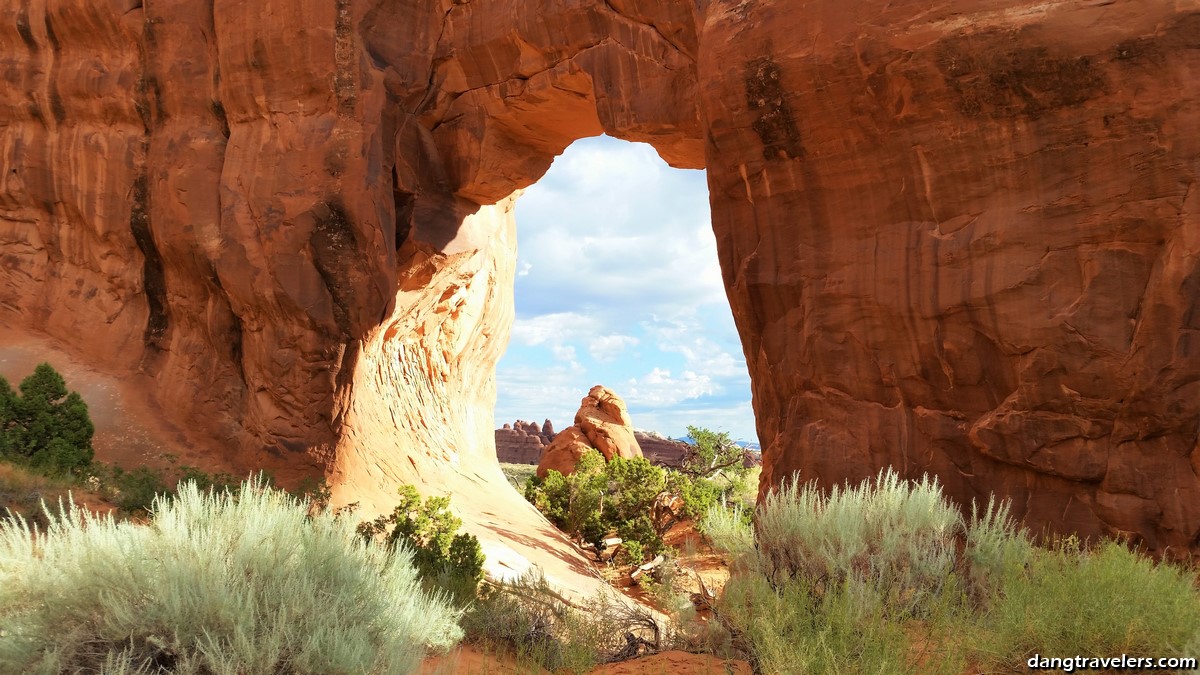 Next, the trail takes us to the third and most impressive arch. Depending on who you ask, some say the Landscape Arch is the longest natural arch on the planet.
The Natural Arch and Bridge Society has deemed it the fifth-longest in the world, measured at 290-feet long. Either way, it is an impressive sight to see.
If you do not want to climb up rocks or do not like heights this is the place where you may decide to turn around. Up to this point, it would be about 3 miles round trip.
After visiting Landscape Arch, the trail gets more adventurous. It begins to climb over rocks and splits off to two spur trails to the Partition Arch and Navajo Arch.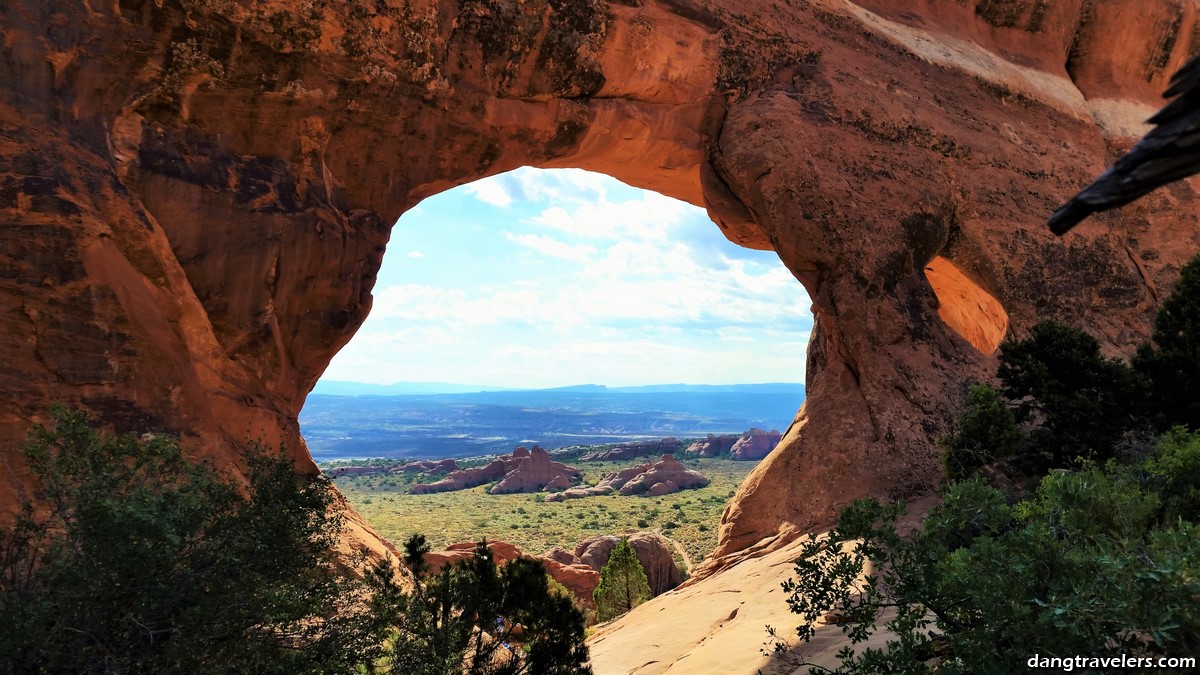 Following the spur trails, the trail opens up to magnificent views of Arches landscape on the way to Double O Arch.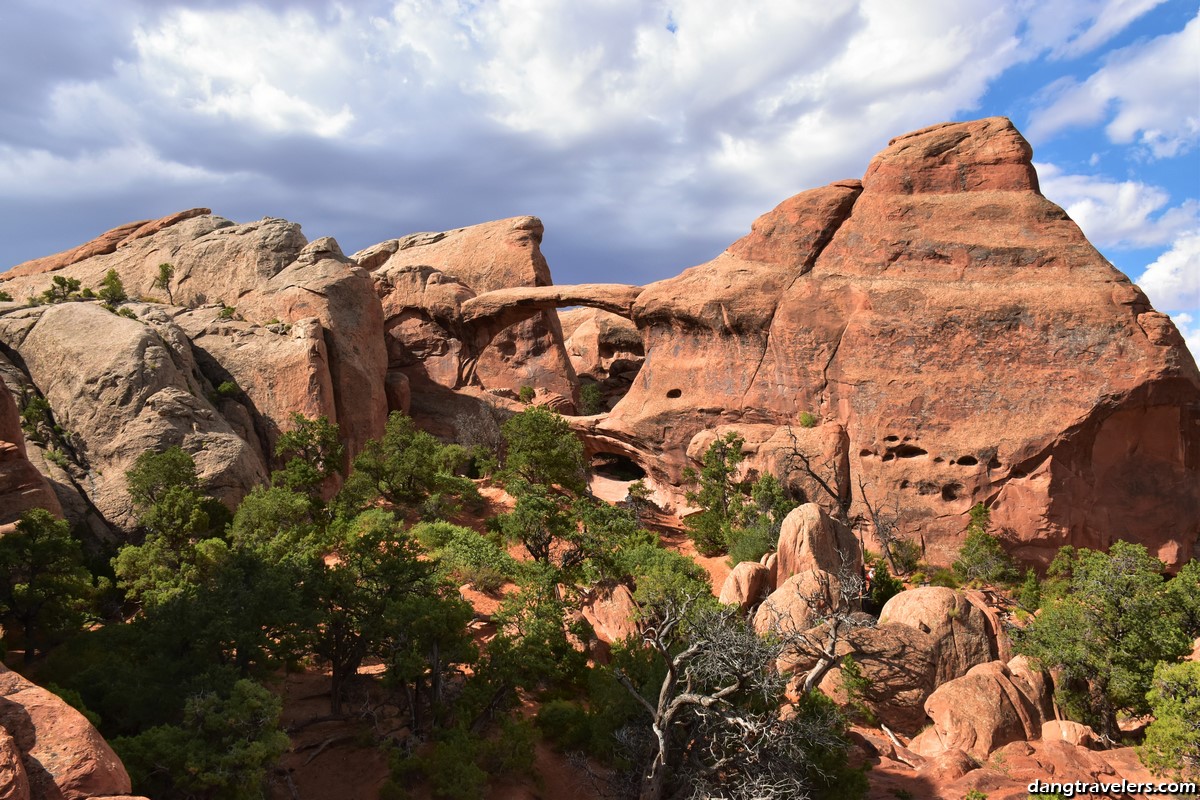 After scrambling back up from Double O Arch, we turn around only to have the first injury of the trip. On the way down, I slip and fall in a very banana peel-esque manner.
My feet come up and my elbow, hip, and butt slam on the solid rock. I was not a happy camper, but if someone was behind me, they would have had a good laugh. Thankfully, nothing is broken.
Tip: Wear sturdy shoes and walk slowly on the way down!
DON'T MISS DEAD HORSE STATE PARK IN UTAH
Skyline Arch
After the Devil's Garden hike, we hop back in the car for a short ride to Skyline Arch. Parking is alongside the road. The trail is only 1/2 a mile out and back.
Sand Dune Arch
Sand Dune Arch is another short drive. It is a quick, easy stroll in a sandy area. It's a fun narrow path to the arch.
Fiery Furnace Viewpoint
You can hike the Fiery Furnace area, a 2-mile moderate hike, with a ranger or permit after watching an orientation video at the Visitor Center. We stop at the viewpoint to take in the labyrinth of sandstone walls.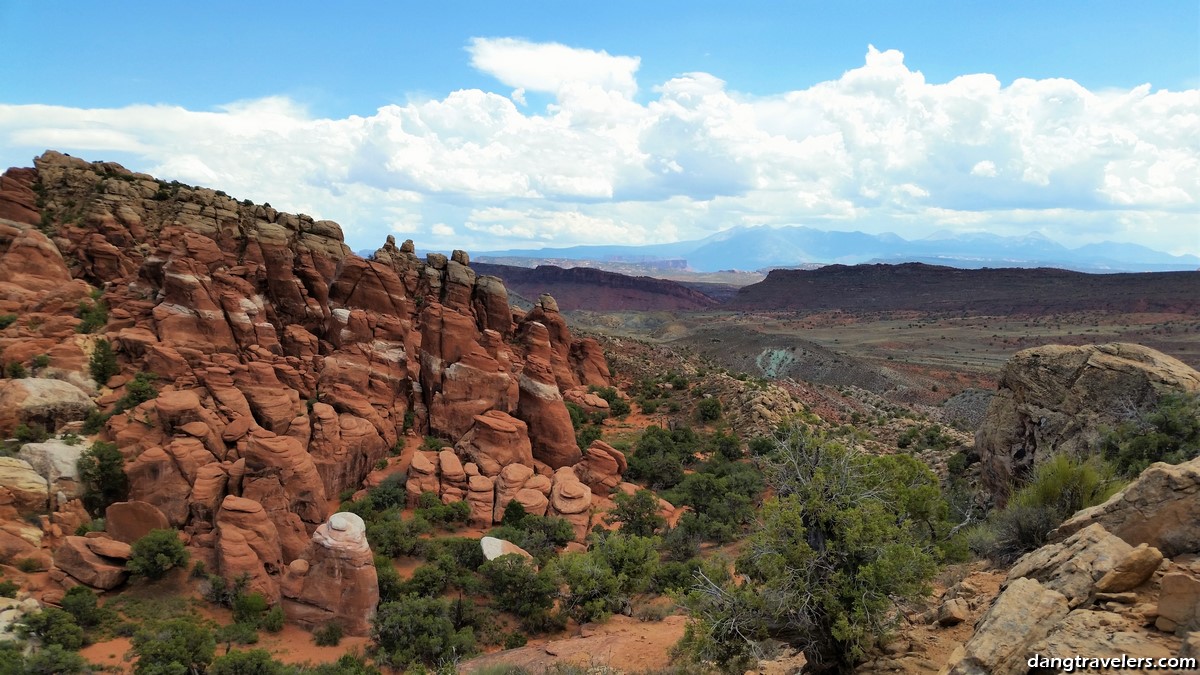 Arches National Park Itinerary: Day 2
Delicate Arch Hike
Start the day at the most well-known hike and best places to see in Arches National Park, the Delicate Arch hike. It is famous for a reason!
The 80-foot arch towers over impressed onlookers. The 3-mile round trip trail to the freestanding arch is considered strenuous and is usually busy.
It starts out with a steep climb along a well-defined wide path. Follow cairns along the next section on slick rock which eventually leads to a narrow rock ledge.
Alas, the stunning Delicate Arch!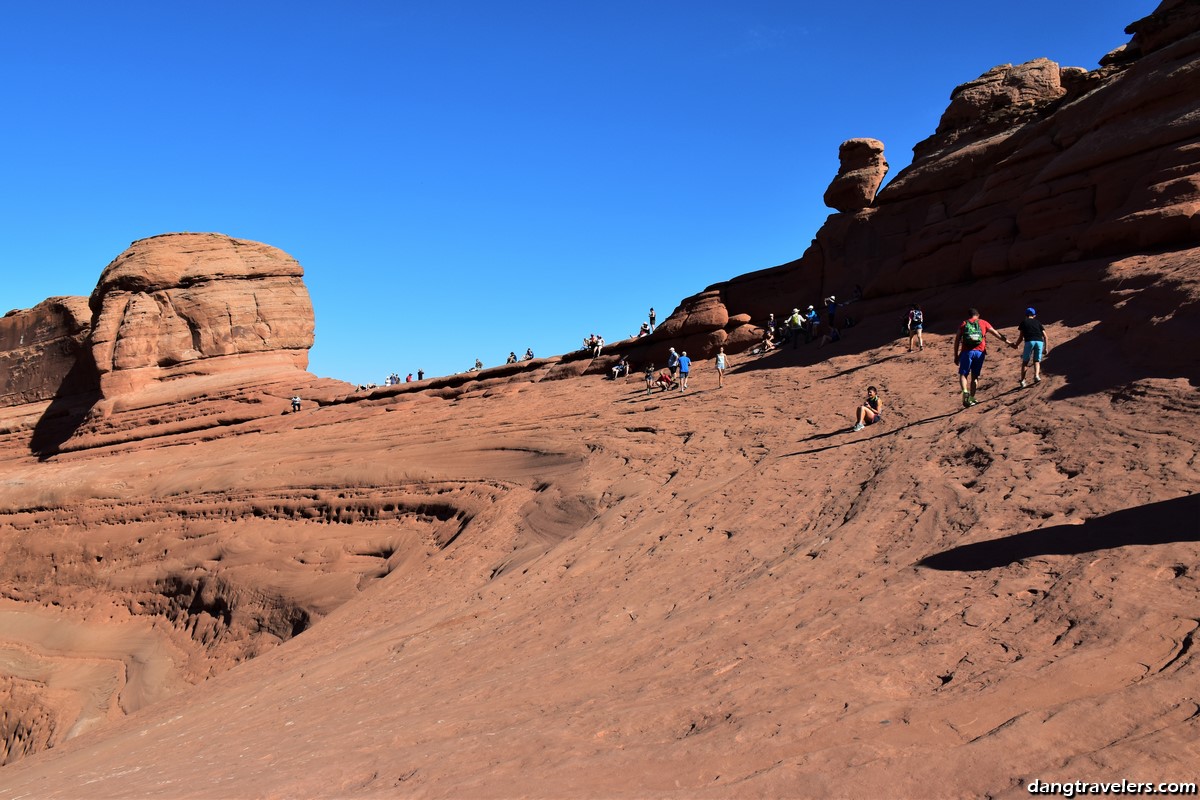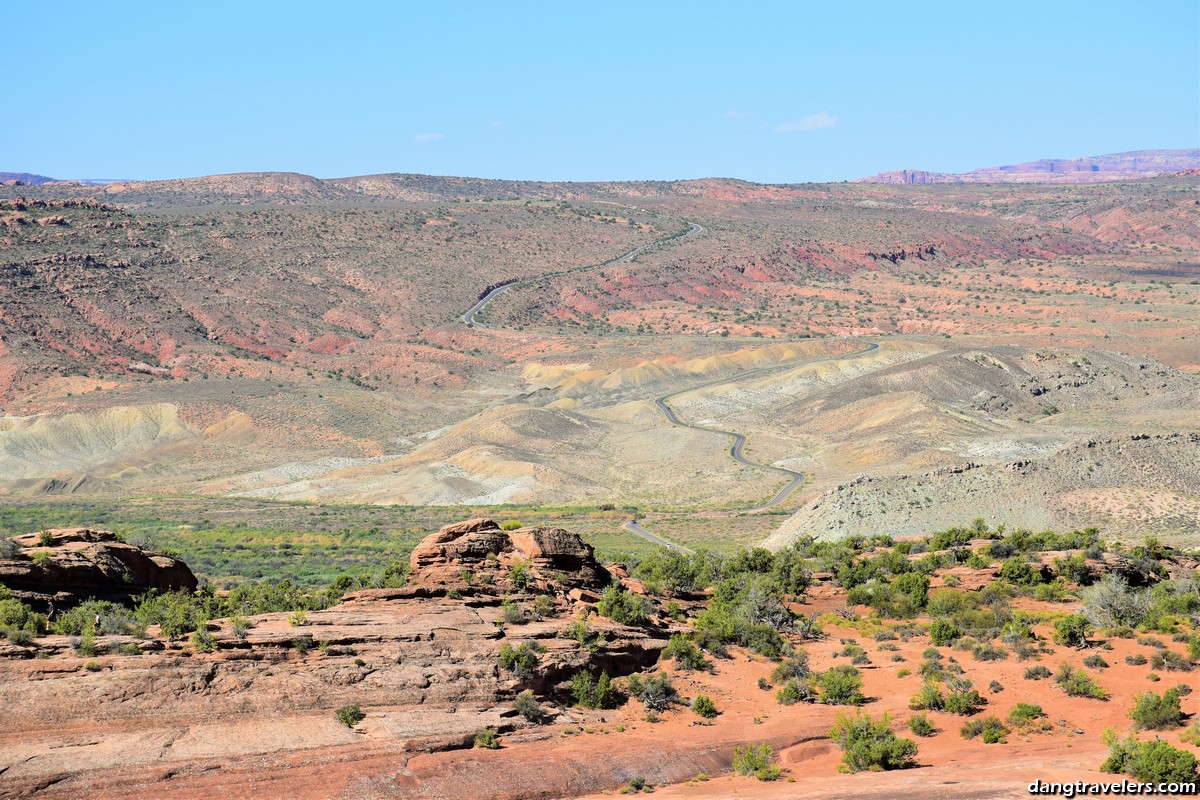 The Windows
The Windows section includes a few different paths to various formations. On the south side of the parking lot, a loop trail winds around the North Window, South Window, and the Turret Arch.
From the north side, the Cove of Caves and Double Arch can be reached.
Arches National Park at Sunset
Lastly, end your trip with a sunset in the park. The warm glow adds a whole other level of beauty to the rugged landscape.
Don't forget to sign up below to be the first to know when a new post comes out so you can follow along on our adventures!
Like it? Pin It for Later!