Glacier National Park easily tops my list of favorite national parks in the United States. Montana's crown jewel is home to over one million acres with 130 spectacular lakes, five National Historic Landmarks, two mountain ranges, and hundreds of species of animals.
Unfortunately, the landscape is ever-changing and the park will completely transform in the coming years "depending on how and when we act." The park, once home to 150 glaciers, only has 25 remaining and they are retreating fast. Projections suggest that because of climate change, in several decades the remaining few, may all be gone.
So you know what that means. It's time for a visit!
Before we get you to the 5-day Glacier National Park itinerary and travel guide with tips and the can't-miss places for your trip, let's discuss some other important information.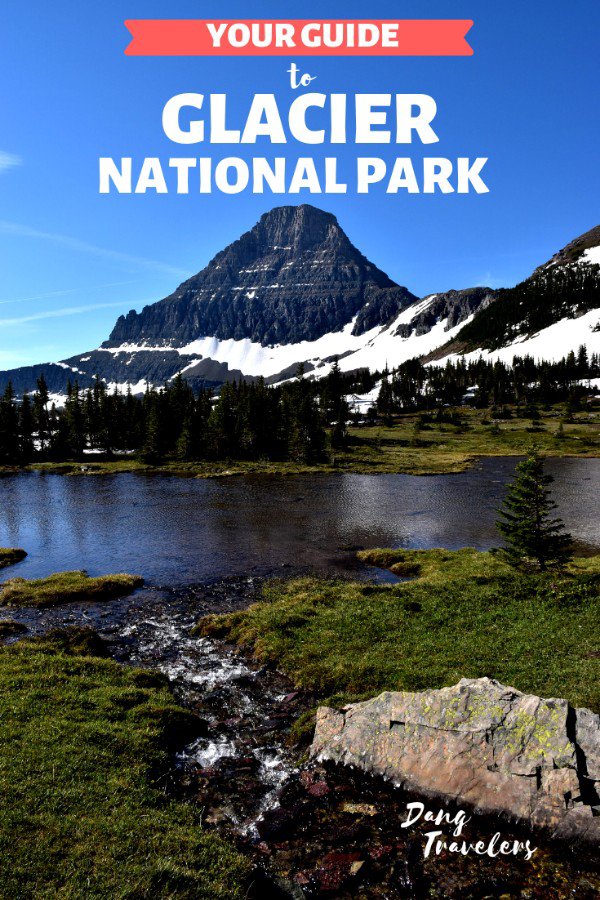 2023 Update: In an effort to reduce congestion, reservations are required from May 26th – September 10th from 6:00 am to 3:00 pm to access Going-to-the-Sun Road and the North Fork. Reservations are required from July 1 – September 10th from 6:00 am to 3:00 pm to access Two Medicine and Many Glacier. Click here to read more information about the ticketed entry requirements. Vehicle reservations are required in each separate area.
How can I see Glacier National Park without a reservation?
– Arrive before 6 am or after 3 pm at the North Fork, Two Medicine, or Many Glacier (only after 3 pm for Going-to-the-Sun Road) during designated dates.
– Book one of the many guided Glacier National Park tours such as horseback riding, guided hikes, or boat rides within the park)
How Many Days Do You Need in Glacier National Park?
You do not have to be an avid hiker or even outdoorsy in general to appreciate the raw natural beauty of Glacier. You'd be missing out though if you didn't explore some of the 700 miles of hiking trails.
It is one of those places that wows even the most stoic. It is roughly 1,500 square miles of alpine meadows and dense forests with magnificent panoramas, tumbling waterfalls, and glistening lakes
Whether you are planning to stop in Montana on a cross-country road trip like we did or it is the main destination, you should plan for at least five to seven days to see all the spectacular things Glacier has to offer.
Tips for Visiting Glacier National Park for the First Time
Plan ahead. Glacier, along with many of the national parks, is a popular destination with limited facilities. Reservations open up 13 months in advance. On the first of each month, the park begins accepting reservations for the entire month of the following year. For example, on September 1, they will accept reservations through September 30 of the following year.
Pack a sturdy pair of women's hiking shoes or men's hiking shoes, whichever applies. I prefer trail runners or hiking shoes that don't cover my ankles since it tends to rub, but if you prefer hiking boots, make sure to pick a durable and breathable pair.
Bring a good day pack to carry lunch, snacks, and water for your daily hikes.
Be up early! Get out by 8 am and you will not have a problem with parking or crowds.
Always stay alert and remember to respect the animals and their space. Do not approach any wildlife and absolutely never turn your back on an animal to snap a selfie.
Cell coverage is sparse so download a Glacier National Park map, itinerary, and any other necessary information beforehand.
Download National Parks by Chimani. It is a free app for your phone that has detailed guides, including GPS-enabled maps that can be used offline.
Layer up. The weather can and does change often, especially when hiking in high elevations. Even in July we started out with flowers in a meadow and ended up hiking through snow.
It is highly recommended by the park to utilize the free shuttle system that runs along the Going-to-the-Sun Road between Apgar Visitor Center and St. Mary Visitor Center.
If driving in the park, always add extra time. Glacier is very busy with one major road going through it which can get congested at times.
Bring your passport if you are going to include a day at Waterton Lakes National Park over the border in Canada.
BEAR SAFETY:
Any activity within 100 yards (91.4 meters), such as approaching, viewing, or engaging bears or wolves, or within 25 yards (23 meters) of any other wildlife is prohibited.
Always make noise when walking especially when taking a corner. You can play music, where a bear bell, clap your hands, and/or yell out, "Hey bear!!!" every once in a while. If possible do not hike alone.
Purchase bear spray before arriving to give you peace of mind. *Note: you cannot fly with bear spray so purchase only after arriving if coming by plane.*
Ask a ranger. It's always advisable to ask about bear activity in the areas you are hiking.
Be aware that bears, like most animals, are more active at dusk and dawn.
If you see a bear along the side of the road, do not stop near the animal. Pull over at a safe location at least 100 yards away.
Food should always be stored in vehicles or in bear-proof canisters or lockers.
What is the Best Month to Visit Glacier National Park?
With melted snow and comfortable temperatures, July and August are the best months to visit Glacier National Park, making these months peak tourist season.
And because of the limited timeframe, it makes our Glacier National Park Travel Guide very important in the planning process.
Top 7 Things to Do in Glacier National Park – DO NOT MISS
Going-to-the-Sun Road
Grinnell Glacier Hike
Trail of the Cedars and Avalanche Lake
Hidden Lake Trail
Lake McDonald
Highline Trail
Virginia and St. Mary Falls
You can save the Glacier National Park itinerary map above to your Google Maps account by selecting the star icon.
To view it, open Google Maps on your desktop or on your phone, select the menu button, go to "Your Places," scroll to the right to Maps, and you will see this map.
DOWNLOAD OR SAVE THE OFFICIAL GLACIER NATIONAL PARK MAP HERE
How to Get Around Glacier National Park
The national park service highly recommends utilizing the free shuttle service offered between Apgar Visitor Center and St. Mary Visitor Center. It runs from early July to mid-September depending on the weather. Shuttles are air-conditioned and have large windows for viewing the park as you drive. They run every 15 – 30 minutes from 7:00 AM to 7:00 PM.
If you are not an early riser, I recommend using the shuttle system as there is limited parking available at each trailhead and visitor center. If you can wake up and get moving with the sun then you'll most likely find a parking spot. Always have an alternative hike or destination in mind though just in case.
BEWARE: There are size restrictions on Going-to-the-Sun road. Any vehicle combinations longer than 21 feet (including bumpers) or wider than 8 feet (including mirrors) are prohibited between Avalanche Campground and the picnic area parking lot at Rising Sun. Due to overhangs, vehicle combinations over 10 feet in height may have issues driving west from Logan Pass to the Loop.
Available at various locations within the park are the famous Red Buses that provide tours around the park.
East side departure points include Swiftcurrent Motor Inn, Many Glacier Hotel and Rising Sun Motor Inn, a few spots in the town of St. Mary's, Johnson's hotel guests and at the Glacier Park Lodge in East Glacier.
West side departure points include Apgar Visitor Center, Village Inn at Apgar and Lake McDonald Lodge, and a couple of spots near the west entrance to the park.
Scroll below the itinerary for my top picks on lodging!
5 DAY TRAVEL GUIDE TO GLACIER NATIONAL PARK
This adventure-filled Glacier National Park itinerary will take you to all the places you'll want to experience in and around the park including a day trip to Waterton Lakes National Park in Canada.
Day 1 – Getting to the Park
You've arrived! Make the most of your travel day when you get to Glacier National Park. Settle in; pick up groceries, snacks, and drinks and check in to your hotel or campground. If you flew in, remember to pick up bear spray (available at Walmart and stores inside the park) for peace of mind.
CHECK OUT OUR BEST FREE APPS FOR A U.S. ROAD TRIP
Where to Find Groceries near Glacier National Park
Walmart Supercenter near West Entrance: 170 Hutton Road, Kalispell, MT
Canyon Foods near West Entrance: 8900 Hwy 2 E, Hungry Horse, MT
Smith's near West Entrance: 419 Nucleus Avenue, Columbia Falls, MT
Mary Grocery near East Entrance: 3 Going-to-the-Sun Hwy, St Mary, MT
Walmart Supercenter on the way from Yellowstone National Park, 1500 N. 7th Avenue, Bozeman, MT
Many of the campgrounds and lodges also have stores with limited supplies and are often more expensive so I suggest picking up what you need beforehand.
Head to a visitor center to pick up maps, ask questions, and watch an introductory video about the park before taking a short hike to stretch your legs.
An easy must-do hike in Glacier National Park is St. Mary and Virginia Falls near the east entrance of the park. It's a 3.6-mile round trip flat hike where a trail leads you through a burned forested area that is surprisingly breathtaking then to two awesome cascading waterfalls.
FIND OUT WHICH CELEBRITY WE RAN INTO ON THE VIRGINIA FALLS TRAIL
Day 2 – Central Section
Wake up early (maybe even catch the sunrise) and begin the day on the jaw-dropping beautiful Going-to-the-Sun Road that cuts directly through Glacier National Park. Once you get a glimpse of what this scenic drive has to offer, you will not be disappointed that many of the trails are off this incredible road.
*TIP: Remember to look out for wildlife, it's one of the best times of day to see them.*
Head to Logan Pass Visitor Center, located at the highest point accessible by car at 6,646 feet high. Here you can choose from two hikes: Highline Trail or Hidden Lake Trail.
The Highline Trail is one of the most highly-rated hikes in the entire park and has even been touted as one of the best in all of America and with good reason. It provides remarkable views and chances to see wildlife and beautiful wildflowers.
Because of its popularity, is another reason we recommend arriving as early as possible. And since it's an out-and-back, you don't necessarily have to hike the entire route, you can make it as long or short as you'd like.
Highline Trail, Glacier National Park
Here are a few things you need to know if you choose the Highline hike:
Only open if the snow has melted and conditions are given the okay from park rangers (check inside the visitor center for information).
Usually open from mid-July to August.
Strenuous with steep drop-offs.
Roughly 12 miles out and back.
2,000-foot elevation gain.
If that trail is closed due to weather or you'd like something less challenging try the Hidden Lake Trail. One of the best places in the park to see mountain goats and bears. And when there's no snow on the ground, it is wildflower mania carpeting the meadow.
Hidden Lake Overlook Trail
Here are a few things you need to know if you choose the Hidden Lake Overlook Trail:
Can hike even if there is snow on the ground.
Easy with no snow on the ground, Moderate with snow.
Roughly 3 miles out and back.
500-foot elevation gain.
*Tip: Don't forget your camera and bear spray, we saw our first grizzly here!*
RELATED: WHAT IT WAS LIKE HIKING WITH A GRIZZLY BEAR
After hiking, drive the rest of the 50-mile extraordinary Going-to-the-Sun Road. It is one of my favorite experiences in all of our travels so far. Be patient. Take your time. And enjoy.
It will take a few hours between the slow driving and stops along the way.
Day 3 – West Section
Spend the day hiking in the west section of Glacier National Park near Lake McDonald, the largest lake in the park. First, take the Cedars Nature Trail to Avalanche Lake, a 4.5 mile easy round trip walk through a narrow gorge contoured with green moss and glossy stones finishing at a shimmering clear lake.
Lake McDonald Area
Afterward, take a short stroll around Johns Lake about one mile east of McDonald Lodge on the Going-to-the-Sun road. Under two miles long and relatively flat, the loop trail is easy and won't take long. Then stop in at the Lake McDonald Lodge, nestled on the shoreline, to enjoy the rustic ambiance and historic feel. Grab a drink at Lucke's Lounge or a meal at Russell's Fireside Dining Room.
End the day at the southwestern side of Lake McDonald near Apgar Village to experience that Instagram-famous shot of the lake with the colorful rocks under the crystal clear water framed by the mountains.
*Tip: Don't forget to bring binoculars!*
Day 4 – Many Glacier Section
After visiting over 20 national parks, I have a few hikes that go down as my favorites like Angels Landing in Zion, the Beehive Trail in Acadia, and Grinnell Glacier in Glacier. DO NOT MISS THE MANY SECTION OF THE PARK!
You can adjust this hike to many different skill levels so make sure no matter what your hiking background is, you don't skip this unforgettable scenic area. The Grinnell Glacier Trail, to this day, remains one of the most terrifying and rewarding hikes I've been on. Click on the above link to read about our experience hiking the memorable trail.
Start your day with a breakfast buffet at the historic Many Glacier Hotel. The food isn't the greatest but it's all you can eat to prepare you for the long hike ahead of you and the views are unparalleled.
After breakfast, make your way behind the lodge to either the boat dock or trailhead. You can shave roughly 3 miles off the 10-mile hike if you choose to take the shuttle boats across the lakes. If you are short on time go ahead, but I HIGHLY recommend hiking the entire path if possible. The first two miles are relatively flat with fantastic views of Swiftcurrent Lake and Lake Josephine.
Grinnell Glacier Trail
The Grinnell Glacier Trail connecting back to the Grinnell Lake Trail is roughly 12 miles round trip with a 1,800-foot elevation gain. Expect to be rewarded with sensational view after view and a day full of gasping at the landscape before you. We chose to extend the hike a little longer by taking the Grinnell Lake Trail back for a different perspective than going out and back. We saw a moose and her baby and enjoyed the lake scenes so I would suggest it. If you go all the way to Grinnell Lake, be prepared for a short visit because the mosquitos are annoying on the lookout.
And after all that climbing and walking, make sure to stop by the bar at the hotel for a local craft beer like a Wild Huckleberry, you deserve it!
*TIP: As with all hiking in Glacier, do not forget your bear spray. We saw a mom and cub right on the trail.*
Day 5 – A Day at Waterton Lakes National Park or Take a Hike
You have two choices today: explore more of Glacier or head to another national park. You are probably thinking, why spend a day outside the park? It is a bit of a drive and you do have to remember to bring your passport because you'll be crossing over the border, so it's not something you necessarily HAVE to do but we are glad we did. It was an exceptionally cold and windy day plus our legs were sore from the Grinnell Glacier hike so we decided to take a drive to see what the park was all about.
You can read about how we spent the day at Waterton Lakes National Park here.
If it's your first time in Glacier or you only have a few days then I suggest skipping Waterton and exploring more of Glacier. BUT if you've been before, have extended time, or are heading to Canada again on this trip or another this year then Waterton should make your itinerary.
The park and lodge are picturesque, it wasn't overrun with tourists and we saw five bears from the car! I'd say, it was worth the extra mileage and cost. If you are continuing your road trip up through Canada after Montana, purchase the Discovery Pass which has unlimited access to all Canadian parks.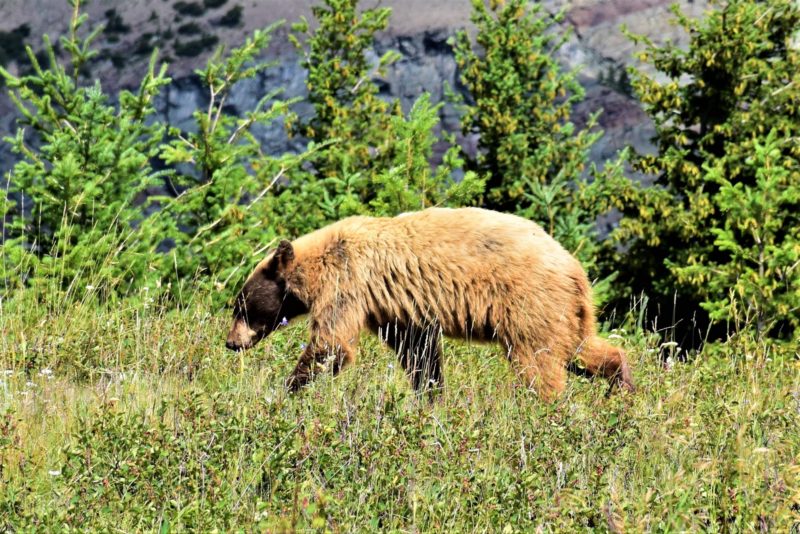 READ NEXT: TOP 10 THINGS TO DO IN BANFF NP
Waterton Lakes National Park and Glacier National Park share a lake at the border and in 1932 the two were combined and designated Waterton Glacier International Peace Park, the first of its kind in the world. It is also a UNESCO World Heritage Site.
Make sure to stop inside the Prince of Wales Hotel for afternoon tea or a drink with a magnificent view, walk around town, check out Cameron Falls, and hike the short but steep Bear's Hump Trail right by the Visitor Center for the best view in the park.
Other Best Hikes in Glacier National Park
If you are not interested in taking a drive out to Waterton, check out these other highly-rated day hikes in Glacier:
How to Get to Glacier National Park
Glacier National Park is in the northwest corner of Montana running along the ridge of the Rocky Mountains.
Flying is the quickest form of transportation to the area with flights between 2 – 5 hours from many major U.S. cities. Glacier Park International Airport in Kalispell is the closest airport to the national park near the west entrance and houses Alaska Airlines, Allegiant, Delta Airlines, and United Airlines.
The Great Falls International Airport in Montana is roughly 150 miles from the east entrance. It serves a few major airlines such as Delta, United, Alaska Airlines, and Allegiant Air. Rental cars are then available at all airports to get you around on your trip.
Set up an Airfare Alert via AirfareWatchdog
Amtrak also offers stops in East Glacier, West Glacier, and Whitefish. A vehicle is not necessarily a must to visit the park, but I would recommend it since you will be limited as to where and when you can explore. If you are staying within the park, you can use the free shuttle service to get around or take guided tours.
Related: Missoula to Glacier National Park Itinerary
Best Option
In my opinion, the BEST way to get to Montana is to drive. If you are from the U.S. and you have time, visiting the park is the perfect opportunity for a road trip. It allows you to bring your own tent, trailer, or RV which opens up so many lodging options near the park. Since it is a popular destination and so large being able to camp is helpful for planning purposes.
We drove the 1,500-miles or so from Chicago on a mega road trip hitting Badlands National Park and Yellowstone National Park first then wheeled up north to Banff National Park and Jasper National Park in Canada. It was an unforgettable trip that we will be talking about for years to come.
READ NEXT: RV RENTING FOR BEGINNERS
Glacier National Park Lodging
There are many accommodation choices in the area, anywhere from romantic lodges to basic tent sites. Any type of traveler can find suitable choices but the key is to book early.
Glacier has thirteen campgrounds and only a few take reservations: Fish Creek, St. Mary, and some of Many Glacier. The remaining are first come, first served. Inns and lodges within the park boundaries book up fast but have cancellations often so periodically check the website for openings. Beware no camping sites inside Glacier NP have electricity, water or sewer and have limits on generator usage.
We camped at St. Mary Campground on the east side of the park, one of the few that takes reservations.
READ NEXT: CAMPING AT ST. MARY CAMPGROUND IN GLACIER
Lodging Options near East Entrance Outside the Park
Lodging Options near East Entrance Inside the Park
Rising Sun Motor Inn ($$$)
Mary Campground ($)
Rising Sun Campground ($)
Lodging Options Inside the Park Centrally Located
Lake McDonald Lodge ($$$)
Motel Lake McDonald ($$$)
Avalanche Creek Campground ($)
Sprague Creek Campground ($)
Lodging Options near West Entrance Outside the Park
Lodging Options near West Entrance Inside the Park
Apgar Village Lodge ($$$)
Village Inn Motel
Apgar Campground ($)
Fish Creek Campground ($)
Lodging Options near Many Glacier Entrance Inside the Park
Many Glacier Lodge ($$$)
Swiftcurrent Motor Inn ($$$)
Many Glacier Campground ($)
What would you add to this itinerary for Glacier National Park? Tell us in the comments below!
Disclaimer: This post contains affiliate links, if you book through our link we will receive a small commission at no additional cost to you. Thanks for supporting the blog!
Like it? Please save it!