SUMMER ROAD TRIP, DAY 21
We hiked to two awesome waterfalls, saw a celebrity on the trail, and ate at a quirky restaurant right outside of Glacier National Park.

St. Mary Falls Hike to Virginia Falls
We loved this hike! The walk begins in a scorched forest, but the contrast of the colorful wildflowers against the burnt bark was outstanding.
You can pick up the trail about 10.6 miles from the St. Mary Entrance Station on the Going-to-the-Sun Road. At only 250 foot elevation gain and about 3-miles round trip, the hike is a fairly easy out and back.
It is a popular hike with limited parking so arrive early in the day for a quiet trail and a parking spot.
After the short walk in the forest, we reached St. Mary Falls. The reddish-brown color of the trees alongside the fall make it look like an autumn day.
RELATED: COBALT LAKE TRAIL
Virginia Falls
Don't stop here! If you hike St Mary Falls hike, continue on to Virginia Falls where you can stand right at the bottom of the pounding waterfall.
If you are visiting early in the season, make note this hike is one of the earliest trails to be clear of snow because of the elevation.

Celebrity Sighting – Who Did We See?
On the way back to the car, I exchanged pleasantries with a father and son duo as we passed by. As I was asking how they were doing, I realized the son was Derek Hough from Dancing with the Stars.
I've seen the show only a few times, but I recognized him right away. I told my husband and he had no idea who he was and thought I was a little crazy. I looked him up on Instagram later and it was him. He had a picture from the day before with him and his dad in Glacier.
Unfortunately, I didn't stop him for a picture. I just thought it was funny that I recognized him hiking on a trail in Montana. His shiny hair must have tipped me off!
Two Sisters Café
We stopped for a late lunch at Two Sisters Café just outside the east entrance of Glacier. We had huge delicious burgers, Going-to-the-Sun IPA (love the name) and huckleberry pie. It was a great meal and the staff was extremely warm and friendly.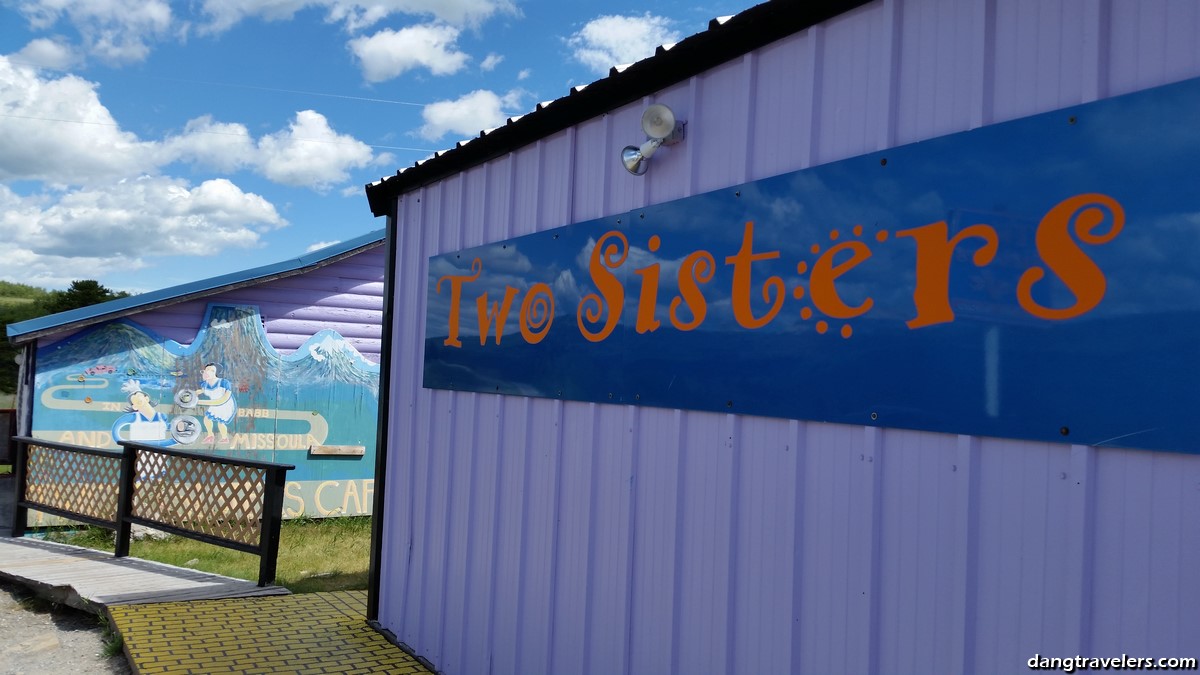 Next: The Most Terrifying Hike I've Ever Been on
And so our epic 80 day summer road trip continues – 13 U.S. states, 2 Canadian provinces and 13 national parks. Follow our journey via Facebook, Twitter or Instagram.
Miles Driven Today: 33, Total Miles Driven: 4,134, Average Gas Price per Gallon: $2.56, States: Montana

If you would like to see our full itinerary, start at the beginning here. And Start at Day One here.
Thanks for following along! Do you have any questions for us about our epic 80 day summer road trip? Or St Mary Falls Hike?
Like it? Pin It!