Key West has an ambiance that you cannot fully describe to someone that has never been. It has a Caribbean laid-back feel without ever leaving the United States.
It is a citland; a blend of city and island. It possesses beautiful architecture, serene gardens, delicious food, and a wild bar scene with the added benefit of wavering palm trees, soft sand, and breathtaking sunsets.
Many have been enchanted and inspired by the eclectic vibe of Key West such as Ernest Hemingway, Tennessee Williams, Robert Frost, and Jimmy Buffet.
Visitors are there to have a good time and are jovial to the core. Residents are known for their "anything goes" attitude and have adopted the One Human Family motto:
"We are all like fingers on a hand… we are all different and unique. We are all of equal value. We are all created to work together. And although we appear to be separate, we are all linked to and apart of each other."

The combination of acceptance, lack of judgment, and easy pace create a euphoric feeling of wanting to leave your inhibitions at the entrance of the Seven Mile Bridge and let your freak flag fly!
Plan Your Trip to Florida – Key West Lodging
Disclosure: Some of the links on our site are through affiliate partnerships. We may receive a small commission (at no additional cost to you) if you purchase through our links.
In no particular order, here are 20 fun Key West things to do:
1. Find the Best Fish Tacos in Key West.
So many places offer fish tacos, but here are my favorites.
The owners of Garbo's Grill caught the Key's Disease and moved down here to open their own restaurant. Located at the back of Hank's Hair of the Dog Saloon, the 6 x 8 food cart offers great eats while you listen to talented musicians out on the patio.
The most popular mouthwatering items include the Yum Yum shrimp, Korean BBQ short ribs, and fish of the day tacos and burritos.
But the menu also offers a poke bowl, lobster roll, hot dogs, and hamburgers.
Pro Tip: Open daily from 11 am – Midnight. Try to visit between "normal" eating hours because there is usually a line. We visited at about 2 pm and didn't have to wait long at all.
Where: 409 Caroline St
For another delectable experience, head over to Fisherman's Cafe, a low-key walk-up shack with an Old Key West vibe on the Historic Seaport.
Local ingredients and fresh seafood with a Caribbean flair make this a hidden gem on the island.
Where: 205 Elizabeth Street
2. Circle the Island on a Jet Ski
One of the unique things to do in Key West is to speed around the island on a jet ski. This 28-mile tour is so much fun!
It takes roughly 90 minutes with a few short breaks to learn about what you're seeing on land and there's a break at a sandbar so you can swim in the clear blue water.
Click here for Jet Ski Tour Pricing.
Pro Tip: If you have younger kids or anyone with weak upper body strength have them tag along with someone else. It takes a little bit of effort if the water is choppy at all.
3. Tour the Ernest Hemingway House.
Situated in Old Town, the Ernest Hemingway House Tour gives an insider a look into his personal life and the indelible mark he left on the literary world.
The prolific American writer lived at 907 Whitehead Street with his wife from 1931 to 1939. He wrote many of his notable works including short stories and novels.
While on your visit, you'll see the famous six-toed cats, a "beautiful" urinal-turned-water-fountain, and the stunning in-ground swimming pool with Hemingway's last penny which has an entertaining story attached to it.
The tour tops the list of unique things to do in Key West.
Open daily from 9:00 am – 5:00 pm. Cash only.
Where: 907 Whitehead St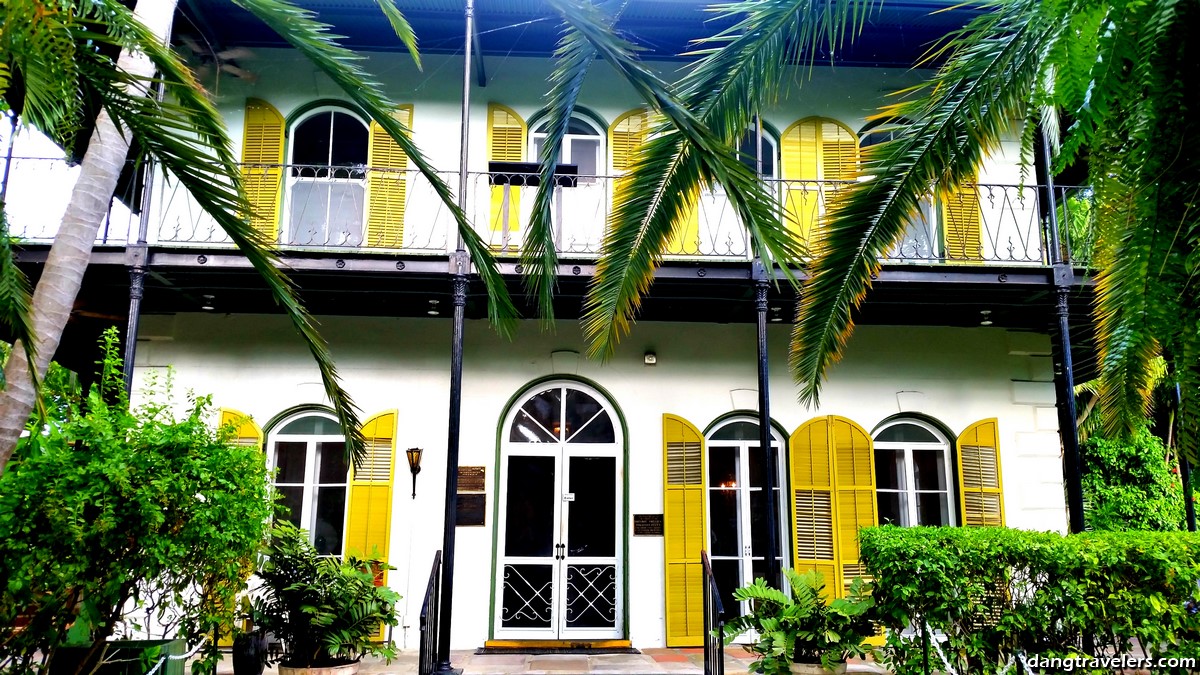 READ NEXT: FLORIDA ROAD TRIP TIPS – 25 THINGS YOU SHOULD KNOW
4. Soak in a Sunset.
Key West is notorious for having life-changing sunsets and there are a few fantastic places to take in the show.
The best way is to get out on the water and take a sunset cruise. Music plays and drinks flow as you sit back to relax and thoroughly enjoy the moment.
Mallory Point, a waterfront square lined with shops and restaurants, is another must-experience locale for sunset. It comes alive buzzing with people, entertainers, and vendors during its nightly Sunset Celebration.
Walking hand in hand along the water, watching the boats glide by as the sun slips away is one of the most romantic things to do in Key West for couples.
Where: 400 Wall St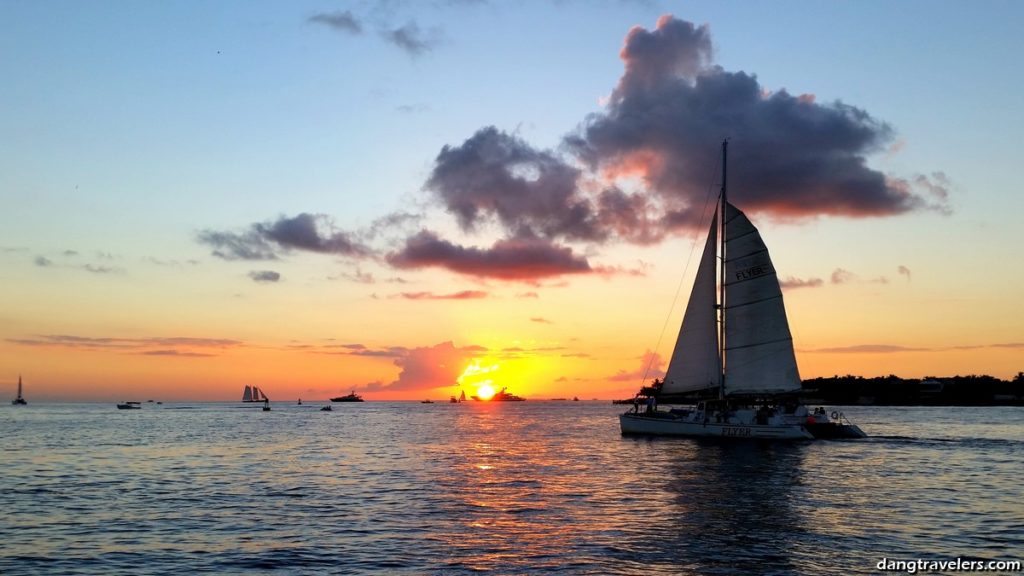 5. Bar Hop and People Watch on Duval Street.
You must make your way down Duval and embrace the wild Key West nightlife.
A few do-not-miss bars are the Green Parrot Bar, Sloppy Joe's, and the Garden of Eden.
To make your experience extra special, join a 2.5-hour Duval Pub Crawl where you'll meet new people and visit some of the most famous drinking establishments in town.
With the motto, "I Came, I Drank, I Don't Remember!" it's almost guaranteed you will have a good time at Irish Kevin's Bar.
Try to time your visit when Irish Kevin himself is up on stage. The singer, songwriter, and entertainer put on quite the show. My cheeks hurt from laughing so hard.
Don't forget to look up at the Jameson chandelier.
PRO TIP: The bit can get a little raunchy so if you or anyone in your party is sensitive, you may want to visit for another live performer.
RELATED: BEST ALL-INCLUSIVE RESORTS INCLUDING FLORIDA KEYS ISLAND
6. Listen to one of the many talented live bands at Hog's Breath Saloon.
Not only is Hog's Breath THE watering hole for live music, but they are also well-known for their killer drinks and seafood raw bar.
Where: 400 Front St
Get Your Guide is a great company that offers discounted tours and attraction tickets. One of the fun Key West activities is the Dolphin and Snorkel Tour which is a three hour water tour looking for marine life and sea coral. If you book through our site, at no additional cost to you, you'll help us support the blog since we receive a small commission.

Other tours they offer:
7. Take advantage of Happy Hour.
Most bars and restaurants offer happy hour deals on food and drinks at all hours of the day, but mostly between 4 PM and 6 PM.
Check out my local Key West Happy Hour Guide for all the bars and restaurants, but see below for my favorites.
For Seafood Eaters – Half Shell Raw Bar
For All Day Happy Hour – Mary Ellen's Bar & Restaurant and Bobby's Monkey Bar
For Bar Food Appetizers – The Commodore's Boathouse Bar and Grill
For Domestic Beer Drinkers – Schooner Wharf Bar
For Live Music – Hog's Breath
For Craft Beer Drinkers – Waterfront Brewery
For Wine Drinkers – Lucy's Retired Surfer's Bar & Restaurant
8. Eat Breakfast at Pepe's Cafe, the oldest joint in Key West.
Pepe's Café has been curing hangovers since 1909 with everything from make-your-own-omelets to greasy hamburgers to peel and eat shrimp.
They are open 7 days a week for breakfast, lunch, and dinner and have a happy hour as well from 4 pm – 6 pm every day.
Where: 806 Caroline St
If you're driving to Key West, make sure to stop in Marathon, here are the Best Places to Eat in Marathon, Florida.
9. Take a picture at the Southernmost Point.
The Southernmost Point Buoy marks the spot for the southernmost point in the continental United States. You can't visit Key West without getting at least one photo with the popular landmark.
Arrive early, late, or on a day when the cruise ships are not in town.
We couldn't believe the line to take a picture with a buoy! We didn't wait, we just sort of snuck in between and with other people.
Where: Whitehead St & South Street
10. Walk around the Secret Garden of Martello Tower.
Martello Tower, also known as the Key West Garden Club, is probably one of the most non-touristy things to do in Key West. Which is why it should be on your list, plus it's free and it's gorgeous!
The Tower was built in 1862 and is now on the National Register of Historic Places as one of the three remaining Civil War structures on the island.
Where: 1100 Atlantic Blvd
11. Hang out on one of the Key West beaches.
There are a few options for Key West beaches with the best being Fort Zachary Taylor Historic State Park Beach.
Within the park, you'll also enjoy a Civil War fort, cool cannons, nature trails, a beautiful sandy beach, clear water great for snorkeling, and a shaded picnic area.
The state park charges admission of $6 per vehicle (up to 8 people), $4.50 for single-occupant vehicles or motorcycles, and $2.50 for pedestrians, and bicyclists.
Smathers Beach, a great free option, offers a long stretch of sand to enjoy a walk on the beach, swimming, volleyball, or a picnic.
Where: 2601 S Roosevelt Blvd
Related: Key West Things to Do with Kids
12. Have a drink, dance, and listen to live music at Sunset Pier.
Located dockside at the Ocean Key Resort and Spa, the drinks at Sunset Pier are a bit pricey, but worth it for the entertaining atmosphere.
Where: 0 Duval St
13. Check out the Houseboats off of S. Roosevelt Boulevard
Reminiscent of the old houseboat row, this floating community is like a full-blown neighborhood on the water!
Picket fences, enclosed patios, and colonial-style windows adorn the bobbing cottages. Take a stroll to check them out.
14. Hit the Shops and Pick up a few Authentic Souvenirs.
If you like key lime, Kermit's Key West Key Lime Shoppe is the place to be! Even if you think you don't like key lime, you have to try some of these goods and it will convince you otherwise.
This shop has a little bit of everything and almost all of it is key lime flavored – pie, pie bars, juice, taffy, cookies, candy, salsa, jams, jellies, jelly beans, seasonings, snacks, and bath products.
And they offer free samples before you make your purchase.
Where: 200 Elizabeth Street
A quintessential souvenir you can only find in Key West are Kino Sandals – handcrafted, assembled, and glued in their factory since 1966.
Our friends who lived on the island twenty years ago told us about Kinos and said they are the most durable sandals they have ever worn.
Right next door to Kino Sandals is the Rodriguez Cigar Factory, the oldest cigar company in the Florida Keys. Swing by to pick up an authentic and smooth hand-rolled Cuban cigar.
My husband and our friend tried out the cigars a few years ago on a visit and now both order online from home because they enjoyed them so much. And they are reasonably priced for the quality.
Book a tour of the small factory to learn about the cigar industry in Key West dating back to 1831, where the Rodriguez family fits in, their method of making cigars with blended leaves, their aging process, and then hand-roll your own cigar. Believe me, it's not as easy as it sounds!
Where: 113 Fitzpatrick Street
Interested in Visiting Cuba?
Check out Baracoa, Cuba's Oldest Colonial City
15. Try a few craft beers at Waterfront Brewery.
Opened in 2015, it was about time craft beer made it to Key West.
Waterfront Brewery offers a wide variety from honey blonde to a dark stout with a few IPAs and APAs in between. With a happy hour from 4:00 – 6:30 pm every day and a full menu, it's definitely worth a visit.
Where: 201 William St
16. Stroll along the Harbor Walk.
You'll find fishing boats, fun bars, seafood restaurants, and waterfront shops at the Key West Historic Seaport.
17. Visit Lagerheads Beach Bar and don't forget to wear your bathing suit!
Carved out between two buildings, you'll find a small open area with soft sand, beach chairs, and a pretty cool beach bar.
There are not many seaside areas to access the water right downtown so Lagerheads is a little gem.
Where: 0 Simonton St
18. Browse the shops in Mallory Square.
You'll find shells, trinkets, jewelry, lotions, and local souvenirs at Mallory Square.
19. Take a picture at mile marker 0 to prove you made it to the end of the road where life slows down.
US 1 stretches 2,369 miles from upper Maine all the way down to Key West.
Where: 501 Whitehead St
20. Visit the Key West City Cemetery
Established in 1847, the historic cemetery is a quirky stop and one of the free things to do in Key West.
Pick up a self-guided tour map at the front entrance and look for the gravestones that read, "I told you I was sick," and "At least I know where he's sleeping tonight."
You'll see some of the biggest iguanas on the island while walking around. Stay quiet and move slowly if you want to get a good look at them.
Some of the noteworthy sites to see are the U.S.S. Maine Monument to the American sailors the blew up in Havana Harbor that resulted in the U.S. declaring war on Spain and "Sloppy" Joe Russell's gravesite.
Where: 701 Pauline St, Key West, FL 33040
Frequently Asked Questions
Is 3 days enough in Key West? My point of view for any travel destination is the longer the better, but three days is enough to experience the best of Key West.
Is it worth going all the way to Key West? It is definitely worth the drive. Key West is one of my favorite cities in the United States so if you haven't been, I highly recommend it. Here are a few other fun things to do in Florida Keys if you are driving down.
What is the cheapest time to go to Key West? The cheapest time to go to Key West is over the summer into November. You will save mega bucks on lodging, but be prepared for extreme heat.
What is the closest major city to Key West? Miami is only 130 miles north of Key West, making it the closest major city to Key West.
What should I not miss in Key West? If you only have a day or two, I highly recommend taking a sunset cruise, walking the Historic Seaport boardwalk, touring the Hemingway House, visiting the Mile Marker 0 Sign, and taking a photo with the Southernmost Point Buoy.
Looking for more tips on travel to Florida?
Check out these posts:
Disclaimer: This post contains affiliate links, if you book through our link we will receive a small commission at no additional cost to you. Thanks for your support as this helps with the cost of running the website!

Have you ever been to Key West? What's your favorite thing to do? Tell us in the comments!
Like it? Pin it!