Florida's Everglades National Park
Yes you can hike, canoe and even bike in the Everglades, but who wants to do that when you can jump on one of Alexander Graham Bell's coolest inventions. Sure the telephone was decidedly ingenious but to devise a cross between an airplane and a boat? That's just positively delightful. Airboat is the way to go.
Everglades Safari Park
To get our first taste of the park (we would be driving through later from Key West to Naples) we decided an airboat tour would be entertaining. We chose Everglades Safari Park based on location, reviews and the fact that they offered a Groupon.
The family run park has been operating for over 40 years and offers 30-40 minute airboat tours. The tour admission includes the airboat ride, alligator nature show and access to a walking path with observation areas. It took us about 2 hours total to explore everything.
From start to finish, we were pleasantly surprised. I was looking forward to the day, but it took a little arm twisting to get Dave on board. When it was all said and done, he was extremely happy we chose the excursion. Not only was the boat ride amusing, but the marshland was beautiful and like nothing we've seen before.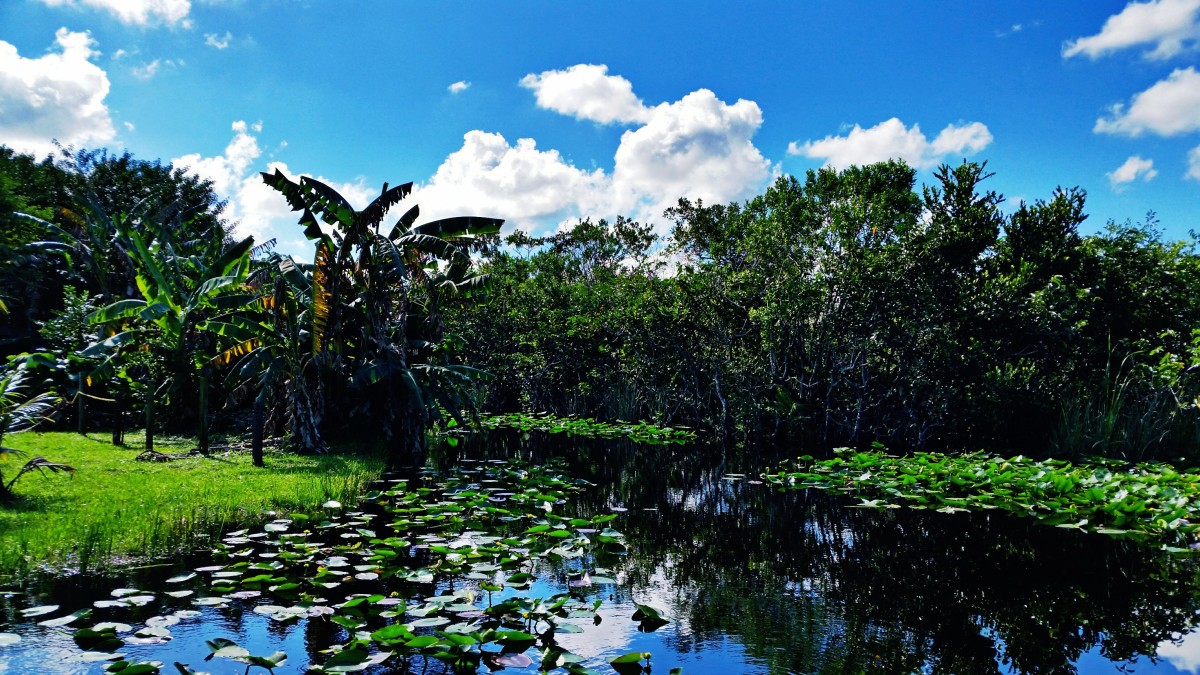 First off, arrive early. We were on the first tour of the morning and it wasn't full which was great. When it was time to sit and watch the show and then walk around it still wasn't too hot which made it much more enjoyable. When we were leaving there was a long line forming and we were glad we popped out of bed early.
The Airboat Ride
The excitement kicked off as soon as we were loading on to the boat. A not-so-tiny alligator was lying along the shore RIGHT by the walkway to the boat. Just as I was asking Dave if he thought it was real, it started floating back into the water. It seemed crazy to be so close to this prehistoric looking man-eater with no fencing or gate! I quickly walked hustled on the boat.
We glided through the vast waters camouflaged with sawgrass. The weather could not have been better. The turquoise sky with white puffy clouds made for a perfect backdrop for our introduction to the Everglades.
Experience the Everglades with Us!
We saw four alligators (including the one by the boat in the beginning), a blue heron and various other birds while we were on the tour. Ear plugs are included and a necessity as it is extremely loud buzzing around on an airboat.
The Wildlife Show
Once we finished the airboat tour we were led to a seated area around a gated gator island. A knowledgeable park ranger started the experience outside the gate with a non-poisonous snake. He informed us that there are 50 species of snakes found in Florida, with only six being venomous. Yuck! I am not a big fan of snakes so I was happy when this part of the show ended.
The next part of the talk shocked us. The park ranger joined the extremely large alligators behind the fence which was alarming at first. He revealed to us that they have a close bond and that the alligators will answer to their names being called! What? Ludicrous I tell you.
The Best Part of the Day – We held a Baby Alligator!!
For an additional fee of $5 you can hold Snappy, the resident name of any baby alligator at the park (I'm sure they are probably on Snappy XXX at this point). I'll admit I'm not the fearless one in the relationship so I was quite nervous. You can tell by looking at my body language versus Dave's. He is cool as a cucumber gripping him tight and fully where I look like I'm barely holding on with just my fingers. Dave is holding him close to his body, I however, look like I'm ready to drop and run at any given moment! It was the highlight of our day. So cool.
Interesting Information about the Everglades
It occupies almost all of southern Florida leaving only a little space for the cities of Homestead and Miami to the east.
Rainy and bug season runs from April to November.
It protects over 1.5 million acres
It is the third largest national park in the lower 48 states (behind Death Valley and Yellowstone)
It is the only place in the world that crocodiles and alligators coexist.
One out of three Floridians rely on the water from the Everglades for drinking water, over 7 million people in total.
Thirty-six protected animals live in the park including the elusive Florida panther.
It is one of only three areas in the world to have been declared: a UNESCO World Heritage Site, a Wetland of International Importance, and an International Biosphere Reserve.
Tip: Even though Safari Park has a nice picnic area with tables, I suggest finding a different place to eat if you packed your own lunch. We were under attack by the birds. They did have a cafeteria style restaurant on site but I can't speak to it since we did not eat there.
Additional information: Federal rules will be administered in 2016 banning the majority of private airboat tours currently operating in the Everglades. Only grandfathered companies will continue to operate as contractors for the park: Coopertown Airboats, Everglades Safari Park, and Gator Park.
Looking for more tips on travel to Florida?
Check out these posts:
Plan Your Trip to Florida
We have been budget traveling for over ten years and love finding deals. Here are a few websites that we use consistently to save money and time booking accommodations, flights and car rental.
Accommodation
Hotels.com has a best rate guarantee program that allows you to price match up until 24 hours prior to arrival and its rewards program gives one free night for every 10 nights collected.
Flights
Airfarewatchdog.com is a comparison website that searches through tons of flights. It compares airline pricing up to three times a day, having up to date information and also includes airlines such as Southwest and Allegiant that other websites do not include.
Car Rental
Priceline is usually the cheapest for car rentals and has a best rate guarantee program as well.
Have you ever been on an airboat or held an alligator? Tell us in the comments.