Key West is a legendary island that most people strive to visit at least once in their lifetime. The island boasts of great temperatures year round and a Caribbean culture without the Caribbean location. Unfortunately, the demand and small size of the island cause lodging costs to be on the expensive side. When we were planning our visit, we were on the prowl for a good deal and after hours of research we found it.
A 2-bedroom trailer at Trumbo Point – Key West Vacation Rentals for $75.00!
The catch is that eligibility includes only active duty and their dependents, retired military and current DoD Civilians. The Key West Naval Air Station has a few lodging options for military: tent and RV camping sites, hotel rooms, 2-bedroom trailers and 3-bedroom townhouses.
There are four locations with lodging available to military: Boca Chica, Sigsbee Park, Trumbo Park and Truman Annex. The furthest away from Old Town is Boca Chica and the closest is Truman Annex. When we were looking a few months out, we could find no availability at the lodge on Sigsbee Island or the hotel at Truman Annex. The ideal location is the Annex as it is only steps away from all the main attractions, but I am guessing that it books up almost immediately as rooms are made available. If you are interested in finding out more information regarding availability contact 1-877-NAVY-BED.
Heading to Key West? Check out our 20 Things to do in Key West!
Sigsbee RV Park and Campground has 93 full hook-up sites with over 400 primitive campsites. It is situated right on the Gulf of Mexico and is roughly 4 miles from Old Town. The campground has three laundry areas and showers.
If you are not military or do not want to stay on a base, these 10 Best Campsites in Florida listed one on Marathon and a few campgrounds in Key West that are highly recommended.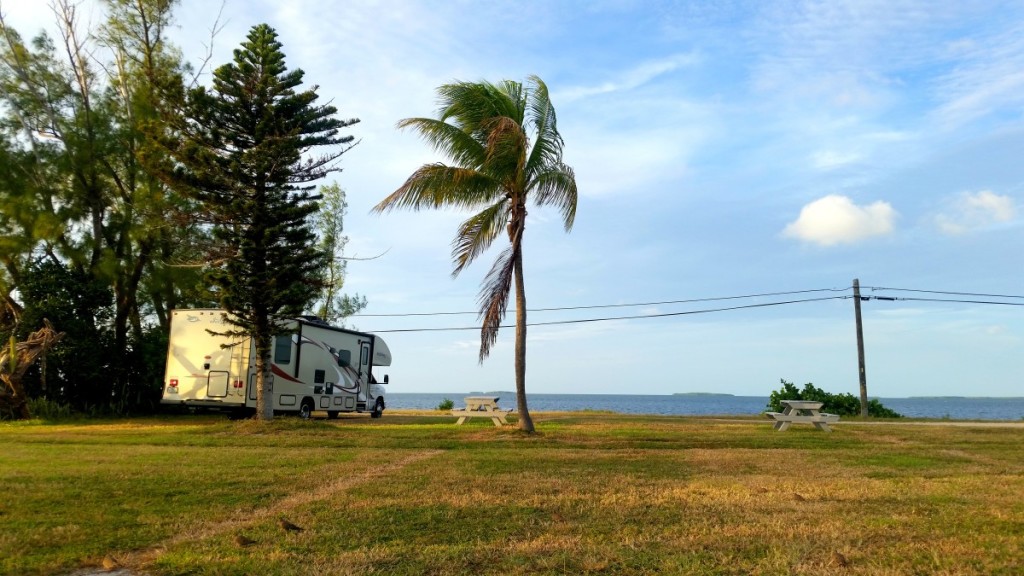 The Fly Navy building, townhomes and trailers are located on Trumbo Point which is in the northwest corner of Key West, less than a mile from Old Town. The Fly Navy building is set up like a hotel with a private bathroom, fridge and microwave. The townhomes have 3-bedrooms, 1 ½ baths, kitchen, and screen patio. The trailers have 2-bedrooms with 1 bath.
Plan Your Trip Here with Our Best Happy Hour Guide
Trailer Livin in Key West – Trumbo Point Trailer Review
First things first, this is not five star accommodations. It is the basic of basics, but for the price we were extremely happy with our stay.
We stayed in the 2-bedroom, 1 bath trailer at Trumbo Point. The amenities include cable TV, full-size appliances with basic kitchen supplies (FYI blender and ironing board available upon request), microwave and coffee maker.
Experience at Trumbo Point – Key West Vacation Rentals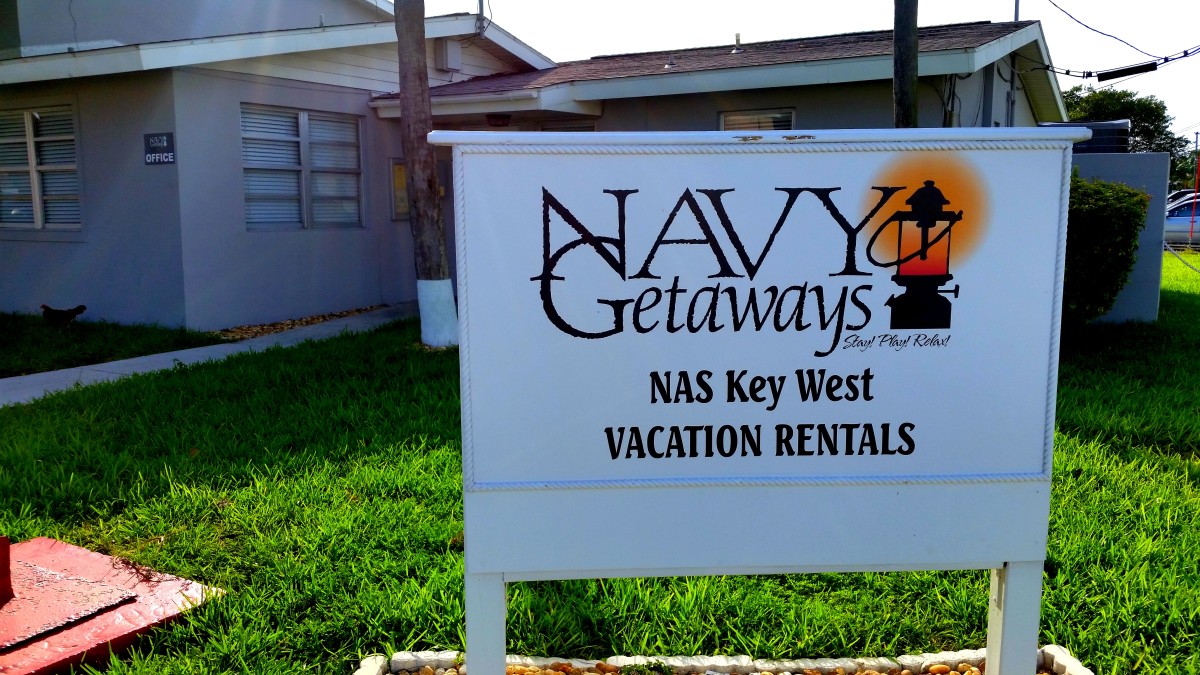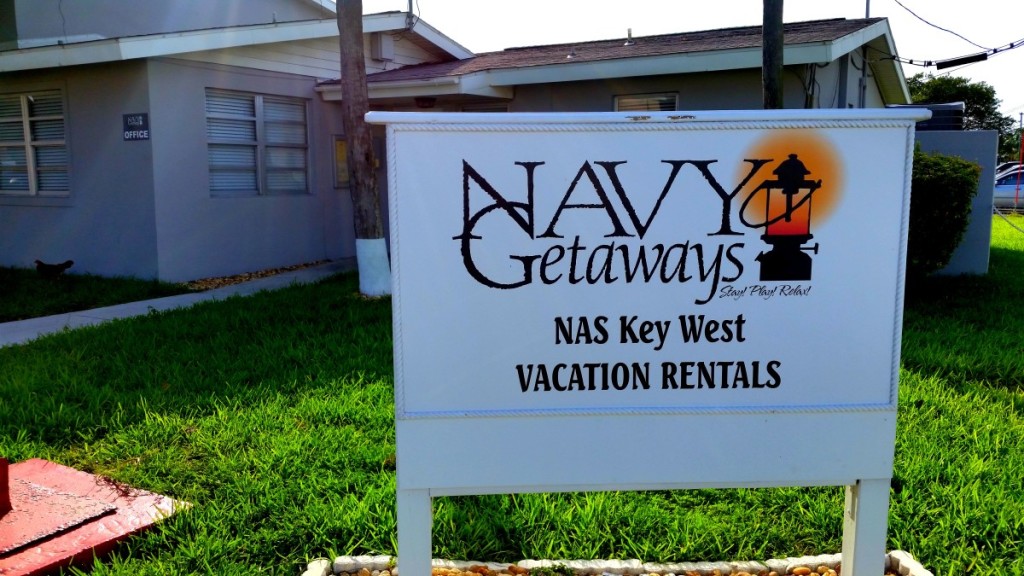 I had only been to Key West once before as a stop on a cruise years ago so I did not remember that chickens were a common sight. They roam free everywhere on the island! Our first introduction to them was at check-in. They clucked around like they owned the place.
The staff was friendly and helpful. Brochures line the wall to the right when you first walk in. You can pick up an ITT (Information Tickets and Travel) list with all attractions and the discounted prices available for purchase at the Sigsbee Recreation Center.
The trailers are basic, but clean. Our shower curtain was missing, but maintenance came right away to replace it after we called the main office. The layout is good for privacy as the two bedrooms are separated by the bathroom, living room and kitchen. The beds are just mediocre, providing a decent nights sleep after a busy day. We enjoyed having the full kitchen and cooked breakfast most mornings before heading out.
The location is great at less than a mile from the Old Town area. We brought our bikes with us so it was easy to ride right into town. Make a note though, if you do not have helmets (which we did not) you have to walk the bike off base. Another issue we ran into was having two nonmilitary people with us. We did not take the extra step to get them passes back at the main area of the Navy base which we probably should have so they could have had access to the base without us.
Another issue was the pool on Trumbo Point. We were not happy that the pool is not open every day and dependents and any other additional people are charged a small fee. We were there in November and they had limited hours. They vary according to season. I would recommend calling before booking your stay if you plan on using the pool at all. For hours of operation or more information, call (305) 293-4324.
Overall, for the price and location we would stay again, but it is FAR from luxury accommodations.
Looking for more tips on travel to Florida?
Check out these posts:
Plan Your Trip to Florida
We have been budget traveling for over ten years and love finding deals. Here are a few websites that we use consistently to save money and time booking flights and car rental.
Flights
Airfarewatchdog.com is a comparison website that searches through tons of flights. It compares airline pricing up to three times a day, having up to date information and also includes airlines such as Southwest and Allegiant that other websites do not include.
Car Rental
Priceline is usually the cheapest for car rentals and has a best rate guarantee program as well.
Have you ever stayed in Key West? How were your accommodations?
Like it? Pin it!