Nestled within the scenic state of Pennsylvania, the Pocono Mountains offer an enchanting display of nature's vibrant colors during the fall season. As summer fades away, a mesmerizing transformation takes place as forests and mountainsides are painted with hues of red, orange, and gold.
Join us in a fall foliage Poconos 2023 edition as we explore the captivating beauty and endless outdoor adventures that await you amidst this autumn wonderland.
We are always on a mission this special time of year to uncover spectacular displays of nature's colors. I'm talking about following forecasts, checking feeds, stalking websites, and searching for scenic areas.
Did I mention fall is mine and my husband's favorite season? We cannot get enough of it! Spiced cider, colorful leaves, fresh doughnuts, plump pumpkins, crisp air, sweatshirts, and campfires. I'm so glad we both share a love for autumn and the colors it ushers in.
The Pocono region is home to 127 varieties of trees, shrubs, and plants, and covers a wide area with zones in the north, central, and south sections of Pennsylvania which makes it a perfect fall road trip destination.
Continue below to find out when to visit and where to see all the best fall foliage in Poconos.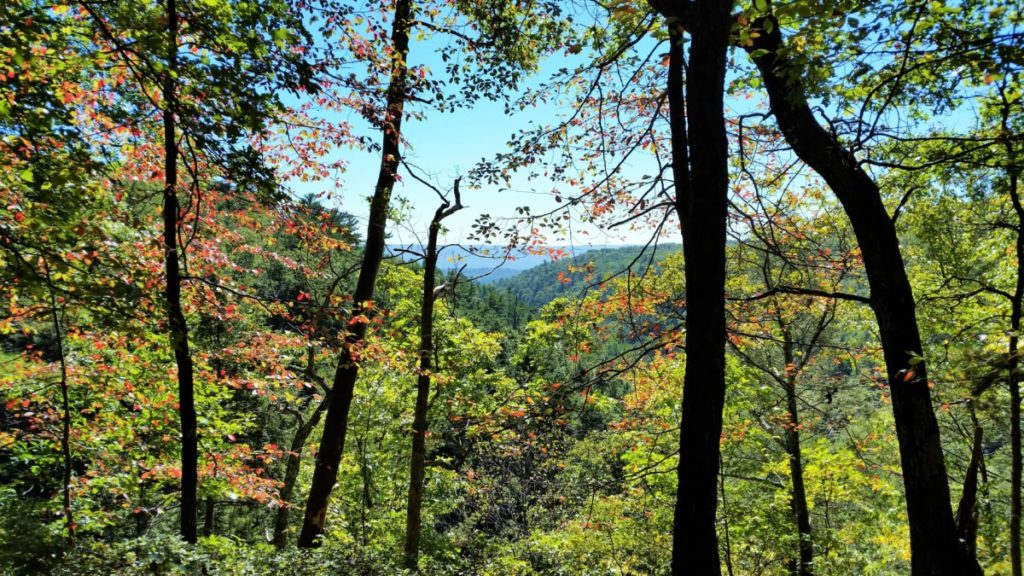 Interested in road-tripping? Check out this New England Itinerary for an unforgettable adventure to charming villages, historic lighthouses, fantastic seafood restaurants, seaside hamlets, and must-do hikes.
Best Time to Visit Poconos in Fall
When can you see fall colors in Poconos? To make the most out of your fall foliage experience in the Poconos Mountains, plan your visit between late September and late October when nature unveils its full glory.
Take advantage of mild temperatures and crisp air while immersing yourself in this natural masterpiece. During this time, temperatures begin to cool down slightly while daylight hours gradually diminish – triggering Mother Nature's captivating transformation.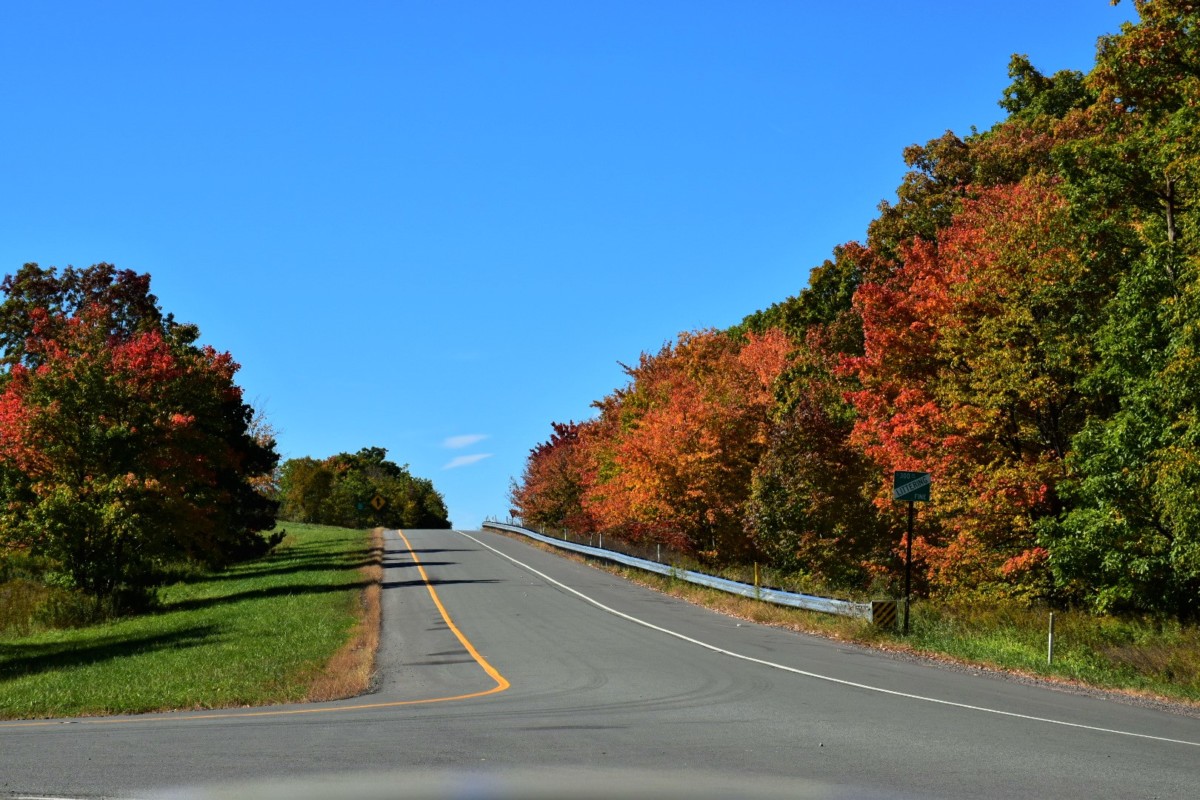 How to Find the Most Beautiful Fall Foliage in the Poconos
1. Start with the Visitors Bureau Website
When searching for fall foliage peak in Pennsylvania, start with the visitor's bureau.
For example, during the fall season, the Pocono Mountains Visitors Bureau website publishes a peak fall foliage Pennsylvania 2023 forecast every Thursday through the end of October.
It is broken up by area and reports on the types of trees that are changing and what color they produce, what percentage toward peak, specific locations to see good color for that area, and a projected date for peak season.
If you're looking for other fall foliage locations, here are the Best Places to Visit in October in the USA.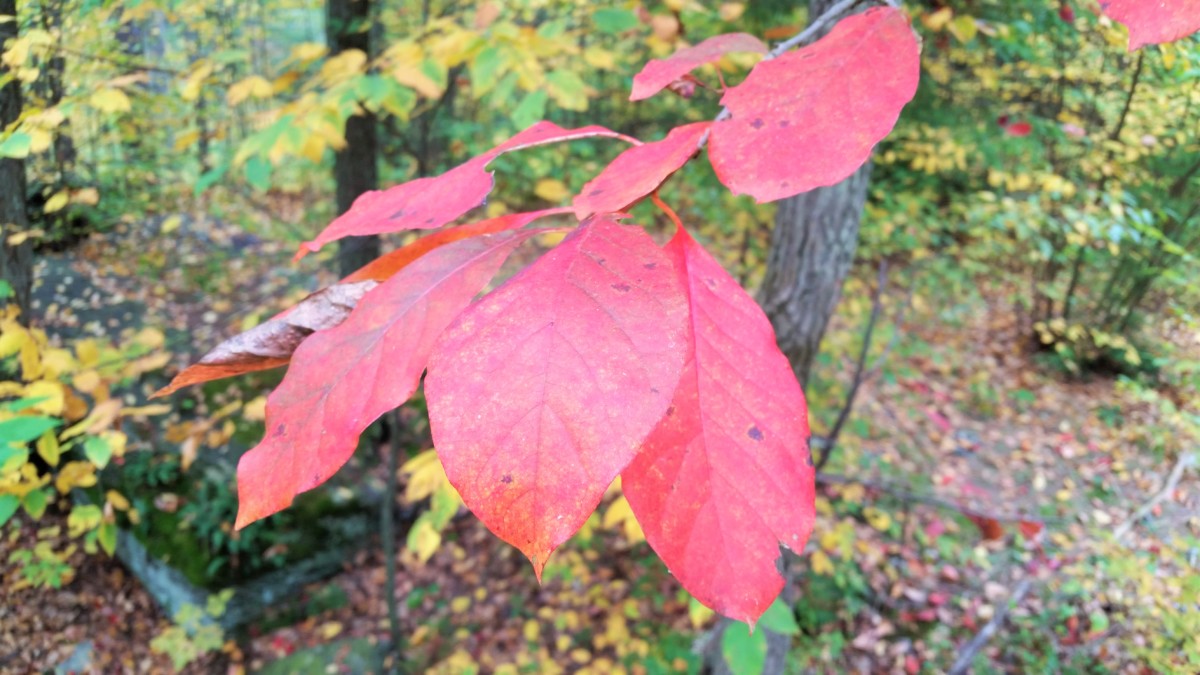 The Bureau also has live webcams set up all over the Poconos. If you are searching for more ideas of where to go or want to see specifically what colors are on display, take a look at the live feed.
Tip: It's live so don't do your research at night!
2. Search Instagram for #PoconoMtns
I will let you in on a little secret of mine. I use Instagram to research things to see and do when we visit new places. I usually find off-the-beaten-path places, new ones that are gaining momentum or long-time staples that are worthwhile.
It's nice to get a local's perspective on where to go and what to experience. A simple search of the location, #poconos, led me to other popular hashtags for the area like #poconomtns, #poconomountains, #pastateparks, and #fallinpa. While searching through the photos, I found a few places to visit that I did not have on our original itinerary.
3. Visit the Best Places to Catch Fall Foliage in the Poconos
Delaware Water Gap National Recreation Area in Bushkill. Spanning over 70,000 acres, this natural gem is a paradise for outdoor enthusiasts and nature lovers alike.
Lehigh Gorge State Park in Weatherly. One of the defining features of Lehigh Gorge State Park is undoubtedly the stunning gorge carved by the mighty Lehigh River. Over millions of years, this powerful waterway has sculpted a deep and narrow chasm through layers of rock, creating an awe-inspiring landscape that draws nature enthusiasts from near and far.
Bushkill Falls in Bushkill. The area is one of the most popular attractions in the Poconos with numerous trails and waterfalls. The trails vary in difficulty levels, accommodating both beginners and seasoned hikers. Whether you prefer a leisurely stroll or a more challenging hike up steep inclines, there is a trail for everyone.
The town of Jim Thorpe exudes historic ambiance while being surrounded by breathtaking scenery—a perfect combination for capturing postcard-worthy photographs amidst golden leaves.
Promised Land State Park in Greentown. Paddle, check out the observation station, or take a hike around the lake.
Dingman Falls in Dingmans Ferry. A flat easy boardwalk trail leads you to the second-highest waterfall in Pennsylvania.
Tobyhana State Park in Tobyhanna. This 5,440-acre park is a peaceful and scenic place.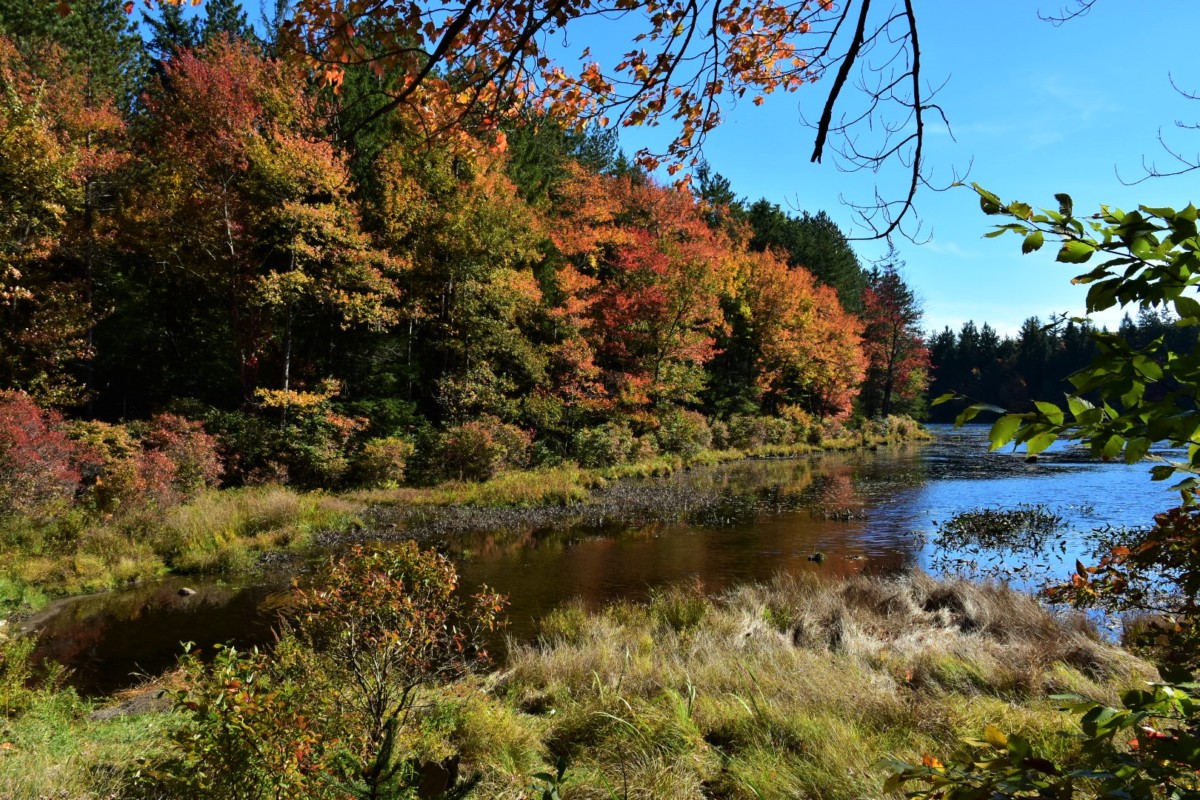 4. Book a Poconos Fall Foliage Train Ride
Don't do any research and just hop on a train! One of the best things to add to your Poconos fall itinerary is a scenic train ride.
From leisurely rides through rolling hills to exhilarating journeys across stunning vistas, here are some delightful Poconos fall foliage train rides you can experience in the Pocono Mountains.
Lehigh Gorge Scenic Railway: This 16-mile round trip takes you along the picturesque Lehigh River and through lush forests adorned with golden leaves. Marvel at cascading waterfalls, charming bridges, and majestic mountain views as you relax in vintage coaches dating back to the early 1900s.
Stourbridge Line Excursions: Embark on a nostalgic excursion with Stourbridge Line Excursions' seasonal fall foliage train rides departing from Honesdale or Hawley stations. As you traverse Wayne County's countryside, admire panoramic views showcasing colorful foliage that blankets rolling hills and valleys. Experience history coming alive while passing by restored rail towns and landmarks – a treat for both nature enthusiasts and history buffs.
The Delaware Lackawaxen & Stourbridge Railroad Company: Located near Hawley, this railroad company offers memorable trips during autumn aboard their elegantly restored passenger cars pulled by vintage locomotives. Enjoy a relaxed pace as you meander alongside Lake Wallenpaupack's shores and pass through dense forests painted in hues of red, orange, and yellow — truly capturing Mother Nature's artistic touch.
Steamtown National Historic Site: Immerse yourself in a unique combination of steam-era history and captivating fall scenery at Steamtown National Historic Site in Scranton. Join their special "Fall Foliage Express" train rides, where you'll journey through the Pocono Mountains aboard vintage diesel locomotives. Pass through lush countryside, charming villages, and panoramic vistas while surrounded by a tapestry of vibrant autumn foliage.
The Honesdale Fall Foliage Excursion: Experience a true fall adventure on the Stourbridge Line's Honesdale Fall Fall Explorer. Delight in the beautiful Lackawaxen River and Wayne County country scenes. The three-hour experience includes a 90-minute stopover in the lovely town of Honesdale where you can enjoy the idyllic Main Street.
5. Check Facebook
Once you have a few places in mind, don't forget to check Facebook. Most businesses and/or places share pictures, events, festivals and other local places to visit.
Tip: You can use hashtags to search Facebook too, but it usually spits out tons of unrelated posts. In the search box type in two hashtags so it brings up more relevant information like #poconomtns and #fallfoliage.
6. Drive and Drive Some More
You won't find information on every pretty road or picturesque view online. So, get outside and start exploring.
Embark on picturesque drives along winding roads that meander through dense forests bursting with fall colors. Popular routes such as Route 209 or Route 6 will lead you to breathtaking viewpoints overlooking valleys blanketed by foliage-draped hillsides.
Even though we were a little early for peak, we managed to find some color on our quest. Take a Poconos fall foliage tour with us below!

Now that you know how to find the best Pocono fall foliage, let's talk about where to stay.
Best Place to Stay in Poconos in Fall
We hope you enjoy your fall trip to the Poconos as much as we did!
Disclaimer: This post may contain affiliate links, if you book through our link we will receive a small commission at no additional cost to you. Thanks for helping to support the blog!
Other Helpful Links
Have you experienced fall foliage Poconos? If not, where is your favorite fall destination?
Like it? Pin it!