Planning a vacation to Newfoundland and wondering what it's like to take the ferry? If you're debating whether or not the extra effort to get there is worth it, it is! We are wrapping up a two week road trip and the island exceeded our expectations around every corner.
Marine Atlantic Ferry to Newfoundland
Road tripping is the best way to explore Canada's easternmost province. Click here if you are interested in reading our Newfoundland Road Trip Itinerary with all our suggested things to see and do!
The island is massive with a nine-hour drive between ferry ports. Make sure to read my top 20 tips for Newfoundland travel.
You can fly in and rent a car or bring your own car on one of the Marine Atlantic ferries from North Sydney.
If you are from the United States and are also wondering how to cross the border into Canada by car right now, click here to read about our experience.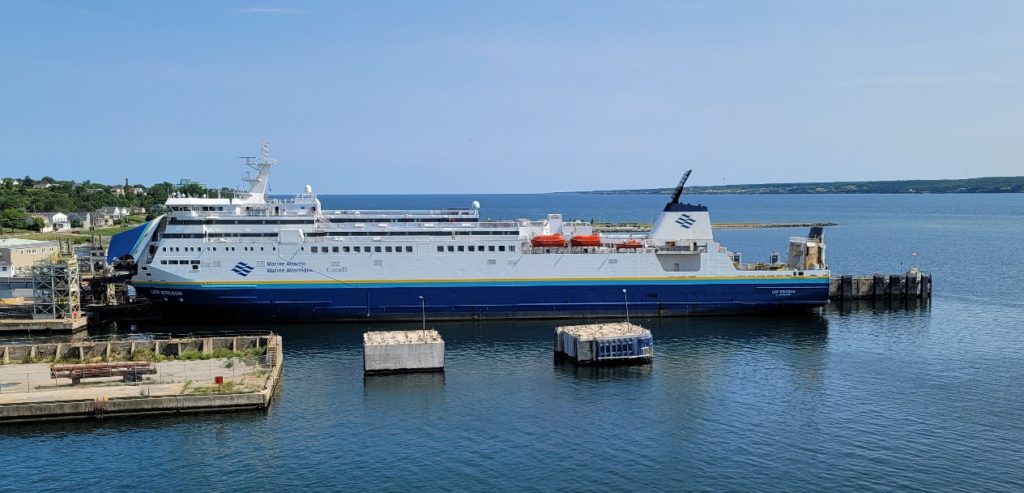 There are two options for a ferry to Newfoundland from Nova Scotia; both leave from North Sydney and both offer an overnight ferry to Newfoundland.
How long is the ferry ride to Newfoundland?
The Port aux Basques route runs all year long arriving on the southwest part of the island and is roughly six to eight hours long with two sailings a day.
The Argentia route runs seasonally from June through September arriving on the southeast part of the island and is roughly fifteen hours long. There are only three sailings a week for the longer ferry.
How far in advance to book ferry to Newfoundland. As soon as you decide to visit Newfoundland, I recommend reserving your ferry tickets.
NOTE: Currently, the ferries are selling fewer tickets than normal to allow for physical distancing in the seating area. Every other row is cordoned off.
The summer crossings in July and August are the busiest and book up early.
You are allowed to modify or cancel the reservation within 48 hours of your scheduled departure but there is a $25.00 fee.
We tried reserving tickets in mid-July for mid-August (so a month in advance) and could not get a return ticket on the Argentia route for the night we needed.
Even though it added a lot more driving to our itinerary, we ended up taking the Port aux Basque ferry to Newfoundland and back because of the limited availability.
With only three sailings a week, planning ahead is highly recommended.
Since we didn't book far in advance, we were disappointed to discover all the private cabins were reserved already as well on both ferries.
But since we ended up taking the daytime ferry both ways and with the comfortable seating area (more on that below), we ended up being happy not to have spent the extra money. A cabin is an additional fee on top of the passenger and vehicle charges.
All Aboard! Here's what to expect on the ferry ride.
Once you book your reservation, you'll be told to arrive at least two hours prior to departure to check in, or your tickets might be voided and given to another customer.
I thought a two-hour window was a little ridiculous since the ride is six hours long but I didn't realize the ferry starts loading passengers early.
We arrived at 10:00 am on a Sunday for our 12:15 pm departure and they began announcements for loading at 10:20 am and began filling the ship at 10:40 am.
For check-in, makes sure to have your reservation number and a valid government-issued photo like your passport or driver's license.
During the short wait at the terminal, there is a lounge area with seats, bathrooms, and a water station.
What to Bring On Board
Once you drive onboard, you'll leave your car and will not be able to access it so make sure to plan ahead on what to bring up.
Food
Water &/or Drinks
Sweatshirt or Jacket
Binoculars
Charger
Earbuds
Even on a warm day, you'll need layers whether it's on deck with the wind blowing or inside with the air conditioner on high.
TIP: You can find free comfy blankets near the doors on each floor.
There are normally a few stores, a restaurant, and a cafe available onboard but during Covid, only the to-go options were available at the cafe.
The cafe offers four kinds of paninis for $8.99, slices of pizza for $6.50, pre-made cold sandwiches for $4.99, soup, small salads, some other snacks, and coffee are also available.
We brought our own sandwiches and drinks on so we didn't try any of the food, but thought most items are reasonably priced considering it's the only option on the boat.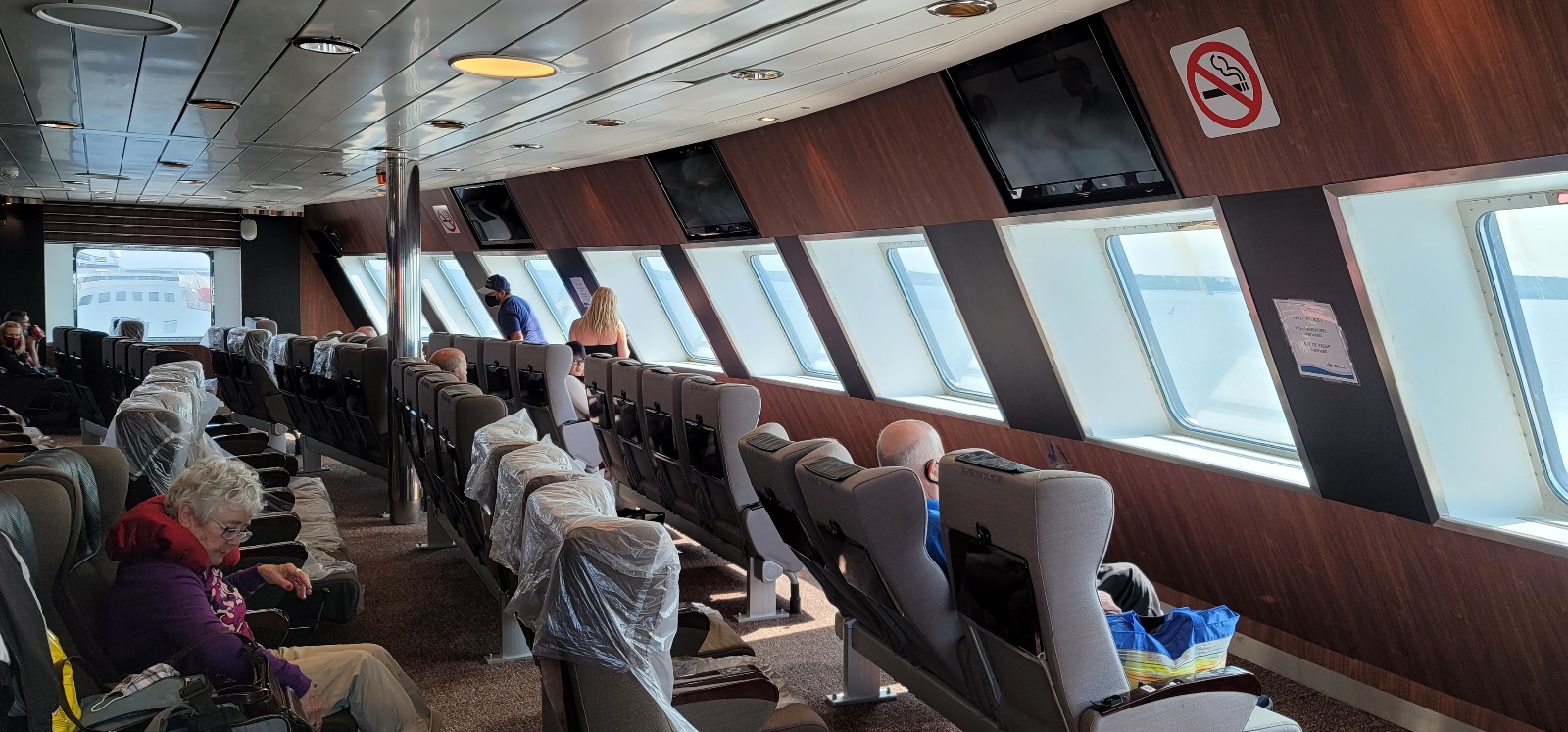 We boarded fairly early and were able to grab a window seat on the 7th floor – open to everyone.
The ferry has WI-FI available on the 8th floor but multiple people said it is spotty. But if you'd like to try for it, make sure to head up to the 8th floor straight away.
Our cell service (T-mobile) worked on and off inside the ferry but outside on the top deck we had a great connection most of the way.
Should You Book a Cabin
When we saw how spacious the seating areas are and that they have tray tables and USB plugs, we were happy we didn't spend the extra money for the cabin.
There's a ton of leg room and the floor is quiet since most people read or sleep.
An overnight ferry to Newfoundland takes 15 hours. It would probably be worth the extra cost for the private bed and bath for a good night's sleep, but I think you could probably sleep quite comfortably if not.
How much is a cabin on the car ferry to Newfoundland? On the Argentia route:
2 bed cabin is $176.75
4 bed cabin is $194.50
Deluxe cabin is $246.50
On the Port aux Basques route:
2 bed cabin – day is $53.50
2 bed cabin – night is $126.50
4 bed cabin – day is $58.50
4 bed cabin – night is $139.50
Deluxe cabin – day is $112.50
Deluxe cabin – night is $169.25
Will You Get Seasick on the Newfoundland Ferry
Unfortunately, if you suffer from motion sickness like me, there's a chance of getting seasick on any boat, but luckily the days we sailed it was extremely smooth.
I suggest bringing Dramamine just in case based on the weather.
I almost took one when we boarded, but it wasn't necessary at all.
Will You See Whales
There's no guarantee for a whale sighting but we were told you're most likely to see them around Newfoundland.
And guess what?
That's where we saw them!
We stood on the top deck for the last hour of the ride and we saw a few spouting in the distance.
Travel Declaration
Once you drive off the car ferry onto Newfoundland, you'll notice a few lines of vehicles. Here is where an agent is checking for Travel Forms.
Make sure to go online beforehand and fill out the appropriate forms. You Can find the Newfoundland Travel Declaration here.
If you have your confirmation number available when you pull up, the process won't take but a few minutes.
Marine Atlantic Rates 2023
Rates vary depending on how many passengers and the size of the vehicle you're traveling in.
For us – two adult passengers and an under 20 foot van – the roundtrip total cost was $403.52 ($320 USD) in 2021.
All current passenger rates below are in Canadian dollars.
Port aux Basques to/from Sydney One Way
Children (ages 5 and under) free
Children (5 – 12) $20.34
Adults (13 – 65) $43.78
Seniors (over 65) $40.23
Vehicle rates vary depending on the size of your automobile, van, or RV.
Small autos and pickups 20′ or less start at an additional $114.19 with RVs over 60′ $456.18.
Check the Marine Atlantic for additional rates and NL ferry routes and schedules.
Sydney to/from Argentia One Way
Children (ages 5 and under) free
Children (5 – 12) $56.39
Adults (13 – 65) $116.27
Seniors (over 65) $105.09
Vehicle rates vary depending on the size of your automobile, van, or RV.
Small autos and pickups 20′ or less start at an additional $234.19 with RVs over 60′ $933.72.
Check Marine Atlantic's website for the Newfoundland ferry for North Sydney to Argentia ferry schedule 2023.
Do you have any other questions about taking the ferry to Newfoundland? Ask below!