If the only thing that pops into your head when you think of the state of Florida is retirees, sandy beaches, frozen cocktails, or the ocean then maybe you haven't explored enough. And that's fine and dandy because I'll be honest, I'm from the Midwest and we love to get down to Florida to enjoy its sunshine. However, what if I told you there is a special place that has a spirited vibe, outstanding food scene, artistic grit, quality outdoor adventures, and southern charm?
These unique things to do in Tallahassee will have you falling head over heels for the city!
Here's why I think you should not dismiss Tallahassee as a destination while planning your next Florida vacation.
1. Explore its Pristine Natural Beauty and Boundless Outdoor Activities
With over 600 miles of trails for biking, hiking, or paddling, it's easy to understand why the city has been dubbed, "Trailahassee."
We spent a few hours kayaking with Harry Smith Outdoors on the clear Wakulla River, one of the many waterways in the area.
Getting out among the towering Cypress trees, plentiful wildlife – did I mention we saw two alligators – and lush vegetation was a highlight of our visit.
Harry has a contagious appreciation and a wide knowledge base of the area's great outdoors. Visitors can choose from a variety of eco-tours that include half-day trips or full-day trips to various locations like Aucilla River, Wacissa River, Lake Bradford Chain O'Lakes, Lake Lafayette, and Slave Canal.
He also offers a multi-day overnight trip and various fishing trips.
Tallahassee also has the bragging rights of nine state parks in the local area. Nine!
At the Alfred B. Maclay Gardens State Park over 200 floral varieties can be spotted. We timed it perfectly with the azaleas and camellias bursting for spring.
The grounds have dazzling displays of picturesque live oak trees with swaying Spanish moss, an idyllic reflection pool, a magical secret garden, and lakeside nature trails.
LIKE BEING OUTDOORS? READ WHERE YOU CAN SEE MANATEES WHILE KAYAKING IN FLORIDA
Additionally, one of the largest and deepest freshwater springs in the world can be found at Edward Ball Wakulla Springs State Park.
The springs once provided jungle-like landscapes for films like the early Tarzan movies and The Creature from the Black Lagoon.
We spotted our own creatures bobbing in the water except they weren't terrifying; they were three adorable manatees.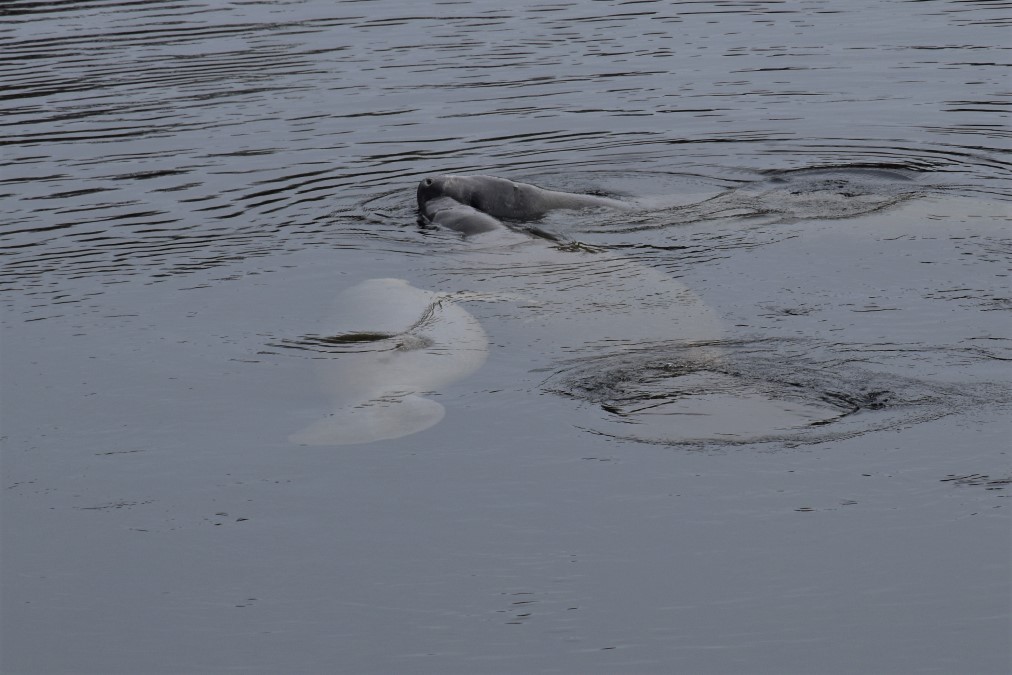 Pro Tip: Stop in the lodge and take a look around. The historic hotel has an old-world charm to it with Spanish-inspired decor and architecture with period furniture.
It was opened in 1937 by industrialist Edward Ball and used as a place for training and R&R for World War II soldiers.
Pay special attention to the ceiling and elevator – both originals. The ceiling -restored in 2002- is hand-painted and stenciled with scenes of Florida palm trees, migratory birds, forts, and portraits.
You can also catch a Jungle Cruise Tour from the lodge that leaves every hour from 9:40 am to 5:00 pm.
The boat tour glides upriver while you learn all about the swampland, the creatures that live in it, and the background of the springs.
Another special place is the Lake Jackson Mounds Archaeological State Park, built and occupied between 1050 – 1500 by the Fort Walton Culture. It is the largest known ceremonial hub for the Native Americans in this area.
Six of the seven earthwork temple mounds of the Fort Walton Culture are still preserved today.
Besides state parks and springs, the area is also home to St. Mark's National Wildlife Refuge, one of the oldest refuges in the United States.
It is a 68,000-acre haven for black bears, coyotes, otters, alligators, snakes, bobcats, raccoons, foxes, and numerous species of birds including bald eagles, woodpeckers, waterfowl, wading birds, and raptors.
Tallahassee is a nature-lovers dream!

READ NEXT: PLAN AN EPIC FLORIDA ROAD TRIP
2. Discover its Exuberant and Growing Food Scene
The biggest surprise from our time in Tallahassee was discovering its growing reputation as a foodie's paradise.
Whether you are looking for an upscale dining experience or a casual meal out, it has both and everything in between.
With award-winning options like Sage Restaurant and Food Glorious Food, you are guaranteed a spectacular meal to remember.
Strongly supporting the "locally-sourced" philosophy, we found restaurants like Backwoods Crossing that not only source local vegetables, fruits, meats and seafood but grow their own as well.
We did a second take when walking in and noticing a garden in the front and a green room attached on the side of the restaurant. Now that's a short distance from farm to table!
Lofty Pursuits has an entire section on their menu dedicated to local ingredients they use every day such as sausage, bacon, granola, honey, coffee, grits, milk, and bread. It is a breakfast must-stop; I'm still thinking back on the best bananas foster waffles I have ever tried.
For more recommendations, read our guide to Tallahassee Restaurants.
Tallahassee has culinary surprises around every corner!

3. Enjoy its Continuous Urban Development and Appreciation of the Arts
In the last decade, Tallahassee has spent a fortune revamping its city with new green spaces, sleek housing, bike lanes, expanded sidewalks, and pedestrian trails.
At the epicenter of downtown, Cascades Park, is the perfect example of this revitalization. The park includes walking paths, an interactive water fountain, a children's playscape and a large amphitheater that seats 3,500 people. Overlooking the park, The Edison, a beautifully restored electric power plant is a fantastic spot for lunch.
Another recent development is the Cascades Trail Greenway project linking the park to an established local favorite. Long before the recent resurgence of the city, a local resident had a vision for taking an industrial park – often referred to being on the "wrong side of the tracks" – and turning it into a mecca for artists' studios and galleries.
The Railroad Square Art Park is a 10-acre sanctuary for the creative; it's one of the unique things to do in Tallahassee.
Coffee connoisseurs, vintage shops, craftsmen of paint and sculpture, master brewers, outlets for the adventurous and specialty stores make up this innovative space.
Grab a piping hot cup of Joe at the Black Dog before exploring. There's something for everyone when shopping in Tallahassee whether it's browsing vintage clothing and accessories at Curio; picking up jewelry at Bee's Knees; grabbing an awesome sandwich at the only café in a town built out of a real caboose at Crum Box Gastgarden where the owner grinds and stuffs his own sausage; being wowed by recycled furniture at Village Art Co-op; or finding a one-of-kind gift at Artisans Gallery or Southern Exposure Art Gallery.
Tip: Visit Railroad Square Art Park on the First Friday for live music Tallahassee and fun demonstrations.
Active visitors will find kayaking and fishing adventures with Harry Smith Outdoors, a workout center, and a rock climbing gym to keep busy. At the end of our tour, we had the pleasure of stopping in Proof Brewing Company, Tallahassee's first and largest brewery.
UPDATE: Proof Brewery moved to a new location adjacent to Cascades Park at 1320 Monroe Street. The brewery still has an expansive lawn and a covered patio.
Not having heard much about the craft beer in Tallahassee, we weren't expecting much but Proof blew our taste buds away. First, we were impressed with the ample sized patio in the backyard chock full of adult games like cornhole and bocce ball.
Then on our tour we learned they use a reverse osmosis system that allows them to rebuild the water to whatever profile they want. I've never heard of a brewery – and we've been to a lot of breweries – that takes this extra step. Water makes up 90 to 95 percent of beer so the quality of water is KEY.
And finally, we get to taste testing the beer. Proof has an expansive selection so it's easy to find beer you want to try, almost too many – like that's a thing – because we wanted to try them all.
I can honestly say, I didn't try a beer I didn't like. Not only is the atmosphere inviting and the beer great, but the staff and service are stellar. It's definitely a must-do if you are looking for fun things to do in Tallahassee for adults.
Tallahassee has unique spots for local finds!

4. Appreciate its Historical Substance and Educational Activities
Did you know the first Christmas Catholic Mass in North America took place on the expedition of Hernando de Soto in what is now downtown Tallahassee?
One of the greatest aspects of traveling is learning; it helps us enhance our understanding of the world around us. From following in the footsteps of those that came before us to zip-lining over those that are here now, Florida's capital has numerous interesting ways to engage visitors.
You might be asking yourself, what can you do in Tallahassee for free?
At the Museum of Florida History, the state's official history museum, you can have a fascinating journey traveling through Florida's past as you contemplate what life was like when giant mastodons roamed the land you are standing on; navigate the waters with Spanish conquistadors as they arrived in the New World; explore the inner workings of the citrus cash crop of the state; grasp the origination of tourism aboard an early 1900s riverboat or one of the first travel trailers, and discover the effects of World War II at home among soldiers and their families.
For a donation only admittance, the Tallahassee museum offers interactive and engaging exhibits that will keep you entertained for hours.
Next, we have the Tallahassee Museum which is a slightly confusing term as it is NOT your typical museum. I write as I think back to our time tree hopping across the 52-acre property.
Not only does the museum have native wildlife exhibits that include the elusive Florida panther and the endangered wolf, but it is also in beautiful surroundings with nature trails, boardwalks, and zip-lines above it all! There are three different courses for every skill level with highlights of swinging ropes and log bridges while soaring over wildlife and cypress swamps. The museum certainly tops are fun Tallahassee things-to-do list.
Our tour ended with a walk through a collection of historic buildings dating back to the late nineteenth century.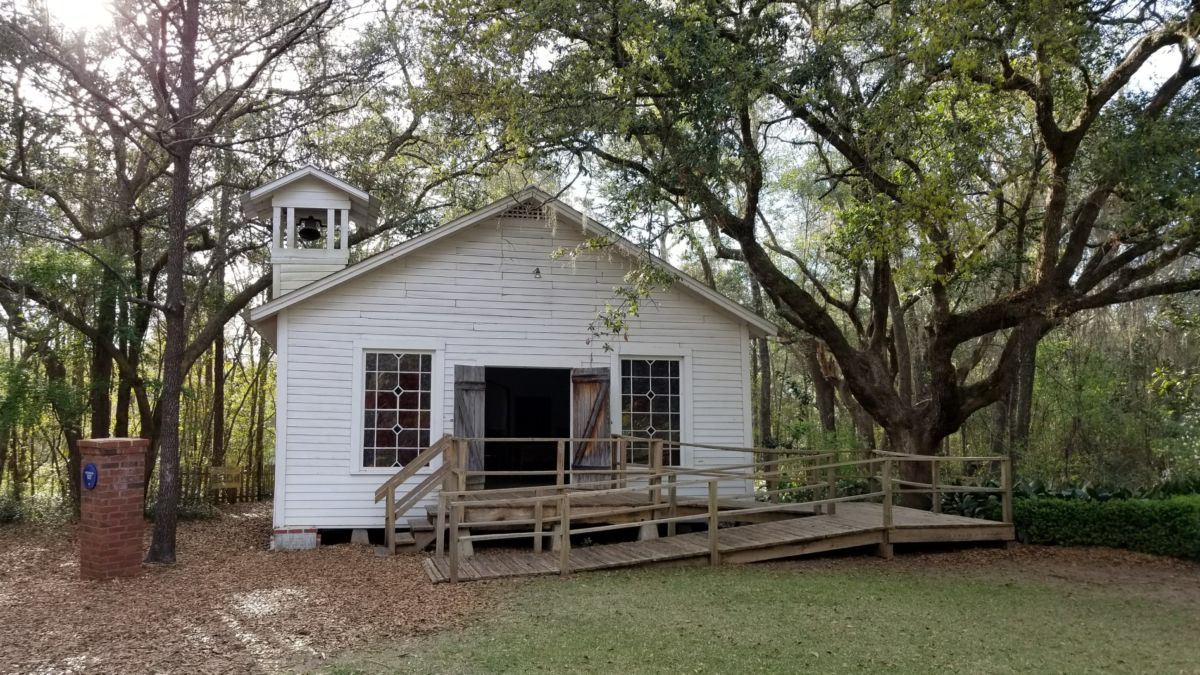 Finally, we make it to the reason the city was on our radar in the first place, the Tallahassee Capitol Building. If we are anywhere near a capital, we always try to add it to the itinerary. And on the plus side, it's another free thing to do in Tallahassee.
Tip: Download the free Florida Stories app for an audio tour of things to do in downtown Tallahassee.
Why is Tallahassee Florida's Capital? Back in 1824, the two biggest cities in the state were St. Augustine and Pensacola so the choice for a capital city landed somewhere in between, hence Tallahassee.
The historic Old Capitol, restored to its 1902 grandeur, reminded us of a giant ice cream shop with candy-striped awnings. Inside we walked through Florida's colorful history of representation through photographs, audio recordings, and visual displays before making our way across to the New Capitol.
The views from the twenty-second floor of the New Capitol building make up for its lackluster architecture. Providing a birds-eye advantage, the observation deck proves our theory that Tallahassee is one of the greenest communities in Florida.
Tallahassee is rich in historic sites and cultural heritage!

5. Cherish its Explosion of Southern Texture and Charm
Florida sort of exists as its own entity; even though it is a southern state most Floridians aren't touting a southern accent. Home to many transplants from the northeast coast, you'll find a mix of backgrounds in the state.
From the southern-infused menus to the moss-covered canopy roads to the slight southern drawl, Tallahassee is unlike most of its counterparts. It is bursting with friendly southern charm and delightful country flavor.
Y'all will appreciate Tallahassee's southern roots!

Overall, we found that Tallahassee offers all the conveniences and culture of a big city but the nuances and charisma of a small town. All the makings of a place to fall in love with.
Disclaimer: This post contains affiliate links, if you book through our link we will receive a small commission at no additional cost to you. Thanks for supporting the blog.
Recommended Lodging in Tallahassee
Tallahassee Weather
The best times to visit Tallahassee FL are during the shoulder seasons. Summers are hot and humid and winters can be cold and frigid. I would recommend late March to early June and late September to mid-November.
Have you been? What are your recommendations for things to do in Tallahassee?
Like it? Pin it for Later!