The southwest corner of Utah is one of the most incredible areas in the United States. The landscape and terrain is made up of colorful vistas and unique rock formations. I cannot wait to share with you all the wonderful things to do in Zion National Park.
Not only does the park have a few of the most thrilling hikes in the nation, but is also home to the most awe-inspiring views we've ever witnessed. To quote a woman I overheard my first day in the park, "I didn't know rocks could be so beautiful."
Being high on our list of places to visit, we made sure to detour north from our three month cross-country trip on Route 66. But fortunately since Zion is close to two major cities it is easy to get to and not necessarily a road trip stop only.
And unfortunately, because of that close proximity, the park is quite busy so planning is a requirement. It is not only one of Utah's most visited parks, but landed in the top five most visited parks in the nation.
So it's time to start that planning, below you'll find a Zion National Park 4 day itinerary with all the best things to do plus tips for your visit.
How Many Days to Visit Zion
As with any national park, no matter what the size you could probably visit a hundred times and find something new to do every time. Therefore if you have a full week to designate to your visit that would be fantastic.
But most of us don't have that amount of time so if you plan at least three to four days, you'll be happy with the amount of beautiful scenery you'll be able to absorb.
When to Visit Zion National Park
Southern Utah sits at a higher elevation with Zion's elevation ranging from 3,700 feet to 8,726 feet. Each season varies with average temperatures range from 21 to 89 degrees.
Summer (June – September) in June has temperatures that can reach over 100 degrees with intense UV rays. Winter (November – February) sees both rain and snow with average temps between 21 and 54 degrees. And spring and fall being the most moderate with average temps of 70 degrees.
So when is the best time to visit Zion National Park?
For the best weather, the shoulder seasons of spring and fall have the most reasonable and enjoyable daytime temperatures.
But remember, since we are talking about one of Utah's "Mighty 5" almost every season is considered the busy season with the exception of winter.
Zion National Park is open year round, and often people dismiss visiting in the colder months. If you are looking for a less crowded visit, plan a trip from November to February.
Read here for some interesting things to do in Zion National Park in winter
How to Get to Zion National Park
Flying is the quickest form of transportation to the area with flights between 2 – 5 hours from many major U.S. cities. Near the city of Springdale in the southwest corner of Utah, the park is driving distance from a few major airports.
McCarran International Airport, two and a half hours away, in Las Vegas, Nevada is the closest airport to Zion and Bryce National Parks. The airport houses American Airlines, British Airways, Delta Air Lines, Frontier, JetBlue, Southwest, United Airlines, and many more.
Salt Lake International Airport in Utah is further north about four and half hours away. AeroMexico, Alaska, American, Delta, Frontier, JetBlue, Southwest, KLM, and United Airlines all fly in and out of Salt Lake.
The Los Angeles International Airport in California and Phoenix Sky Harbor International Airport in Arizona are roughly six to six and a half hours away from the park. Both serve many major airlines such as American, Delta, United, Alaska Airlines, Frontier, and Southwest.
If traveling by air, a vehicle is necessary. Rental cars are then available at all airports to get you around on your trip.
If you are from the U.S. and you have time, visiting Utah is the perfect opportunity for a road trip.
Add Bryce Canyon, Arches, Capitol Reef, Canyonlands, or Antelope Canyon to your itinerary to hit the big five and other beautiful places in the area. Check out our other itineraries below:
And since you're driving you can bring your own tent or trailer which opens up way more lodging options.
Disclaimer: This post contains affiliate links, if you book through our link we will receive a small commission at no additional cost to you. Thanks for supporting the blog!
Where to Stay when Visiting Zion National Park
There aren't as many options for lodging compared to some of the bigger parks so the key is to book early. For example, I read that the campgrounds are typically full every night from mid-March to early-November.
Lodging Options Inside Zion National Park
Watchman Campground ($)
South Campground ($)
Lava Primitive Campground ($)
Zion has only three campgrounds with only two that take reservations. You can make reservations for Watchman Campground or South Campground via 877-444-6777 or online at www.recreation.gov.
Lava Primitive Campground is first-come, first-served. And the lodge books up fast but has cancellations sometimes so periodically check the website for openings.
Because the campgrounds inside the park only have flush toilets and no showers or electrical outlets, we chose to camp right outside the park at Zion Canyon Campground and RV Resort.
The location is perfect, right outside the main gate in Springdale. It has a heated pool, showers, restrooms, coin laundry, and a shared pavilion. There's not much shade and the spots are small without a lot of privacy but we would stay again in a heartbeat for the location alone.
Hotel Options near Zion National Park
Glamping Options near Zion National Park
Vacation Rentals near Zion National Park
Get a $55 credit for a vacation rental! SIGN UP HERE
Tips for Visiting Zion National Park
Plan ahead. Zion is a popular destination and close to many universities and airports with limited facilities. Reservations open up 13 months in advance. On the first of each month, they accept reservations for the entire month of the following year. For example, on April 1st, they will accept reservations through April 30th of the following year.
Before planning any hiking make sure to check the NPS website for trail closures.
Get up early! Be up and out by 7 am and you will not have a problem with parking, shuttle lines or crowds.
Do not approach any animals. Respect the wildlife and their space. Always be aware of your surroundings and never try to take a selfie with a wild animal or too close to a cliff edge.
Everyone should be cautious but if traveling with children, be especially careful around the cliff areas. It is NOT a playground.
Cell service will be limited so download maps, itinerary, and any other necessary information.
Download Zion National Park by Chimani, a free app that has detailed guides including GPS-enabled maps that can be used offline and information about hikes.
Always wear layers. The weather can and does change often especially when hiking in high elevations.
Add extra time for the shuttle transportation; the lines can get out of control later in the afternoon.
What to Pack for Zion National Park
A sturdy pair of shoes. women's hiking shoes or men's hiking shoes, whichever applies. I prefer trail runners over hiking shoes that don't cover my ankles since it tends to rub, but if you prefer hiking boots, make sure to pick a durable and breathable pair like the one I link to.
Bring a good day pack to carry lunch, snacks, sunscreen and water for your daily hikes.
The Best Things to Do in Zion National Park – DO NOT MISS
The Narrows
Angels Landing
Emerald Pools
Zion Lodge
Canyon Overlook
Zion-Mount Carmel Highway Drive & Tunnel
Watchman Trail
Weeping Rock
Checkerboard Mesa
The Subway (the last two on the list are only if you are an experienced hiker)
Observation Point
This four-day, hiking-filled itinerary will get you to all the places you'll want to experience inside one of Utah's most visited national parks.
Zion National Park Itinerary Day 1 – Canyon Overlook and Zion Mount Carmel Highway
I suggest arriving in Zion on a weekday if possible and start right away with a drive through the eastern section of the park (especially easy to do if coming from Bryce National Park) on the Zion-Mount Carmel Highway. It is the spectacular welcome everyone deserves.
The drive here will have you saying WOW every few minutes.
The scenic drive begins at the Mount Carmel Junction and runs roughly 12 miles to the East Entrance of the Park. It was originally created as a simpler go between Zion and Grand Canyon and Bryce Canyon.
The National Park Service describes it as, "A road designed to go where no road had gone before, the Zion Mt Carmel Highway and Tunnel went up Pine Creek Canyon, through the Navajo sandstone cliffs to the eastern plateau, then across slickrock country."
You'll begin the drive with a few miles of curves through unique rock formations and towering buttes. There are pull-offs and observation points so plan some extra time to get out here and there.
Make sure to stop at the Checkerboard Mesa pullout just past the East Entrance. The famous sandstone formation is cross-hatched creating a checkerboard appearance and is a special sight to see.
Once you reach the Canyon Overlook Trailhead make sure to pull over! This is a magical hike with unforgettable canyon views. There is limited parking so if you can arrive early try to do so.
It is only one mile round-trip and fairly easy walking so it takes only about 30 minutes – an hour depending on how many pictures you take. DO NOT MISS THIS SHORT BUT SWEET HIKE.
When you get back in the car, you'll almost immediately head through the famous Zion Mt Carmel tunnel, an architectural masterpiece that cuts right through the mountain.
At a mile long, when it opened it was the longest tunnel of its kind. As you drive through, you'll notice six windows peering into Zion National Park but only two are functioning today.
TIP: Restrictions on large and tall vehicles for the tunnel. Call ahead to find out dimensions.
Continue on toward the south entrance and settle in to your accommodations.
RELATED: THINGS TO DO IN BRYCE NATIONAL PARK
Zion National Park Itinerary Day 2 – Angels Landing & Emerald Pools
Begin your second day with the infamous Angels Landing Hike. The five-mile roundtrip hike is strenuous with steep drop-offs but tops the list for many hikers trying to complete the coolest hikes in the world.
That being said, it is also extremely dangerous since it is a narrow ridgeline with many people on the trail. I do not recommend attempting the hike with small children or anyone afraid of heights.
I debated whether or not it was worth the anxiety and decided I would attempt the hike and would turn back if I felt uncomfortable.
Read about the detailed experience here with my article on What It's Like to Hike Angels Landing. It was less scary than I thought it would be and was such a high to finish it.
The hike will take about 3 – 4 hours depending on how long you decide to take at the top for pictures. Since it is one of the most popular hikes in the park, I highly recommend taking the first shuttle bus at sunrise to the Grotto Trailhead – Stop #6.
Pack as light as you can with only the necessities in a bag that fits close to your body as there is a lot of climbing and you don't want anything loose to get in your way like a string bag. Wear sturdy shoes, layers of clothes and sunscreen, and bring water, snacks, a hat and/or sunglasses, a light or small camera, and headlamp if starting before sunrise.
After the hike, hop back on to the shuttle to the Zion Lodge Stop #5 so you can fuel up on a hearty lunch (you deserve it!) at the Red Rock Grill. The lunch menu includes burgers, wraps, salads, and sandwiches.
Next, walk over to the Emerald Pools Trailhead across the Virgin River. Two trails start here: the Lower and the Middle.
Depending on how your legs feel, you can make this an easy stroll by just heading to the Lower Emerald Pool, just over a half a mile long, or to the steeper option at the Middle and Upper Pools too. The Middle Pool and Upper extension is roughly an additional .8-miles but definitely will be more climbing.
Either way, take the Kayenta Trail back down as it is less busy and a new trail to experience. It's a great hike to end your second day in Zion.
Alternative Hikes Instead of Angels Landing

Hidden Canyon is a moderate 2-mile hike that ascends about 950 feet and takes about 3 hours. It starts with a series of switchbacks that lead to stone steps over the canyon. Parts of the trail are similar to Angels Landing with drop-offs, rock scrambling and chains to help guide you but it's not as high and lacks the expansive view at the end. It's still a fun hike and less crowded than Angels Landing. You can also add Observation Point (another 2.5 miles one way) since the trail shares the first ¾ of a mile with Hidden Canyon BUT it will make for an entire day hike so bring a lunch. It overlooks Angels Landing with magnificent views. Both at Shuttle Stop #7 Weeping Rock.
Zion National Park Itinerary Day 3 – The Watchman and Weeping Rock
The Watchman Trail is the hike that surprised us the most. We did our research and knew what to expect with Angels Landing and The Narrows, but we did not read much about this particular hike. It made our list last minute because it was recommended to us right before our trip.
The trailhead is behind the Zion Canyon Visitor Center right by the Watchman Campground. It is an easy to moderate 3-mile hike that is less popular but worth your time because of the magnificent views of Springdale and the valley below.
Afterward, take the shuttle to Weeping Rock. It is probably the shortest and most popular trail you'll find in Zion National Park. Hop off at Shuttle Stop #7 to walk the paved .25 miles. The colorful rock face "weeps" all year long supplying plenty of water to the hanging gardens of moss and ferns.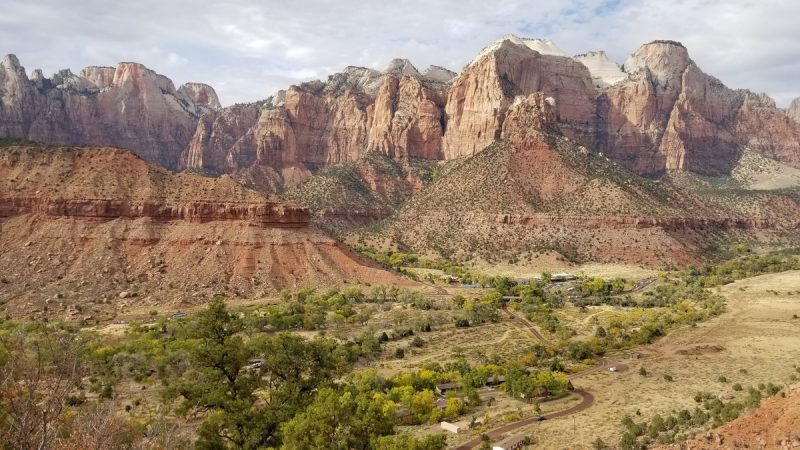 Zion Itinerary Day 4 – The Narrows
The Narrows tops my list for favorite national park hikes across the United States. It is so epically different from most hikes as you trudge through crystal clear water inside a deep narrow canyon.
The smooth grooves formed by the constant flow of water creates a wave-like appearance
What do you need to hike The Narrows in Zion National Park? That depends on the time of year you go. In the summer when the temperature is hot, you may not need much other than a walking stick and waterproof shoes. But double check the water levels and temps. Always ask a ranger what the recommended gear is for the day you plan to hike.
In the spring, fall and winter, on the other hand, you'll need to bring or rent dry pants, canyoneering boots, neoprene socks and a wooden walking stick.
Since the river temps were in the lower fifties, we walked over to Zion Outfitter to rent all the additional gear. It is right downtown close to the entrance of the park. And you do NOT need a permit to hike the Narrows from the Bottom Up.
HOT TIP: Zion Outfitter offers a 25% Military Discount and lets you pick up the equipment the night before as long as you call first.
Also plan to bring a waterproof case for your camera/phone or a waterproof camera/phone, snacks, dry bag or backpack, aspirin, water, and a small first aid kit.
You access the Bottom Up Narrows trailhead at the end of the Riverwalk at the Temple of Sinawava tram stop, the last stop on the tram.
NOTE: Even if you decide not to hike the Narrows still take a stroll on the one-mile paved Riverwalk Trail. It's a super easy walk with pretty views.
How long does it take to hike the Narrows? The hike can be as short or as long as you want it to be. If you go as far as you can and take pictures, it will take anywhere between 5 – 6 hours total.
NOTE: Always check conditions the day you hike for flash flood possibilities and water levels.
If the water levels are low, the area you hike to is called Orderville Junction and Wall Street. The park estimates two hours to get to this point.
We left at first light to avoid crowds which worked for the way in, but the canyon was getting crowded on the way back. So if you can, I highly recommend an early start. It took us five hours round-trip and I would do it again tomorrow if I could.
IT IS AN AWESOME HIKE and a spectacular way to end your visit to Zion National Park!
What to Do in Zion National Park in One Day
If for some reason you only have one day to explore, here are my recommendations for the best of Zion National Park.
Grab the first shuttle of the day and hike a portion of the Narrows. You can make it as short or long as you want. But I'd recommend planning for at least an hour to get in and out for a total of two hours.
After the hike, take the shuttle bus around the entire park. Then drive the Zion-Mount Carmel Highway and hike the one-mile Canyon Overlook Trail.
SAVE (PIN) FOR LATER!