Taking my nephews to experience Blue Man Group in Chicago had been on my list for many years, but I was waiting for them to get a little older to appreciate the unique performance. It had been over 15 years since I last saw the show, and I wondered if it would still be relevant and amusing. I'm happy to share it was both, and we all loved it!
Blue Man Group is a good idea at all times throughout the year, but it's particularly great to beat the winter blues.
Wait, beat the winter blues? It's more like redefining the blues. You'll be hopping right into a big blue world and embracing it!
And here's why.
Disclaimer: I was provided tickets to the show but all thoughts & opinions are my own. Also, some of the links included in this post are affiliate links and will provide me with a commission at no additional cost to you.
1. It's Indoors
Sorry, Chicago but let's be brutally honest, the winters here can be brutally cold!
There's no denying the city offers a long list of interesting things to do, but during the winter months, it's hard not to appreciate those sheltered from the elements.
That's why I fully appreciate that the Blue Man Group Chicago is inside the Briar Street Theatre.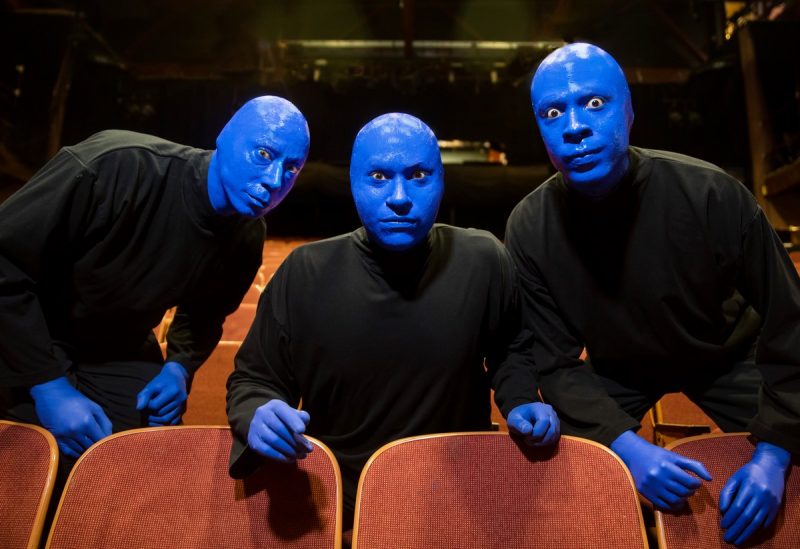 READ NEXT: THE BEST CHRISTMAS LIGHTS IN CHICAGO
2. The Show is Multigenerational
Family trips have evolved, it's not just mom and dad anymore, sometimes grandma and grandpa are tagging along too. And it's hard to find activities to keep everyone happy.
Cue the mute blue-skinned fellas. It's not only a celebration of human connection but a fun way to bond across generations. The act has universal appeal and entertains no matter what age or background.
Even in our group, we had a Gen Xer, a Millennial, and two Gen Z's, and we all laughed and clapped at the same time.
When we left the theatre on our walk over to Lincoln Park Zoo, the topic of discussion was everyone's favorite part of the show. My youngest nephew and I blurted out the exact same moment of the show. I won't go into detail with spoilers, but you get the picture.
Make sure to scroll to the bottom for tips on seeing the show!
READ NEXT: CHICAGO'S ROUTE 66 ATTRACTIONS
3. It's in a Building with a little Chicago History
Blue Man Group in Chicago Illinois is performed at the Briar Street Theatre, formerly the carriage house for Marshall Field. It might sound familiar as he is a household name in the Chicagoland area.
The entrepreneur founded the well-known Marshall Field & Company department store on State Street and used the building as a stable for his horses which were used to deliver goods.
Even though the department store is now Macy's, his legacy lives on at the Field Museum of Natural History.
The 119-year old building is not much to look at on the outside, but the 300-seat theater offers fantastic acoustics and excellent views from any spot.
And with Wrigley Field right down the street, the second oldest baseball stadium in the world, it's in a cool part of town. There are a ton of restaurants and coffee shops to choose from nearby to visit before or after the show.
RELATED: MIDWEST SPRING BREAK IDEAS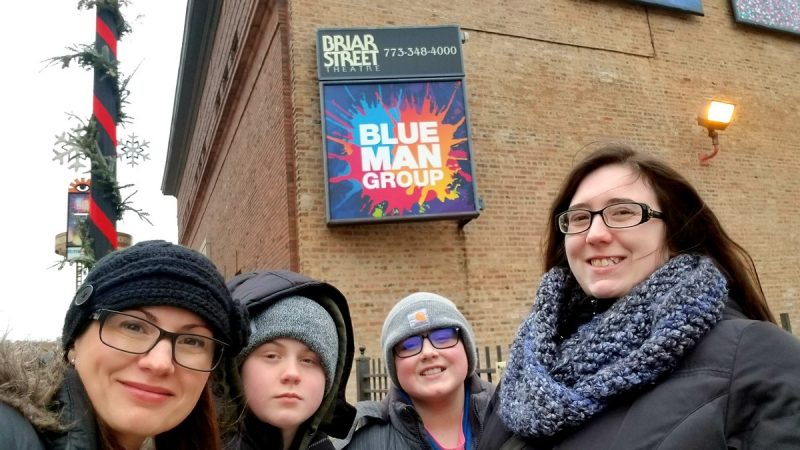 4. The BMG is still as Entertaining as Ever
"Hard to describe. Easy to love." is the perfect way to explain it. You might question the three blue, big-eyed, bald characters at first, but will quickly come to welcome them into your hearts as the show goes on.
Blue Man Group is a dynamic composition of bold techno beats, comedic performances and colorful entertainment that will keep your whole party enthralled from start to finish.
The characters silently string together a spectacular awareness of today's addiction to technology and social media with a comedic twist.
From the funny scrolling messages in the beginning to the vibrant beats of the PVC pipes at the end and zany marshmallow antics in the middle, it's a show like no other.
PLAN YOUR SPRING TRIP: BEST ROAD TRIPS FROM CHICAGO
5. They Have an Expanded Winter Schedule & Good Combo Tickets
Briar Street Theatre has extended its winter schedule which already has multiple afternoon and night shows seven days a week. This year's calendar includes added performances on Martin Luther King Jr. Day, Valentine's Day, and President's Day.
Right now, you can purchase a special ticket package for $79 that includes a main floor seat and to the Art Institute of Chicago including a pass to the Andy Warhol exhibit.
Always check Blue Man Group Chicago events page for special deals. Throughout the year, the theatre also sells combo tickets to a few Chicago icons like the Navy Pier Ferris Wheel and Skydeck at Willis Tower.
Tips for Seeing Blue Man Group in Chicago Illinois
Get Blue Man Group Chicago Tickets here.
Address: 3133 N. Halsted, Chicago, Illinois
Arrive at least 15 minutes prior to get situated. And another 15 more if you are picking up tickets at Will Call.
Covid policy: Masks are required for all Blue Man Group patrons regardless of vaccination status.
No photography is allowed during the show so stick around after to take pictures with the band and the blue men.
Be prepared for an interactive show. Audience participation is part of the fun!
It's a loud show so it's always a good idea to bring earplugs just in case anyone in your group has issues.
Wear comfortable clothes. And no dry-cleaning-only type gear in case you get any paint on you.
Where are the best seats for Blue Man Group Chicago? There's really not a bad seat in the house but make note the first few rows are the "poncho" section where there's a likely chance of getting paint or food sprayed on you.
How long does a Blue Man Group show last? Roughly 90 to 105 minutes with no intermission so make sure to hit the restrooms before taking your seat.
Blue Man Group Chicago parking is available for $15 cash in a lot next door but spaces are limited so arrive early. Or look for a cheaper space in the neighborhood with my $7 Referral Link.
Blue Man Group Chicago student discount offered for groups of 10 or more.
For families, check out the Blue Man Group Chicago Family Pack for 4 – it saves 25% on tickets.
RELATED: BEST WINTER FAMILY GETAWAYS
Fun Facts about Blue Man Group
Blue Man Group began in 1987 with a collaboration of three close friends in Manhattan's Lower East Side.
Today, Blue Man Group has productions in six major cities: Berlin, Boston, Chicago, New York, Las Vegas, and Orlando.
And also a global traveling show that has appeared worldwide in 20 countries and has been seen by over 35 million people.
Even though the cast is made up of many members, you only see three on stage at the same time.
BMG has released five albums with one nominated for a Grammy.
You can be part of the cast! They hold regular auditions in New York City, Chicago, and Los Angeles.
Have you been to Blue Man Group in Chicago Illinois? What was your experience like? Tell us below!
Please Share on Pinterest!