Updated August 2022. As I sit to write this, it is almost three years to the day of my first PRK procedure at a vision center in Illinois. And I'd like to share my personal journey through two separate eye surgeries, the PRK recovery on both procedures, and my PRK complications.
You may be asking yourself why a travel blogger is writing a health-related experience on her travel website. Well, the main reason I decided to get my eyes corrected was that I thought it would be helpful when traveling long-term.
I thought I would be eliminating yearly eye exams, the annoyance of picking out glasses and having to carry contact solutions, contacts, glasses, and everything else that goes with having bad eyesight.
Boy was I wrong, PRK recovery was not what I expected at all!
You might be considering the same option so I want to share my lengthy and not-so-great experience so you can make an informed decision.
I waited three long years to share my experience so my eyes could stabilize and I could give you the full outlook. Also for my anger to subside, because let me tell you, there was a lot of anger, disappointment, and utter dismay.
Keep reading for my full PRK recovery journal…
Update as of December 8, 2022: The FDA May Issue Warnings about Lasik
What is the Difference between PRK and LASIK?
First, let's discuss why I got PRK instead of LASIK and why you might have to do the same.
Both PRK, which stands for Photorefractive Keratectomy, and LASIK are laser vision correction procedures performed to correct eyesight.
The main difference between LASIK versus PRK is the way the procedure is completed.
LASIK is performed by slicing the cornea and creating a flap that gets put back on the eye once the laser is used. When PRK is performed, a layer of the patient's cornea (the corneal cells) is completely removed which has to then grow back.
Supposedly, the procedure time, result, and cost are the same with both procedures. And only the healing time and potential complications differ.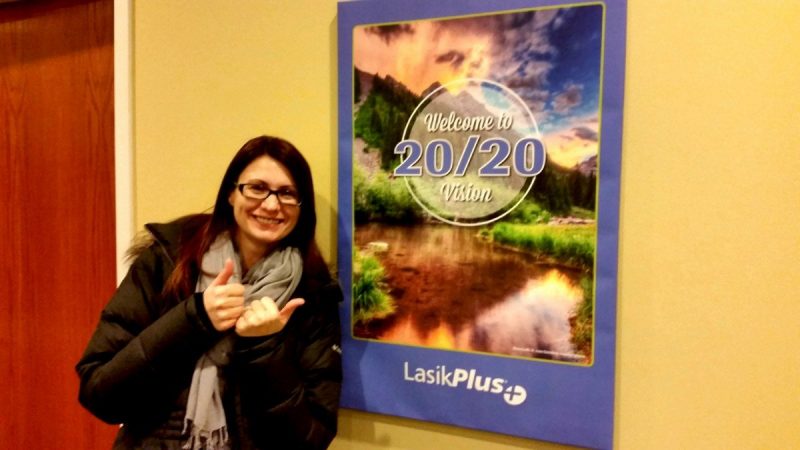 LASIK and PRK Recovery & Risk
The overall healing process is longer and more painful for PRK but with less risk of complications from the surgery itself because there is no flap.
Other possible risks for both surgeries include dry eye, infection, haze effect on vision, halos, night glares, redness, and long-term light sensitivity after PRK.
LASIK has little downtime with only a day or so for recovery whereas PRK is much longer.
Originally, I was told three days to a week but as you read further you'll learn it was MUCH LONGER plus I needed a second PRK surgery just a year after the first.
There are many reasons PRK may be recommended. Examples include thin corneas, dry eye issues, and irregular corneas. Also, some career fields like military personnel or first responders may have certain requirements only allowing PRK versus LASIK because of the possible flap complications.
My ophthalmologist recommended PRK because of the shape of my cornea. And after some research and figuring out the right date for me before our mega three month trip to Spain and Portugal, I was ready.
PRK Cost
The cost for both procedures is relatively the same and can range anywhere from $1,500 – $3,000 per eye depending on your prescription and whether or not you have astigmatism or not.
I paid $3,363.12 including a discount of $1,000 for my type of insurance to correct my nearsightedness (-5.50 in both eyes).
If you see any other promotions lower than that proceed with caution and/or know you will probably receive the whole bait and switch scam once you get there.
PRK Success Rate
Here are a few facts I wish I would have read before I began my PRK journey.
How long does it take to get 20/20 vision after PRK? According to WebMD, only 70% of PRK patients achieve 20/20 vision.
92% of PRK patients get 20/40 vision or better. And it works better for low to moderate farsightedness than high.
How to speed up PRK recovery
What is the fastest way to recover from PRK?
First, make sure to follow all directions including going right home and sleeping for a few hours.
Also, use all eye drops and prescriptions exactly as recommended. Avoid rubbing your eyes and use the eye protection given to you by your doctor even longer than the recommended timeframe.
Post-Procedure Activities and Restrictions, the Do and Don'ts after PRK
Keep both eyes closed as much as possible the first day. Sleep then rest as much as possible for the remainder of the day following your surgery. This is VITAL to your recovery.
How long after PRK can I watch TV? Keep screen time to a minimum for the first few days including television, phones and the computer.
PRK Recovery Tips: Download a few audiobooks or podcasts to keep you entertained. Check out this great Audiobook deal if you don't already have an account.
Do not shower or take a bath for at least 24 hours. Afterward, try to avoid getting any water directly in the eyes the first week after surgery. Do NOT rub your eyes in the shower or afterward with a towel.
PRK Recovery Tips: Shower the morning of surgery and wash your hair.
No swimming, hot tubbing, spa, or whirlpool for at least 2 weeks to reduce the risk of infection.
Resume driving only when advised by your doctor and when you feel confident and safe. This generally occurs after one week. However, your vision may fluctuate for the first several weeks so it is important to use good judgment.
Do not wear eye makeup, lotions, cologne, or aftershave for one week.

Light sensitivity is no joke. You will need to wear sunglasses all the time while outdoors even on cloudy days for three weeks to a month.

PRK Recovery Tips: Put eye drops in the fridge for extra soothing on your itchy eyes.

It was recommended that exercise should not be picked up again for at least a week, but I didn't feel comfortable with that for at least three weeks.

If you are like me and still need to wear glasses, check out these lightweight computer glasses that effectively reduce blue light by up to 90%, immediately reducing eyestrain and its associated effects including headaches, dry eyes, tired eyes, and blurred vision.
Disclaimer: I earn from qualifying purchases. Some of the links included in this post are affiliate links and will provide me with a commission at no additional cost to you.
My PRK Recovery Timeline Blog 2017 – First Surgery
And now to begin my infuriating experience.
What to Expect the Day of Surgery
I was told not to wear my contacts for at least two weeks before the procedure. My original appointment was about three weeks prior so I never put them back in afterward.
On the day of my surgery, I arrived with my contacts out, no makeup or lotion in comfy clothes, with a driver (my husband), and with the prescriptions, we picked up beforehand.
Many people I spoke to before the procedure were extremely uncomfortable with the idea of someone touching and messing with my eyes.
For some reason, it really didn't bother me until the morning of. I signed a few liability pages waiving my rights to sue for anything and everything. After signing away, I went for another round of tests. And then had to wait about an hour to be taken back which is when I started feeling a little nervous.
While in the waiting room, the nurse gave me a valium (which absolutely helped with the anxiety) and an anti-inflammatory pill. Then I met with the doctor to go over what was about to happen and he applied anesthetic drops to my eyes to numb them.
A few minutes later, I was led into a surgical room. I laid down and the doctor put an instrument over my head that held my eyelids open.
It was a very strange feeling and I felt some pressure and heat, but it did not hurt at all. He put an alcohol solution in my eye to loosen the epithelium prior to removal. He then told me to focus on a target light while he removed the surface layer of the cornea (the corneal epithelium) and then used a laser to reshape the cornea.
FYI – At the eye center I went to, (not sure if all places have this) the surgical area is lined with windows and your driver can watch the whole process live also on a television in the waiting room. So my husband was able to watch the entire thing. Kind of strange but very cool at the same time. Talk about something to keep you busy while you wait!
The whole procedure probably took 12 – 15 minutes at the most. I was given some blue blocker-type glasses, an additional prescription for Ambien, and instructions for the next few days.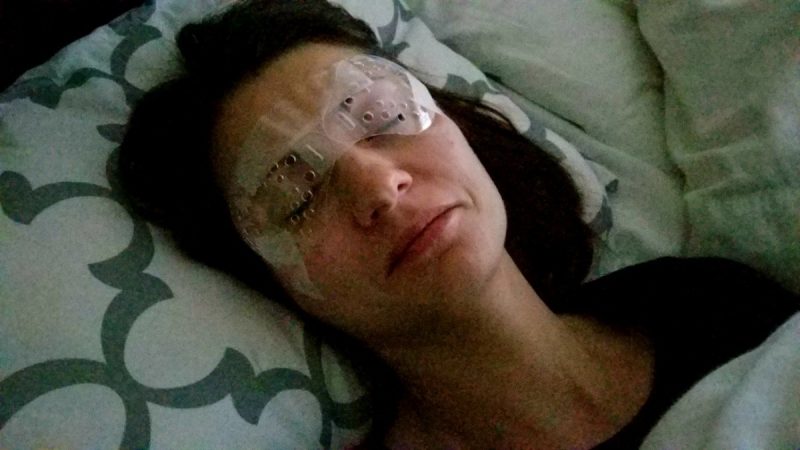 PRK Recovery Timeline: Day 0
Is PRK recovery painful?
Everything was a little blurry but not too bad when I was leaving the office. The worst part of the whole day was going outside. The bright sun was HORRIBLE. I could barely keep my eyes open walking to the car and keeping them shut the entire ride.
Once I arrived home, I climbed in bed, took my sleeping pill as directed, and slept for about six hours straight. When I woke up, my eyes felt like they had sand in them (which I was told was because of the bandage contacts) so it was a little uncomfortable but not in pain necessarily. I started my rounds of eye drops immediately.
I made a little chart for all the meds because it was hard to keep track of when and how many to administer.
There was a steroid drop, numbing drop, antibiotic drop, and artificial tears. The number of drops was tiered over the course of 7 days with the numbing one only to be used a few times when in pain. THANK GOD FOR THAT ONE!
PRK Recovery Timeline: Day 1 & 2
I went in for my follow-up appointment (make a note – you need a driver for that as well) the next afternoon. The appointment was quick. I did not see my doctor but another one that was in the office that day. He said everything looked okay and to just rest and keep up with the drops as directed.
I remember feeling SO TIRED. Like I could barely keep my eyes open. Apparently having your eyes corrected, takes a lot out of you! I slept off and on for most of the first two days with mild discomfort here and there. Just when it would get bad it would be time for more drops which made them feel better.
My eyes teared constantly which gave me a runny nose and I was still really sensitive to light. So with the shades drawn, I listened to an audiobook in between napping.
PRK Recovery Timeline: Day 3
The doctor told me that day 3 was going to be the worst and he was right. At this point, I thought the PRK recovery wasn't too difficult. It wasn't fun, but it wasn't horrible either. Well, that all changed on day three!
It's when the cells begin to grow back over the eye that you start feeling what I can only describe as the sandy sensation turning to toe-curling-pillow-squeezing pain.
For about 12 hours, the pain was unbearable. I used the numbing drops accordingly and the prescription pain meds but nothing helped. Fortunately, once those twelve hours were over, the pain subsided. I don't know if I could have taken any more than that.
Read here what others are saying on the PRK Recovery Reddit thread.
PRK Recovery Timeline: Days 4 – 7
The rest of the week my vision would come and go. It was so-so to good (never 20/20 but less blurry than the night before) in the morning with my eyes feeling refreshed after a good night's sleep but then would taper off by getting more blurry in the evening.
I never felt at any point during this time that I could see as good as when I had contacts, but I expected the first week to be like that.
During the first week after the procedure, I could not sit at my computer or watch television for very long at all. I would get headaches and an overall tired feeling in my eyes. It's hard to explain but it took effort to be able to look at the screen.
The sixth-morning post-op, I could actually see the alarm clock when I woke up without glasses! I was so excited and thought this was a great sign. That day I also went for another follow-up appointment where they removed the contact bandages.
Again, a little discomfort but no pain. After a few eye tests, the doctor said everything looked great. I thought I was on the road to recovery. Just in time for my three-month hiking trip in Spain.
PRK Recovery Timeline: Days 8 – 15
During the second week, I could get on the computer a little longer (about an hour to an hour and a half), but my eyes were still extremely sensitive to light and I still felt worn out after screen time. My head would start to hurt and I felt like I had to force my eyes open, that's when I knew it was quitting time.
My vision would come and go so I was not confident enough to drive yet. All I kept thinking was thankfully I work from home right now but what about the people that would have to have gone back to a job especially someone on a computer all day.
PRK Recovery Timeline: Days 16 – 30
I began to worry and get frustrated when my vision did not start to stabilize in the third week. Because I had blurry vision 2 weeks after PRK, I still needed someone to drive me to my third appointment which I had on Day 27 where the doctor assured me everything was right on track.
I vented to the doctor regarding my aggravation that I was never told the healing process could take this long. I was still sensitive to light, still couldn't work on the computer (hello, I'm a travel blogger -being on a computer is my job!), and couldn't drive. He told me everyone heals at a different pace.
So I waited…
PRK Recovery Timeline: 1 & 2 Months Post-Op
During month one and two after the surgery, my vision seemed to stabilize as in it didn't fluctuate throughout the day, but I still didn't feel like I could see well. I drove only during the day, never at night. I did not feel comfortable with it but what was I supposed to do… I didn't have a chauffeur at my beck and call.
I was still sensitive to light but not as severe and I was able to get on the computer for about 4 – 5 hours a day.
PRK Recovery Timeline: 3 Months Post-Op
All my symptoms remained the same as month one and two. My vision was way better than before the procedure but still blurry. I did not feel comfortable driving and my eyes themselves felt extremely sensitive to the touch. I wore sunglasses the minute I got outside since bright lights still bothered me and any wind blowing in my eyes felt terrible.
My three month follow up appointment was a lot of the same responses from the doctor. I told him about my blurred vision and he assured me again, that it was part of the healing process.
He wanted to see me in another month, but I reminded him I was leaving on a three month trip to Spain and Portugal. He told me not to worry and by the time I got back, I'd be seeing great.
PRK Recovery Timeline: 6 Months Post-Op
So I went ahead and hiked 500 miles on the Camino de Santiago feeling like everything was a little off. My vision was WAY better than before the procedure but I still felt like I couldn't see great especially in low light or at night.
My sensitivity to light got better every day but my eyes would still tear up on super sunny days. I would ask myself am I going to have long-term light sensitivity after PRK for the rest of my life?
And on the complete opposite side, my eyes would feel dry later in the day so I would use eye drops at least 4 or 5 times a day.
At my eye appointment, I asked why I had blurry vision 6 months after PRK. The doctor (again, not the big honcho who performed my procedure because apparently he only does surgeries and never follow-up) revealed my eyes should basically be done healing. They had not changed since month one which left me with astigmatisms in both eyes that I did not have before the surgery and recommended a PRK touch up.
A SECOND PRK SURGERY! ARE YOU KIDDING ME?
He handed me a prescription and said to get glasses in the interim because he would not want to do the second procedure for another six months or so. I asked all the important questions – while trying not to burst into tears with the idea of doing this all over again – like:
Is it the EXACT same recovery because it was extremely long and drawn out? Answer: Yes. Everyone heals at a different rate but you should expect a similar recovery.
Why did this happen? Answer: No particular reason. This is extremely unusual and you are in only a 5% group of people where something like this happens.
What are the chances the second procedure will work? Answer: I would say there is 99% chance everything will turn out perfect. I wouldn't worry at all.
Who is paying for this? Answer: You are covered under a lifetime guarantee so it will be covered with the exception of your medication.
Are you going to pay for my glasses? Who do I talk to, to get reimbursed for the prescription because there is NO WAY I'm paying for all this again! Answer: the front desk can leave a note for your doctor.
My head was spinning with the thought of going through all of this again. When would I have the time and how do I know this will work if it didn't work the first time. Not to mention, it is my eyes which I was nervous about in the first place.
My PRK Recovery Timeline 2018 – Second PRK Surgery
A year after my first procedure, I went back into my eye center for more tests to confirm I was a candidate for PRK enhancement. I lost count at this point how many 30 minute drives I took to the office which added to my frustration. I had so much time and energy invested in something I thought was going to take a week!
The doc looked over my results and said I was definitely viable for an enhancement. I came back within a few days to do it all over again.
I'll summarize here as this story is getting quite long. Imagine how I felt going through it??
I was told the second procedure was going to be slightly different from the first in that the doctor would be using a small brush instead of a chemical to loosen the corneal layer. He told me there had been studies that the change in the procedure was giving better results as far as recovery time.
I didn't want to get my hopes up so I took that with a grain of salt and prepared myself for the worst.
But all in all, the recovery and the pain on the second PRK surgery (the enhancement) was far less unpleasant. I would not go as far to say it was easy, but it was definitely an improvement which leads me to believe the brush technique is a better option. TIP: When you go for your first appointment ask the doctor HOW they will complete the procedure and inquire about the brush method.
The first week was still tough with being tired and all the eye drops but by the second week I was already back on the computer. I went through the same light sensitivity issues but it lasted only about ten days.
I followed all directions and went in for follow-up appointments as directed. And again, I felt like my eyes were MUCH BETTER yet still not perfect. I couldn't see as crisp as I used to with contacts and had a hard time reading signs far away. The doctor told me, I was not done healing and to give it time. Three to six months to be exact.
Did my Second PRK Surgery Work? Blurry Vision 2 Years after PRK
Seven months after my surgery, I went for a regular eye exam at a Vision Center. I did not tell them about my history until after the consultation. She confirmed my suspicion that I needed glasses or contacts to gain a 20/20 outlook. Oh and I still have a slight astigmatism in my left eye.
My prescription is low with a -0.75 in both eyes, a 20/25 visual acuity. It's not terrible since my old prescription pre-surgery was -5.50 in both eyes BUT my vision is not as crisp as before with contacts (and I've been used to that clarity for my entire life), I do not feel comfortable driving without glasses, and now that my eyes are so dry I cannot wear contacts which annoys me because I can't stand glasses.
Also, my eyes are extremely sensitive and they were never before. I thought it would subside after some time but after one full year after my last procedure, it hasn't. For example, if I am cutting onions my eyes don't just water and get a little red, it feels like someone threw acid in my eyes. And if an eyelash gets in there, watch out because it feels like someone is gouging them.
I reached out to the eye center and they would not give me any of my money back and told me if my eyes get any worse to come back in to see if I am a candidate for a second enhancement. A THIRD EYE SURGERY??!! I don't think so.
So here I am two eye surgeries later with a new astigmatism, many missed days of work, chronic dry eye, and a prescription for glasses.
Thanks for sticking around to read about my personal experience. I felt compelled to share so people out there contemplating corrective eye surgery are fully aware of all the risks and complications that can happen. I am told I am in a 2% – 5% group but the more I read, the more I am discovering that percentage might be drastically understated.
5 Year Update – PRK Recovery Experience 2022
I've had so many people reach out to me privately and below in the comments about their own personal nightmares with PRK complications. I just want to say, thank you so much for sharing your stories!
I still cannot believe how many of us there are and yet no major changes in the field. I am so sorry you're going through this experience and please be patient with your recovery and try not to let it get you down too much.
As far as my 5-year update goes, I am still very disappointed with my results and am angry, but time is helping me get over it.
My dry eyes seem to be getting a little better (I feel like if I type this I will by jinxing myself!) so I will be trying daily contacts in the near future.
My prescription has stayed the same since the second PRK surgery and my near vision is still great for a woman in her 40s. No reading glasses just yet!
Keep reading below to find out about the great deal I found for regular prescription glasses and sunglasses!
Cheap Online Prescription Glasses and Sunglasses
I did recently buy two pairs of glasses and one pair of prescription sunglasses for under $100 online!! ($5 Off Here: https://bit.ly/3JMlzim).
The pair I picked out at the eye doctor were $440 so I couldn't believe the price difference. I've been wearing them the last few months and love them!
I wanted to share because it kills me to still pay for eyewear after paying so much for the surgery.
The more research I did on PRK complications after my first procedure, I realized my experience is not that uncommon, there are so many PRK recovery stories out there. After a reporter in Michigan committed suicide, some are asking if it was linked to her LASIK complications. Have you had an experience with PRK or LASIK? Please share it with us in the comments!
GET THE WORD OUT! SHARE ON PINTEREST!