We have been a little quiet on the blog lately. It's because we are busy planning our first grand escapade of the year. In the spring, we are heading over to Europe for a ninety-day BIG adventure. We will be hiking 500 miles on a pilgrimage through northern Spain then hopping in a car to road trip through all of Portugal and southwestern Spain!
Highlights of the Trip include:
Exploring Madrid and Lisbon, the capitals of Spain and Portugal
Hiking El Camino de Santiago, a legendary excursion
Discovering Peneda-Gerês National Park, the only national park in Portugal
Hanging out with wild monkeys at the Rock of Gibraltar
Strolling through white-washed villages of Andalusia
Touring fairy tale castles in Sintra
Visiting the most western point in Europe
Sightseeing in mountaintop cities
Swimming in the picturesque beaches of Algarve
El Camino de Santiago: May Our Feet Forgive Us
We are taking six weeks in the beginning of our trip to walk the Way of St. James, one of the oldest pilgrimage routes in Europe. Our journey begins in the small town of Saint Jean Pied de Port in France. Our route will take us over the Pyrenees through small villages, lush vineyards, quiet countryside, a few big cities and finishes at the Cathedral of Santiago de Compostela in Galicia. The path travels 500 miles through four of Spain's fifteen regions. I will have separate posts in the near future dedicated to the Camino like why we are hiking it, how we are preparing for it and more details of the route.
Portugal Road Trip Itinerary
After completing the Camino, we are renting a car and heading south to Portugal for 20 days. So far our stops and overnights include:
• Paradamonte • Braga • Ribeiro • Guimaraes • Pinhao • Tabuaco • Porto • Aveiro • Coimbra • Fatimah • Obidos • Marvao • Lisbon • Sintra • Evora • Lagos
RELATED POST: 15 MUST-SEE PLACES IN PORTUGAL
Southern Spain Road Trip Itinerary
The rest of the road trip will include southwestern Spain with stops and overnights in:
• Toledo • Consuegra • Cordoba • Granada • Nerja • Mijas • Malaga • Marbella • Estepona • Ronda • Los Barrios • Jerez • Cadiz • Seville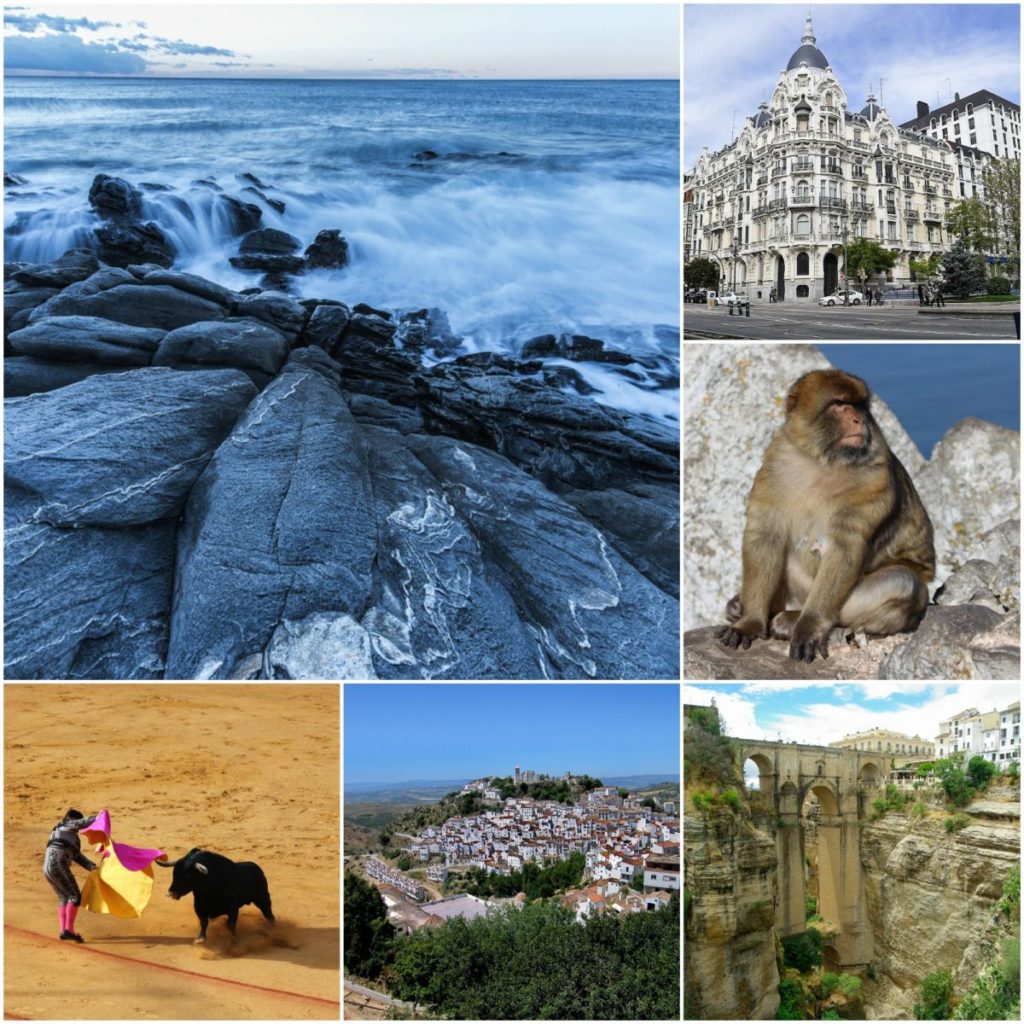 Total Cost of 90 Day Portugal and Spain Trip
Just like our summer road trip, we are going to track every travel expense we incur. We will share with you the in-depth details of how much a trip like this costs.
*Tip: Read here about how we easily track our travel expenses and more*

Below is the breakout so far with airfare, car rental, ground transportation, and lodging. We were going to use credit card points to book our airline tickets, but the flight was cheaper than we anticipated so we are saving our points for future travels.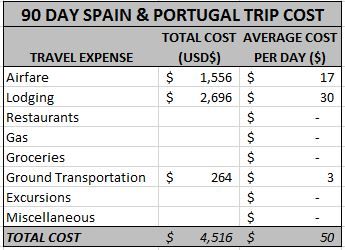 During the Camino hike, we will stay in hostel-type lodging available to pilgrims. We have not booked any ahead of time with the exception of a few at the beginning and the end. We averaged $20 per day for the ones in between. From what I can tell, some will be more and some may be less depending on if we get a private room versus dorms. For the entirety of the trip, we will be staying 64% of the time in hostels and 36% of the time in hotels.
Have you ever been to Portugal or Spain? If you have any recommendations, please tell us in the comments below!
Don't forget to sign up below to follow on our adventures!
Plan Your Trip

We have been budget traveling for over ten years and love finding deals. Here are a few websites that we used to save money and time booking accommodations, flights and car rental.

Accommodation

Hotels.com

has a best rate guarantee program that allows you to price match up until 24 hours prior to arrival and its rewards program gives one free night for every 10 nights collected.

Booking.com has more options in the small towns of Europe versus Hotels.com so we used both websites when booking this trip.

Best Flights

Airfarewatchdog.com

is a comparison website that searches through tons of flights. It compares airline pricing up to three times a day, having up to date information and also includes airlines such as Southwest and Allegiant that other websites do not include.

Car Rental

Priceline

 is usually the cheapest for car rentals and has a best rate guarantee program as well.

Disclaimer: This post contains affiliate links, if you book through our link we will receive a small commission at no additional cost to you. Thank you for your help supporting of the cost of the blog.

Like it? Pin it!