If you are searching for the best Camino de Santiago packing list, you are in the right place. We did it. We walked 500 miles on the Camino in Spain. Not only was it a life-changing experience, but a learning experience as well. And now we want to share all that useful information we learned with you.
You've made the decision to hike one of the many routes of the Camino, but now what?
First off, congratulations! Hiking the Camino is a lifelong dream for many and you are making it happen!
Walking day after day for miles is no easy feat so having the right gear is essential.
While researching any thru-hike, you will read this statement many times and you cannot read (or hear) it enough: weight should be your number one concern.
I cannot tell you how many times we either saw or talked to hikers who were struggling with too heavy of a pack. To lighten their load some hikers left things behind, paid to forward them ahead, or mailed items back home. These options exist, but who wants to deal with the headache or cost of all that.
READ HERE TO FOLLOW ALONG ON OUR CAMINO ADVENTURE
As a general rule for packing light for the Camino, your goal should be to pack roughly 10% of your body weight. I weigh 120 pounds so my goal was to get my pack to 12 pounds. With all my gear and a full water bottle, my pack weighed 13 pounds. Of all the issues I had -and there were many- my backpack was not one of them.
REMEMBER: WEIGHT IS EVERYTHING
I compiled the ultimate Camino de Santiago packing list of what type of backpack, clothing, bedding, toiletries, electronics, and accessories you will need to make your journey as smooth as possible.
Buen Camino!
Camino Gear – Packing List
Small to Medium Size Backpack with Cushioned Hip Straps
One of the most important items you will bring is your backpack. So what's the best backpacks for the Camino de Santiago? After many hours of research, I chose the Osprey Exos Ultralight Backpack. Originally, I was planning on buying a smaller backpack, but then decided a larger one would be more beneficial for future trips. So I landed in the middle with a 48-liter Osprey bag.
I have established quite a love affair with this backpack. It is wonderful! Now, I think it is the best women's backpack for Camino de Santiago.
REMEMBER: THE WEIGHT OF YOUR PACK WILL IMPACT THE QUALITY OF YOUR HIKE
The Exos Ultralight weighs only 2.23 pounds and has a removable top lid to make the pack smaller. I took the lid off for this particular hike and it worked well. It has a sewn-in cushioned hipbelt with zippered pockets on each side for extra storage and quick access.
Most ultralight bags lack any type of frame which can make it uncomfortable if not packed correctly. The Exos Ultralight has a peripheral frame made out of aluminum alloy; it is light, comfortable and breathable.
Trekking Poles (Optional)
I did not use walking poles, but my husband had to when he had shin splints and my mother-in-law used them the majority of the hike. Many people said they would not do the hike without poles. They provide balance, extra stability, allow your arms to help propel you forward and upward, and protect knees when walking down steep hills.
There are many types that range from cheap to expensive. What you purchase should depend on if you are going to use them for other hikes as well or a one-time use.
An important factor when deciding whether or not to bring poles with you is TSA restrictions. Most airlines do NOT let you bring hiking poles as a carry on. For us it was not an option, since we did not check our backpacks for fear of damaging them or losing them. If that is an issue for you as well, know that you can purchase them on the Frances route (not sure about the other routes). We started our hike in Saint-Jean-Pied-de-Port and there were at least two stores that carried them at a reasonable price.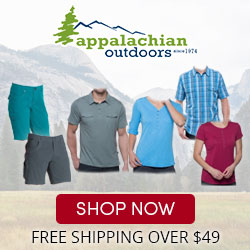 Insect Repellent for Possible Bed Bugs
Bed bugs are what every traveler hates to think about. It's that certain something that could destroy a trip. Be prepared by spraying your sleeping bag, backpack, and sheet with insect repellent. We used Sawyer Products Premium Permethrin Clothing Insect Repellent, it lasts up to 6 weeks and/or 6 washings.
Water Hydration Bladder and/or Water Bottles
It is extremely important to stay hydrated while hiking. All you need is two light, disposable plastic water bottles. Glaceau Smartwater and Propel work great. If you are a solo backpacker, you may be interested in utilizing a hydration bladder. It will allow you to drink water without having to either ask someone to grab your bottle out of your side pocket or taking off your backpack every time you need a drink. The Osprey Exos Ultralight backpack holds up to 3 liters.
We chose to use disposable bottles because they are easier to fill with many fountains along the way and can be used when walking around town without your big backpack
Trash Compactor Bag
Keeping the contents inside your backpack dry is important and most packs are not waterproof. Some backpacks come with a rain cover, but they can leak at the seam and/or not fit properly. We chose to line our pack with a large compactor bag and it works great. We had multiple days of mist and a few downpours and nothing inside our bag became wet. The one bag lasted the entire trip with no wear and tear.
Don't forget to see below for your FREE printable Checklist!
Camino de Santiago Packing List – Outerwear
Weather on the Camino is unforgiving and ever-changing. You may be wearing shorts and a t-shirt one day and every layer you have the next. Be prepared for the best and the worst all while keeping your weight down!
One Fleece Jacket
I made the mistake of bringing a quarter-zip up fleece and it drove me nuts having to take it on and off over my head. I suggest a full-zip jacket with long sleeves. We hiked in the spring and I used my fleece up until the end of May. Even if you are walking in the summer, I suggest at least one warm layer.
One Fleece Vest (Optional in Summer)
I am always cold so I wanted another layer as a just-in-case option and I was glad I did. I used my fleece vest probably 35% of the time, usually at night or in the mornings. My husband did not need it and my mother-in-law rarely used hers. I would put this down as an optional item for those of you that are warm-blooded or going in the summer months.
One Lightweight Jacket
I brought a nylon down packable puffer jacket for its lightweight and warmth aspects. Even though I received mine as a gift, I had never used it before. Now I'll be sure to bring it on all our trips!
One negative about a jacket made of down is that you don't want to get it wet. I just made sure to put my rain top on or coat off if it started to drizzle.
Lightweight Rain Gear
For the first few weeks, we thought we made a mistake bringing rain gear for Camino de Santiago and then we were caught in the middle of one of the worst rain days for walking there ever was. The rain and wind were relentless and that's when I realized how smart it is to have a top and bottom versus a raincoat that blows all over.
We chose a waterproof, ultra lite, breathable rain suit with a top and bottom.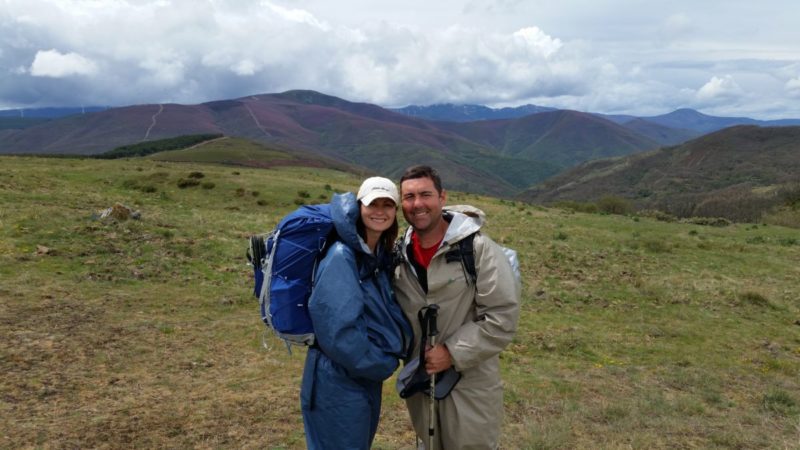 One Pair of Walking Shoes
Many people wear hiking boots, we prefer trail runners since they are lightweight and have a tough sole. I personally think boots are an overkill for this type of hike, but if you have your heart set on it at least buy a lightweight pair. We spoke to many people that chose hiking boots because of the waterproof aspect. Let me tell you, if you are out all day in the rain, they will not resist and not only will your feet be wet, but it will take FOREVER for them to dry.
There were four of us in our group, all of us wore ASICS Gel. I was the only one that had issues with blisters and foot pain. I figured out for slim feet with not much of an arch, Asics are great. For people like me with a wide foot and high arch they are not. Merrell and New Balance are the shoes of choice for my foot shape.
When you buy them, wear them and them wear them some more! I wish I would have taken a few 10-mile hikes so I would have known I needed a different type of shoe. It is hard to identify an issue if you don't walk in the shoe for a long time.
Multi-purpose Pair of Shoes
So many people hate crocs and believe me I don't love the style, but you cannot beat the weight and dual purpose of the Classic Croc. They work as shower shoes and walking around shoes after a long day of hiking. If it is cool at night, it's nice to be able to put on a pair of socks which cannot easily be done in flip-flops. They are also more sturdy than flip-flops and will hide your nasty-lookin' feet. Sorry, but I can never unsee the horrendous feet I came across on the Camino.
Because of an unfortunate melting incident, I had flip flops and Crocs on the Camino. I liked the flip flops for the shower and the Crocs for walking around.
Multifunctional Headwear
Up until last year I had no idea what a BUFF was. Now I do and I LOVE it! I wore it on my head as a headband, around my neck as a scarf, and around my face in the cold weather. Now I want a buff in every color and design! They are not only for women either. My husband used his for a scully cap and around his neck for sun protection.
Sunhat and/or Baseball Cap
I brought a sunhat for sunny days and baseball hat for rainy days. I hate wearing sunglasses with a baseball cap and the bigger brim worked perfect for the rainy days. For me, bringing the Petal hat was an easy decision since it rolls up nice and is super light. Now, my husband only brought a baseball cap and thought it was fine. He did find himself, however, putting his Buff around his neck for sunburn protection. If you would like an all-in-one option, a foldable hat with a neck flat is the best hat for Camino de Santiago.
Warm Hat or Ear Warmers
It sounds like a lot of hats, two or three, but I wore all of them multiple times up through the end of May. They are light and fold up easy, plus having your ears warm makes a big difference. If you are walking in July and August, it may be an optional packing item.
Pair of Gloves
I chose to bring a thin pair of fleece gloves, but any pair will work fine. Definitely bring them though. I wore them often in the mornings and on rainy days. If you are bringing walking poles, it may help the friction as well.
KEEP SCROLLING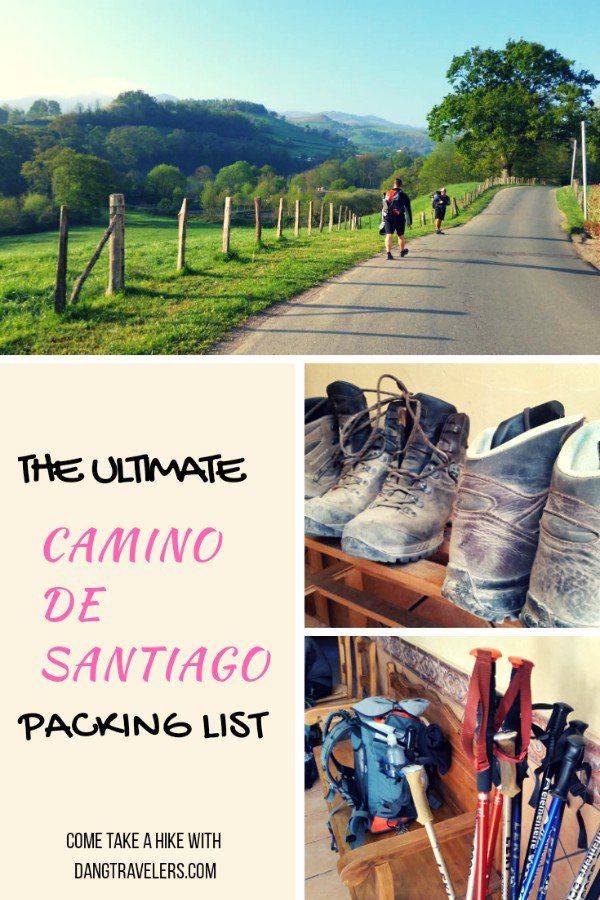 Waist Pack
Yes, I'm suggesting Crocs and a fanny pack! Who am I? I never thought this day would come, but here it is. Having your passport, credecial, camera (phone), extra phone battery, band aids, medication, and anything else you use throughout the day right at your fingertips – meaning not having to take off your backpack and fumble through it – is incredibly helpful. My husband wore a quick release sport waist pack while I wore a sturdy, bigger one. Wearing the pack felt strange at first, but within a few days it felt strange without it.
Sunglasses with UV Protection
One sure thing about walking any long-distance hike is you will be outside A LOT. Make sure to bring along a good pair of sunglasses with UV protection.
Camino de Santiago Packing List – Sleeping Essentials
Lightweight Sleeping Bag or Sleep Sack
Depending on the time of year you plan to hike the Camino, I suggest either a sleep sack (summer months) or a lightweight sleeping bag (all other months). As I've written before, I am cold all the time so I would choose a sleeping bag year round, but it is a personal preference.
Twin Fitted Sheet and Pillowcase
Many people sleep without a fitted sheet and only use a sleep sack or sleeping bag. There are two reasons why I would suggest bringing a fitted sheet: (1) another layer against possible bed bugs and (2) to cover up the stain-ridden mattresses. Not all of them are bad and some places issue disposable sheet. But there are definitely places that will make you jump for joy that you brought a sheet.
Most hostels and albergues will provide a pillow, but not a case or sheets. We bought a lightweight twin microfiber sheet set for $5 at Dollar General. If you don't have a Dollar General near you, you can find a cheap set online.
Silicone Earplugs (plus an extra pair)
Not only should you bring one pair of earplugs, but bring an extra pair as well. I was SHOCKED at how many people started out on the Camino without earplugs. Snoring, coughing, and people getting up to use the bathroom occurs every night so be prepared!
Eye Mask (Optional)
If you are a light sleeper, an early-to-bed person or a napper, an eye mask might help you get some much needed sleep. I just used my BUFF around my eyes when I needed t, but Isaw many people using a mask.
Camino de Santiago Packing List – Clothing
It's hard to imagine that this will be enough, but it is. Don't start adding stuff just because. Many people suggest only bringing two pairs of underwear and socks so you always have one clean and/or dry, but both my husband and I lost a pair of each. We have no idea how or when.
We also liked having three pair of socks on the rainy days. Halfway through the day, we would switch to a dry pair so later that evening we used the third pair while the others dried. They are light and not something you want to worry about buying when on the hike so be prepared and bring three.
2 SHORT SLEEVE QUICK DRY SHIRTS
3 PAIRS OF UNDERWEAR (Men) or 3 PAIRS OF UNDERWEAR (Women)
2 COMFY SPORTS BRAS (Women Only)
Camino de Santiago Packing List – Toiletries
TOOTHPASTE
FLOSS
TOOTHBRUSH – TRAVEL SIZE
TRAVEL SIZE SHAMPOO (also use as soap and for laundry)
TRAVEL SIZE CONDITIONER (optional)
DEODORENT
RAZOR
SMALL SUNSCREEN
LIP BALM WITH SUNSCREEN
TWEEZERS
NAIL CLIPPERS
SMALL COMB OR BRUSH
ELASTIC HAIRBANDS
TOILET PAPER – you will learn quick on the Camino there is never enough toilet paper
FEMININE PRODUCTS (if needed)
Camino Packing List – First Aid Kit
Most of these items are available in every other town at a local pharmacy (Farmacia), but bring a small supply of your own to start out with.
BAND AIDS
DUCT TAPE (wrapped around a pen)
MEDICATION (for allergies, heartburn, inflammation, achy muscles, stomach issues, and/or sleeping)
Camino Packing List – Electronics
PORTABLE POWER BANK – We used our phones for everything on the Camino including GPS, camera, itineraries, booking lodging so running out of juice is a big concern.
Camino Packing List – Miscellaneous
SOMETHING TO SIT ON WHEN EATING OR TAKING A BREAK
SAFETY PINS – Multipurpose for many things, but mainly to hang clothes to dry on bag when walking or when clothes pins are not available
PLASTIC CUP & PLATE – helpful for making your own lunch
UTENSILS (one of each)
STRING BAG – for walking around at night in town to carry fleece or water etc)
ZIPLOCK BAGGIES (all different sizes) – we used these to organize our clothes as well
HEADPHONES
ROCK – If you don't know what for then you have to do more research, read HERE
DIGITAL MUSIC &/OR BOOK(S)
SNACK BARS
Don't Forget
Passport
To make copies of travel documents
Pilgrim Passport/Credencial
Credit Card/ Bank card
To call your banking institutions and credit card companies to let them know you are going abroad
Register for a VPN (Private Internet Access) if you are planning on using Wi-Fi for online security and identity protection
Do you have any additions to this ultralight Camino packing list? Tell us in the comments below!
Don't forget to sign up below to be the first to know when a new post comes out so you can follow along on our adventures!
Disclaimer: This post contains affiliate links, if you book through our link we will receive a small commission at no additional cost to you. Thanks for your support as it helps with the cost of running the website.

Like it? Pin it!