DAY 29: SANTA CATALINA DE SOMOZA TO EL ACEBO
A faint rainbow waved good morning and tried to coax us into thinking the dark clouds were not as bad as they seem.
It was right! We had sprinkles on and off all day, but nothing like the storm in the Meseta. Our socks didn't get wet and it was not windy at all.
We are back in the mountainous region and it is incredible views all around.
We are trekking to the highest point on the Camino, Cruz de Ferro at 4,940 feet.
And although we have a steep climb to get there, it is the downhill that's harrowing.
Cruz de Ferro stands for iron cross and that's exactly what we find in the middle of the rock pile. There are a few different theories on the meaning of the location.
I've read that it is meant for the pilgrim to leave a rock from their home town to show how far they've come. I've heard it symbolizes something you want to leave behind as in a broken heart, anger, or maybe a part of your life.
I think it is what you make it. It's what each pilgrim wants it to mean to them. It can be a life changing moment or just a pile of rocks.
I'll keep my personal journey close to my heart as a private one. If you were to walk on a 500-mile pilgrimage, what would it mean to you?
The beauty doesn't end at this point. On our way to El Acebo, the tree trunks are hairy and the walking path is lined with white, yellow and lavender flowers. It'll go down as one of our favorite days for sure.
We walked 18 miles today and we can feel it. My husband is having issues with shin splints, my blisters have multiplied, and my mother-in-law's cold is no better than the first couple of days. We are rewarded with a room all to ourselves and a fabulous dinner.
It was an easy day to ignore our ailments with all the scenery. Let's see how we feel tomorrow…
DAY 30: EL ACEBO TO PONFERRADA
Tired so tired; that's how we feel after yesterday. I'll keep today's entry short and sweet.
It drizzled on and off most of the day. It was dreary yet the yellow and white flowers still popped against the dark sky and slate-covered ground.
We ate an awesome pilgrim meal midday in the medieval town of Molinaseca.
Late afternoon, we landed in Ponferrada. We hung back at the hostal for a few hours to rest before hitting the town.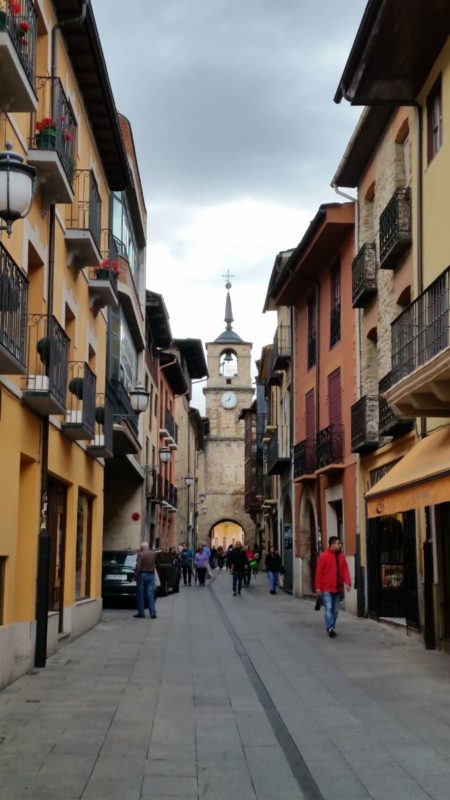 We finished the day with a tour of the castle that was originally home to the Knights of the Templar Order and later a defense stronghold for the city.
DAY 31: PONFERRADA TO CACABELOS
Even though the sky was gray, it was a colorful walk today. We saw flowers decorating homes and the path most of the way. We also noticed we are back in wine country.
We had the most interesting dinner and lodging yet. We are now near a region where octopus (called pulpo) is popular. Being a picky eater it's nothing I would ever eat, but everyone else enjoyed it.
I tried Galacia soup for the first time, another popular dish. It's a broth based soup with kale, potatoes, and beans. It's more in line with my taste buds.
As for our lodging tonight, what a unique experience. It's an albergue set along an old church. The rooms are sort of private; they only have two beds in them but the walls don't go all the way up to the ceiling. We could hear and talk to the people next door as if they were right there with us. We have to walk outside to use the bathrooms and showers like a campground, but we love it. It's only five euro a person.
I won't go into too much detail, but in the middle of the night here is where I catch some kind of Camino bug. Let's just say the town lived up to its name in Cacabelos!
DAY 32: CACABELOS TO LA PORTELA DE VALCARCE
Having only slept two hours last night, today was a blur. It was a beautiful thirteen mile walk past vineyards and through a cute town where we had lunch.
At the albergue, we are happy to find the two of us in a four person room that doesn't fill up. Our group enjoyed the pilgrim menu at the place and I stayed in the room and slept for fourteen hours straight. I still have not kicked this bug.
DAY 32: LA PORTELA DE VALCARCE TO O CEBREIRO
Today is a short day at about nine miles, but the steepest climb on the Camino and the second highest in elevation. We are heading up to the tourist town of O Cebreiro.
Even though I feel a tad better, my energy levels are low and the hike seems extremely intense. But we push on and and make it to a new and the final region of the hike, Galicia.
The lush picturesque views had a hand in motivating me to the top!
Because of the elevation, many people experience fog throughout the area. We were happy to have perfect weather for the climb and can see clearly up on the ridge.
The hamlet (a term commonly used in the area for a small settlement) is dotted with straw-roofed stone huts, shops, and restaurants.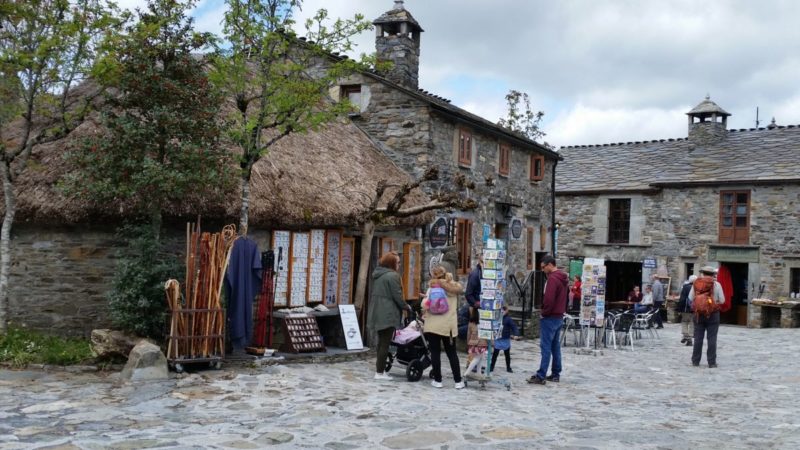 For six euros, we were able to stay at the municipal. Another not-so-great stay with one bathroom on our floor with no toilet paper and a room with 75 fellow smelly pilgrims. And the showers were wide open with no privacy.
But it was cheap and it had the best view, well actually our shoes did!
Just under 100 miles left to Santiago!!