Portugal Must See Places Beyond Lisbon
How can you not be enamored with Portugal? We discovered a country saturated with a rich history, overwhelming natural beauty, deeply devout communities, and authentic charm.
Our list of Portugal's must-see places to visit will take you from big cities to traditional villages; rural countryside to rugged cliffside; and sandy beaches to cobblestone streets.
Here are the best places to visit in Portugal arranged from north to south. See the Tourist Map of Portugal below.
If you are planning a few days in Lisbon, which you should because it is a fantastic city to explore, here are some favorite things to do in Lisbon.
1. Peneda-Gerês National Park
Peneda-Gerês National Park, located in the northwest part of the country, is the only national park in Portugal. It is vast. It is stunning. And it is an explorer's dream.
The park is chock-full of scenic drives, stunning views, cascading waterfalls, ancient Roman roads, and dense oak forests. And somehow is under-the-radar as far as Portugal destinations.
Things to Do and See: Castle of Lindoso, Ermida Village, Cascata Tahiti Waterfall, Bairro, Thermal Baths at Cascata do Arado, Portela do Homem, Pé de Cabril, Viewpoint Rocas, Campo de Gerês, Castro Laboreiro Village, and the Cava da Velha Roman Bridge.
Where to Stay: Pousada Mosteiro de Amares or Hotel Sâo Bento da Porta Aberta
Disclaimer: I earn from qualifying purchases. Some of the links included in this post are affiliate links and will provide me with a commission at no additional cost to you.
2. Sistelo Village
Just outside the Peneda-Gerês National Park borders, you will find the tiny village of Sistelo located in Arcos de Valdevez, known for its famous idyllic terraces called "solcalcos."
They are a vital agricultural facet to the rural community but provide a stunning landscape to experience as an outsider.
Three villages, Sistelo, Padrão, and Porta Cova, make up the parish of Sistelo, known as Portugal's "Little Tibet." Picturesque red roof houses contrast the bright green landscape that dots the ridgeline above the Vez River making it a Portugal must see area.
Things to Do and See: Ponte Medieval de Sistelo, Castelo do Visconde de Sistelo, Restaurante Cantinho do Abade, and hike the Ecovia do Vez.
Where to Stay: Casa da Teresina or Casa da Fichua
If you are planning to visit Spain as well, take a look at our detailed Portugal and Spain itinerary.
3. Bom Jesus do Monte in Braga
Bom Jesus do Monte, meaning Good Jesus of the Mount, is a fascinating pilgrimage site set high on a hilltop overlooking the city.
The impressive zigzag stairway, containing seventeen landings adorned with fountains and statues, leads visitors to the church and beautiful grounds. Even if you aren't Catholic or religious in general, it is a remarkable scene.
Things to Do and See: Bom Jesus Funicular, Stairways at Bom Jesus: Via Crusis, Stairway of the Senses, and 3 Catholic Virtues, Garden of Santa Barbara, Gosto Superior, Praca da República, and Raio Palace.
Where to Stay: The Arch Apartments or Melia Braga Hotel & Spa
READ NEXT: TOP 5 CITIES IN PORTUGAL
4. Guimarães
Guimarães won us over with its 1,000-year-old castle, medieval vibe, and delightful streets. Visit what many locals consider the birthplace of Portugal since the first king of the country was born here.
Things to Do and See: Largo da Oliveira Square, Historical City Centre, lunch at Cantinho Dos Sabores, Largo do Toural, Palace Duques de Braganca, Castelo de Guirmaraes, Paco Dos Duques De Braganca, Rua de Santa Maria, The Convent and Church of Sao Francisco, and Igreja de Sao Miguel.
Where to Stay: Pousada Mosteiro de Guimaraes or Santa Luzia ArtHotel
5. Douro Valley
Douro Valley, the world's first officially designated wine region, is an absolute delight. Two roads on either side of the Douro River will transport you with mesmerizing views of slow-moving water and steeply terraced vineyards cut into the mountainside.
This area is definitely on our list of top things to do in Portugal and if you can plan for at least a few days. The drive along the river valley alone is worth the detour outside of the city.
Things to See and Do: Drive both sides of the river stopping at these viewpoints: São Leonardo da Galafura, Casal de Loivos, and São Salvador do Mundo, visit a few wineries: Cellars of Murganheira, Quinta do Vallado, Quinta do Tedo, and Quinta do Pôpa.
Where to Stay: The Vintage House, Dois Lagares House, or Quinta Nova
6. Porto
Porto, the country's second-largest city, is home to one of the oldest European centers. Its historical core was proclaimed a World Heritage Site by UNESCO in 1996.
Enjoy cobblestone streets lined with colorful buildings, the lull of vintage boats bobbing in the water, and buzzing nightlife in one of the prettiest places in Portugal.
And let's not forget to mention sipping on savory port wine in the land where it was first conceived.
Things to Do and See: Sunset from the Dom Luís bridge and Miradouro da Vitória, Wine Quay Bar, Livraria Lello, Cálem Caves Wine Tour, Ribeira district, Pastel de Nata's at Confeit do Bolhão, patio at Sandeman, and the Mercado de Bolhao.
Where to Stay: PortoBay Flores
7. Costa Nova do Prado
Costa Nova's candy-striped houses are a throwback to a simpler time. A system once used by fisherman to help the homes stand out against the faded sand tones, now add a colorful splash to beach rentals.
Enjoy a day lounging on the soft sandy beach or an active one out on the inviting waters of the Atlantic.
Things to Do and See: The Beach and Canastra do Fidalgo Restaurant
Where to Stay: Cestaria Costa Nova
8. Aveiro
Located on a shallow coastal lagoon, Aveiro is known for its brightly painted boats, picturesque canals, and laidback fishing village vibe.
Although I think it's a bit of a stretch to refer to it by its nickname the "Venice of Portugal," it does radiate similar charm as the gondola-studded city and it is a place well worth a visit.
What to Do and See: Boat trip on the canal, a visit to the salt spa – Spa Salinico De Aveiro, Aveiro Art Museum, and try the local delicacy, ovos moles, at Ovo Moles De Aveiro.
Where to Stay: Avenida Apartments
9. Coimbra
Coimbra University is the oldest university in Portugal and one of the oldest universities in continuous operation in the world. It has a UNESCO World Heritage designation and a tour is definitely a Portugal must see place.
Word on the street is that J.K. Rowling's inspiration for Hogwarts in Harry Potter was inspired by a visit to the university when she lived in Porto. If you are visiting when the school is in session, those black gowns the students wear may remind you of something.
Highlights of the visit include the ornamental Chapel of São Miguel, the one-of-a-kind Joanine Library, and gorgeous views from the University Tower.
Things to Do and See: Coimbra University Tour, Torres do Mondego, Monastery of Santa Clara-a-Velha, Coimbra Botanical Garden, Penedo da Saudade overlook, Parque Manuel Braga Park, and Rua Sofia convents.
Where to Stay: Sapientia Boutique Hotel
10. Convent of Christ
Situated on a hill looking over the town of Tomar, the Convent of Christ was founded as the headquarters of the Knights Templar.
When the group was disbanded in the 14th century, the site was reestablished as the Order of Christ, who supported Portugal's maritime efforts of exploration and colonization.
Plan to spend the entire day marveling at the amazing level of detail and architecture of the magnificent grounds. The UNESCO World Heritage Site definitely needs to make your Portugal itinerary.
11. The Shrine of Our Lady of Fatima
There is a strong sense of faith and devotion at the Shrine of our Lady of Fatima. We were taken off guard at how large the area is, it is one of the largest shrines in the world of its kind.
In 1917, three children claimed to have seen an apparition of the Virgin Mary on multiple occasions. People have been visiting the location ever since. Religious or not, Fatima is compelling and one of the most unique places to visit in Portugal.
RELATED: HIKING THE EL CAMINO DE SANTIAGO
12. Óbidos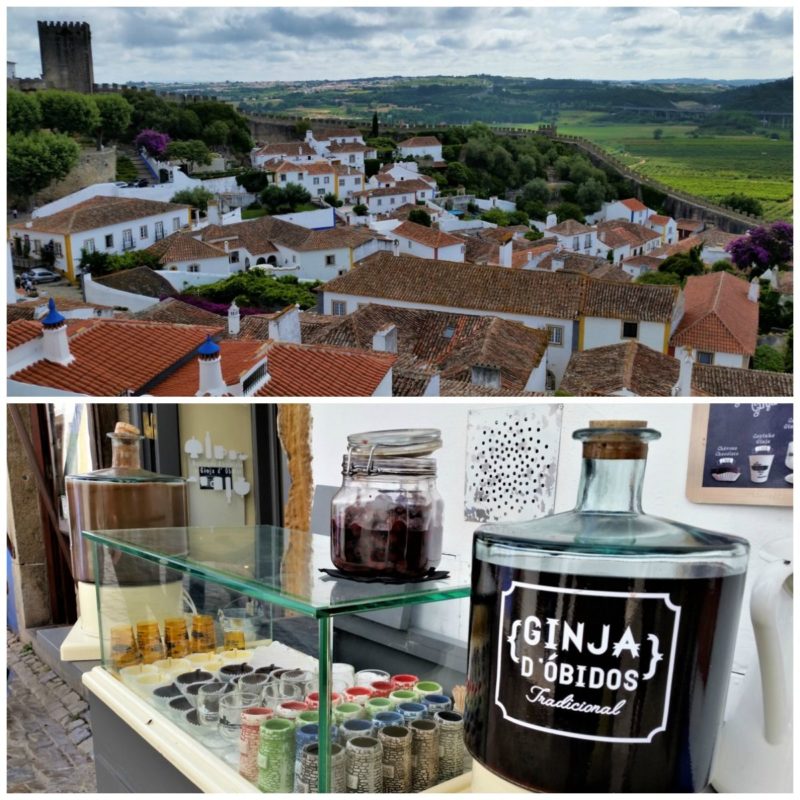 The lovable town of Óbidos, tightly hugged by medieval walls, is about an hour's drive north from Lisbon. The lively historic center is a maze of flower-lined cobblestone streets buzzing with shops and restaurants.
A visit is not complete without trying the traditional Portuguese drink of Ginja, a berry liqueur served in edible chocolate cups.
Try to plan an overnight in Óbidos. Since it is on the list of bus tours it is quieter early in the morning and late at night. Even though it is busy, it definitely deserves a line on a Portugal must-see places list.
Things to Do and See: Walk the castle walls, eat and drink, check out the Literary Man Hotel which has over 50,000 books, and Vila Da Infanta Restaurant.
Where to Stay: Singita
13. Pena Palace
If a fairy tale is what you are looking for, a fairy tale is what you get at Pena Palace. The Romanticist castle, with sweeping views of the surrounding area, is perched high in the lush green Sintra Mountains.
A visit feels like a leap into a magical setting of a Brothers Grimm story.
Where to Stay: Sintra Marmoris Palace
14. Quinta da Regaleira

Quinta da Regaleira, an enchanting estate located near the historic center of Sintra, is an adult playground. The wooded gardens are home to hidden tunnels, dark grottos, underground wells, and spiral staircases all surrounding an impressive 20th-century Gothic residence.
A unique and extraordinary place, Quinta da Regaleira should not be missed.
Where to Stay: Sintra Marmoris Palace
15. Lagos
Don't let the vibrant nightlife or "most-visited" term fool you into thinking Lagos is a tourist trap. Don't get me wrong there are souvenir shops and tourists aplenty, but the Algarve gem also has natural beauty, quiet nooks, and historical charm mixed in as well.
Things to Do and See: Forte Ponta da Bandeira, Lagos Old Town, Boat Ride, Hike the Seven Hanging Valleys Trail, Carvoeiro Boardwalk, swim in Algar Seco Natural Pool, Camilo and Marinha Beaches, and visit Benagil Cave.
Where to Stay: The Salty Lodge
If you are visiting in the summer, make sure to add one of the Best Beaches in Portugal to your itinerary. You'll need a break from the heat and some downtime to relax.
Do you have anything to add to our Portugal must see places list? If so, tell us in the comments!
Don't forget to sign up below to be the first to know when a new post comes out so you can follow along on our adventures!
Like it? Pin it!