Day 5: Pamplona to Zariquiegui
The morning began with a quick stop and spark of excitement over a goofy thing. I heard about these interesting bathrooms used in Europe, but have never seen one. Now I have not only experienced one, but I thought I was going to be stuck in it too.
I finally used a self-cleaning bathroom! Ha, it's the little things, right? Our excitement continued when we realized it was free. Most bathrooms charge a small fee in Europe so it's rare to find one that's free. Once the green button is lit up you can enter. You are allowed a few minutes before it locks and sprays down the whole interior.
On the way out of Pamplona, we explored more of the city before getting back on the Camino trail.
Today must be a day of firsts because we saw our first bright yellow field up close. It's either rapeseed (not sure about the origin of that name) or canola and is a colorful backdrop for the walk.
My calf is sore, but not terribly so. As the day goes on it gets better. All of our group has had minor issues, but thankfully nothing serious and no blisters. We decide to listen to our bodies and make it a shorter day to rest.
We stop in a quaint restaurant in a small village just before noon for lunch.
READ HERE FOR THE ULTIMATE CAMINO DE SANTIAGO PACKING LIST
As we continue on the big city of Pamplona gets smaller and smaller behind us. It's quite amazing how far you can go on your own two feet. Our place for the night is Albergue Zariquiegui.
Day 6: Zariquiegui to Cirauqui
I haven't slept well yet between the new surroundings and shared space for sleeping but last night I have a much needed restful night. My calf feels almost back to normal. We are starting our day as the sun rises; it is going to be a great day.
We have a bit of a climb at the beginning and can see the ridgeline as we walk. The hum of the windmills get louder as we approach the top.
And here we reach the line of metal pilgrims with a scenic view all around.
We saunter on down the hill and at some point reach a church. The Spanish man inside motions to the corner where a giant statue of St. James stands. Underneath is a place to kneel and where my hands lay to pray, a long strip of paper sits with a Pilgrim's Prayer in multiple languages. I pray for a safe journey for myself and our fellow pelegrinos.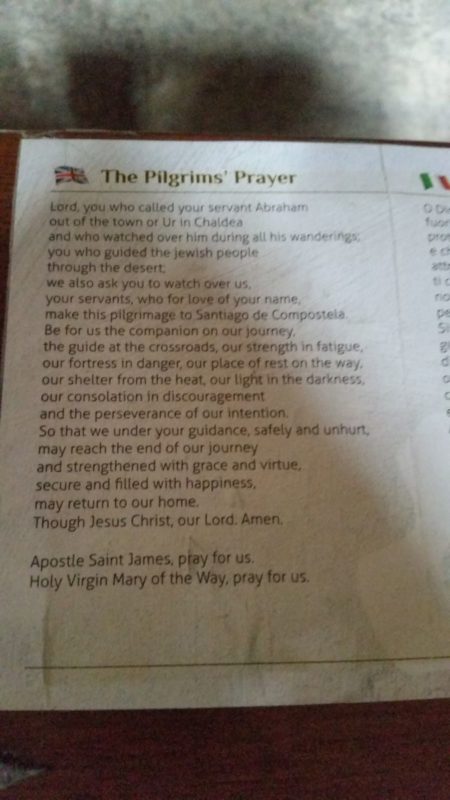 Puente la Reina is the next big town we come across. It's lively, it seems like there are more tourists than pilgrims.
The bridge across the river here is iconic for the pilgrimage. I've seen it many times when researching the Camino. It's surreal now standing here taking a picture of the beautiful scene.
About four miles after Puente la Reina we spot Cirauqui, the town we are hoping to spend the night in. It's encouraging to see the last stop off in the distance ahead of us getting closer and closer with every step.
We ended the evening with a delicious pilgrim meal with an Italian group and a young guy from the UK.
What an amazing day…
Don't forget to sign up below to be the first to know when a new post comes out so you can follow along on our adventures!
Like it? Pin it!