Today, I am taking you along one of the longest paved and most popular bike trails in the state of Florida. The Withlacoochee State Trail, pronounced with-la-coo-chee, navigates 46 miles of railroad history weaving through cypress swamps and canopied corridors. Soak up that "Old Florida" feel as you traverse through small towns across the route.
Withlacoochee State Trail Details
Starting Point: Owensboro
Ending Point: Citrus Springs
Length: 46 Miles
Terrain: Mostly flat with gradual elevation changes.
Withlacoochee State Trail Trailheads: Owensboro, Trilby, Ridge Manor, Silver Lake Recreation Area, Townsen Lake Preserve, Floral City Rest Area, Fort Cooper State Park, Wallace Brooks Park, Apopka (Inverness), Lake Henderson Trestle, Hernando Beach County Park, South Citrus Springs, and Gulf Junction Trailhead.
Favorite Stretch for Stops: Inverness to Floral City
Favorite Stretch for Quiet: Istachatta to Silver Lake
Is Withlacoochee State Trail closed?
Click here for Withlacoochee State Trail Mileage Chart
DETAILED MAP, PHOTOS, AND INFORMATION BELOW
OTHER GREAT FLORIDA DESTINATIONS: TALLAHASSEE
You never know what kind of wildlife you might spot while biking the Withlacoochee trail – a Gopher tortoise, wild Turkey, red-tailed hawk, or an alligator perhaps.
Withlacoochee State Trail from Gulf Junction to Holder – 5 Miles
Beginning in Citrus Springs at mile marker 46, we hop on our folding bikes and get pedaling. It is quiet and we have the path all to ourselves.
The trail follows Highway 41 with a thin line of trees in between with little to no shade. We welcome the sun on this March day as the air is cool and crisp. Check out the whole Withlacoochee State Trail map below.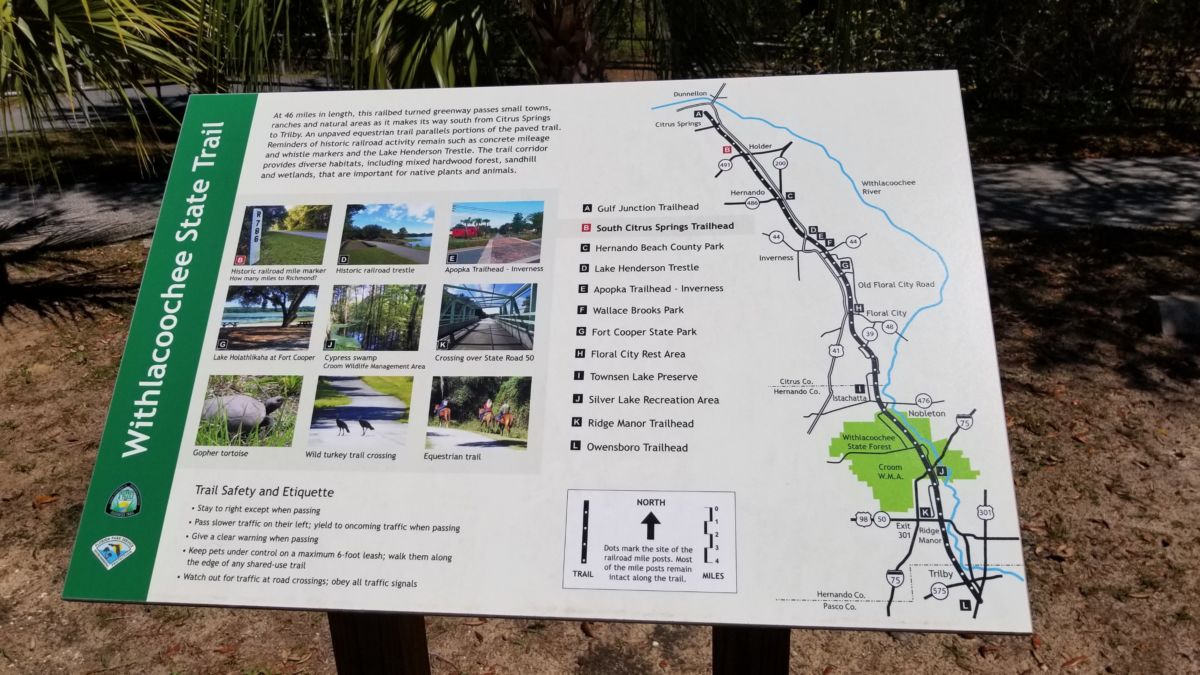 We come across a few backyards before being eyed up by some curious horses. Like most rail to trails, the path gradually arcs and falls with limited turns.
From Holder to Hernando – 5 Miles
We notice that all the Withlacoochee State Trail trailheads have clean bathrooms with flushing toilets and running water; something you don't see often on bike trails. Heading south to the city of Hernando, we go in and out of shade, spotting many birds along the way.
LIKE BIKING? READ 50 BEST RIDES IN THE U.S.
It's the first time we observe the historical railroad markers on the side of the trail.
Originally the corridor was part of the Atlantic Coast Line, stretching from Richmond, Virginia to Tampa, Florida. Lumber and phosphate industries were the first to utilize the railroad in this area as its major mode of transportation in the late nineteenth century.
During the Great Depression, business declined but sparked up again with troop trains and freight traffic related to World War II. As highways and air travel increased, the railroad business took a hit once more.
By the 1960s, service was abandoned and most of the railroad tracks were removed. Luckily for us, in the late 1980s, the state of Florida had the bright idea to purchase the land and turn it into the Withlacoochee State Trail.
In Hernando, there are a few options for food and drinks: The Burger Station, Sabina's Diner, Hideaway Sports Bar, and Chicken King. The smell of the Burger Station was taunting us on the trail so we chose there for lunch.
It's a simple menu to choose from: beef burgers, a Mahi Mahi burger, chicken sandwich, hot dog, fries, onion rings, and sweet potato fries. If you have room after eating a big ol' burger, top lunch off with some ice cream.
From Hernando to Inverness – 5 Miles
From Hernando, the buffer of trees from Interstate 41 widens and you forget about the parallel road. For about two miles, we enjoy the shade provided by the lush forest overhead. What is it about canopied trails that feel so magical?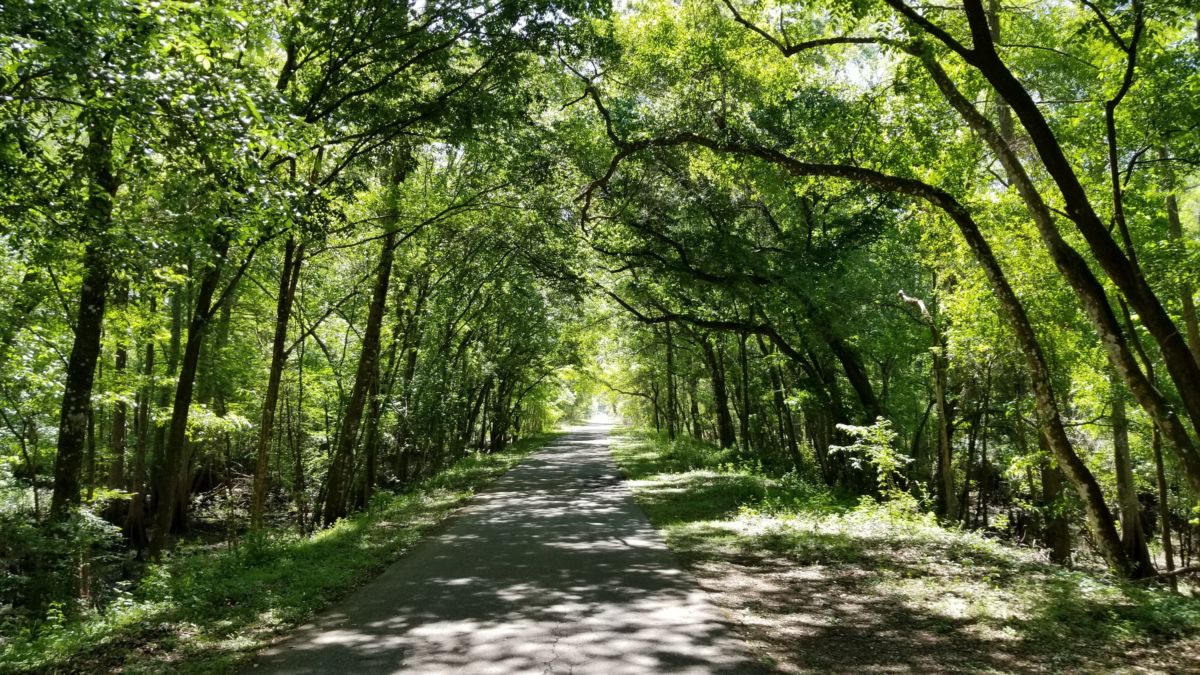 On the way into Inverness, we cross a bridge going over two lakes where a few lizards scurry out of the way.
We slowly get off our bikes to look around for the resident alligator that is rumored to hang around. We know the chances are slim since it's winter and he is normally out of sight this time of year.
From Inverness to Floral City – 7 Miles
The Inverness to Floral City stretch is our favorite, bookmarked with two charming small towns.
Make sure to ride around both areas. Inverness has a few shops, restaurants – Stumpknockers and Joe's Deli are great, and stop in the Old Courthouse Heritage Museum to see how many Elvis cutouts you can find. You'll have to take the detour to find out the story behind Elvis!
Bike rentals available in Floral City and Inverness – See below for details.
The trail begins at Liberty Park which cradles Henderson Lake. There you'll find picnic tables, grills, and covered pavilions. The paved walkway takes you to a wonderful view of the lake.
Right next door at Wallace Brooks Park, we give our butts a break from the bike and check out a few boardwalks. We hear laughter and cheers from the children running around at the playground. Oddly enough, we hear the same thing coming from the retirees at the shuffleboard court.
We stop to ask one of the men why they have a bowling pin planted on the court. "To make things more interesting. We are trying to hone in on our skills," he says, with a childish smile.
Between the two cities about halfway, the trail passes an opening for Fort Cooper State Park, the site of a skirmish between U.S. soldiers and native Seminoles. The fight happened during the Second Seminole War, when the Seminoles resisted the government's attempt to relocate the tribe to Oklahoma. Now, it is home to five miles of woodland trails around Lake Holathlikaha.
*Small admission fee is required*
Just before reaching Floral City, we see a turn off for Ferris Groves Store, where you can purchase fresh fruit, jam, smoothies, and desserts. We decide to come back and get a half flat of strawberries later since we don't want to strap them on the back of the bike.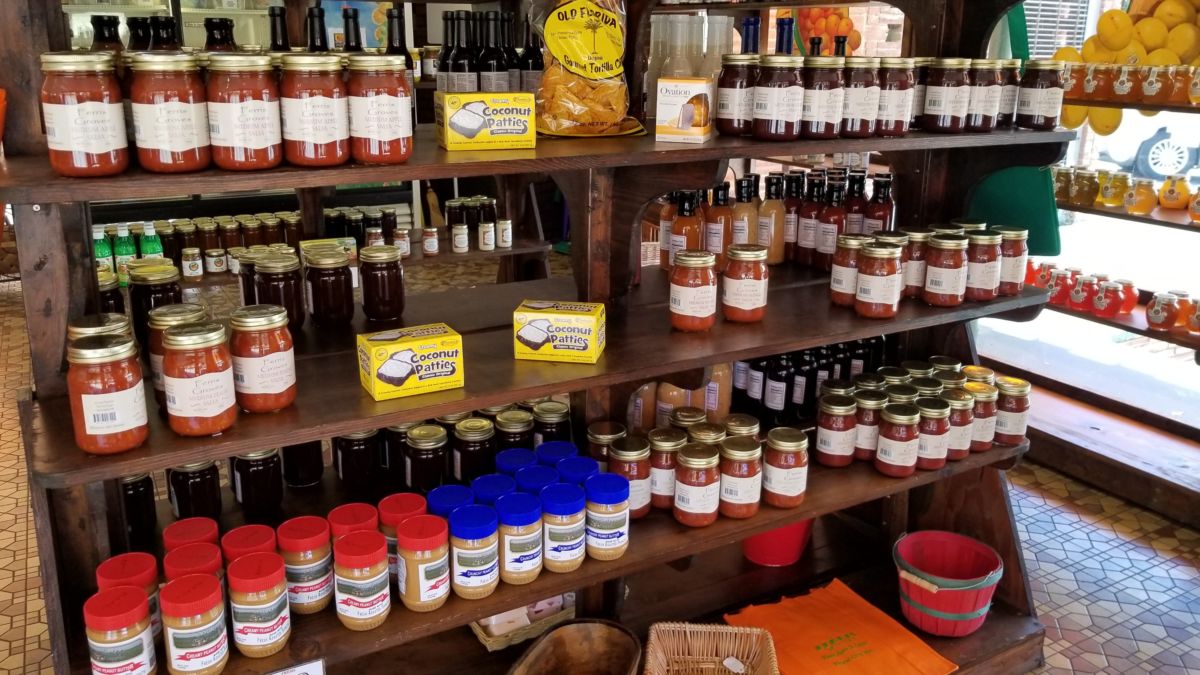 From Floral City to Istachatta – 6 Miles
Floral City, an old mining community, is home to a few great stops. You can visit the Floral City Heritage Hall Museum to learn about the history of the area, bike down the Avenue of Oaks to experience the 135-year old trees, and stop at the historic Duval House to see the oldest surviving residential structure in Citrus County.
Floral City is also a fantastic spot to stop for lunch. The Shamrock Inn has ice-cold beer and daily specials; they are well-known for big burgers and buffalo wings.
Down the path, we find a sign commemorating the spot where one of the worst train disasters in Florida's history took place. Learning a bit of Florida history while biking is entertaining. Aside from the railroad marker, the ride to Istachatta is uneventful; a nice smooth ride.
Istachatta to Silver Lake Recreation Area – 7 Miles
The section between Istachatta and Silver Lake cuts right through the Withlacoochee State Forest and Croom Wildlife Management Area. It is the most peaceful segment with the least amount of street crossings and people.
We take a bathroom break at Lake Townsen Regional Park where we find out we are biking in the footsteps of the Spanish conquistador, Hernando de Soto. His Florida expedition took him to this very location.
Our biking adventure ends near the Silver Lake Recreation Area, we will have to come back to finish the eleven miles on the southern end of the trail. The Withlacoochee State Trail packs a lot of history and nature on one fun path!
Thanks for taking the ride with us!
⇓ See below for details on planning your trip ⇓
Withlacoochee State Trail Bike Rental Info
Places to Stay near Withlacoochee State Trail
Withlacoochee State Trail Camping
Silver Lake Campground in Brooksville
Croom Tract in Withlacoochee State Forest (Primitive)
Riverside Lodge RV Resort in Inverness
Fort Cooper State Park in Inverness
Things to Do near Withlacoochee State Trail
The region near Withlacoochee State Trail is rich in outdoor activities. Check out other fun things to do in the area!
Disclaimer: This post contains some affiliate links, if you book through our link we will receive a small commission at no additional cost to you. Thanks for supporting the blog.
Like it? Please Share It!