Coral Castle is by far the most unique attraction the state of Florida has to offer. The one-of-a-kind wonder was constructed in the name of romance, but is shrouded with mystery and secrets. Built in the dead of the night so not a single soul could witness its development, the monument still confounds its visitors to this day.
Some claim they know how the engineering and technical accomplishments of the masterpiece were achieved while others allege magnetic energy and supernatural powers were at work. Regardless of the assembly, the question surrounding the passion showpiece is whether or not Coral Castle was created by a romantic genius or an infatuated recluse.





The Man Behind Coral Castle
The ill-fated story begins in Riga, Latvia where Edward Leedskalnin was abandoned by his blushing bride, Agnes, one day before the wedding ceremony. She was ten years his junior and he affectionately called her his "Sweet Sixteen." Heartbroken, he fled to the states and began a 28 year quest to erect a testament of his love and devotion.
Leedskalnin was quite the small statured man, 5 feet tall and 100 pounds, yet he somehow found a way to lift and transport colossal-sized blocks of stone to be carved into a token of his love. It is said that he was eccentric and a highly private man, but he did allow visitors while he was still alive and building. Although he invited Agnes to come and see the monument he built for her, she refused and never saw Ed's labor of love.
Word spread and curious visitors from around the world have come to scrutinize the unique site. After hearing about the monument, Billy Idol was inspired to write "Sweet Sixteen" as a tribute to Coral Castle and its creator.
The Castle in Perspective
More than 1,100 tons (2,200,000 pounds) of coquina rock was used to build Coral Castle. Let's put that in perspective. That weight is equivalent to 550 average sized cars, 183 African elephants, 55 whale sharks or two of the heaviest Boeing 747's. One love struck man lifted, moved and carved this substantial amount of coral. Leedskalnin made claims he knew the logistics behind Atlantis and how the pyramids were built but went to the grave with his secrets.
The Furniture
The castle site is enclosed with 8′ high rock walls. The rock walls themselves are impressive as Leedskalnin used NO mortar or cement to bind them together. In 1992, the walls withstood the fury of Category 5 Hurricane Andrew without shifting an inch.
One of the astounding highlights of Coral Castle is a 9-ton (18,000 pound) door perfectly balanced with no modern tools. Back in the day, the door reportedly could be opened by a child's push of a finger. Now that's impressive. It also has multiple 3-ton rocking chairs, an accurate sundial, a 22-ton obelisk, a barbecue, a water well, and a subterranean refrigerator.
The rock table and chair set is sculpted as the state of Florida with Lake Okeechobee as its water basin. The lake is Florida's largest and it provides much of the drinking water in the southern part of the state.
Ripley's Believe It or Not dubbed the 5,000-pound heart-shaped rock table the world's largest valentine.
So where did Ed live? The two-story castle tower was his workshop and living quarters. The first floor held his tools and the second floor is where his simple bed and chair still hangs.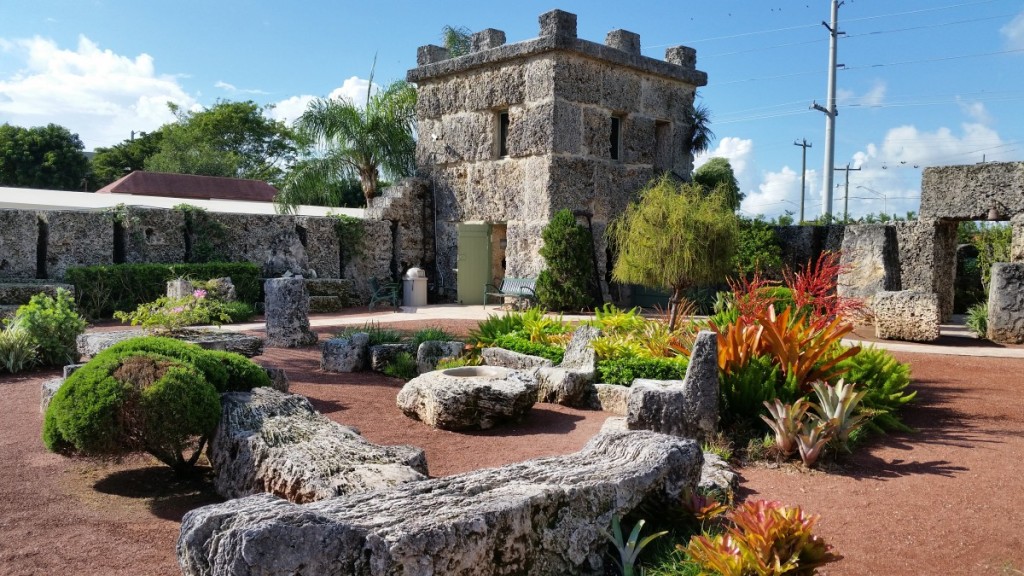 Was the creation of Coral Castle chivalry at its best or an outrageous plea for love and attention? You be the judge.
Coral Castle Museum
28655 South Dixie Highway
Miami, FL 33033
(305) 248-6345
Opens daily at 8 am
Looking for more tips on travel to Florida?
Check out these posts:
Plan Your Trip to Florida
We have been budget traveling for over ten years and love finding deals. Here are a few websites that we use consistently to save money and time booking accommodations, flights and car rental.
Accommodation
Flights
Car Rental
Like it? Pin it!