If you haven't been to Alabama's Gulf Coast, I'm here to inform you that you are missing out! At the southernmost tip of the state, lies a jewel of a travel destination. Gulf Shores and neighboring Orange Beach are two seaside towns that not only offer perfect days on the sand but culinary delights, fun attractions, and outdoor adventure as well.
Let us help you plan your trip! Here are the best things to do in Gulf Shores and Orange Beach.
Special Note: Since restrictions are in place all over the country and vary from state to state, always check local regulations before you book your trip. If you've evaluated all risks and decide that you are ready to hit the road, see my tips for traveling during the pandemic. Also, full disclosure we were hosted on this trip, but all thoughts and opinions are my own.
Other Unforgettable Things to Do in Alabama
1. Hit the Beach
The main reason people choose Alabama shores as a travel destination is for the 32 miles of beautiful beaches. And rightfully so!
The incredibly white sand is so soft, it is hard to believe that it was once quartz crystal from the Appalachian Mountains. But that's where it gets its shiny brilliance from.
The ultra-fine sand feels like sugar; grounded down sugar that gets in between your toes and squeaks underneath your feet with every step.
So grab your best beach gear and enjoy a few days in the sun. There's plenty of space to sprawl out between the fourteen public beaches along the Alabama Gulf Coast.
Imagine the pure delight when travelers, that come to frolic at the beach, discover there are many more things to do in Gulf Shores and Orange Beach. Here are my other 12 top picks.
2. Explore Gulf State Park
One of our favorite things to do in Gulf Shores – especially during the cooler months – is to hike and bike in Gulf State Park. Located only 1.5 miles behind the sandy Alabama shores, the park continues to renovate and build new additions year after year.
The perfectly preserved 6,500-acre park has numerous boardwalks with the Hugh S. Branyon Backcountry Trail, 28-miles of nature trails through pine forests and marshland, a 2-mile beach, three freshwater lakes, a butterfly garden, a nature center, and a campground.
With bike, kayak, and paddleboard rentals there are plenty of opportunities to exercise and spot wildlife native to the area. Keep an eye out for fox squirrels, bobcats, rabbits, alligators, eagles, red foxes, and white-tailed deer.
Free Bike Rentals
The park makes it easy for guests to enjoy the trails by bike with a FREE bike-share program. You can borrow a bike for up to three hours at no charge. If you need longer than that, you can keep it for a small fee.
Bike stations can be found at popular places like the beach pavilion entrance and The Lodge, the Hilton hotel at Gulf State Park (more on that below), as well as at major trailheads throughout the park such as Eagles Loop or Gulf Oak Ridge.
A new addition to the park is the 1,500-foot Gulf State Park Pier. Extending into the Gulf of Mexico, it is a premier location for fishing and water views. Unfortunately, after undergoing significant renovations in 2020, it was hit by Hurricane Sally, and the pier incurred significant damages. A large section is currently closed for repairs, but you can still walk out pretty far.
3. Hang Out at The Wharf
The Wharf is an open-air shopping, dining, and entertainment district on the bayside of Orange Beach. Visible for miles around, the 112-foot-tall Ferris Wheel offering sweeping views of the surrounding area should be 'high' on your list of things to do in Orange Beach.
Afterward, play a round of miniature golf or grab a drink or a meal at one of the fantastic restaurants.
We detoured over to Ginny Lane Bar & Grill for a fabulous dinner. The Bayou Grouper came topped with crab and lemon beurre blanc and was served with mushroom risotto and glazed carrots, and the Pecan Encrusted Chicken was breaded in candied pecans and lightly fried served with gouda mashed potatoes and shaved Brussel sprouts.
Once you park your car, everything is within walking distance to water views, shops, bars, and restaurants.
Make sure to stick around for the spectacular laser light show where The Wharf is transformed into an illuminated wonderland.
It's one of the entertaining things to do in Gulf Shores at night as the palm trees are aglow and beams of light dance to the music. It's a little added bonus for hanging around after dark.
4. Eat Your Heart Out
Whether you are craving fresh-off-the-boat seafood, Cajun cuisine, or some down-home southern comfort food, there are a number of fantastic places to eat.
Sunliner Diner is an entertaining option for breakfast. With Golden Oldies playing overhead, retro newspaper menus, and classic cars, the restaurant is bursting with a 1950s vibe.
Make a reservation at Voyagers at Perdido Beach Resort for a special night of dim lights, water views, and a meal you will be talking about for the rest of the year. Or maybe perhaps you're in the mood for some finger-lickin' barbecue which can be found at Hog Wild Beach & BBQ.
Take a look at our Best Restaurants in Gulf Shores and Orange Beach for a full list for my favorites.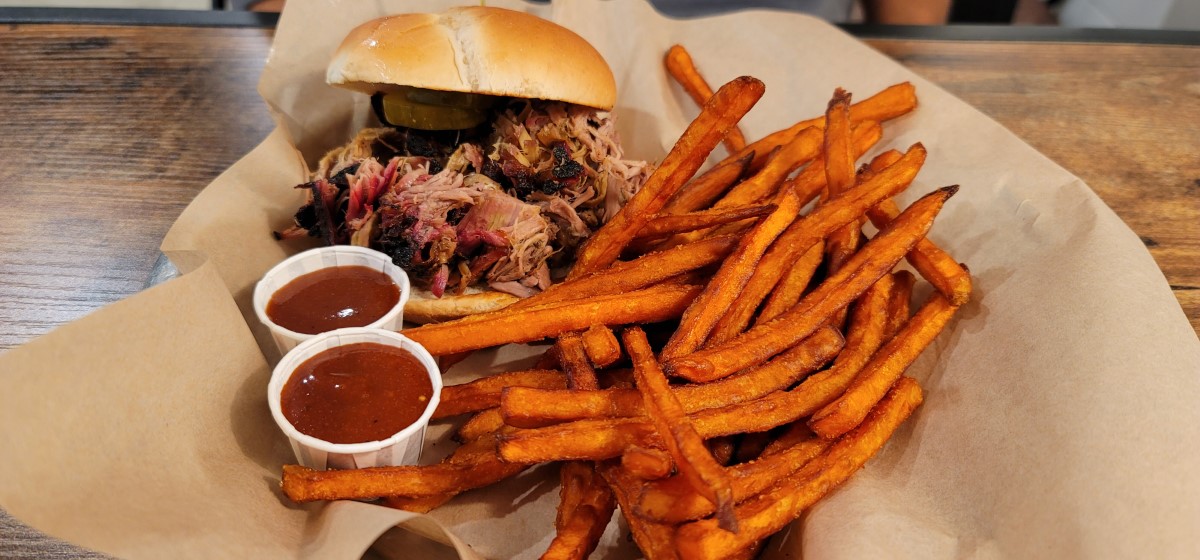 From white tablecloth fine dining establishments to feet-in-the-sand casual joints, there's something for everyone!
5. Animal Encounters at Alabama Gulf Coast Zoo
The Gulf Shores Zoo is one of the most popular family attractions in the region and it's easy to identify why. With enthusiastic and friendly staff, their love of the animals is contagious.
Even though the zoo is modest in scale, it is home to over 199 species, 22 of which are on the Endangered Species list. It's a fantastic environment to learn about conservation in entertaining and engaging scenarios. There are interactive wildlife shows, a train, a petting zoo, a giraffe feeding station, and a playground.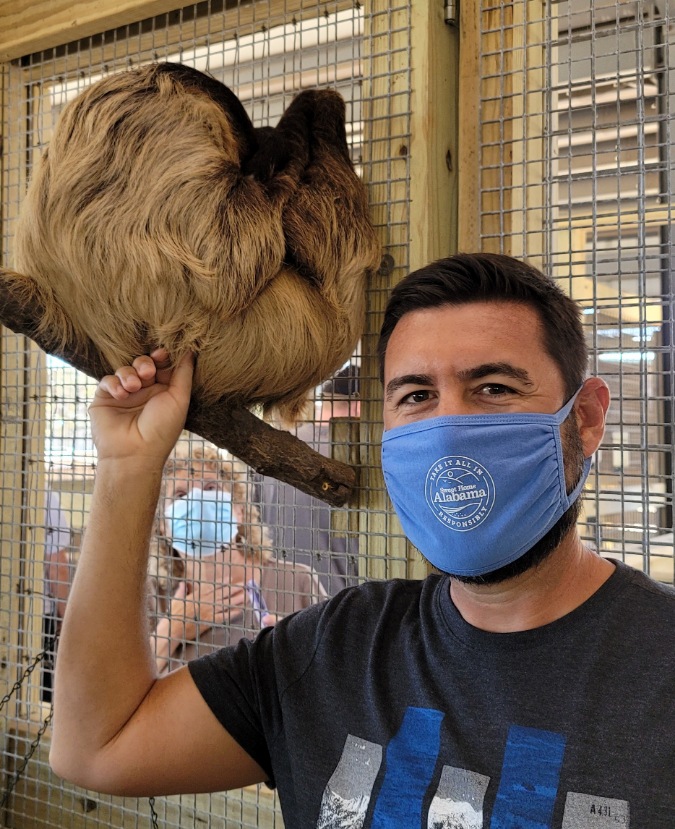 The standout feature at the zoo is the animal encounters. You have the rare opportunity to get up close and personal with several animals including lemurs, giraffes, anteaters, kangaroos, and sloths at a reasonable price. The goal is to connect visitors to the animals in a more intimate way.
For my hands-on experience, I chose the Kangaroo Encounter. I was able to walk around with a few of them in their enclosure and pet the ones lounging around while learning from the staff member all about the adorable creatures.
Depending on the age of the kangaroos that are currently at the zoo, the little Aussies can be held in a pouch. THIS IS SUCH AN AMAZING EXPERIENCE. To say I was excited is a huge understatement, this will go down as one of my most memorable moments on our Gulf Coast road trip.
Another unique animal experience is the newly opened Mississippi Aquarium in Gulfport!
TIP: If you want to learn about some of the animals beforehand and how the zoo evacuated and coped after multiple hurricanes, check out The Little Zoo That Could, an Animal Planet documentary series.
6. Spend the Night at The Lodge at Gulf State Park
Located off the emerald-green waters of the Gulf of Mexico and inside the Gulf State Park, the hotel does a fantastic job at weaving the great outdoors within its design while focusing on conservation. You'll discover native species and a natural dune system within its landscape. And with a free shuttle service and bike rental, The Lodge makes it simple for visitors to access the must-see Gulf State Park.
All the art and furniture throughout the hotel are from local artisans. They use solar energy and treat and use their own rainwater. And the architecture of the buildings reduces overall energy and water consumption.
Other important eco-friendly initiatives include using bio-enhanced trash bags, recycling all cooking oil, energy-efficient lighting, coasters made from bamboo, straws made from wheat shafts, biodegradable coffee cups made from corn-based plastics, and so much more.
The property features 350 non-smoking rooms, 4 restaurants (three onsite and one in the park), and over 40,000 square feet of indoor and outdoor meeting space.
The outdoor pool, also overlooking the Gulf, is a nice place to relax and grab a quick bite to eat. The Dragonfly Pool Bar & Grill is open seasonally and offers snacks, salads, and sandwiches, along with alcoholic and non-alcoholic beverages. A poolside piña-colada with that view? Yes, please!
Another highlight for us at
The Lodge
is the many outdoor terraces overlooking the water, they provide numerous places to sit back and relax. My suggestion is to grab a cup of coffee or a glass of wine from the Roasted Oak Coffee & Wine Bar inside the lobby and check out a sunrise or sunset. They even have fire pits to keep you warm after the sun goes down.
*Please note the above link is an affiliate link and if you book through it we will receive a small commission at no additional charge to you.*
7. Hike at Bon Secour National Wildlife Refuge
Located on Fort Morgan Peninsula, the Bon Secour National Wildlife Refuge, as its name suggests, is a small "safe harbor" for migratory birds, nesting sea turtles, and endangered plant, fish, and wildlife species.
This beautiful sanctuary is one of the largest undisturbed coastal barrier habitats in Alabama and it is a secret gem for outdoorsy folk!
If you'd like to learn more about what else you can do inside the refuge, click here for our Bon Secour National Wildlife Refuge Guide.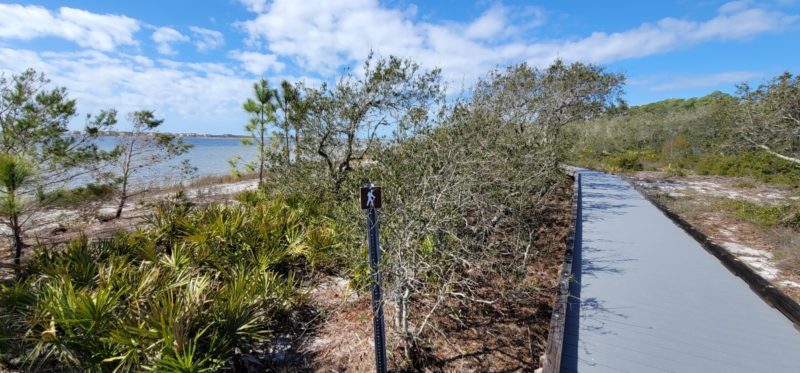 The refuge is spread out in five separate units across Baldwin and Mobile counties but all of the hiking trails can be found at the Perdue Unit on the peninsula. It features four trails with a combined length of five miles that traverse sand dunes, saltwater marshes, secret beaches, wetlands, and maritime forests.
Important Information: The Bon Secour Visitor Center off of Alabama State Route 180 is closed right now, but you can download a map online or pick one up at the start of most trails. The small pamphlet has all the information you'll need for a self-guided hike. Also, no pets allowed.
Bon Secour National Wildlife Hiking Trails
Pine Beach Trail: Moderate, 4-miles round trip, estimated 2 hours. There's an observation deck on Pine Beach Trail that offers elevated views of Little Lagoon and Gator Lake.
Jeff Friend Trail: Easy, 1-mile loop, estimated 30 minutes.
Gator Lake Trail: Moderate, 2-miles round trip, estimated 1 1/2 hours. Note: A section of the trail by the bridge is closed due to hurricane damage, but you can go about .5 miles one-way to explore the pretty dune section.
Centennial Trail: Moderate, 4-miles round trip, estimated 2 hours. Note: Most of the trail is closed due to hurricane damage. Check local conditions online or call ahead.
TIP: Wear bug spray if hiking in the summer and bring plenty of water when hiking.
8. Watch an Awe-Inspiring Sunset
The Gulf of Mexico provides the most spectacular sunsets, some even go as far as saying in the world.
Vibrant yellows, oranges, and reds scatter across the sky as the sun sinks into the horizon. And if you are really lucky, you'll see a few dolphins frolicking amid the swell of the waves.
If you are looking for romantic things to do in Gulf Shores for couples or things to do in Gulf Shores at night, this is my number one pick.
Where to Watch the Sunset in Gulf Shores and Orange Beach
There's really no bad location to watch the sunset, but a few favorite places include:
Flora-Bama. If you want a drink in your hand and some live music to jam to. This famous beach bar, home of the Bushwacker, a milkshake-like drink with five types of alcohol, offers live music every day of the week.
Any public beach. The Gulf State Park beach is particularly quiet and relaxing.
The Gulf Restaurant. This place has it all sand, food, drinks, and an ideal spot on the water.
Fort Morgan. The best year-round option for spectacular views.
The Gulf State Park Pier. Can't go wrong with a stroll far out above the Gulf.
The Ferris Wheel. Get up high in the sky for panoramic views.
9. Take a Kayaking Trip
Time to get wild! Surround yourself in the coastal wilderness of the Gulf.
WildNative Tours took us on a 3-hour Dolphin and Wildlife Kayak Experience in Oyster Bay where we learned about the ecology and history of the land and shores while watching for Bottlenose dolphins and various birds.
Disclaimer: I earn from qualifying purchases. Some of the links included in this post are affiliate links and will provide me with a commission at no additional cost to you.
Unfortunately, no dolphins made an appearance on our voyage but that is life – you never know what you're going to get. But it was a great way to get out on the water and explore the bay.
WildNative also offers sunset, wildlife kayak, and pontoon eco-tours near Mobile on the Delta.
10. Visit the Historic Fort Morgan
Constructed between 1819 and 1833, Fort Morgan played a significant role in a few conflicts throughout the years including the Civil War.
The 46-gun masonry fortification was the largest of three forts built to protect the inlet off of the Gulf of Mexico. In 1864, it was the last Confederate port stronghold east of the Mississippi.
But during the Battle of Mobile Bay, Union troops managed to access the bay and pass the forts to take control of the waterway. The famous paraphrase, "Damn the torpedoes, full speed ahead!" was made by Admiral David Farragut during the battle.
This victory and the siege of Atlanta sealed the deal for Abraham Lincoln's reelection.
Even with its interesting background, Fort Morgan Historic Site isn't an attraction just for history buffs. Take State Highway 180 and enjoy the ride on one of the most scenic portions of Alabama's Gulf Coast.
The site also offers beach access, birding and wildlife viewing, fishing, picnic areas, nature trails, scenic views, and more.
Hot Tip: For another special experience drive a little further to the Mobile Bay Ferry and take the 40-minute long ride across the bay to Dauphin Island. If you plan to this excursion, make sure to check out the Gulf Shores Aquarium.
11. Go Fishing
With more than 100 charter boat captains and the ability to get out on the water year-round, fishing is one of the most popular things to do in Gulf Shores and Orange Beach.
Click here to check rates with Captain Experiences, a site that makes booking quality fishing tours quick and easy!
Experienced anglers to novice fishermen have a wealth of options from inshore bay fishing or deep-sea fishing on private or shared charters.
Near the shore, you'll reel in redfish, flounder, speckled trout, sheepshead, black drum, pompano, bluefish, Spanish, or king mackerel. And further out into the water, you might catch grouper, tuna, marlin, swordfish, red and black snapper, vermillion snapper, triggerfish, amberjack, king mackerel, or wahoo.
We didn't have a chance to fish this time around, but it is high on our list of things to do in Gulf Shores when we visit again.
HOT TIP: Bring your catch to select restaurants and they'll cook it up for you! Here are a few: Tacky Jack's, Cobalt, Flora-Bama, and Doc's Seafood Shack.
12. Shop 'til You Drop
Where is the best shopping in Gulf Shores? It depends.
If souvenirs are what you are looking for then Souvenir City, open since 1956, should have a gift for anyone on your list. If not, head over to a Surf Style, Beach Bazaar, or Alvin's Island. The gift shops offer a wide range of adorable beach-themed essentials.
Over at The Wharf in Orange Beach, you'll find all kinds of stores that sell home decor, shoes, jewelry, sunglasses, clothes, souvenirs, specialty items, and much more.
For a more upscale experience, The Beach House Boutique in Pelican Place Center is a quality store with clothing, jewelry, shoes, purses, and more.
Gulf Coast Arts Alliance Art Gallery features local and regional artists that sell woven baskets, original pottery, hand-crafted jewelry, blown glass art, and carved wood pieces.
13. Try a Local Craft Beer
Friendly crowd. Spacious and relaxing patio. Delicious beer. Need I say more? If you've been following our adventures over the last few years, you know we are big fans of craft beer. Sometimes the locations are quite industrial and don't necessarily have the hang-all-day type of vibe, but that's not the case at Big Beach Brewing Company!
The patio has Adirondack chairs and picnic tables underneath a canopy of oak trees. And the four garage doors attached to the building, open up making the taproom an extension to the outdoors.
It's a family-friendly atmosphere offering Pensacola-made Big Jerk Soda for those who are underage or aren't drinkers. And even though Big Beach doesn't have a kitchen, they usually have a food truck or you have the option of bringing in or ordering your own food. It's the perfect place to spend a few hours after a busy day exploring.
What are your favorite things to do in Gulf Shores? Tell us in the comments below!
Pin it and Save for Later!