Whether you are packing for a day trip or a full-blown beach vacation, a quality lounge beach chair is an essential item for a great day on the shore.
It never fails that you start with the basics so you don't have to drag a bunch of stuff in the sand but it never works out that way, does it? That's why we recommend a backpack beach chair.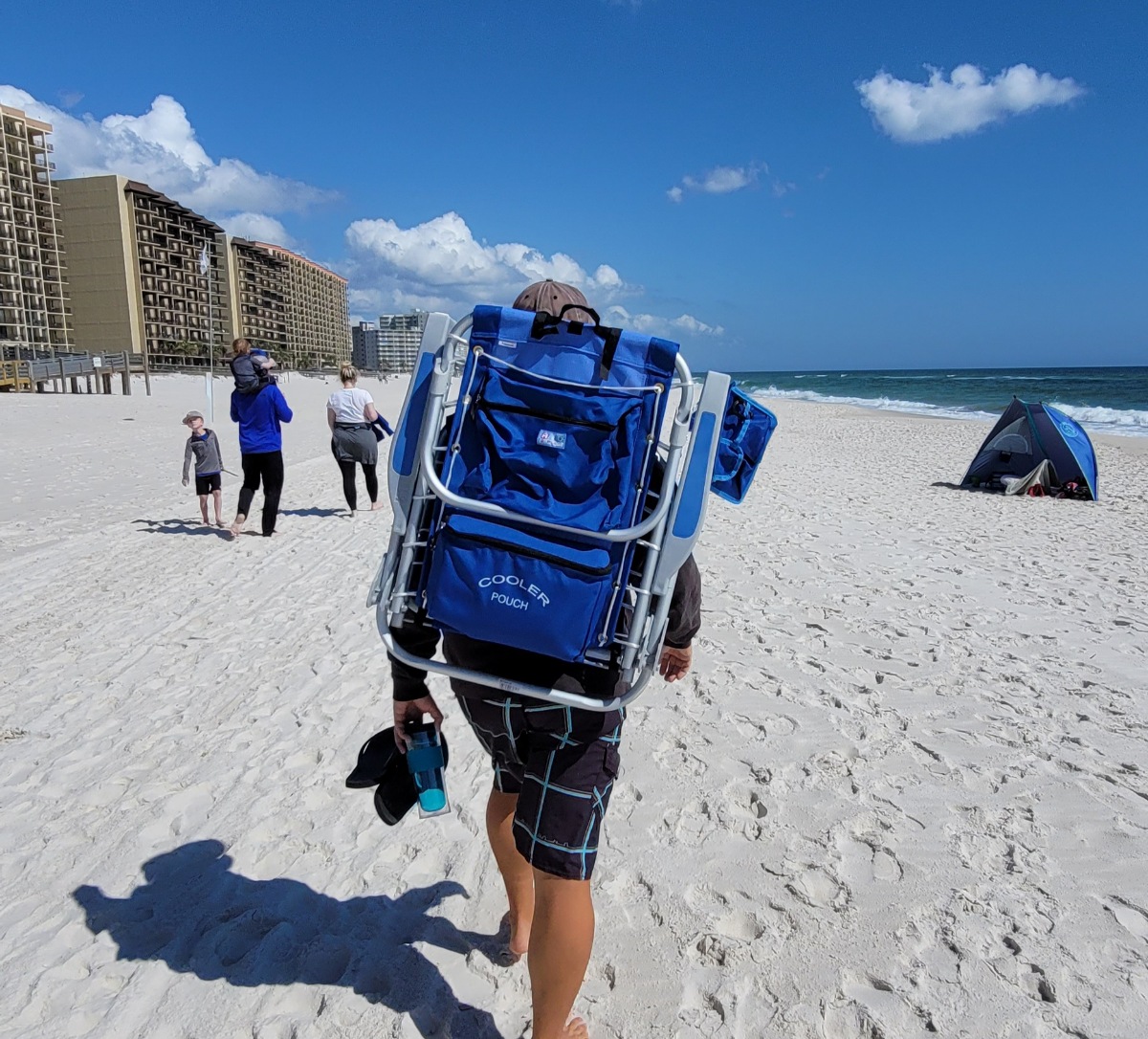 Full Disclosure: Some of the links included are affiliate links, if you purchase through them we will receive a small commission at no additional charge to you.
Favorite: Tommy Bahama Beach Chair
Over the winter, we booked a few weeks in Florida right across from the ocean so we knew we'd be spending a lot of time on the sand. We already had one lounge beach chair (see below) and wanted to buy another and ended up with a Tommy Bahama Backpack Beach Chair – 4.7 stars out of 5 on Amazon.
And we LOVE this reclining beach chair so we wanted to share our thoughts.

Why do you need to get a Tommy Bahama folding beach chair? First, it's a backpack beach chair, which allows for a hands-free situation, allowing you to carry other items. And it sits comfortably on your back, no digging in or swaying a bunch.
Second, it's lightweight – I'm usually no use to my husband since I have a hard time carrying heavy things but not this chair.
Third, the Tommy Bahama folding beach chair is super comfortable with five various reclining positions. You can sit upright to read a book or enjoy the views but also lay completely flat for lounging.
I couldn't believe how comfortable it is laying flat without have to carry down a trifold-type chair or mat. Those are nice options too but not great for lugging around.
And finally, it's made of aluminum which is considered a rockstar metal in coastal environments so you don't have to stress about rust.
RELATED: THE MOST BEAUTIFUL BEACHES IN THE WORLD
Pros
Lightweight
Easy to Carry
Folds Up Relatively Small
Insulated Pouch
Towel Rack
5 Different Reclining Positions & Lays Flat
Will not Rust
Adjustable Pillow
Cup Holder
Cons
Not Cheap
Does not have an Umbrella
Other Reviews
We travel as a couple, but the lounge beach chair is great for families too.
"I think this chair is just perfect, and I just love the style. I went to the beach with my three kids and was able to pack three juices and a bottle of water in the freezer section, and all bunch of snacks and beach blankets in the other pocket. My 10-year-old son was able to carry it himself with everything in it. What else you can ask for," writes one mom reviewer.
Another reviewer states, "The only beach chair I use and I live at the Jersey shore and go to the beach 3 to 4 times a week. This chair replaced my old Tommy chair. The zipper on the cooler compartment gave out after 7 years. The new compartments are even BIGGER! I can't wait to use it. It's all loaded and ready to go in the back of my SUV!"
It's seriously the only lounge beach chair you'll ever need, but one negative is that it is pretty pricey. That's why I include another option.
CLICK FOR MORE DETAILS AND PRICING HERE
HOT TIP: Both lounge beach chairs seem to go on sale during the off-season (we purchased the Tommy Bahama one in September at a significantly lower price than during peak season) so if you plan accordingly you can pick one up at a cheaper rate than during spring and summer.
Runner Up: RIO Beach Backpack Lounge Chair
We've had a RIO Beach folding lounge chair for many years now and it has lasted without much wear and tear. It is a cheaper option than the Tommy Bahama backpack chair, but still a sturdy and compact alternative with 4.6 stars out of 5 on Amazon.
Just like the Tommy Bahama, the RIO is lightweight in the backpack style making it simple to carry around. It's easy to fold up and doesn't take up that much room for storage. It has a pocket in the back for storage, but only reclines to 4 different positions so it does not lay flat.


The biggest variation is the material and the lace-up design. At first, the RIO beach backpack chair felt rigid, but after using it a few times it started loosening up and conforming to the body.
Other than that, they are comparable in terms of usage and comfort.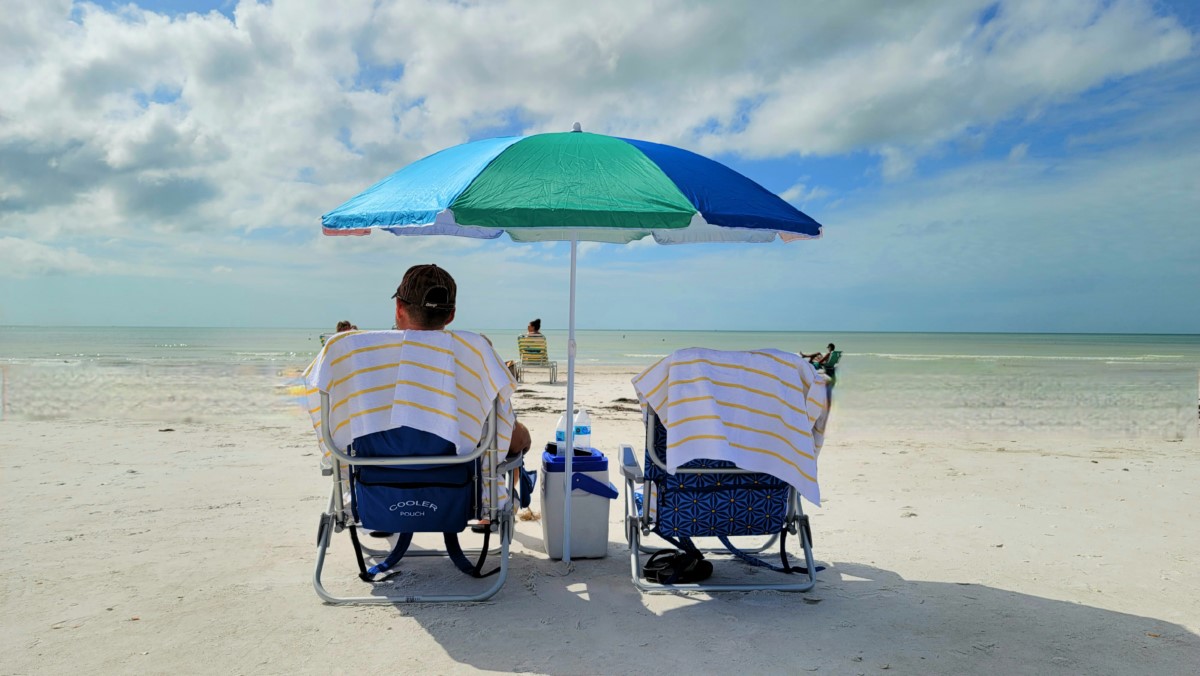 Pros
Cheaper
Lightweight
Easy to Carry
Folds Up Relatively Small
Will not Rust
Adjustable Pillow
Cup Holder
Cons
The Material is Taut and Not as Comfortable
Only 4 Different Positions
No Umbrella
Does not fully recline
Lace-up suspension design on the sides and not sure if those will tear later down the line (we've had ours 4 or 5 years with no issues though)
If you are interested in having an insulated pouch, towel bar and the ability to lay flat similar to ours, here's the more expensive backpack chair option available.
Other Reviews
Here's one reviewer that compares the Tommy Bahama lounger with the RIO, "We bought a shore house three years ago and the first things I bought were lounge chairs where I could lay down. But they weren't easy to carry. Then we discovered Tommy Bahama and bought them for everyone in the family. They wore out by the end of the season so I had to buy another set. ANNOYING! This year I went online and Googled the best lounge chairs, and TB wasn't the top, it was Rio. The TB's are ubiquitous on the beach so I was surprised to see Rio as #1. So I bought them and see why. They seem a few ounces lighter, but the best thing is that I can lie flat (on back not front). I also like that my drink container fits in the side compartment (it didn't fit in the TB so it was always covered in sand). And the other compartment has a Velcro closure so my phone doesn't fall out when I'm walking to and from the beach. Nice!!!"
"Love these chairs. I live at the beach and used them for years and they held up great. I just recently bought 2 more for company to use. They are very comfortable and the cooler pouch is awesome. I tried taller ones but they hit the back of my legs when walking with them on my back. These are a good height." Says another beachgoer that thinks the RIO backpack chair is sturdy and comfortable.
CLICK FOR MORE DETAILS AND PRICING HERE
Beach Packing List
If you're planning a beach vacation, here are some other items you won't want to forget!
Chairs
Cooler
Umbrella
Beach Towels
Floats
Portable Speaker
Waterproof Phone Case
Suntan Lotion
Hat & Sunglasses
If you're looking for fun beach destinations read about a few of our favorites below:
Well, there you have it, our choices for the best beach chairs 2021 edition. Do you have any other recommendations? Tell us in the comments below!
Please Share! Pin Here!