When people see our minivan turned campervan for the first time, there are a few questions that come up repeatedly. One of them is, how do you go to the bathroom? There are a few campervan toilet options out there and we researched them all when trying to figure out which van to buy and the best camping toilet solution for us. Whether you are looking for minivan scenarios or for a DIY cargo van, we have you covered.
First off, you need to decide whether your future van life is going to be full-time or part-time. If you are planning to live in your van permanently, a campervan toilet is a given but you also have to determine where you'll be staying most of the time.
Will you be stealth camping, utilizing campgrounds, or planting yourself on BLM land? In the wilderness or in populated areas?
You have to take all these things into account in order to determine the best portable toilet for van camping that works for you. If you plan on visiting cities and stealth camping, setting up an outdoor toilet isn't feasible. But if you plan on being off-grid most of the time, it can work perfectly and is a bonus for keeping those nasty smells out of your living space!
We are going to start with the best budget-friendly portable toilet options for campervans and continue down the list to the more expensive camping toilet options.
THINKING ABOUT VAN CAMPING? TAKE A TOUR OF OUR VAN PLUS READ ABOUT THE VAN MATTRESS WE CHOSE HERE

Just installed a new swing away bike rack!
1. The No Toilet Option
Do I need a toilet in my campervan? That's totally up to you. The more you get out there and wander around, the quicker you'll have your answer.
The least expensive and storage-friendly option is to rely on the great outdoors, campgrounds, and public places. We chose the no campervan toilet option for the first year of having the minivan since we book campgrounds the majority of the time and we didn't want to take up space that we didn't have.
But once we boondocked for the first time – and loved it – at a free campsite off of Route 66, we decided to buy some kind of camper toilet to be prepared for future travels. That's where all our research came in.
RELATED: HOW TO FIND FREE CAMPSITES & OTHER CAMPING APPS
If you are only staying in campgrounds, don't mind digging a hole outdoors, and/or taking short-term trips, then no toilet for van option will work for you.
PROS: It's cheap, no storage required, no cleanup, and no installation.
CONS: Hard to do at night when trying to stealth camp, no privacy depending on where you are, some people are not comfortable doing it, and sometimes it's hard to find a public restroom.
How do you use the bathroom outside?
This question must be asked often as there are books dedicated to the art form of "going" in the woods!
How to Sh!t in the Woods: An Environmentally Sound Approach to a Lost Art is on its 4th edition and The Young Adventurer's Guide to (Almost) Everything: Build a Fort, Camp Like a Champ, Poop in the Woods-45 Action-Packed Outdoor Activities has a five-star rating on Amazon.
Disclaimer: I earn from qualifying purchases. Some of the links included in this post are affiliate links and will provide me with a commission at no additional cost to you.
The most common method is to dig a hole. Here are the five steps to poop in the woods. (Words I never thought I would ever say or type but here I am!)
Find a private location away from your campsite. It is recommended to be roughly 200 feet (around 70 to 80 steps) away from any water sources or trails. Look for soft, moist, soil in a sunny spot that will help decompose waste.
Use a handy backpacking trowel to dig a hole 6 inches around and 6 inches deep.
Get down to the nitty-gritty.
Cover the hole with dirt and pat it down with your foot. If using toilet paper and not natural items such as leaves, carry it out in a waste bag.
Place rocks or branches over the site to discourage others (animals included) from digging there in the near future.
2. Portable Toilet for Van
After much research, we decided on a campervan toilet shower unit combo with a privacy tent. It's an easy, inexpensive solution for minivan camping.
With the pop-up privacy tent, it's like our own little bathroom which can be used as a shower room too. Lining the
portable toilet bucket
with a garbage bag makes it easy to clean. Try
biodegradable compostable bags;
they are sturdy and eco-friendly. And adding a handful of kitty litter at the bottom will eliminate odor and soak up liquids.
Another helpful tip is to use the storage pocket in the tent for hand sanitizer.
PROS: It's cheap, small-ish, easy to clean especially when using a bag, and no installation.
CONS: Not stealthy, tight to use inside a minivan – but can be done especially if traveling with only one person and could get smelly with no kitty litter.
3. Campervan Cassette Toilet
A cassette toilet is probably the closest portable toilet you can buy that is the most similar to a regular toilet. It is comfortable, has a seat, and even flushes!
If you are a full-timer, you may want to consider bolting the toilet down as a more permanent solution since the tank cartridge can be easily removed. But if you are off the grid often (which equates to more privacy) or aren't using it often, then I recommend keeping the toilet portable so you can move it outside when the opportunity arises.
Thetford toilet has rave reviews based on quality, customer service, and ergonomics. It has one of the taller options out on the market which helps for getting up and down on the seat. A plus for anyone with knee issues.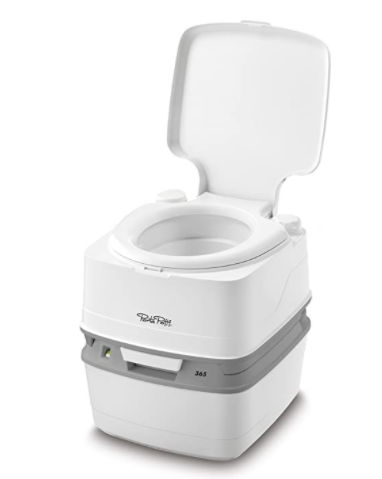 Frequently Asked Questions
Do you poop in a cassette toilet? You can go #2 in a cassette toilet, but many people do not because of the smell possibility and how much harder it becomes to empty the cartridge.
How often should you empty a cassette toilet? The toilet needs to be dumped often, every 2 – 3 days to keep smells at a minimum. Also, it is not recommended to completely fill the holding take because it can get heavy.
Where can I dispose of a cassette toilet? Dump stations, porta-potties, or public restrooms.
PROS: It flushes, contains smells better, easy to set up, and is comfortable.
CONS: More expensive, requires extra chemicals, can be difficult to dump if full, toilet paper can fill tank quickly, and has to be cleaned often.
4. Campervan Composting Toilet
Composting toilets are gaining popularity within the van community, especially for full-timers. It is the best option out there for being environmentally-friendly since it uses no chemicals and requires little amounts of water.
It also easily holds both liquids and solids that do not need to be frequently dumped. When traveling long-term, finding a dump area or even the task of dumping every few days is an inconvenience.
In addition, it is the best solution for odor control. With the fan on, the only smell reported is a slight earthy smell.
But there are disadvantages with a composting toilet as well. They are the most expensive camper toilet choice and requires installation. This composting toilet is the most popular and reasonably priced brand with great reviews.
PROS: Environmentally-friendly, no additional chemicals required, no odor, does not need to be emptied as often, doesn't really need to be cleaned, going #2 is not a major issue, and it's comfortable.
CONS: Significantly more expensive, installation required, not portable, and needs electricity.
READ NEXT: HOW TO INSTALL A COMPOSTING TOILET IN YOUR VAN
Other Frequently Asked Questions
Do conversion vans have toilets? It depends. Some do and some don't. Most conversion vans on the market and rental vans do NOT have a toilet. But there are some high-end models and DIY conversion vans that do.
Can you put a toilet in a Sprinter van? You most definitely can install a toilet in a Sprinter van, you just have to have patience and the room.
What are the best van accessories I should consider buying? Here's our Tested and Approved Van Accessories that we think you can't live without.
We hope our research and opinions help in your decision on
What campervan toilet did you choose and why? Let us know in the comments below!