Situated on Fort Morgan Peninsula, the Bon Secour National Wildlife Refuge is one of the largest undisturbed coastal barrier habitats in Alabama. As the name translates, it provides a "safe harbor" for migratory birds, nesting sea turtles, and endangered plant, fish, and wildlife species.
It is a beautiful sanctuary and a hidden gem in Gulf Shores that we are so happy we discovered!
We highly recommend hiking at Bon Secour if you enjoy nature. It's an added bonus if you are visiting in the winter months when the temperatures are mild.
Let's get started in planning your day. In a typical year, I'd suggest starting at the Refuge Office and Bon Secour Visitor Center off of Alabama State Route 180.
It is currently closed (check the website for updates), but it's where you can pick up a map, checklists, and brochures with all the information you'll need for self-guided hikes.
It's also a great place to strike up a conversation with one of the rangers to learn about the local vegetation, habitats of the refuge, and recent animal sightings.
Learn more about other fun and interesting things you can do on coastal Alabama with our Gulf Shores and Orange Beach Guide. We recommend all our favorite things to see and do, the must-experience restaurants in the area, and more outdoor activities like visiting the Bon Secour National Wildlife Refuge.
And now for all the activities and things you can do at the Bon Secour Refuge.
Take a Hike
The refuge is spread out in five separate units across Baldwin and Mobile counties but all of the hiking trails can be found at the Perdue Unit on the peninsula. It features four trails to choose from with a combined length of five miles that traverse sand dune ridges, saltwater marshes, secret beaches, wetlands, and maritime forests.
All the Bon Secour trails are easy to follow and well-maintained, but to plan your hiking beforehand, take a look at the Bon Secour National Wildlife Refuge Map below.
LIKE HIKING? CLICK HERE TO READ ABOUT CHEROKEE COUNTY IN NORTHEAST ALABAMA
Jeff Friend Trail
Details: Easy, 1-mile loop, estimated 30-45 minutes.
Our favorite trail in Bon Secour is the wheelchair-accessible Jeff Friend Trail loop. The trail is short, but it provides surprisingly picturesque views and a place for an easy stroll.
It starts out in a longleaf pine forest that eventually opens up as you follow a boardwalk running parallel to the Little Lagoon, an 8-mile stretch of open water, before looping back through woodlands again.
Little Lagoon is a small man-made inlet that connects to the Gulf of Mexico. There are stairs leading to the water to extend your walk and allowing the curious to explore the area a little more.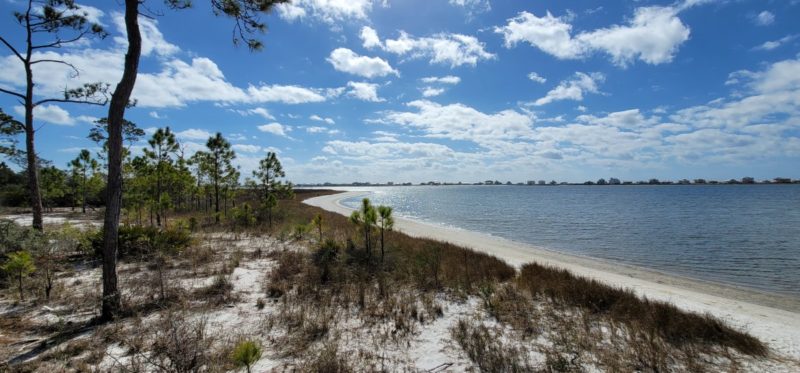 Many people fish and kayak in this area as well as swim because of the calm waters and soft sand. And we can see why!
Planning a trip to Alabama? Click here for all the Best Places to Eat in Gulf Shores and Orange Beach.
Pine Beach Trail
Details: Moderate to Strenuous, 4-miles round trip, estimated 2 hours.
A close second is the longer Pine Beach Trail, an out and back that also starts at a maritime forest. The trail works its way past the observation deck between the saltwater lagoon and freshwater lake culminating at a secluded beach.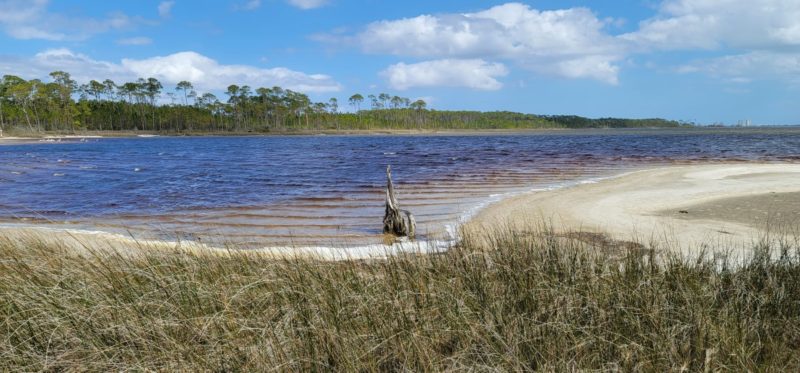 The trail is easy up until the brief sandy section at the end. Even if you don't plan on spending the day at the beach, you may want to wear your bathing suit anyway to take a dip in the water after working up a sweat.
READ NEXT: ROUGHLY AN HOUR AWAY FROM GULF SHORES IS MOBILE, A MINI TAMED-DOWN VERSION OF NEW ORLEANS
Gator Lake Trail
Details: Moderate, 2-miles round trip, estimated 1 1/2 hours.
Currently, a section of the trail by the bridge is closed due to hurricane damage, but you can go about 1-mile round trip to explore the pretty dune ridge area. I thought walking in the sand would be tough, but for some reason on this trail, it isn't too difficult.
Keep an eye out for alligators, they occasionally make an appearance at Gator Lake along with herons, grebes, and kingfishers.
Centennial Trail
Details: Moderate, 4-miles round trip, estimated 2 hours.
Linking the Jeff Friend Trail and the Pine Beach Trail is the Centennial Trail, a 2-mile straight connector trail along the Little Lagoon. Unfortunately, as of December 2020, the Centennial Trail will be closed indefinitely due to flood damage. Check the BSNWR website for updates and information.
I am still including it on the list because I have faith that it will be open in the future and we will be able to explore this section of the refuge at some point.
Swim
There are two places within the refuge known for swimming: Pine Beach on the Gulf of Mexico and Little Lagoon Pass off the Jeff Friend Trail. The Little Lagoon area offers a great spot for little ones with no rip currents or undertows.
HOT TIP: The Lagoon Pass Park still on the lagoon but outside of the refuge offers restroom facilities, showers, and a water fountain.
Climb Up the Observation Deck
There's an observation deck on Pine Beach Trail that offers elevated views of the Little Lagoon and Gator Lake.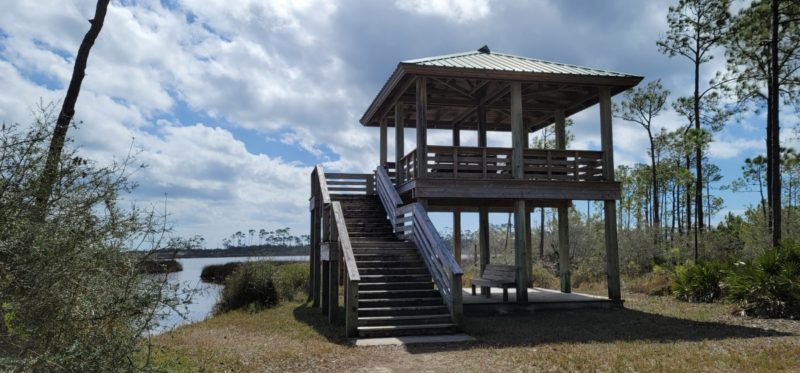 Kayaking
With the calm water, kayaking and canoeing are popular in the Little Lagoon Pass. You can take a guided tour or rent at the Down Under Dive Shop in Gulf Shores.
Bird Watching & Other Wildlife Viewing
With more than 370 species documented, bird watching is a major activity at the refuge. The busy season is during spring and fall when migratory birds come through the region.
Much like our retired population, migratory birds head south for the winter and back north during the summer. You're likely to spot ospreys and several species of herons. We saw both in February.
Seven species of lovely hummingbirds have also been identified so keep an eye out for those swift fellas. Hop on the Pine Beach Trail for the most action during this time.
The refuge provides a crucial oasis for the endangered Alabama beach mouse that scurries through dunes and scrub areas and also the Loggerhead, green, and Kemp's Ridley sea turtles on the beaches. In addition to providing a home to alligators, six lined race runners, armadillos, red fox, and bobcats.
Grab those binoculars and get that checklist ready!
Go Fishing
The Little Lagoon has a mix of salt and freshwater so you'll find a vast diversity of fish including trout, flounder, and redfish.
Open for surf fishing is the beach access point of the Pine Beach Trail. Gator Lake is another option but with the recent storms and hurricanes, the populations of freshwater fish are low.
A valid Alabama fishing license is required for both freshwater and saltwater fishing.
HOT TIP: The Bon Secour River (not inside the refuge) is also a popular destination for anglers.
Combo Your Visit with a Trip to Fort Morgan
15 miles down the road you can combine your trip with a visit to the well-preserved Fort Morgan State Historic Site, a cool 19th-century military fort.
There is a small admission fee for a self-guided tour to get to know the history and walk the brick walls of the past.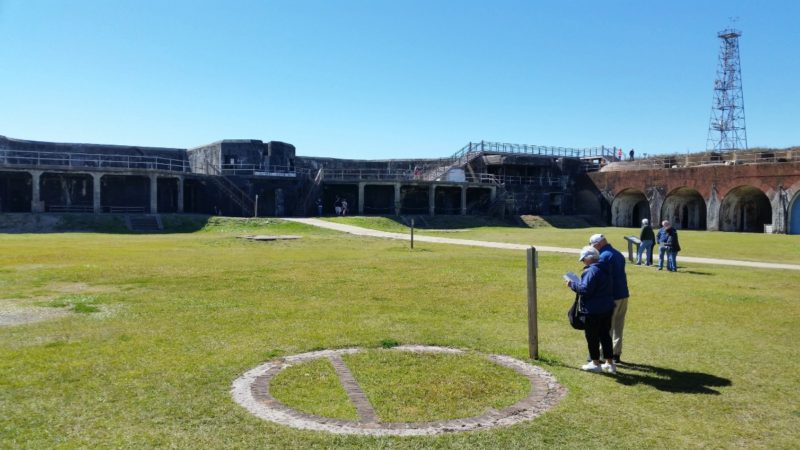 If you're looking for outdoor things to do in Gulf Shores, we hope you take a ride to Bon Secour to enjoy its natural beauty!
What to Bring
Sunscreen
Glasses
A hat
Bug spray
Comfortable Daypack – Click the link to see our recommended pack.
Plenty of drinking water
Disclaimer: I earn from qualifying purchases. Some of the links included in this post are affiliate links and will provide me with a commission at no additional cost to you.
A Great Place to Stay with an Emphasis on the Great Outdoors
Gulf State Park in Gulf Shores is another fantastic place to hike or bike. And if you enjoy nature, appreciate sustainability and want to be near both parks, read our review about our Luxury Stay at The Lodge, located right on the beach!
More Details
Bon Secour National Wildlife Refuge is open all year round and is free for visitors. Normal business hours for the Visitor Center are weekdays from 9 a.m. to 2 p.m. and pets are not allowed.
12295 State Highway 180
Gulf Shores, Alabama 36542
(251) 540-7720
Have you visited Bon Secour? What was your favorite thing to do? Tell us in the comments below!
Do Us a Favor & Pin it for Later!