With a flourishing food scene, beautiful architecture, spectacular gardens, a festive atmosphere, historical sites, and upbeat bars, Mobile has a lot going for it. It's where history and culinary delights know no bounds and where urban amenities and Southern hospitality come together. On any given day, you can walk around on an enormous warship, devour delicious eats, and experience the centuries-old tradition of Mardi Gras.
And yet there's so much more than beignets, battleships, and beads, but I must admit, it's a great start. Situated off the Gulf of Mexico and at the head of Mobile Bay, this is one Southern city you do not want to miss!
Below are our recommended best things to do in Mobile Alabama to make your trip a memorable one.
Are you road-tripping through the state? Here are some other interesting things to do in Alabama.
Before we get started, let's talk about Mobile Alabama pronunciation… because believe me, there's nothing more embarrassing than visiting a place and not knowing how to pronounce it!
For some reason, this one catches people up!
Mobile is pronounced "mo BEEL" with an emphasis on the second syllable. Now that we got that out of the way, let's discuss all the fun things to do in Mobile Alabama!
1. USS Alabama Battleship Memorial Park
If you are looking for an attraction the whole family will enjoy, Mobile's Battleship Memorial Park is it!
From touring an authentic WWII-era battleship to exploring the oldest American submarine on public display, and seeing the supersecret Blackbird spy plane, this military site is educational, entertaining, and overall, just a very cool experience.
Climb aboard the USS Alabama Battleship where you will enjoy fantastic views of the bay.
Weighing in at a massive 42,500 tons, she was once home to 2,500 courageous sailors and crew. Known as the Mighty "A," she won nine battle stars for meritorious service during the war.
Next, head down into the narrow passageways of the WWII USS DRUM and see what it's like to live on a submarine. The naval warship sunk 15 ships throughout its remarkable career and earned 12 battle stars.
Both these National Historic Landmarks retired in a well-deserving location. The Battleship Memorial Park does an excellent job paying tribute to our past and current military.
At the very least plan for 3 to 4 hours, but you can easily spend an entire day at the park.
The self-guided tour allows you to go at your own pace and will take you to all the main areas along with the museum and Aircraft Pavilion housing over 25 historic planes, military vehicles, and war artifacts.
PRO TIP: Admission is free to active military and children under 5 years old. Special discounts are available for senior citizens 55+, dependents of active military, and AAA members.
Check here for a Discounted 3-day Attraction Pass.
Full Disclosure: Some of the links in this post are affiliate links. We receive a commission at no extra charge to you if you purchase through them so a big thank you for that!
2. Dauphin Street
Alabama's oldest city has quite a storied past. Since its founding in 1702, the port city has changed hands numerous times beginning with France to Britain onto Spain, and then finally to America, and you can feel those influences all around when exploring the neighborhoods.
So let's take it to the streets… Dauphin Street to start.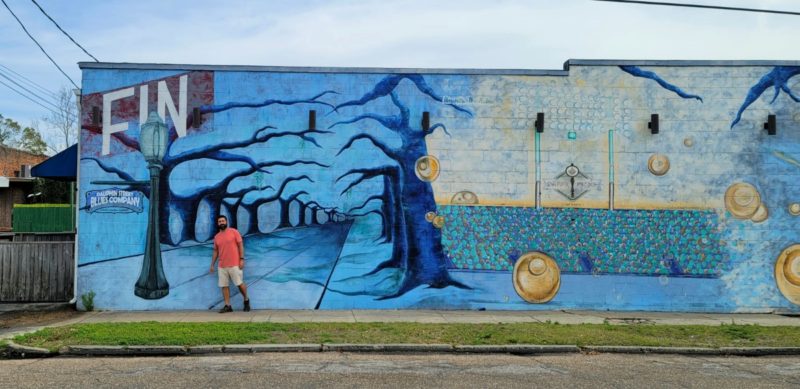 The energy and soul of downtown Mobile is Dauphin Street, a toned-down version of Bourbon Street. One of the best things to do on Dauphin Street, Mobile, AL is to eat, drink and be merry.
Here's where to go!
Mo'Bay Beignets
Me after hearing it's a 30-minute wait for beignets: Ugh, these better be good!
Me after one bite with powdered sugar all over my face and fingers: Mmm, so worth the wait!
Do not let the long line deter you,
Mo'Bay Beignet Co.
is a must-stop on Dauphin Street. The beignets come out piping hot and are light and fluffy. And the cinnamon and buttercream syrups served with the delightful pastries will make you want to burst out in song.
Where: 451 Dauphin Street
Loda Bier Garten
If craft beers and award-winning burgers are up your alley, walk over to Loda Bier Garten.
With bragging rights of the largest beer selection and voted the best burger on Dauphin Street, you can't go wrong with some pub grub from this local favorite.
Our burger of choice is The Bienville served with a teriyaki glazed pineapple, jalapeños, bacon, swiss cheese, and Arcadian lettuce with a sweet chili aioli on a brioche bun.
Where: 251 Dauphin Street
Mama's on Dauphin
If southern comfort food is what you're craving, Mama's on Dauphin is the bistro to land your hungry behind.
Famous for its soul food, Mama's offers classics like chicken fried steak, shrimp and grits, fried okra, and banana pudding.
You might want to wear your stretchy pants!
Where: 220 Dauphin Street
Roosters
Roosters caught our eye – well actually nose – the first night we were exploring downtown Mobile. With almost every table filled and an aroma that made us want food even after we just ate, a mental note was taken to come back for lunch.
Our nose did not fail us because our meal was delicious!
The Jerk Chicken tacos come topped with jalapeño cabbage slaw, cilantro, grilled pineapple, and mango habanero sauce served with charred-just-right vegetables.
And the El Toro burrito is filled with tender barbacoa beef, Spanish rice, and cilantro topped with queso blanco and chimichurri sauce.
Hot Tip: Roosters offers Lunch Specials from 11 – 1 pm and Happy Hour Deals Monday through Friday from 3 – 6 pm.
Where: 211 Dauphin Street
Wintzell's Oyster House
A Mobile tradition since 1938, Wintzell's Oyster House is a casual eatery serving up the freshest Gulf Coast seafood in town. At the very least stop in and try an order of oysters that come fried, stewed, and nude – as the sign states out front.
Fun Fact: Wintzell's, along with many other local Mobile, Alabama restaurants, joined the Alabama Coastal Foundation to recycle shells to help restore the oyster reefs along the coast.
Where: 605 Dauphin Street
3. Bellingrath Gardens and Home
The Bellingrath Gardens and Home are just 30 minutes south of Mobile and is one of the most popular things to do in Theodore, AL.
You could spend an entire day roaming the tranquil property and taking in the views. And I highly recommend you do! As outdoor enthusiasts, it was a stand-out attraction on our Gulf Coast road trip.
The 65-acre property once belonged to Walter and Bessie Bellingrath, one of the South's most generous benefactors. Walter made his fortune by opening a Coca-Cola bottling plant in 1903 and selling the popular drink in southern Alabama. It subsequently became one of the most successful in the United States.
And with all that success came stress and long hours at the office. His wife, Bessie, suggested they build a fishing camp as a place for him to relax so the couple purchased a property outside of the city on the scenic Fowl River.
Eventually, the transformation of "Belle Camp" into the remarkable estate it is today is thanks to Bessie and her love of gardens.
Check here for a Discounted 3-day Attraction Pass.
The Bellingrath Gardens
When an economic downturn hit the community, Bessie went around to local families in need and offered hundreds of dollars in exchange for any flowers in their yards. She planted azaleas and camellias at Walter's fishing hole and kept adding to it as time went on.
And so was the beginning of Bellingrath Gardens, Alabama's oldest public garden.
It first opened to the public in 1932, and today it is a shining example of exemplary horticulture.
Before we arrived, I read "there's something always blooming at Bellingrath," and indeed there is. With the unprecedented winter freeze that hit the south this year, we weren't expecting to be dazzled, but the gardens did not fall flat even on a rainy day.
On the two miles of walkways, you'll experience a meticulously manicured landscape adorned with diverse flora and fauna.
In February, the towering oak, magnolia, and palm-covered pathways are flanked with ornamental kale, cabbage palmettos, azalea bushes, camellia shrubs, and daffodils.
Your stroll will take you across bridges and down boardwalks through a bamboo forest, an Asian-themed area, a rose garden, and a great lawn, by lily pools and grottos along a lake and a portion of the river.
With the explosion of spring azaleas, captivating and fragrant summer roses, autumn cascading mums, and Christmas holiday lights and decorations, without a doubt, Bellingrath Gardens is a year-round destination.
The Bellingrath Mansion
Admission includes a brief guided tour of the stately home showcasing the couple's most prized possessions with an introduction to who they were and how the property came to be.
Do not miss it, even if you're not typically into home tours!
The 15-room Bellingrath manor was built in 1935 and what I love most are the stories behind some of the materials used. It was designed by George B. Rogers, a well-known architect from Mobile.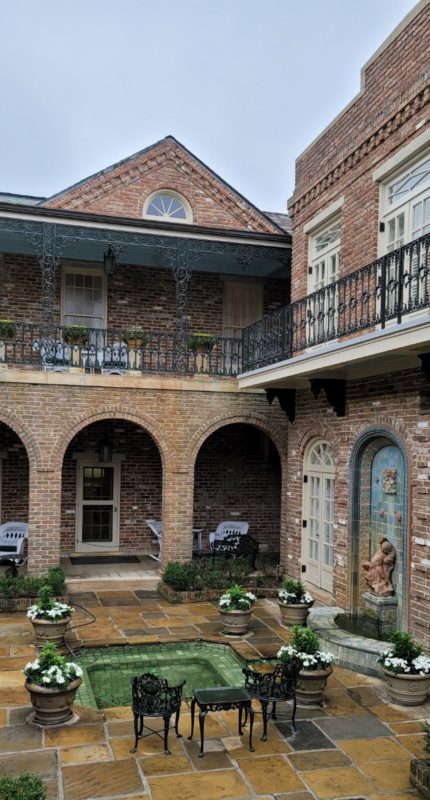 The hand-made bricks date back to 1852 pulled from the birthplace of a prominent multi-millionaire socialite from Mobile. The ironwork was salvaged from the 1837 Southern Hotel, also located in the city. And the flagstone material on the terraces was used in Mobile's sidewalks.
Even with its large size, the 10,500-square-foot mansion with its grand staircase and Mediterranean-style courtyard manages to feel like a cozy home. The rooms are completely furnished with antiques like it was in 1955 when Walter Bellingrath died – Bessie passed away in 1943.
You'll also see Mr. Bellingrath's personal Coca-Cola collection and the original 1903 letter offering him the $1,500 franchise which led to his financial success.
Where: 12401 Bellingrath Gardens Road, Theodore
4. Mobile Carnival Museum
If you didn't already know that Mardi Gras technically started in Mobile and not New Orleans, you are sure to find out during your visit. Started by a Frenchman in 1703, it is the oldest Carnival celebration in the United States.
And it is a VERY big deal! Mobile prepares for it all year long making colorful floats and intricate costumes and the Mardi Gras spirit is strong across the city.
Speaking of the Big Easy though, did you know Mobile Alabama to New Orleans is only a two-hour drive? If you are planning a Gulf Coast road trip, check out my article on the Top Things to Do in NOLA.
Unlike New Orleans, Mobile's festivities tend to err on the family-friendly side; not many drunk revelers lifting up their shirts for beads. Instead, the streets are filled with all ages as the krewes throw out G-rated things like frisbees, MoonPies, footballs, candy, chips, and crackers.
You can learn all about Mobile, Alabama history and present-day celebrations in the city at the Mobile Carnival Museum.
Inside the museum on display are photographs, robes, crowns, costumes, and scepters from previous years. My favorite were the Royalty Trains from former Mardi Gras courts – there's so much detail, it's no wonder they start a whole year in advance!
Where: 355 Government Street
5. Bragg-Mitchell Home
History is around every corner in Mobile. You can go back to the Old South at the Bragg-Mitchell Mansion.
Built in 1855 by Judge John Bragg, the Greek Revival home was used by the family during Mobile's social season. They would come down from Montgomery, Alabama for Thanksgiving and stay through Mardi Gras to live it up and take part in the festivities.
There are no pictures allowed inside but we learned a few interesting things on the tour:The original wood floors – still there today – were milled onsite from the trees on the property.
Confederate soldiers took over the home during the Civil War and cut down all the magnificent live oaks so they could have a clear shot with their cannons. John Bragg was very upset and took acorns from the original trees to plant new ones that still stand today.
The house sat empty and unlocked for years after the last private owners, the Mitchell's, died and it was donated to the city. Some items were stolen but many of the antique furniture, lamps, porcelain, and decorations were left untouched.
Someone donated a Waterford crystal chandelier that is huge and absolutely stunning and it is hanging in the main hallway.
The colossal gilded mirrors purchased by Bragg in 1860 in the parlor were recovered in the 1970s in New York when a demolition crew noticed the name on the back and contacted the city.
If you are ever in Mobile and enjoy historic homes, the Bragg-Mitchell Mansion is worth a visit!
Where: 1906 SpringHill Avenue
6. Dew Drop Inn
After touring the Bragg-Mitchell House, take a food break down the street at the beloved Dew Drop Inn, Mobile's Oldest Restaurant. Dew Drop has been an institution in the city since 1924 and it is said that the owner, George L. Widney, brought hot dogs to the south.
One of its famous patrons is Jimmy Buffett who grew up in Mobile and has said that his "burger lust was formulated" at the restaurant.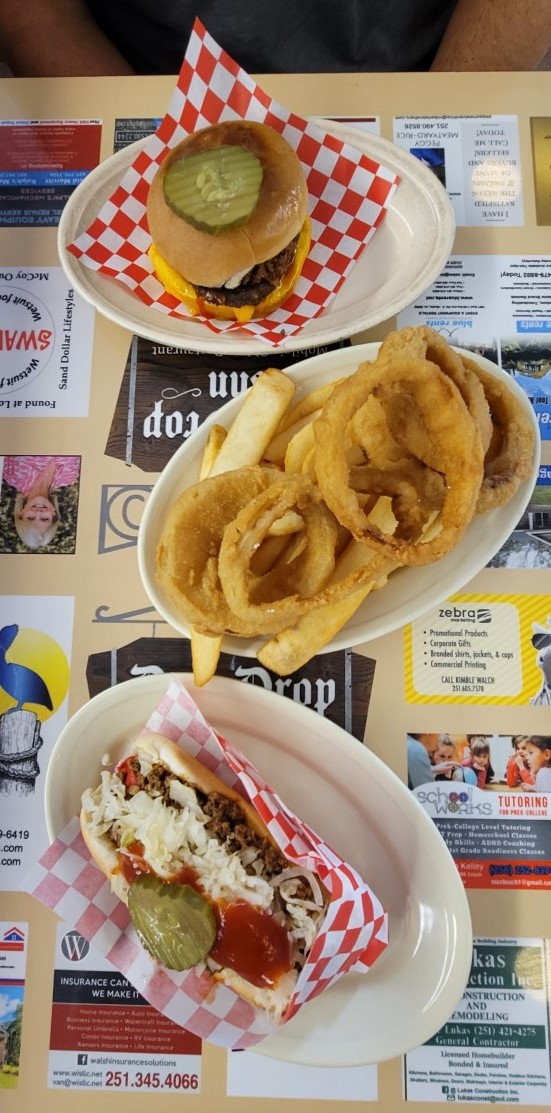 After browsing the menu, we did not expect to enjoy this meal as much as we did. The bright red Dew Drop Inn Hot Dog comes with chili, sauerkraut, mustard, ketchup, and a pickle.
The chili is not watery at all so it doesn't sog the bun and the unlikely pair of sauerkraut and chili tastes good on a hot dog. And chili on a cheeseburger does too. Who knew?
The steak fries and onion rings were tasty as well so now we know why this place always has a crowd!
Where: 1808 Old Shell Road
7. Magnolia Cemetery
Arranged underneath canopies of giant old oak trees, the Magnolia Cemetery in Mobile is hauntingly beautiful. Established in 1836, the cemetery has some of the most beautiful and elaborate Victorian-era tombstones and monuments in the south.
It is the final resting place for many of the prominent citizens of Mobile during the 19th and early 20th centuries including Walter and Bessie Bellingrath (from #3 above, the Bellingrath Garden and Home) and John Bragg (from #5 above, the Bragg-Mitchell Mansion).
Drive or take a peaceful walk around and explore the 120-acre necropolis with its more than 80,000 burials. Placed on the National Register of Historic Places in 1986, Magnolia Cemetery quietly guides you through Mobile's tumultuous past.
The Confederate Rest section, dating back to November 25, 1861, contains 1,100 military memorials as a somber reminder of the realities of war. Eye-catching obelisks and detailed statues adorn the lawn in remembrance of the known and unknown lost soldiers.
Where: 1202 Virginia Street
8. Craft Breweries
Mobile, like many cities nowadays, has a few excellent craft brewery choices. There's Serda Brewery on Government Street, known for its fresh take on traditional German beer styles, food trucks, and overall happening atmosphere.
Then, there's the popular Iron Hand Brewing located in the beautiful and historic neighborhood known as Detonti Square. With wood from top to bottom, the brewery has a comfortable cabin vibe complimented with a wide selection of board and card games. The kitchen also offers delicious food with all their bread and meat cured in-house.
Braided River Brewery has a perfect location right downtown on St. Louis Street and is one of the newest on the scene. With crisp, clean, and easy-drinking beers Braided River prides itself, on offering "craft beer that pairs perfectly with days out in the Gulf Coast heat."
Since we stopped in on a mild March day, we chose two smooth stouts to complete our day of exploring.
9. Cathedral-Basilica of the Immaculate Conception
The Cathedral-Basilica of the Immaculate Conception, in downtown Mobile on Claiborne Street, is the oldest religious congregation in Alabama and the Mississippi River Valley.
Construction began in 1835 and continued for fifteen years before the cathedral was finished.
Enjoy the commanding pillars and towers on the exterior before heading through the handcrafted wooden doors.
Inside, follow the stained glass windows manufactured in Munich, Germany by Franz Mayer & Co., ornamenting the main walls to the bronze baldachin above the altar surrounded by four marble columns.
The cathedral is a must-stop for anyone who likes architecture and history.
Where: 2 S. Claiborne Street
10. Avenue of the Oaks
Undoubtedly, one of the most beautiful streets in Alabama – and it has a lot of them – is the Avenue of the Oaks at Spring Hill College in Mobile.
The covered lane has been the site of graduation since 1949 and a popular spot for photo ops.
Only a half-mile long, the picturesque street is one of the worthwhile things to do in Mobile.
Where: Northwest corner of Spring Hill College Campus
11. Mobile Botanical Garden
Combine your afternoon seeing the Avenue of the Oaks with a visit to the Mobile Botanical Garden, also located in west Mobile.
In addition to native wildflowers, the gardens feature one of the most diverse collections of camellias and azaleas in the United States.
Hot Tip: If you have time, explore the surrounding 720-acre Langen Park, also home to the Mobile Museum of Art and Playhouse in the Park.
Where: 5151 Museum Drive
12. Church Street Graveyard
Established in 1819 for yellow fever victims, the Church Street Graveyard is the oldest cemetery in Mobile. An 1830s brick wall fences in the raised tombs of prior Spanish and French citizens.
We arrived at the front gates as a dense fog that hung over the city all morning was finally retreating. It was a little eerie but then a bright colored area on the ground caught our eye.
Under a slew of beads, we found Mr. Joe Cain's resting place, the man who revived the spirit of Mardi Gras after the Civil War.
Dressed in costume with a plaid skirt and feathered headdress on Fat Tuesday in 1868, he paraded around the city bringing the party back to the neighborhood. And now the Sunday before Mardi Gras is celebrated as "Joe Cain Day" in Mobile.
13. Cooper Riverside Park
Experience a paved walking path, interesting sculptures, and outdoor fountains alongside Mobile River at the Cooper Riverside Park.
It's a nice waterfront area for a short stroll to see the boats coming in and out of the harbor.
Where: 101 S. Water Street
14. Five Rivers Delta Resource Center
Approaching Mobile from the east, before you pass over the bay, there's a resource center called 5 Rivers Delta, the gateway to one of Alabama's natural wonders.
It's where the Mobile, Spanish, Tensaw, Apalachee, and Blakeley rivers meet and flow into Mobile Bay.
Because of the fresh and saltwater mixing together, the 260,000-acres known as the Mobile-Tensaw River Delta is a hotbed for rare plants and animals.
There are a couple of short walking trails, picnic areas, a conference center, reception hall, and theater. Start your visit at the Cypress Welcome Center and Gift Shop filled with outdoor gear, local books, woodwork, and crafts. You can pick up a map and get more information for your visit here.
Next, head over to the Exhibit Hall. With live animals, maps, taxidermy displays, local artwork, conservation education, and traveling exhibits, it is a fantastic place to learn all about "America's Amazon."
Several outfitters offer guided canoe, kayak, and boat tours to experience the wild wetlands of the Mobile-Tensaw Delta.
More Info: Free Admission, open 7 days a week from 8 am-5 pm.
Where: 30945 Five Rivers Boulevard, Spanish Fort
RELATED: THE BEST GIFT SHOPPING IN MOBILE, AL
FULL DISCLOSURE: We were provided hotel accommodations and access to a few of the attractions on the above list. But as always, all thoughts and opinions are my own.
What are your favorite things to do in Mobile, Alabama? Tell us in the comments below!
Please Pin for Later!