After a busy weekend in Mobile, Alabama, it's time to move on and get back to the coast, The Secret Coast that is! Next on our road trip is the 62-mile stretch of the Mississippi Gulf Coast that has somehow remained under the radar in the travel world.
But not for long, because I'm about to scream from the rooftops that Coastal Mississippi is a full-blown travel destination that should not be overlooked.
Even though twelve cities dot the Gulf of Mexico shoreline in Coastal Mississippi, Biloxi may be the only one you've heard of. Well, that's about to change.
On this unforgettable adventure, we meander down a scenic waterfront drive, find laid-back vibes, compassionate spirits, engaging attractions, and charming coastal destinations like Ocean Springs and Bay St. Louis – places I'm a little hesitant to share because I'd like to keep these little treasures all to myself.
If you are road tripping the Gulf Coast, read our Top Things to See and Do in Mobile, Alabama article next!
Full Disclosure: We were hosted by Coastal Mississippi on this trip, but as always all thoughts and opinions below are my own.
Here are all the wonderful places to see, restaurants to eat at, cities to visit, and interesting Mississippi Gulf Coast things to do.
Day 1: Road Tripping the Mississippi Gulf Coast
A "Welcome to Mississippi" blue and red sign greets us at the border as we leave Alabama on US Highway 90.
We detour south to follow the water and arrive in the first town on our Mississippi coastal adventure, Pascagoula, a chill industrial city.
Pascagoula
As we ride the shoreline on Beach Boulevard, we pass the glamorous Longfellow House, an antebellum showcase mansion with bright white columns and a grandiose porch, a testament to the city's rich 300-year-old history.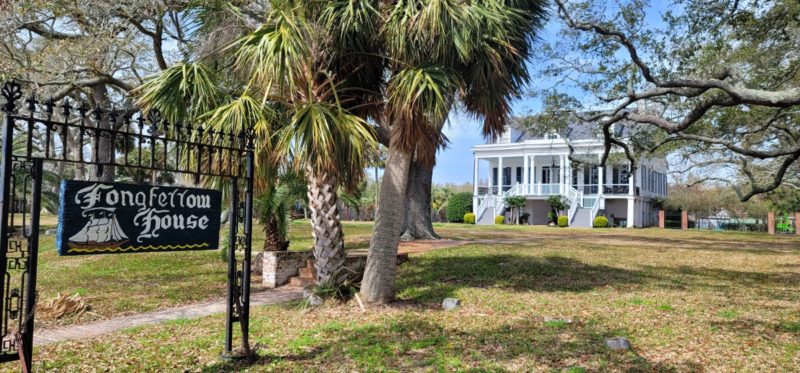 Nuzzled right up to three different bodies of water: the Gulf of Mexico, Pascagoula Bay, and the Pascagoula River, it doesn't come as a surprise that the town once was a sleepy fishing village.
These days, between a refinery and the state's largest employer, Ingalls Shipbuilding, you'll find an unlikely sliver of relaxation – a waterfront park, beach, and long fishing pier jutting out into The Gulf.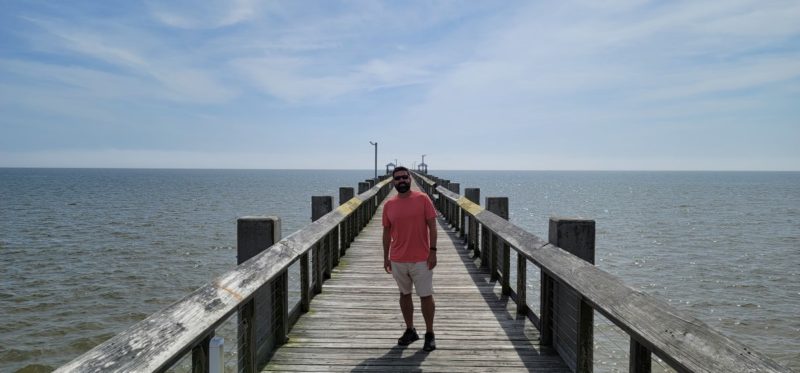 As we cross over Baptiste Bayou on a short overpass, I notice the washed-out words "Buffett Bridge" painted on the concrete with a parrot sitting on one of the f's.
Just one of the telltale signs that the coastal Mississippi town is the birthplace of the famous singer-songwriter, Jimmy Buffett.
The Beginning of Margaritaville
Born in Pascagoula on December 25th, 1946, he spent his early years here before moving to Mobile with his parents. Our next stop is Jimmy Buffett's childhood home. Parrot heads rejoice!
At the corner of Garfield and Roosevelt Streets, we find a modest home with a small placard out front explaining he "will always be the Son of a Son of a Sailor and a proud son of Pascagoula."
Buffett's 1989 popular song, Pascagoula Run, is about his memories in town. As we roll out, I pull up the song on my phone to hear the lyrics.
"Headed home to Mississippi, he'd been
Around the world
He was that black sheep uncle of mine
His ship had come in, he was lookin' to sin
He was singing his own song
When he yelled from the drive, my heart came alive
Jimmy boy come along…"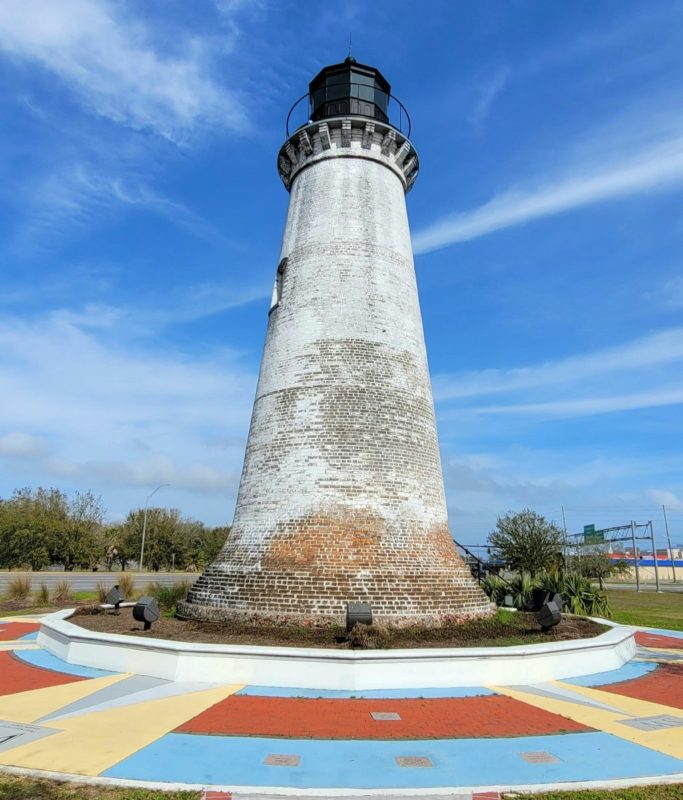 Back on US Highway 90, another unmissable landmark is the Round Island Lighthouse.
Before it was knocked over by Hurricane George in 1998, it was a beacon for sailors and fishermen on the island just off the coast.
Nowadays, the lighthouse stands at attention on the edge of town symbolizing its strong maritime background.
Lunch at DaBayou Restaurant in Ocean Springs
With a late start this morning, the entire afternoon has passed us by so we are ravenous. In search of crawfish, we find the off-the-beaten-path, DaBayou Restaurant & Tiki Bar, our first introduction to Ocean Springs.
The lyrics, "Born on the Bayou," play over and over again in my head as we sip our cocktails overlooking the David Bayou waiting for our food to arrive – unfortunately, they are out of crawfish but fish tacos are an acceptable replacement.
With this view, they could be serving rocks and we'd be happy.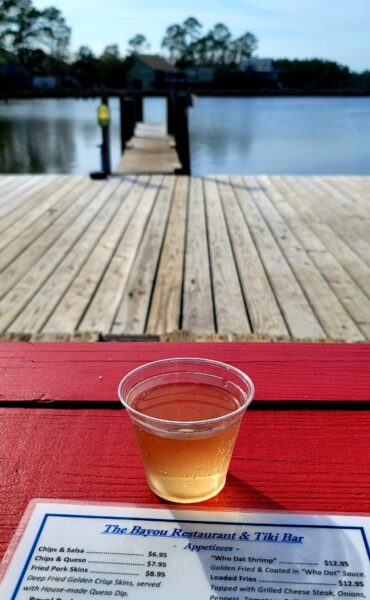 Checking In at The Roost Boutique Hotel
As we pull into the parking lot off Porter Avenue, my husband and I both say in unison, "Look at those huge oak trees!"
The Roost Boutique Hotel opened its doors in April 2017 after major renovations on a historic property that dates back to 1894.
Even though it's roughly fifteen minutes before sunset, the lights are on making the porch seem extra warm and homey.
It makes me recall a sign I once saw that said, "The South… a place where tea is sweet and accents are sweeter."
I am totally picturing myself with a big ole glass of sweet tea, rocking on the porch and talking about the weather when my husband reminds me we need to hurry if we are going to catch the sunset.
The sky is cloudy, but you never know.
With only minutes to spare, we decide to look around later and quickly unload our luggage, and scurry down the road to the peaceful Ocean Springs Beach.
The Roost has the ideal location – within walking distance from the beach and downtown.
We walk out onto the soft sand, making it just in time for sunset. Wow, this sand is soft – the beach may be manmade but the sand isn't.
As we catch a glimpse of light through a break in the clouds over the Biloxi Bay Bridge, I look over at my husband and say, " I think we are going to like this place."
If you're driving, make sure to pack a lightweight chair to use at the beach!
It's All in the Details – The Rooms at The Roost Boutique Hotel
Once back at The Roost we have a moment to look around. The impeccably designed boutique hotel balances a chic yet rustic character staying true to its southern roots.
Within each one-of-a-kind room, you'll find a wood wall accent made from the original salvaged wood from the old historic property.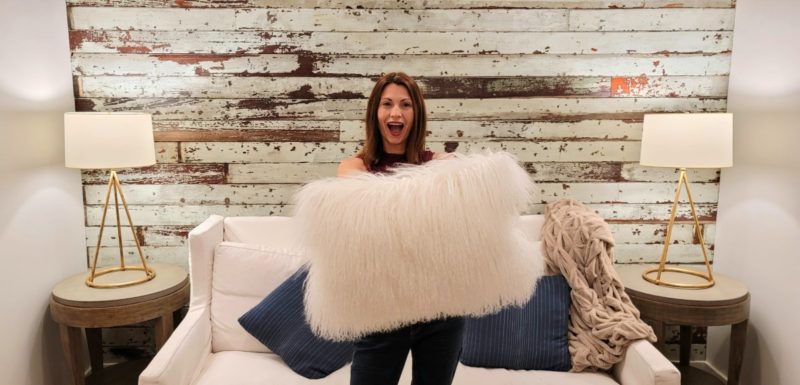 The Lily Suite – where we are – has a small kitchenette, a comfortable king bed, an inviting seating area, and a large en suite bathroom with a custom walk-in glass shower.
The rooms are all well-lit and complimented with fresh locally roasted coffee, organic bath amenities from Gilchrist & Sommes, free Wi-Fi, and a flat-screen TV.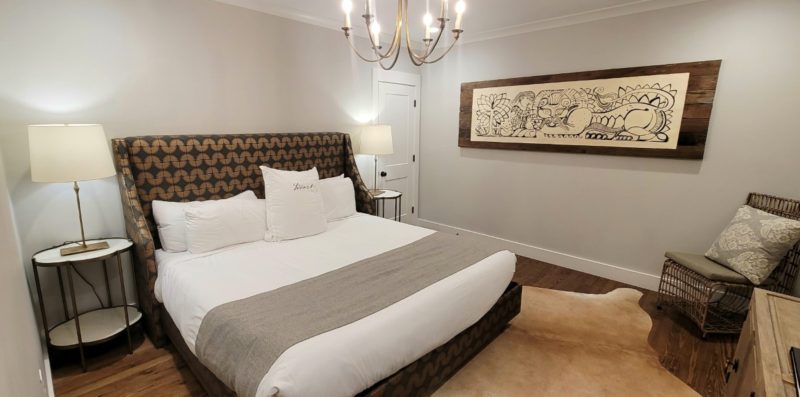 There's no doubt, it's going to be a comfortable stay. We may never leave!
Check out the latest prices and more details here.
Downtown Ocean Springs and Dinner at Mosaic Restaurant
Weekends begin on Thursdays in Ocean Springs and on occasion maybe even on Wednesdays.
Downtown is quaint yet lively at night with most restaurants offering live music through Sunday including Mosaic Restaurant & Bar, where we land for dinner our first night.
Found on Government Street with most of the other bars and restaurants, we snag a table outside on the patio under the strung-up lights and listen to a talented musician sing his heart out as we enjoy a few craft beers.
Mosaic, with the attached Beer House, offers one of the largest selections on tap in town.
And when we think the night can't get any better, the food comes.
The New Orleans BBQ Shrimp 'n Grits is just the right mix of Cajun and cheesy.
And the traditional Indian Curry Chickpea Samosas topped with homemade chickpea curry has the best flavor. The sauce is creamy and ambrosial over crispy triangular nuggets of goodness.
As our first night comes to a close, we can't wait for tomorrow.
Are you road-tripping the coast? Check out our other interesting articles:
Day 2: Exploring Ocean Springs and Gulfport Mississippi
Today, we are hopping back on Hwy 90 for a short joyride to find the best things to do in Gulfport, MS. But first, we must get our morning dose of much-needed caffeine and take a stroll downtown.
A little background on Ocean Springs. Founded as Fort Maurepas in 1699 by the French, the tiny town began as a microscopic blip on the map. Its name was switched to Ocean Springs in 1854 when a New Orleans physician believed the local springs held healing qualities.
The magic waters theory didn't really pan out, but the name stuck and eventually, Ocean Springs became a flourishing resort town.
Today, the heavily wooded streets showboat with grand oak trees and charming storefronts.
The racks at boutique shops like Leather and Pearls and Charisma are lined with attractive apparel and lovely jewelry. Vintage items can be found at antique shops like Coastal Magpie and local art is around every corner.
Everyone you encounter shares a quick "hello" or "good morning" delivered with a smile, whether it be a local walking a dog or a store clerk behind a counter.
Small-town charm shines bright in Ocean Springs and it is a breath of fresh air.
Coffee & Waffles at Bright Eyed Brew Co.
As we are inspecting the menu at Bright Eyed Brew Co. deciding what to order, a man at one of the tables interjects to proudly exclaim we have picked the right spot because "this place has the best coffee around."
With humble beginnings as a little wooden cart serving iced coffee at the weekend market, Bright Eyed Brew expanded into a breakfast nook on Washington Avenue.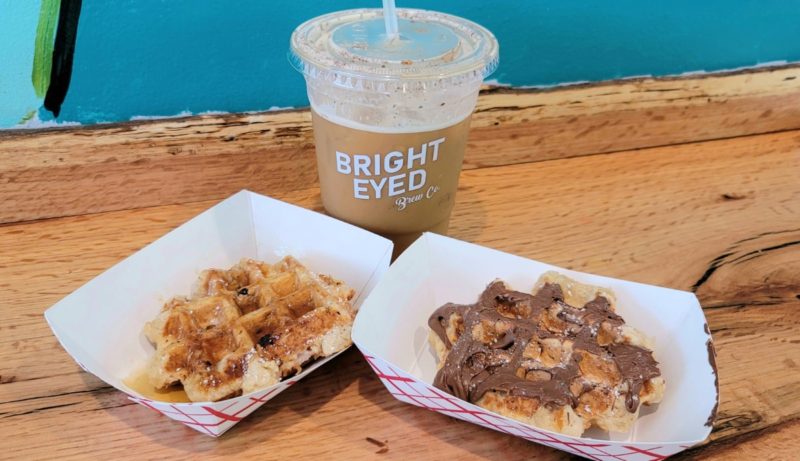 "You really can't go wrong with a nitro iced coffee," the enthusiastic patron shares. Banana foster and maple vanilla cinnamon nitro coffees it is. And throw in two breakfast waffles, please.
With the first sip and a mouthful of waffles, we realize the stranger did not steer us in the wrong direction. And off to Gulfport, we go.
Downtown Gulfport Mississippi – Fishbone Alley
Sandwiched between a few bars and restaurants, in the heart of historic Gulfport, is the funky Fishbone Alley, a kaleidoscope of color featuring local artists.
When Hurricane Katrina hit in 2005, the city, along with most of the Mississippi Gulf Coast, was ravaged. As construction workers began tearing down and rebuilding they found brick pavers, installed by Graves Brick Company from 1908, under the pavement.
Gulfport decided to reuse the bricks to transform an old fishmonger's alley into a unique and hidden attraction – what a cool idea!
New murals and panels pop up all the time and with all that talent, there are photo ops with every step. Not to mention it's one of the free things to do on the Mississippi Gulf Coast.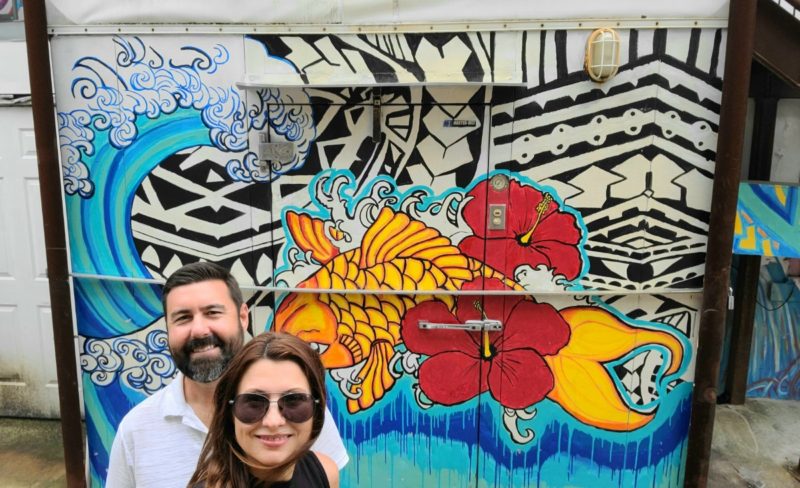 Chandeleur Island Brewing Company
After taking a hundred pictures or so in the alley, we walk around the corner to Chandeleur Island Brewing Company, named after the 50 miles of uninhabited islands off the coast of Mississippi.
A staple at many of the bars and restaurants we visited as far back as Florida, their Lil 'Smack IPA has been the drink of choice for us on this Gulf Coast road trip.
Excited to try a few new ones, the friendly bartender gave us a couple of samples before sitting down to enjoy the New England IPA and Porter we chose.
It's a well-appointed large facility with barrels as tables and a wide selection on tap.
Fun Fact: The brewery has teamed up with the Mississippi Aquarium, also in Gulfport (see more below), "to create a series of craft beer promoting the conservation efforts of endangered species. A portion of each case sold goes directly to aquarium's conservation efforts for various endangered species that call the Mississippi Gulf Coast their home."
Jones Park
Next, we move over to Jones Park, a 60-acre outdoor facility with a fishing pier, walking path, playground, marina, splash pad, amphitheater, and pavilion.
We saunter through the park and onto the pier before checking out the boats at the marina.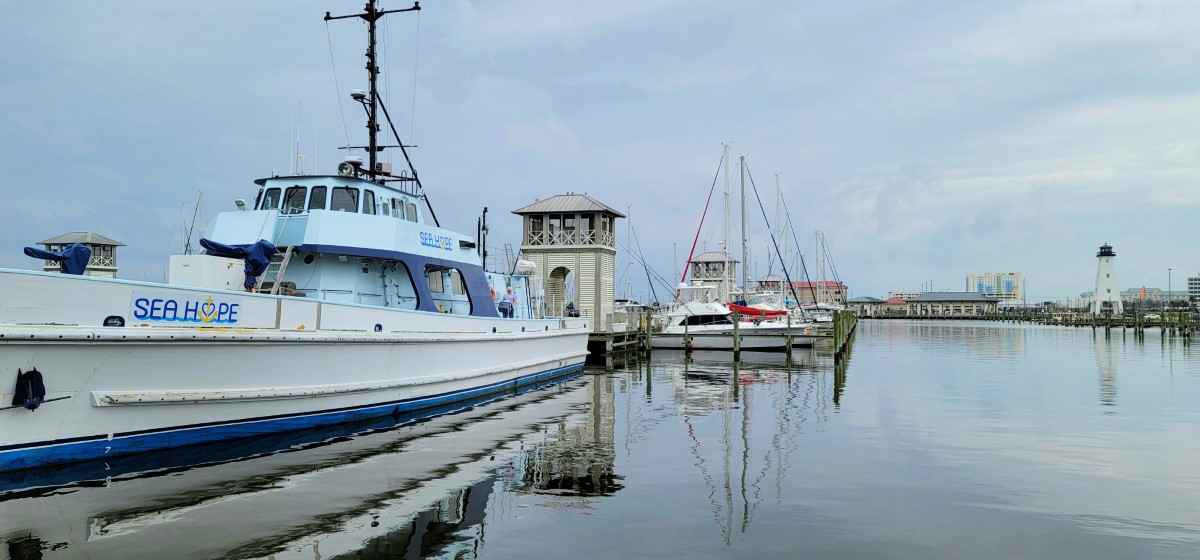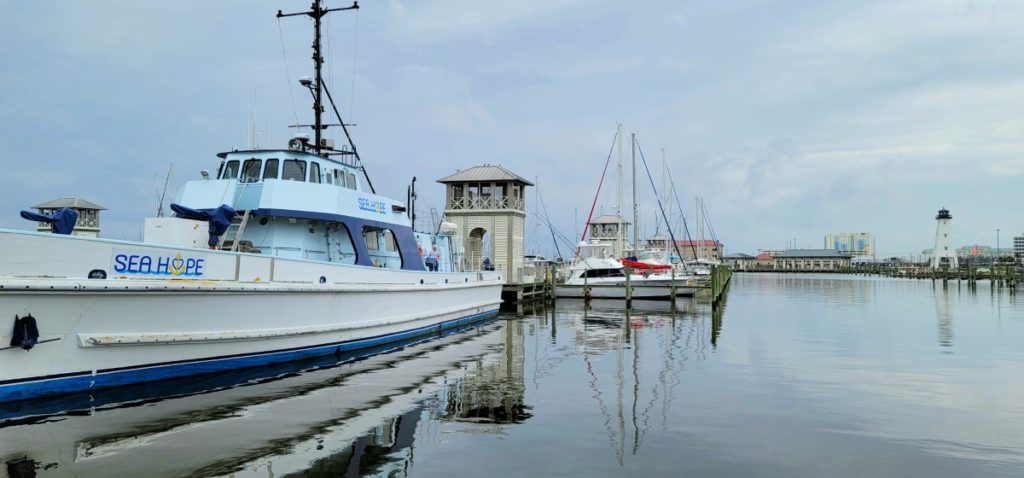 Lunch at Patio 44
Located across from Jones Park in downtown Gulfport, Patio 44 offers a creole-inspired menu and an extensive premium wine and spirits list.
Even though the restaurant is impeccably designed with a gorgeous bar, we can't resist the hanging lights and flowing fountain in the front courtyard.
We order a bowl of crawfish étouffée and a plate of sweet hot pecan chicken over roasted garlic mashed potatoes to enjoy before adventuring over to the aquarium down the street.
Mississippi Aquarium
The Mississippi Aquarium in Gulfport, one of the newest Mississippi Gulf Coast attractions, is all about education, conservation, and community.
Focusing on the relationships between the aquatic and natural resources in the area, it has indoor and outdoor exhibits connected by walkways lined with native plants.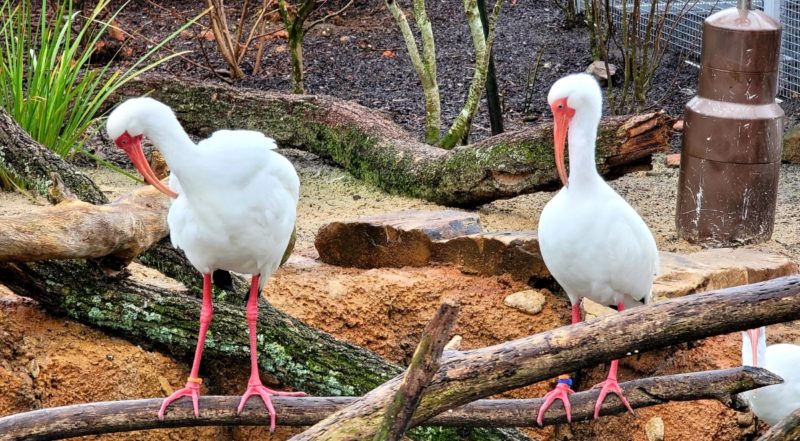 Outside, we look into the eyes of lounging crocodiles, watch otters play, wander through an open bird aviary, and see river fish like alligator gar, channel catfish, and largemouth bass swimming around.
Our favorite outdoor habitat is the bottlenose dolphins; the young dolphins are super playful and love attention.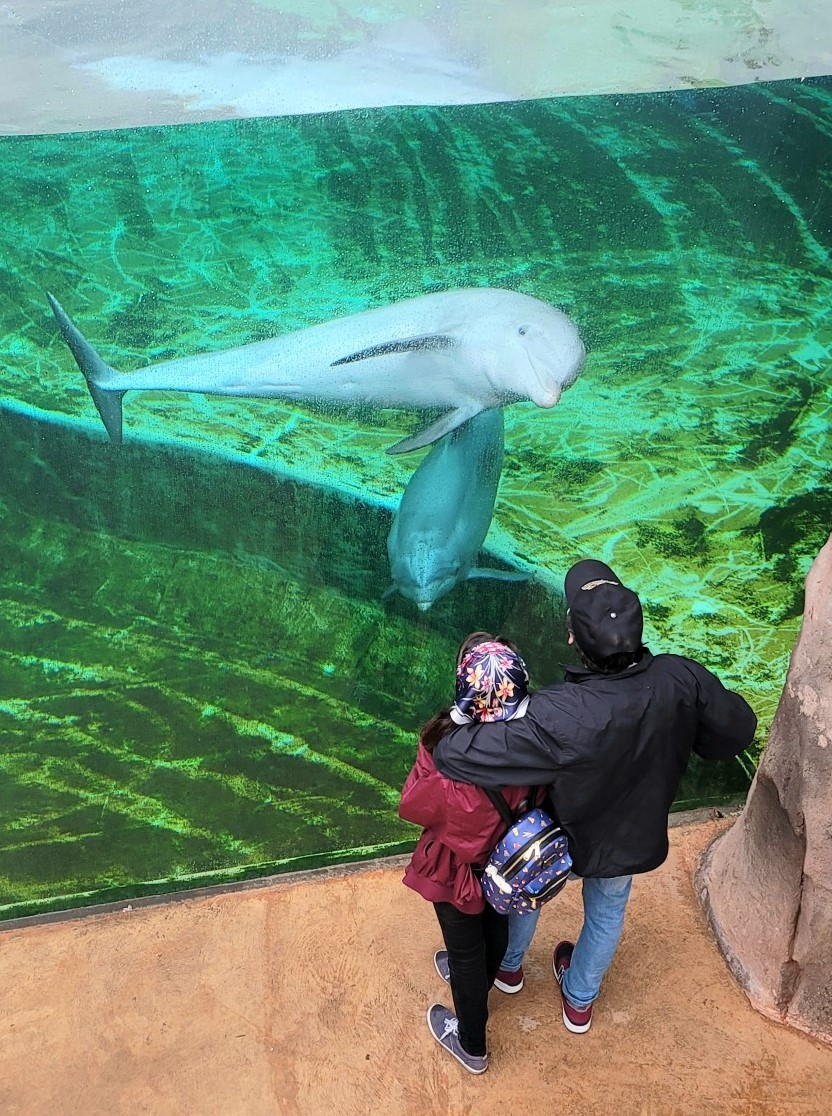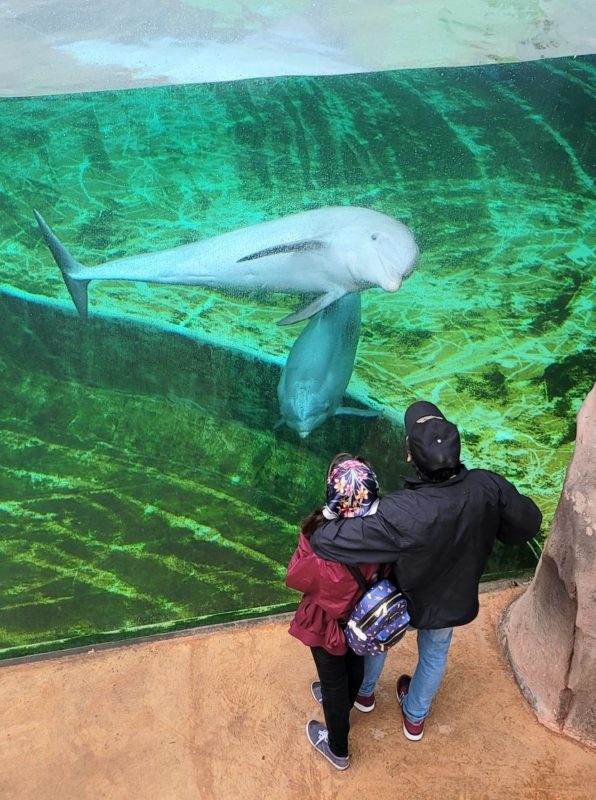 Inside, we lightly graze invertebrate, sharks and rays at the touch encounter before standing in awe at the massive cylinder "swirl tank" with roughly 10,000 fish.
One of the most unique features of the aquarium is the 360-degree suspended acrylic tunnel that cuts right through the main habitat.
We stand inside and could see the touch tanks above and the grottoes and galleries below with all the sharks, rays, sheepshead, and grouper, soaring around and below us.
Last, we finish our experience at the main gallery, a dark room illuminated by the glowing blue coming from a movie screen-sized window.
It's like aquarium therapy, a quiet soothing environment.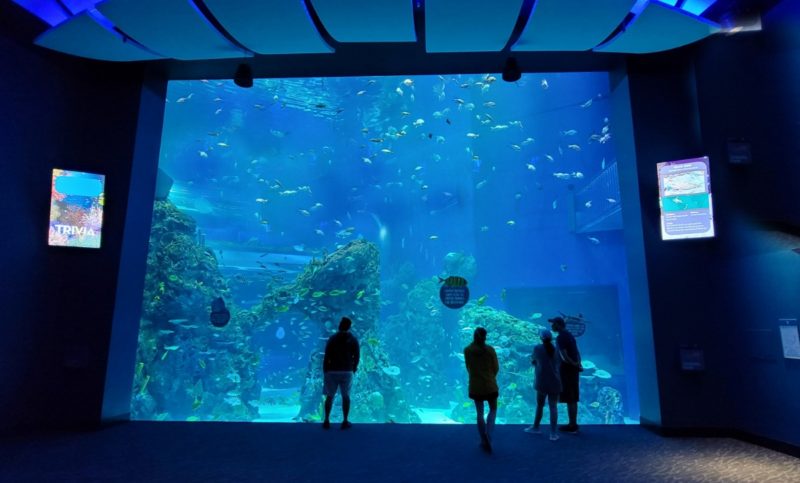 The panoramic views offer the best place to bid a final adieu to our new floating friends.
PRO TIP: To make the most out of your visit, check the Daily Schedule for events like the Aviary Feed, Meet a Biologist, Otter Chat, and more.
Walter Anderson Museum of Art
Back in Ocean Springs, we meet with Tony, the Education Director at the Walter Anderson Museum of Art, for a guided tour to learn about the wildly eccentric and uber-talented Walter Anderson.
A man who has taken a hold of the art community far and wide so it's only fitting the genius creator has his own museum in downtown Ocean Springs, where he spent most of his adult life.
Tony, an artist himself, shared his extensive knowledge of all things Walter -yes, I feel like we are on a first-name basis now – and his excitement is contagious.
Going into the visit without much background of him or his work, we left enthralled with not only his craft but his personal story as well.
Walter was not only a painter, but a sculptor, designer, and writer as well.
He led an extraordinary life with some crazy adventures – biked for thousands of miles to Florida, Texas, and Mexico; was stranded on Horn Island during and after a hurricane; was robbed on a trip to China; and spent time in and out of mental health facilities.
His work has been described as intense but I found it graceful and fluid much like the world all around us.
"To realize the beauty of humanity, we must realize our relation to nature."
In addition to holding nature in the highest regard, he also felt the importance of history and various cultures which is apparent in his paintings.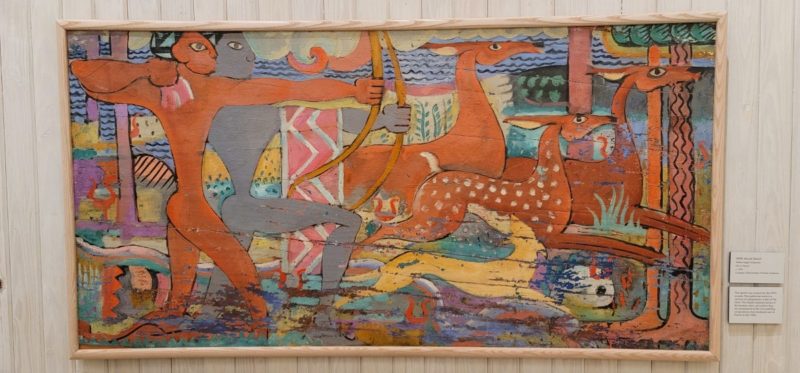 Two outstanding features at the museum are his floor to ceiling murals inside the gymnasium at the Ocean Springs Community Center – I'm sure you could visit this room a hundred times and find something new each time – and the Little Room, the painted walls of his cottage that no one knew existed until after his death.
He spent most of his last years as a recluse and died in 1965.
Getting acquainted with one of the South's most prolific artists at the Walter Anderson Museum of Art is a true privilege and not to be missed.
Dinner at Glory Bound Gyros Co.
Does it get any better than craft hummus – we are talking garlic and basil jalapeño cilantro – and craft beer?
Yes, indeed it does with specialized gyros and a covered deck with something always going on whether it be trivia or live music.
Glory Bound Gyro Co. found the right equation for a great atmosphere and awesome food.
The Wilbur Bar
That's not all folks! It's time for a nightcap.
And there's not a better location or bartender in town that can whip up a superior elixir than at The Wilbur, a Prohibition-inspired cocktail bar attached to The Roost.
In true speakeasy fashion, we discover a secret room behind a swinging bookcase next to the bar. Dedicated to the bygone era, the mobster himself, Al Capone, graces the back wall.
Drinks at The Wilbur is a flawless way to cap the night off.
Day 3: Things to Do in Biloxi & More
Blueberry Lemon Scone at French Kiss Pastries
This morning we arrive at French Kiss Pastries, a downtown bakery that specializes in pastries and also offers a selection of coffee, single-serve desserts, truffles, and French macaroons.
Must be good because the place is abuzz with locals enjoying their breakfast and free WiFi.
We order a cinnamon roll the size of my noggin and a blueberry lemon scone. The roll was good, but the scrumptious scone steals the show.
Shearwater Pottery Ltd
After a quick breakfast, we drive over to a wooded lot right off the coast to another place associated with Walter Anderson, Shearwater Pottery Ltd.
From the early 1900s, Ocean Springs has been a haven for creative artists thanks to George and Annette Anderson, Walter's parents, who opened an art compound here. And his brother, Peter, eventually opened Shearwater on the property.
Walter Anderson, along with his two brothers, lived and worked at the store. He designed and decorated tiles, figurines, and other custom pottery pieces until his death in 1928.
Shearwater Pottery has gained national recognition and is still run by Peter's grandchildren today so of course, we have to peruse the pottery inside.
Maritime & Seafood Industry Museum
Unfortunately, our third day is a rainy one but luckily we planned to visit a few indoor museums in Biloxi.
First is the
Maritime & Seafood Industry Museum
, dedicated to preserving the region's seafaring history. As you can imagine, the heart and soul of the area is its coastal environment.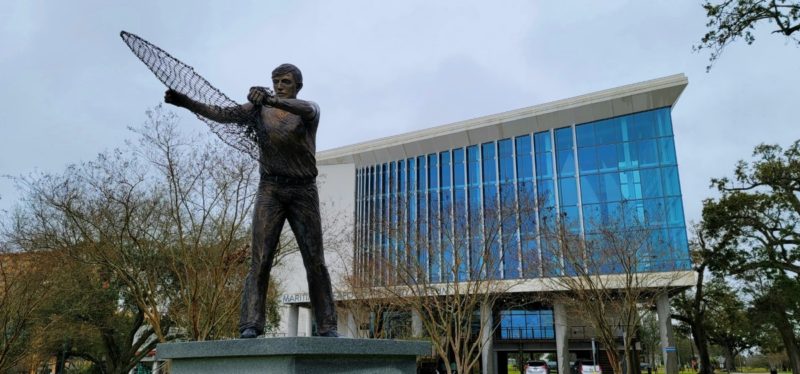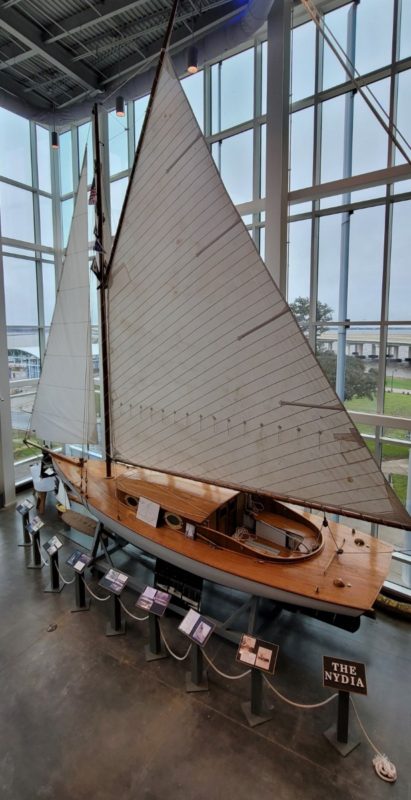 We check out the nautical gems, learn about boat building, shrimping, and oystering, and observe unique artifacts and old photos.
The Hurricane Katrina film and exhibit is captivating offering footage from the disaster, news reports, and interviews with survivors.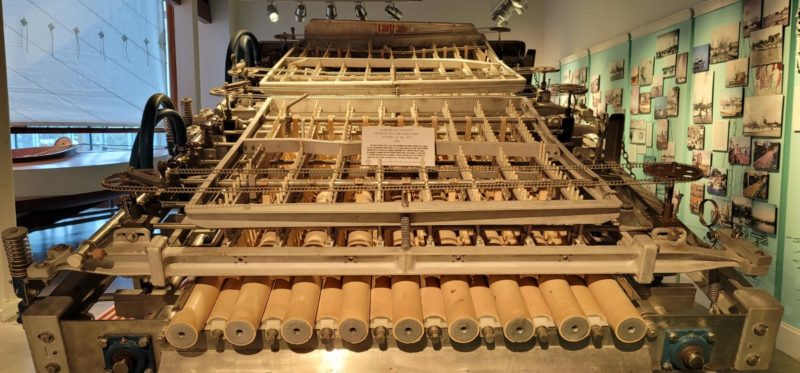 It's a fascinating museum that provides great insight into the heritage and culture of the region.
Ohr-O'Keefe Museum of Art
The "stainless-steel pods designed to dance among the live oaks" pair well with the twisted ceramics of George E. Ohr, to who the museum is dedicated.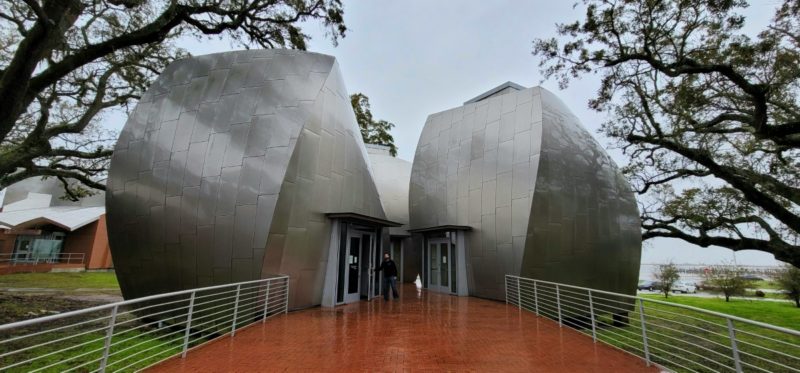 The self-proclaimed "Mad Potter of Biloxi," is yet another colorful character of the Mississippi Gulf Coast.
Active from 1893 to 1910, Ohr concentrated his efforts on shape versus color, a forward-thinking concept consistent with the modernist movement.
His pots are extraordinary with exceptionally thin walls and a melted appearance as if one popped right out of a Salvidor Dalí painting.
The five-building campus houses permanent collections such as the City Within a City: African American Culture in Biloxi but also celebrates inspiring artists of our time with rotating exhibitions like Najee Dorsey and Sally Heller.
Even if you're not an art buff necessarily, the architecture and historical significance makes it worthwhile.
Make sure to check the website before you go as their exhibits change often.
The intent is to explore downtown Biloxi, including the Visitors Center, West Biloxi Beach Boardwalk, and the Biloxi lighthouse, after the museums but Mother Nature has a different plan.
Instead, we take a quick tour around before going to lunch.
HOT TIP: The Visitor's Center has a great exhibit on the culture of the region and beautiful water views from the second floor.
Lunch at Shaggy's
Afterward, we shoot over to Shaggy's, a beachfront casual seafood restaurant. If only it wasn't pouring!
Located right on Biloxi's boardwalk, the view looks amazing- or at least from what I could tell between the fog and rain.
Between the positive energy inside and the fresh seafood, I quickly forget about the what-could-have-been view. With a few new items on the menu including lobster mac, it is time to dig in.
Shaggy's did not disappoint. And neither did the blackened redfish or Royal Red shrimp which is a first for both of us. Compared to mini-lobsters; sweeter and richer than regular Gulf shrimp my husband had to try them.
To say a love affair blossomed is an understatement.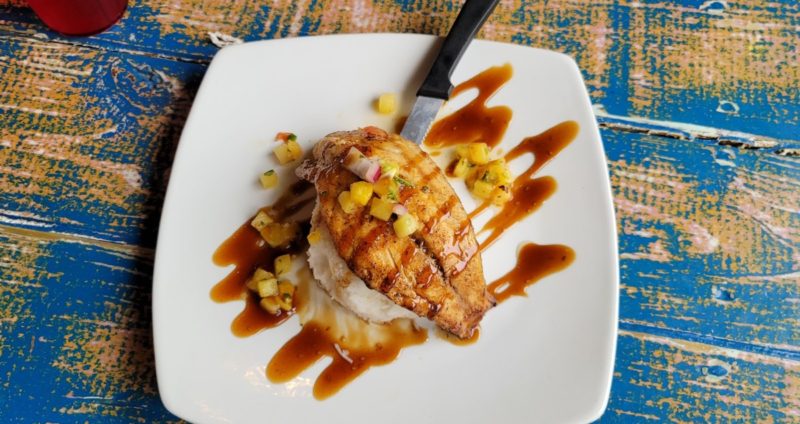 Because the 30-mile stretch from Biloxi to Bay St. Louis is right along the water, it is our favorite driving section of the Mississippi Gulf Coast for views. Coupled with other picturesque harbor towns to explore like Long Beach and Pass Christian, we certainly need to get back at some point.
Again, if only we had more time and better weather.
Note to self: plan for more days when visiting Mississippi again.
The Friendship Oak
A short detour worth taking in Long Beach is to the University of Southern Mississippi to see the Friendship Oak, a 500-year-old live oak tree.
Legend has it, those who enter the shade of its branches will remain friends for all their lives.
Checking in at the Bay Town Inn Bed & Breakfast
Maybe it's the majestic oak trees nestling the property or the sparkling pool on the huge patio peppered with flowers and plants. Or perhaps it's the doors-always-open feeling you get when you meet the owner, Nikki.
Bay Town Inn Bed & Breakfast has that distinct twinkle that will have you planning your next visit the moment you arrive.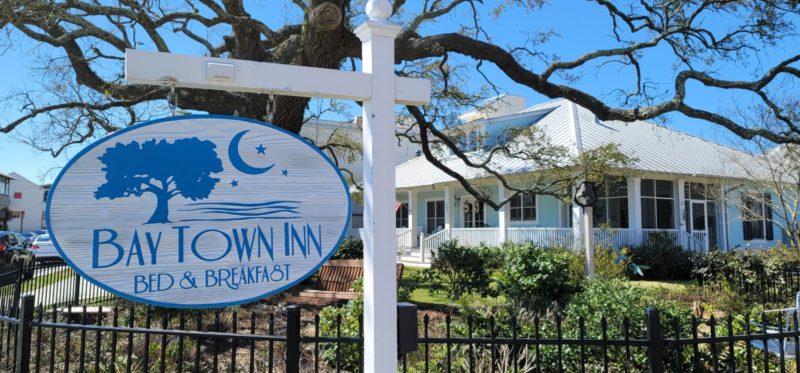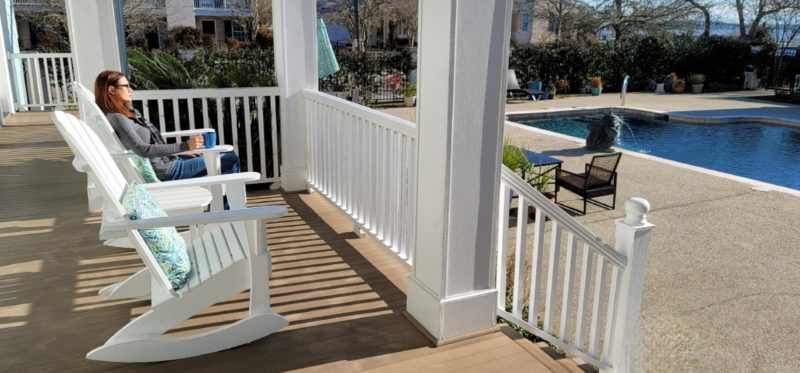 Located in downtown Bay St. Louis right across from the beach and marina, the Bay Town Inn is a jewel of a bed and breakfast.
Each of the 10 guest suites has its own beachy theme (we are in the Flamingo room), kitchen, sitting area, private full bath, and lush king-sized bed.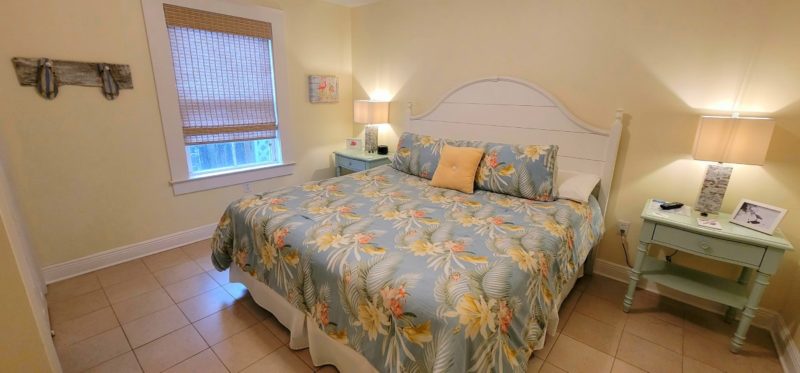 On weekdays, a light breakfast is provided in your room for you to enjoy at your leisure. And on weekends, a hot breakfast prepared by Nikki herself is either delivered to your door or out on the patio – your choice.
The exceptional hospitality fosters an ambiance of inclusivity and relaxation.
Check out the latest prices and more details here.
Dinner at Thorny Oyster
For dinner, we walk over to the sophisticated yet comfortable Thorny Oyster.
A newcomer downtown, the restaurant definitely has what it takes to make it: prompt and courteous service, quality food, a delightful ambiance, and a comprehensive drink menu.
Seafood dominates the menu, but you'll also find a trusty burger and 16-ounce ribeye on there too if you're in the mood for red meat.
Both our red snapper dishes are exquisite and the campfire dessert we order is pure euphoria!
Since it's still raining, we decide to hang back at our suite and get an early start tomorrow.
Day 4: Getting Acquainted with Bay St. Louis
Breakfast at the Mockingbird Cafe
Mockingbird Cafe's
website says it all, "a small coffee shop, with a big love for community."
Nothing shows love for the community other than hanging art for sale by local artists and taking a plastic-free pledge!
They also serve local Coast Roast Coffee. And we know that because after ordering a coffee with no cream or sugar and relishing every sip, we had to find out what we were drinking.
Throw in great breakfast sandwiches and folks, we have a winner!
A Day in Bay St. Louis
We swung through Bay St. Louis once before but didn't have time to stop. I've always wanted to come back to explore the little eccentric town.
Albeit small, Bay St. Louis is a vibrant neighborhood chock-full of charm and depth.
From Mockingbird Cafe, we begin a wonderful stroll around town starting next door at The Shops at Century Hall, a collection of sweet shops under one roof. Inside, there's everything from jewelry and clothes to antiques and home decor.
The L&N Train Depot down the street houses the Tourism and Visitor Center and Mardi Gras museum, where you can see Mardi Gras costumes and pick up maps and information.
A few antique, boutique and gift shops line Main Street with cool murals and bright beads decorating the white fences and brick buildings.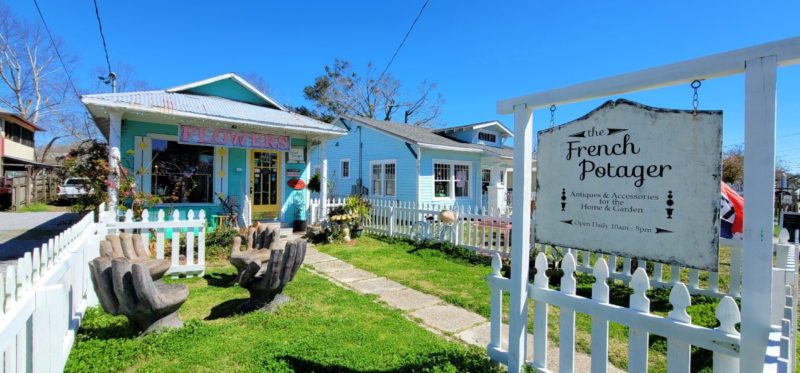 Winding back to Beach Boulevard, we get out on the fishing pier and take a few more glances back to the endearing town we've come to appreciate.
Even as a visitor, Bay St. Louis makes you feel like part of the community.
Saying Goodbye to Coastal Mississippi
If I haven't convinced you to plan your own trip to this special region of the United States, then I don't know what else to tell you!
It's hard to say goodbye because even with all we did, there's still so much more the Mississippi Gulf Coast has to offer.
Nevertheless, the road trip must go on…
Have you visited? What were your favorite Mississippi Gulf Coast things to do? Share with us in the comments below!