New Orleans. Love it or hate it, it is a city that tugs at emotions from deep within no matter what your final verdict is.
It is alive, pulsating and breathing like you and me. Its energy is all-consuming. It absorbs and it reacts; it is not afraid of change. Instead, the city is cultivated by the people around it. Just as they are of it.
From the very beginning, New Orleans embraced the essence of individuality and diversity. Native American Indians were accepted instead of suppressed, Europeans and West Africans commingled in the New World, Creole intertwined with Cajun, and French and Spanish equally impacted the spirit of the city.
You can feel its life force, its vitality, its soul. A stroll through its expansive architecture ranging from grand mansions to charming cottages takes you through its past and present. Its eclectic neighborhoods scream charisma and fervor. It will transport you to a different period and mindset yet you'll feel as relevant as ever.
Like a person, it has evolved over time but never strayed too far from its core. Each unexpected encounter and unique experience has shaped its existence and continues to do so.
Nothing can break this city. It has had its hardships and challenges, but it is stronger because of them. Each occurrence parting with an awakening and an emerging appreciation. Appreciation for the city, its culture, its expressive nature, its people, and its significance.
Today, it is still an environment of acceptance. It encourages a sense of freedom to be anyone you want to be or live the life you were meant to live. The city invokes intrigue and romance. It summons the question of who you are and where you are going.
There's just something about the place that speaks to my heart. To me, New Orleans is perfectly imperfect. I hope you feel the same way!
Tips for Your First Visit to New Orleans
Questions we often hear are – Is New Orleans safe to visit? What should I avoid in New Orleans? New Orleans is definitely not shielded from crime but generally, it is considered safe for travelers.
Here are some precautions and tips for your visit.
Stay aware of your surroundings especially at night. Look for well-lit areas.
Keep track of your purse and/or wallet. Do not carry your wallet in your back pocket or bring a big purse.
Be aware of scams: people approaching you asking questions like where did you get your shoes or helping you with directions. Also, know if you take a picture of or with any of the 'entertainers' on the streets they will expect and/or ask for a tip.
It's always smart to travel in twos especially when a lot of drinking is involved.
Bring comfortable walking shoes because the best way to see the city is on foot.
Bring some cash, many of the bars have minimums on credit card purchases and/or are cash-only establishments.
Disclosure: Some of the links on our site are through affiliate partnerships. We may receive a small commission (at no additional cost to you) if you purchase through our links.
Where to Stay in New Orleans
Luxury
Mid-Range
Budget
Disclosure: The above links included are affiliate links, if you book through any we will receive a small commission at no additional charge to you.
In no particular order, here are the best things to do in New Orleans French Quarter and more for any first-time visitor:
1. Soak in the French Quarter Architecture
What is the number one attraction in New Orleans? No one can deny the beating heart of the city is in the historic French Quarter.
Make sure to carve out ample time to wander the streets and soak it all in.
A few do-not-miss places include:
Royal Street
St. Louis Cathedral
Jackson Square
Lafitte's Blacksmith Shop Bar (which should be added to your pub crawl below since it's the oldest structure in the U.S. used as a bar)
Pontalba Buildings at 500 St. Peters Street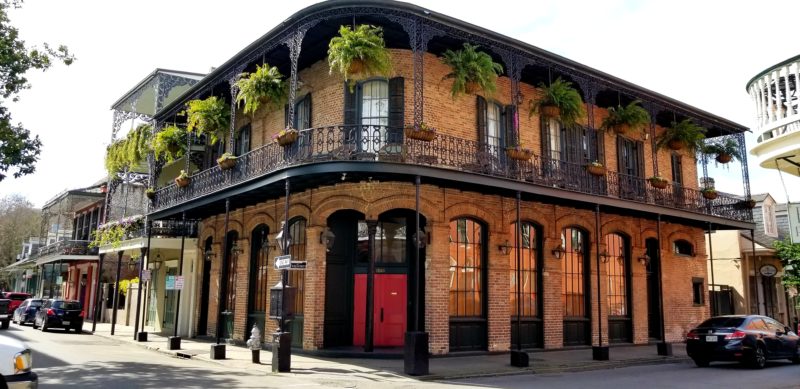 2. Create your Own Pub Crawl
You can't come to New Orleans without experiencing the most famous street in America.
Enjoy Bourbon Street at its best, a few hours before and after sunset. You'll get to drink in – literally – the beautiful outdoor patios during the day and the infamous neon lights at night.
Do not miss Old Absinthe House, Maison Bourbon, Lafitte's Blacksmith Bar, the patio at Pat O'Brien's, Beach on Bourbon, and the Cat's Meow.
What to Drink: Hurricane from Pat O's, Hand Grenade from Tropical Isles, Bloody Mary from the Gazebo Cafe or Molly's at the Market, and Pimm's Cup from Napoleon House.
If you don't want to create a DIY crawl, hop on a fun Haunted Pub Crawl where you'll experience all the haunted bars in the city with a seasoned local guide and other visitors.
READ NEXT: NEW ORLEANS BEYOND BOURBON STREET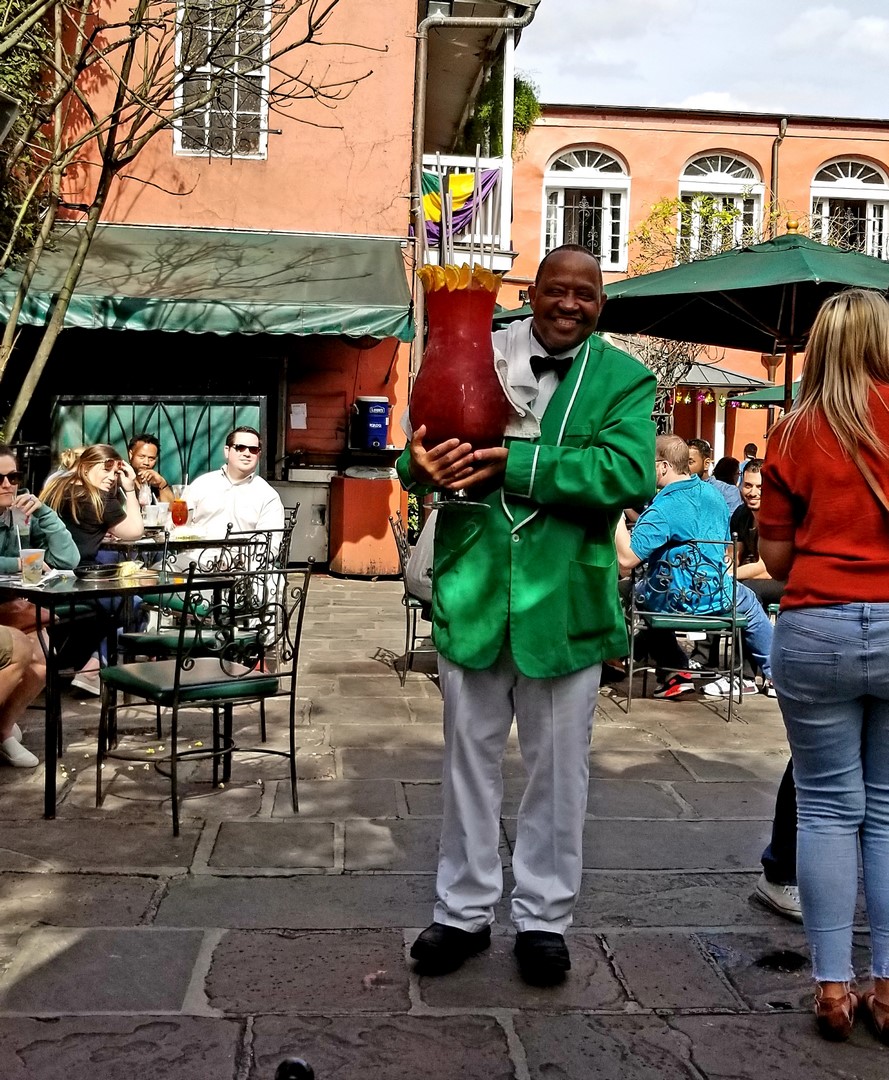 3. Take a Cemetery Tour
One of the most hauntingly beautiful places in NOLA is the above-ground cemeteries.
Witches Brew Tours is a highly rated ghost and cemetery tour that includes St. Louis Cemetery No 1. *The inside is currently closed to visitors, but the tour does take you to the surrounding area."
Established in 1789, Cemetery No 1 is the oldest in the city and is the final resting place for many colorful native characters such as Voodoo Queen Marie Laveau. And another popular site is the future tomb of actor Nicholas Cage.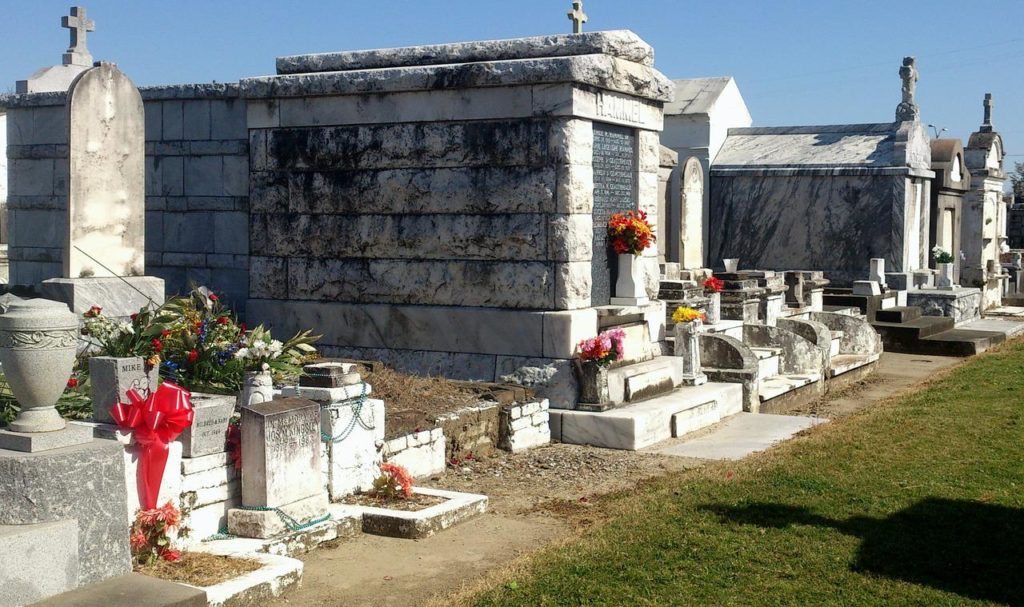 One of the unique things to do in New Orleans at night is to take a Haunted Cemetery and City Tour.
This two-hour spooky tour takes you to see the Coven House from American Horror Story and two cemeteries where you'll learn all about voodoo history and hear chilling tales from beyond the grave.
Get Your Guide is a great company that offers discounted tours and tickets to the best New Orleans attractions. If you book through our site, at no additional cost to you, you'll help us support the blog since we receive a small commission.

Other fun tours they offer:
4. Try Beignets at Cafe Du Monde
Even if there is a line, it is worth the wait for these light fluffy treats that will melt in your mouth.
Café Du Monde began as a coffee stand in 1862 and it is still pounding out those French donuts called beignets (pronounced ben-yays).
A trip to NOLA is not complete without trying one… Or three.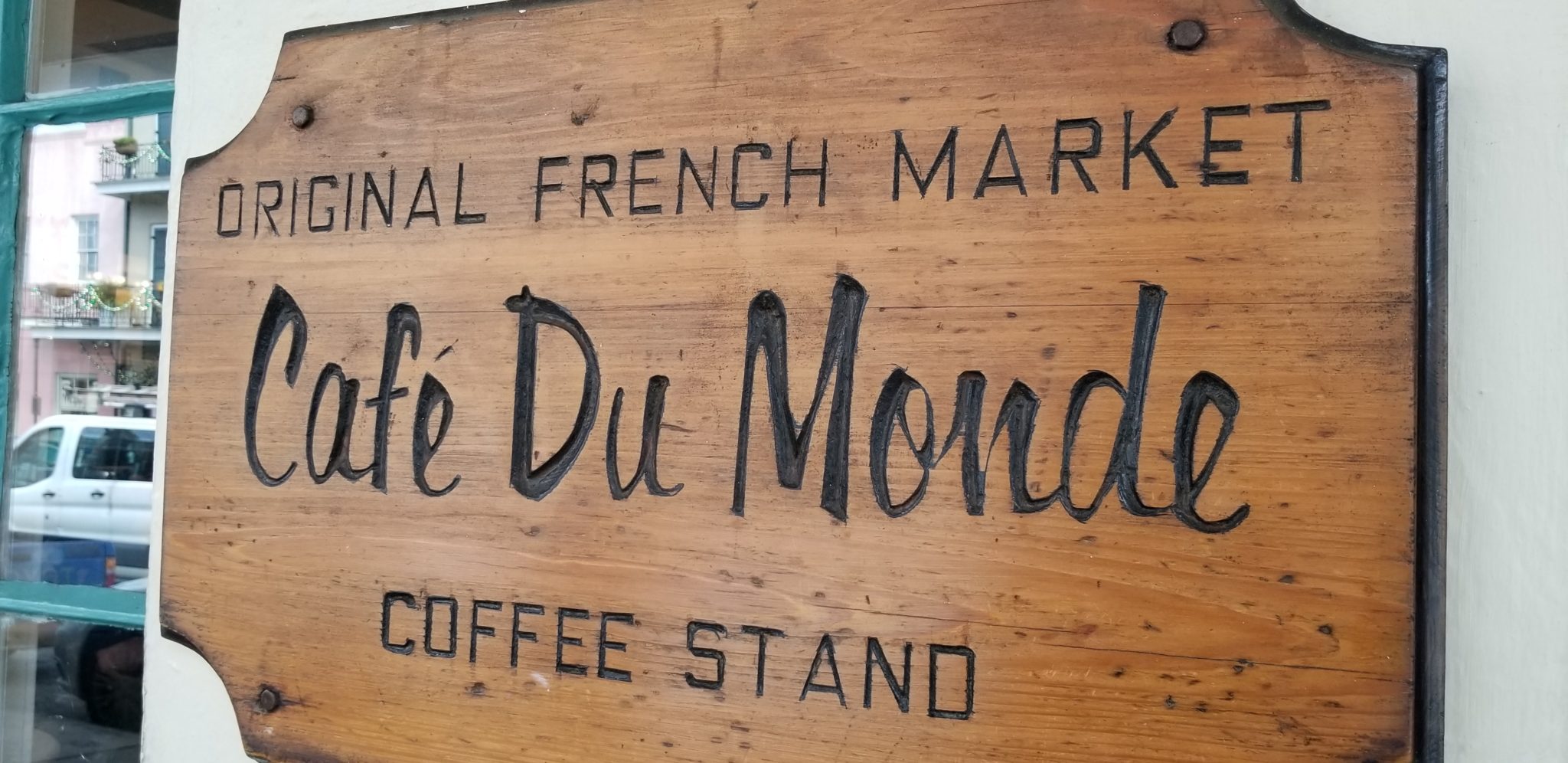 5. Have Drinks at the Famous Carousel Bar
Spinning inside the Monteleone Hotel for 65 years now, the Carousel Bar & Lounge has a colorful Merry Go Round with bartenders in the middle serving up creative cocktails.
Open all day from 11:00 am to 12:00 am, make sure to swing by and go for a ride.
You can't go wrong with ordering one of the classics: Pimm's Cup, Sazerac, Old Fashioned, or a Manhattan.
If you're looking for things to do in New Orleans for couples, check out my suggested Charming and Romantic Restaurants in NOLA next.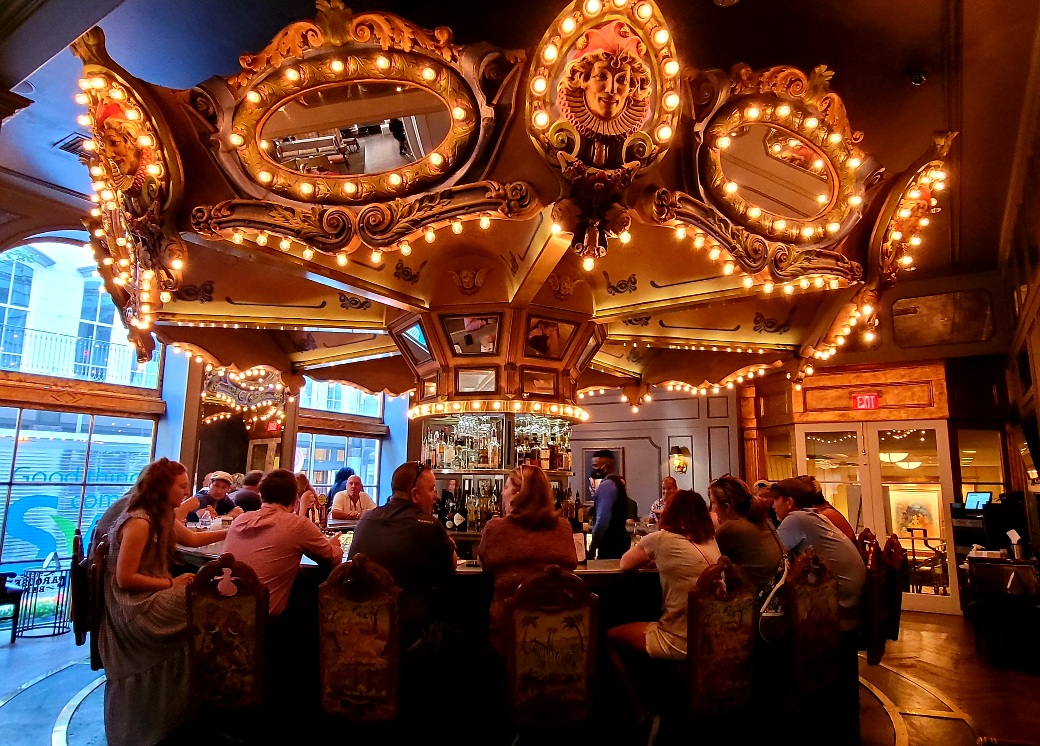 6. Eat a Muffuletta from the Central Grocery and Deli
Serving muffuletta sandwiches for over 100 years, the first owner of the old-fashioned grocery store is known as the creator of the famous meat, cheese, and olive spread concoction.
Go hungry because the sandwiches are about the size of your head!
7. Hop on a Streetcar
Take a ride on the cheap and historic streetcar along St. Charles Avenue.
You'll glide under ancient oak trees and past antebellum mansions on the forty-minute ride from the edge of the French Quarter.
Fun Fact: The dark green streetcar on the St. Charles line is the oldest continuously operating streetcar line in the world.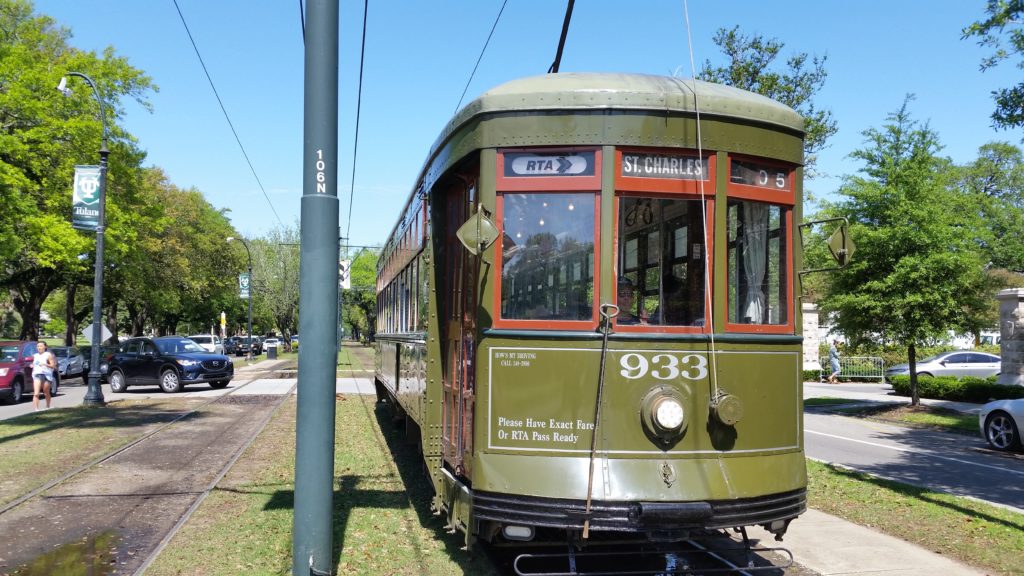 8. Walk through the Lower Garden District of New Orleans
If you don't mind walking a few miles, take the St. Charles streetcar to the end of the line, then head back but get off at Louisiana Avenue.
Head over to Magazine Street and check out all the shops and restaurants.
Atchafalaya is well-known for its build-your-own Bloody Mary Bar and The Bulldog has a great local craft beer selection.
GET A TASTE OF MARDI GRAS WORLD YEAR-ROUND WITH THIS TOUR IN NEW ORLEANS
9. Listen to Live Music
Whether you bar hop along Frenchman Street or hit Preservation Hall, you must spend at least one night jamming out to live music.
You'll also catch some entertaining and talented folks on the streets. Just make sure to watch your phones and wallets when crowds start to form. It's a prime spot for pickpocketing.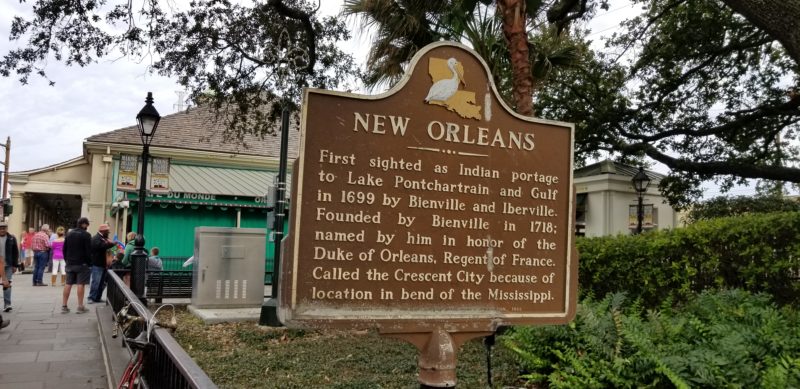 10. Devour a Po' Boy
Po' Boys are a traditional sandwich served all over Louisiana. It is said that they originated in New Orleans to be exact. You can order meat like Roast Beef slathered in gravy or seafood like fried shrimp or crawfish.
Two favorites are Johnny's Po-Boys or Killer PoBoys in the French Quarter.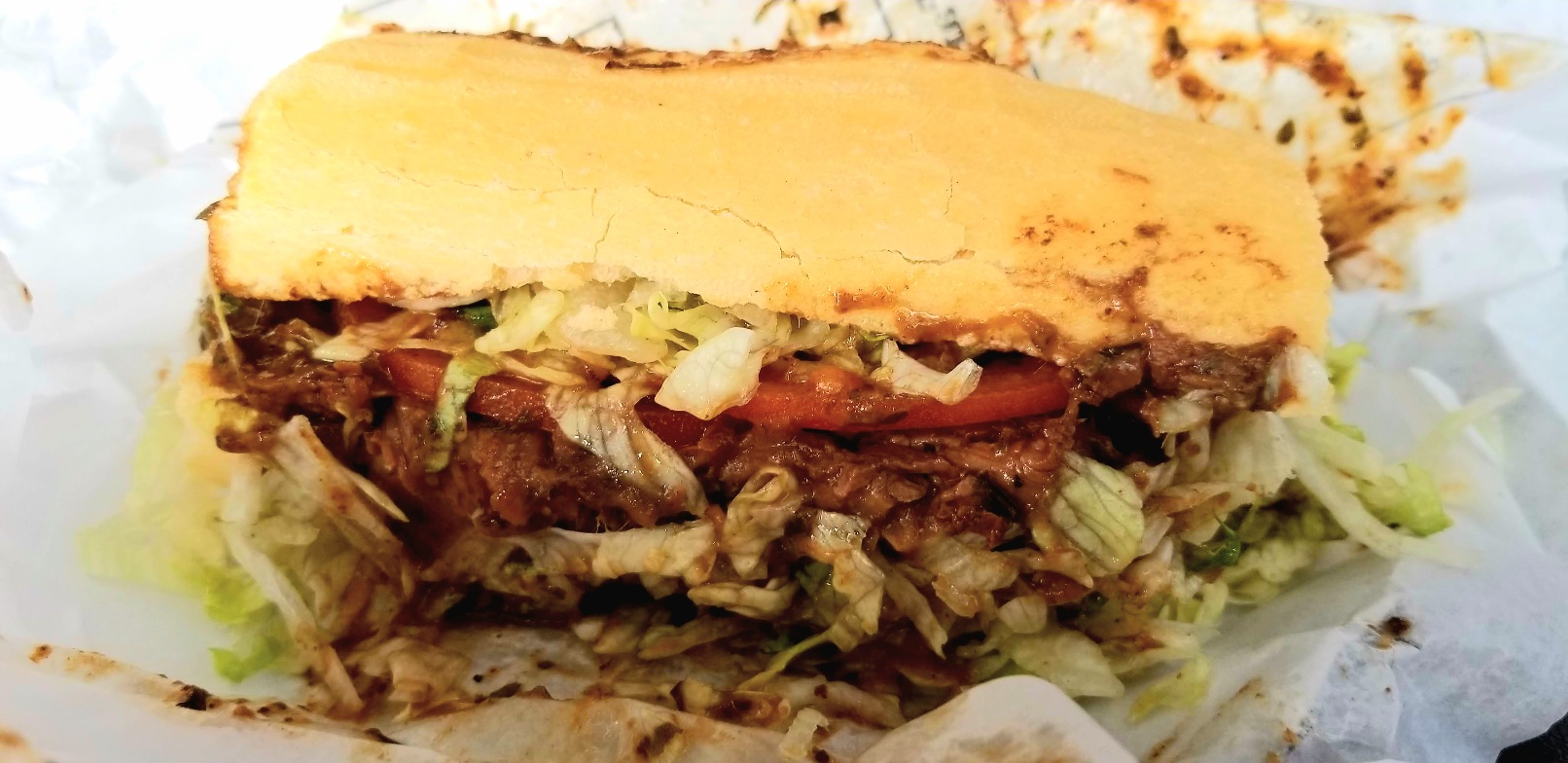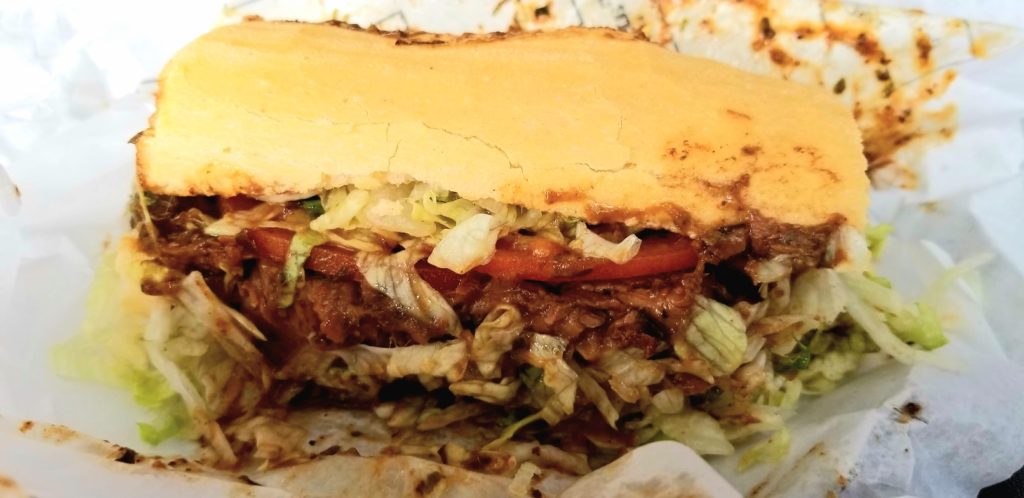 11. Shop at the French Market
Located in the French Quarter taking up six blocks, the French Market is the oldest of its kind in the United States.
Open daily from 10 AM to 6 PM, it is a place to eat, drink, and shop. Don't forget to stop in any of the praline shops for some free samples!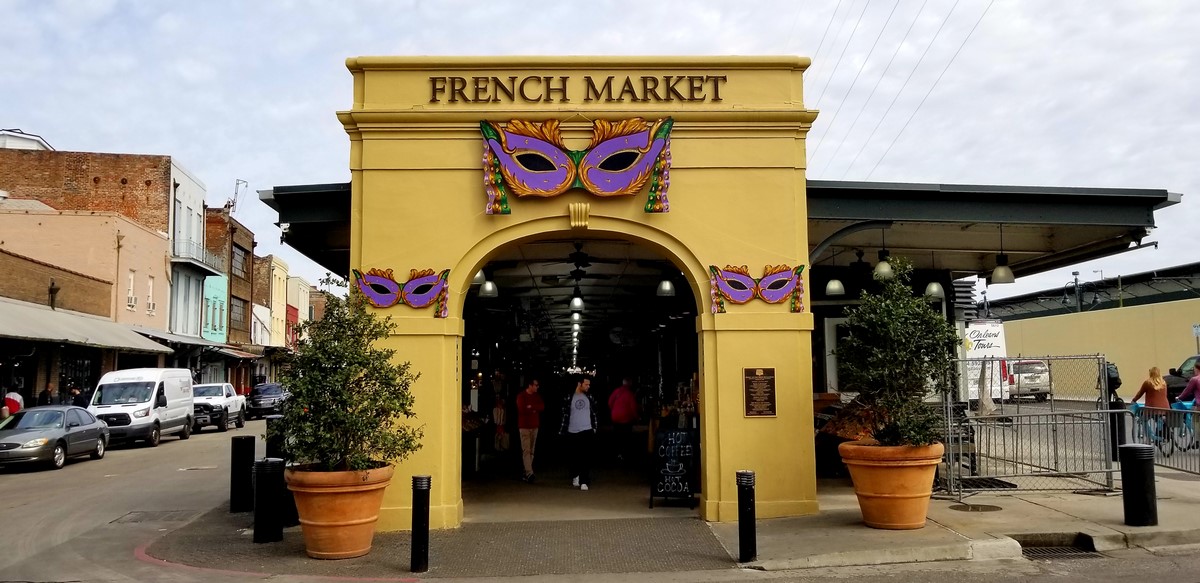 12. Check out Harrah's Casino
Even if you are not a gambler, Harrah's Casino is worth a look. The décor is over-the-top and if you are a gambler, make sure to take advantage of the free drinks!
Other Ideas for your New Orleans Vacation
National WWII Museum: For history buffs, the WWII Museum is a must-do. It has a five-star rating and is considered America's official museum on the subject. Check ticket prices here.
City Park: If you are looking to get outside the French Quarter, head over to City Park, one of the largest and oldest urban parks in the United States. With 1,300 acres of old oak trees and beautiful walking paths, it's a lovely place for a stroll. Also inside you'll find other fantastic New Orleans attractions like the Museum of Art and Sculpture Garden, Storyland – a themed playground, Carousel Gardens Amusement Park, and the New Orleans Botanical Garden.
Looking for free things to do in New Orleans? Enjoy street music, walk along the Woldenberg Riverfront Park, catch a sunrise at Algiers Point, walk around a cemetery (only Saint Louis Cemetery #1 restricts visitors), check out Louis Armstrong Park, or look at all the mansions on St. Charles Avenue.
There are so many fun things to do in New Orleans, I hope we narrowed down the best ones for a great first time visit!
Have you been? What were your favorite New Orleans things to do? Any suggestions for a first-time visitor?
Don't forget to sign up below to follow on our adventures!