My husband and I hail from the Midwest, and we genuinely love exploring what some consider the fly-over states to uncover unique and trip-worthy destinations. Even with Wichita being the largest city in the state of Kansas and the 48th largest city in the United States, we hadn't heard much about it.
After spending a few days visiting, I can assure you Wichita is a vibrant city filled with an endless list of activities for every type of traveler.
So much so, that we are already talking about when we can get back and I now find myself in the #ilovewichita bunch that emanates out of this city!
4 Day Itinerary: Top Things to Do in Wichita, Kansas
Wichita is in the heartland. And what do you find where the heart of the country beats?
State-of-the-art museums and attractions at reasonable prices.
A strong-knit community with a superabundant amount of local pride.
And some of the most unpretentious and friendly people around.
Here's the four-day itinerary that made us fall head over heartland in love with Wichita!
Day 1. Arrive and Check-In at Your Hotel
For our adventure, we stayed at the Hilton Garden Inn Downtown and it was the perfect place to stay in Wichita.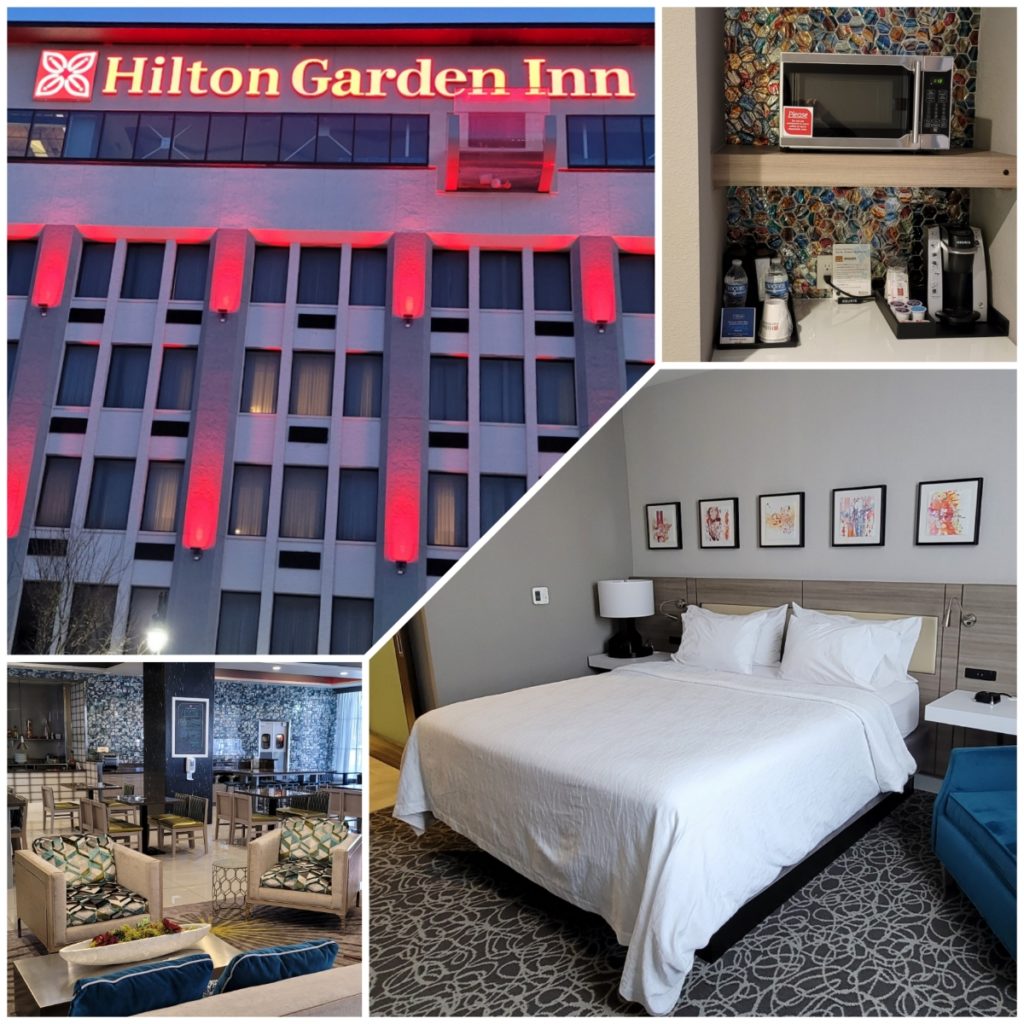 Located in the heart of downtown, you cannot beat the location. It is within walking distance to many of the best restaurants, shops, breweries, and attractions.
The rooms are big, clean, and comfortable with a 50-inch HDTV, mini-fridge, microwave, and Keurig coffeemaker.
The hotel features a cook-to-order breakfast, an on-site Starbucks store, a fitness center, a restaurant, a bar, and free WiFi.
And the best part, the Garden Inn offers complimentary parking with in and out privileges. There are eight parking spots available near the entrance and if those are taken, you can park in the Williams Street Garage and get your ticket validated at the front desk.
Tip: Park on the 2nd floor of the garage and there is an elevator that takes you right to the hotel lobby.
Full Disclosure: We were hosted on our trip to Wichita, but all thoughts and opinions are my own. Some of the links included are affiliate links, if you book through it we will receive a small commission at no additional charge to you.
Explore Botanica Wichita
Once you're settled in, it's time to hit the town! First on the agenda is the Botanica Wichita, an 18-acre outdoor oasis with meticulously landscaped themed gardens featuring over 4,000 species of flora and fauna.
While walking around you'll experience an aquatic collection, wildflower meadow, a Shakespeare garden, a Chinese garden, a greenhouse, a railroad garden, a butterfly garden, a rose garden, and a teaching garden, to name a few.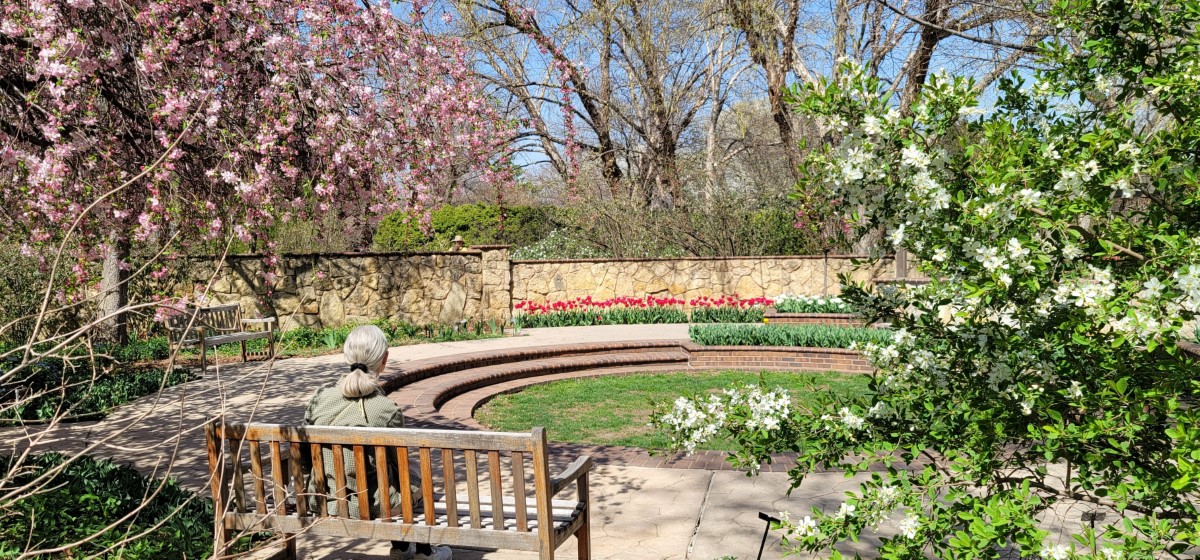 Related: Plan a Kansas City Getaway
We visited in early April, a fantastic time of year when warmer temperatures usher in and events start to kick off like the Tulip Festival.
The gardens were alive with flowering trees, blooming daffodils, and over 66,000 tulips with over 110 varieties.
After just ten minutes of walking around the swaths of splendor, we were overtaken with tulip fever!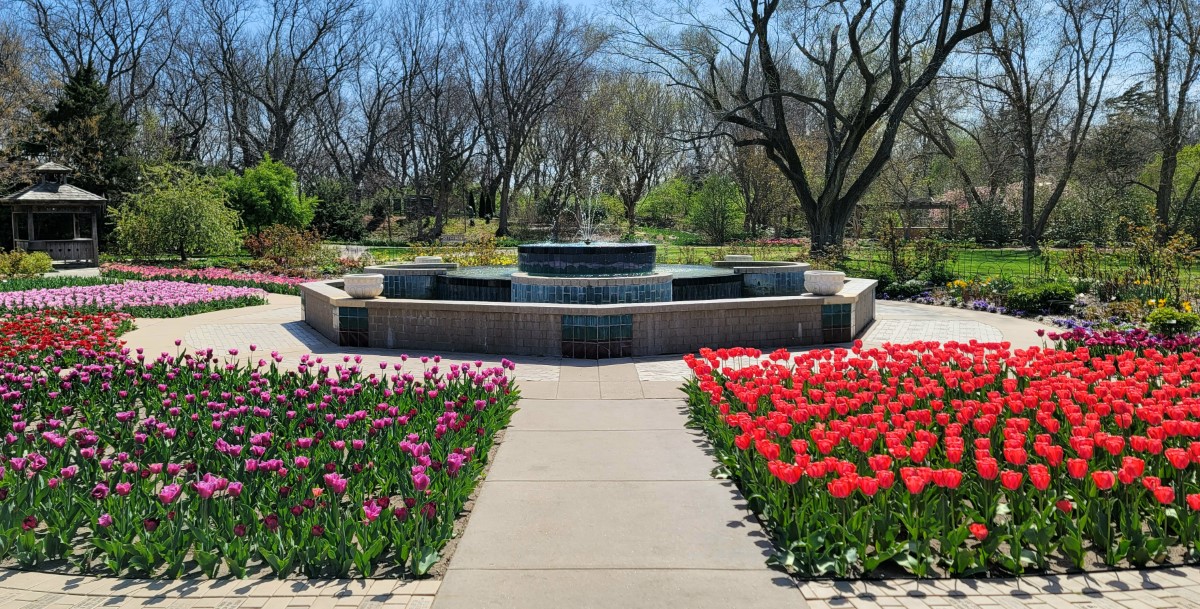 Two other highlights of the park are the Khicha Family Carousel, one of five Allan Herschell Carousels remaining in the world, and the Downing Children's Garden, an interactive nature-themed playground for children – and apparently adults too because we had a blast.
Not only are there photo opportunities around every corner with the colorful rainbow entrance and cheery monster trees, but we enjoyed toying around the salamander stream, granddaddy's musical maze, and Granny Jean's Treehouse too.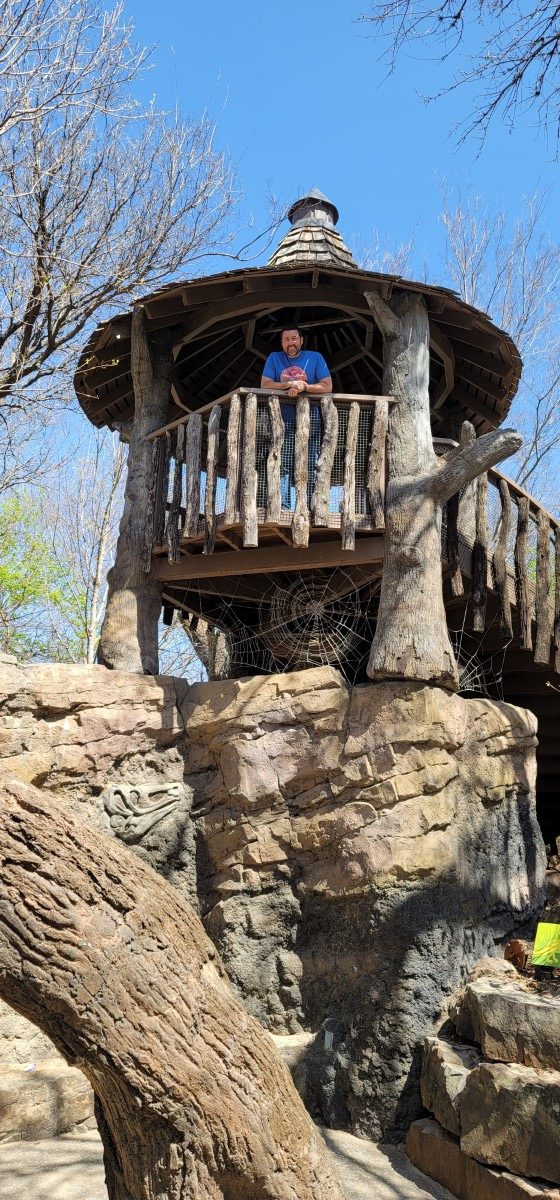 If you enjoy green spaces or simply want to take advantage of a nice day, the Botanica is a must-do!
Hot Tip: If you'd like to pick up a unique souvenir, before leaving stop in the gift shop to pick up raw honey made from the beehives at the Botanica.
Walk Down Gallery Alley
On your way to dinner, walk over to Gallery Alley, where the city transformed a vacant alley into a funky creative inviting space.
Located on Douglas Avenue between Francis and Meade Streets, the display focuses on intersensory art experiences with sculptures from local artists.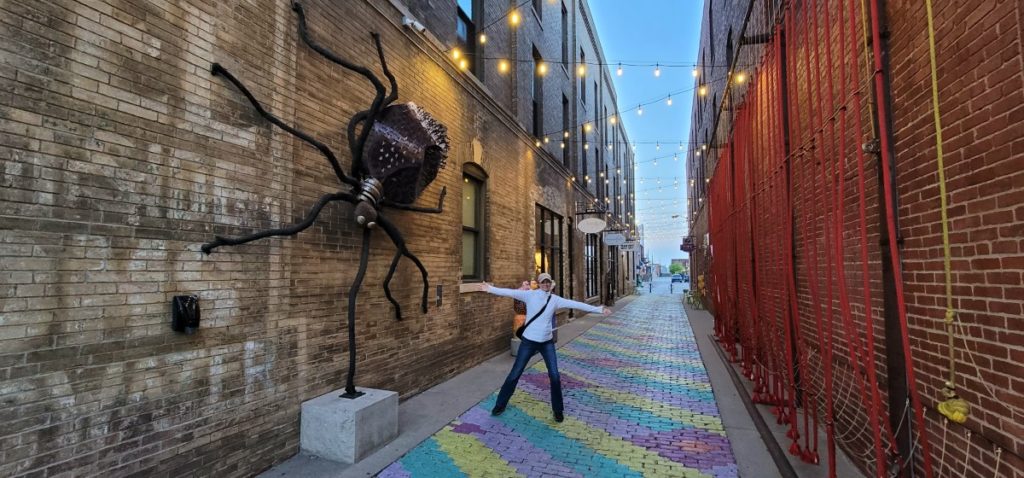 Dinner at The Kitchen
There are a few things to admire about The Kitchen.
It is housed in the historic brick building that used to be the baggage claim at Union Station.
It is locally owned and family-run with some of the nicest wait staff we've ever come across.
The prices are reasonable, plus they offer a happy hour from 4:30 to 6:30 pm on appetizers and drinks including local craft beer.
If you're looking for a down-to-earth casual place with fresh and delicious made-from-scratch food, The Kitchen is the place!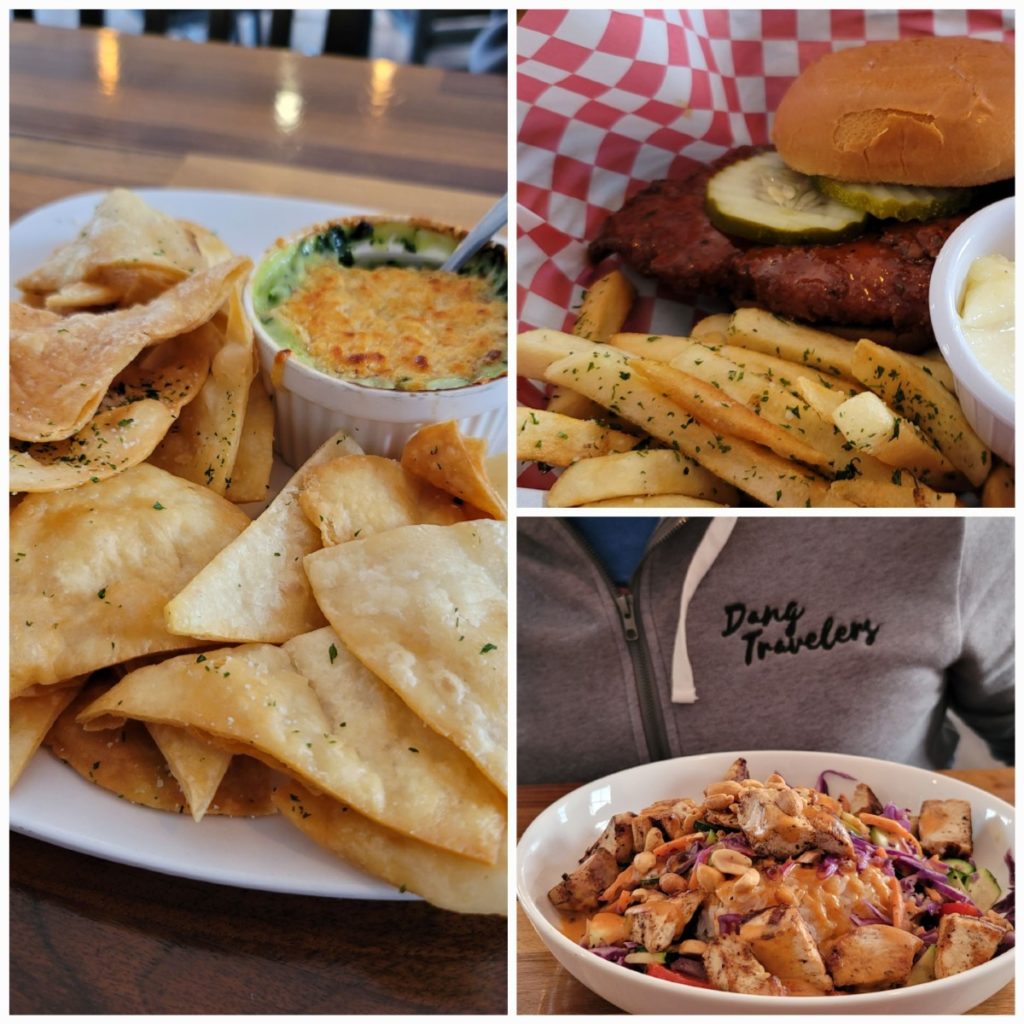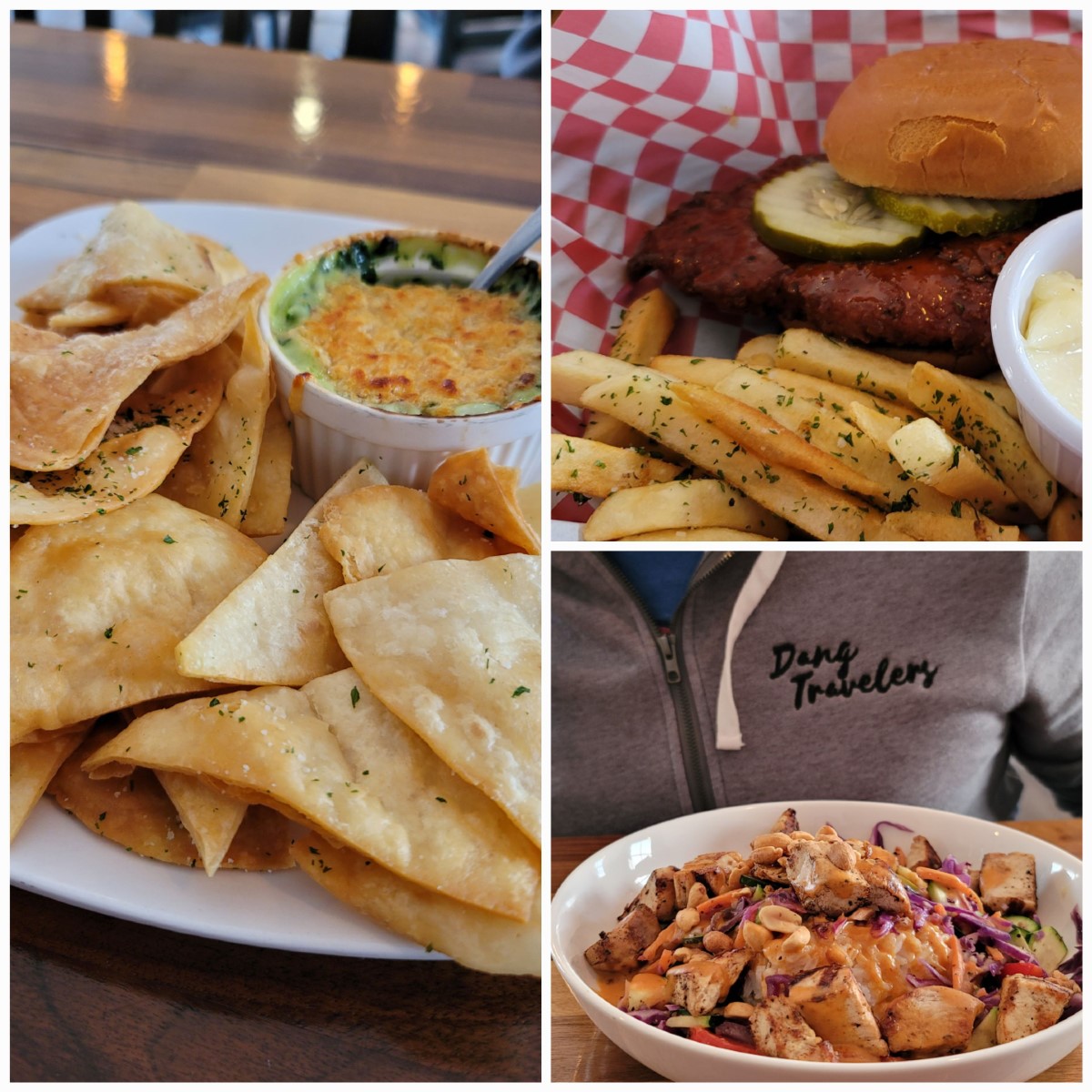 Check out our other related post, Wichita Restaurants You Must Try and What to Order!
Nightcap at The PourHouse
For a few after-dinner drinks, walk next door to The PourHouse, Walnut River Brewing's taphouse where you can order a cocktail, wine, or one of twelve craft beers brewed in neighboring El Dorado.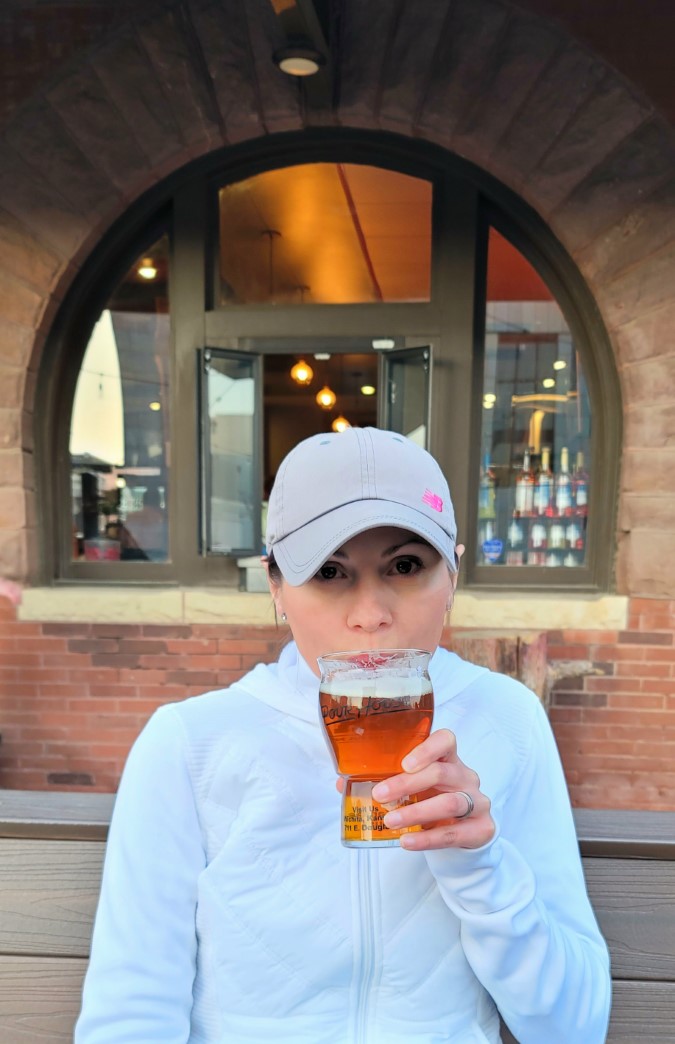 Ring of Fire at the Keeper of the Plains Plaza
To end the night with a memorable moment, drive to the most famous and beloved landmark in Wichita, The Keeper of the Plains.
The 44-foot steel sculpture stretches up to the heavens on sacred ground at the confluence of the Big and Little Arkansas Rivers.
A Ring of Fire is lit up around the Wichita icon for fifteen minutes at nightfall in a spiritual ceremony to honor the Native people of the area.
Watch from across the river, near the Exploration Place parking lot, then walk over the pedestrian suspension bridge to feel the heat from the flames while listening to the solemn melody drift overhead.
Spring and Summer Times 7:00 to 7:15 pm and Fall and Winter Times 9:00 to 9:15 pm.
Day 2. Breakfast at Homegrown
HomeGrown, across from Naftzger Park, first won us over with their homemade Nutella pop-tarts and coffee cake with warm buttermilk caramel sauce.
Then, we found out they locally source as much as possible including their bread, coffee, meat, and honey.
And THEN, we found out their motto is, "Cultivate Kindness" and that the owners feel a little bit of kindness – especially at the beginning of your day – goes a long way.
The omelets, served with rosemary potatoes, are as fluffy as the fresh English muffins from Wolferman's Bakery.
A good morning is guaranteed at HomeGrown!
Experience 1865 Wichita at Old Cowtown
The spirit of the Wild West is alive and well at the Old Cowtown Museum. The living history museum is a must-visit while in Wichita!
After the Civil War, there was a shortage of beef in the north which resulted in cows being bought from ranchers in Texas. Since the railroads didn't run that far, there was an issue getting the cows transported.
And so the era of long cattle drives and booming cattle towns began. From 1866 to 1885 hundreds of thousands of Texas longhorns were driven to rail stations in Kansas including Wichita.
These rough-and-tumble towns had quite the reputation as the cowboys were ready to blow off some steam after their long journey. Dance halls, prostitution, drinking, gunfights, and gambling were all commonplace in the frontier settlements.
At the Old Cowtown Museum, you can walk inside and around 39 buildings, 27 of which are actual, historic 19th-century buildings, watch a gunfight reenactment, drink sasparilla in the saloon, take covered wagon rides, and more!
We highly recommend a visit!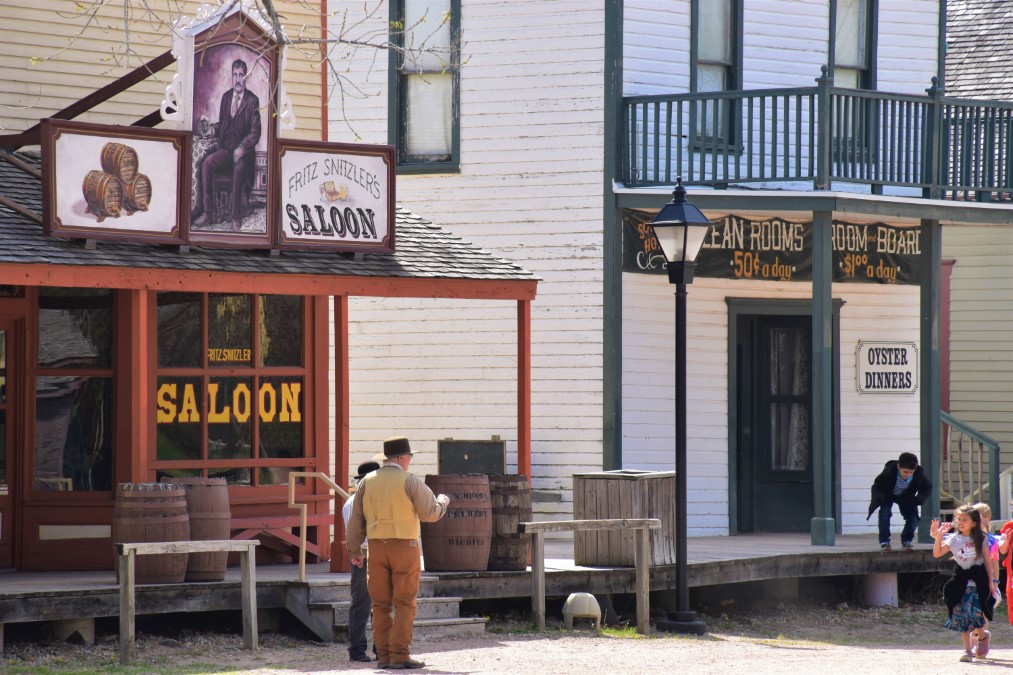 Lunch at District Taqueria
District Taqueria is a delightful find on the outskirts of Old Town. Housed in a modern brick building, the urban taco joint serves up authentic Mexican eats.
From the refreshing house margaritas to the wide range of traditional street tacos, District Taqueria is a crave-worthy lunch spot.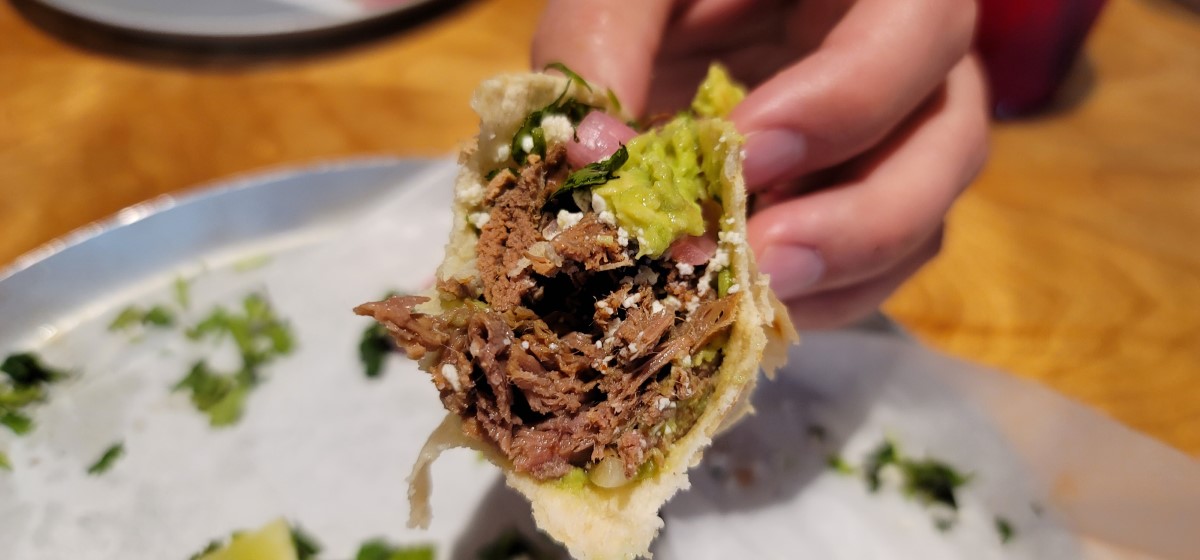 Find Murals in the Douglas Design District
Wichita is a city of murals, you'd be hard-pressed to walk down any one of the downtown streets and not find one. The Douglas Design District has some of our favorites including
Dear Wichita, Take Care and Dream Big
Welcome to Wichita
I Love Wichita
Make ICT Beautiful
Shop Local Downtown
Spend the afternoon browsing local shops to pick up special mementos from your trip. Whether you're looking for Wichita-themed souvenirs, specialty gifts, or boutique products, we've got you covered.
The Workroom and Lucinda's are both neighborhood shops featuring eclectic jewelry, clothes, home accessories, and keepsakes that are perfect for yourself or for that special someone.
If you're interested in a fashionable men's clothing store, head over to The Standard Issue Co. With a barbershop in the back offering free local beer to the rugged sophisticated clothes, it's a small stylish shop with a big welcoming vibe.
A staple in the city since the early eighties, The Spice Merchant is Wichita's original gourmet coffee roaster. Inside the 10,000 square foot building, you'll find all sorts of goodies including roughly 200 herbs and spices, an assortment of truffles, over 220 bulk teas, freshly roasted coffee, and more.
Dinner & Drinks at Nortons Brewery
Grab a comfy chair at the bar, a picnic table outside, or a seat in the dining area, either way, you'll be happy you stopped into Nortons Brewing Company.
Start with the hilariously named Bacon Crack – bacon cooked with maple syrup, honey, and brown sugar glaze, seasoned with cracked black pepper and cayenne, and served with brown sugar honey cream cheese.
You'll be on a food high and will be hooked for sure.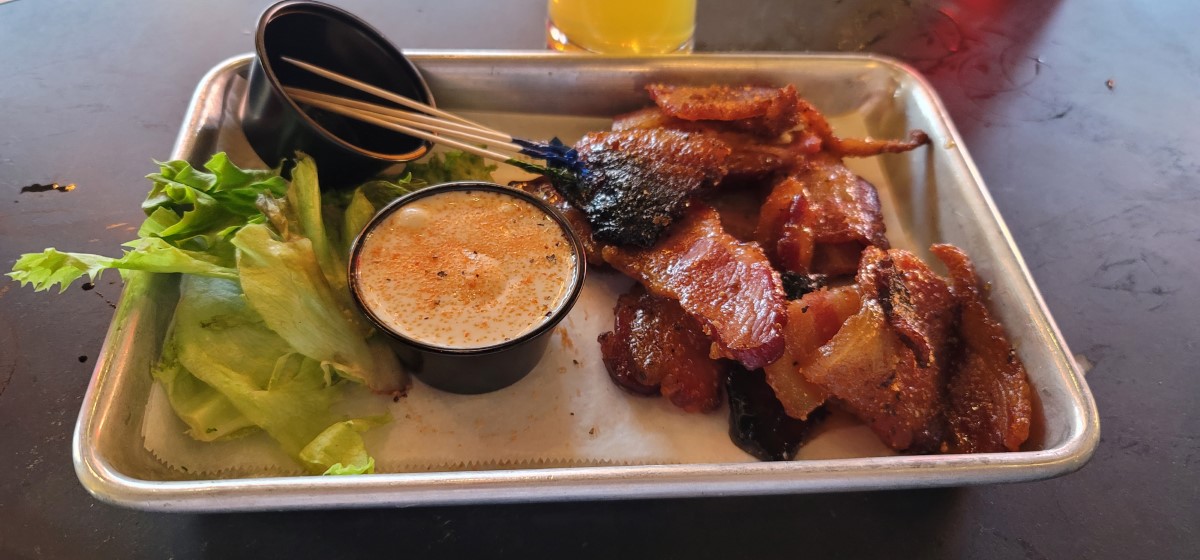 Sample a few top-notch beers like the Don't Poke the Bear Imperial Stout made with coffee from the Spice Merchant or the Deez Hops IPA brewed with local hops before ordering dinner.
You can't go wrong with the special of the day, a savory sandwich, or a big juicy burger.
Day 3. Breakfast at Il Primo Espresso Caffé
Wake up with a strong brew and hearty breakfast sandwich at Il Primo Espresso Cafe, Wichita's first coffee house.
Seasonal drinks, like the Easter Basket and Bees Knees Lattes, barista creations named Snow White, and Kick Start along with your basic drip coffee, round out the impressive beverage options.
Be Inspired at Wichita Art Museum
The Wichita Art Museum is a great place to stimulate your mind and learn more about the area as they promote local art and artists as well as other collections.
As you enter the Boeing Foyer atrium, catch a glimpse of the soon-to-be-installed hanging sculpture by Beth Lipman. The commissioned piece, made of glass, wood, ceramic, and metal, is perfect for the entryway.
It's a very exciting addition to the museum and will provide a spectacular first impression once complete.
Another eye-catching fixture is the massive 600-piece glass chandelier by internationally recognized, Dale Chihuly.
We've been fans of his for years and have seen his work in Las Vegas, Milwaukee, Oklahoma, and Seattle so it's a real treat to find another installation in the Midwest.
Read Next: If you like art, check out Kansas City's Thriving Art Scene
As you continue your tour, you'll encounter an unusual and beautiful painting by Georgia O'Keeffe. The monochrome New York skyline is quite the departure from her typical desert landscapes and flower depictions.
Next, get acquainted with one of the most notable artists of the American West landscape, Charles M. Russell. His firsthand experience as a ranchhand in the late 1800s made him an expert at capturing the captivating life in the Wild West.
A favorite for us, don't miss the Storytelling exhibit, which invites visitors to look beyond the artwork and draw a meaningful and personal connection with the artist and their story.
If you're traveling with children, make sure to visit The Living Room, a fun area for kids to play and create.
And last but not least, walk around the outdoor sculpture garden before moving on to lunch.
Hot Tip: The Wichita Art Museum is free on Saturdays.
Lunch at The Monarch
After working up an appetite walking around the Art Museum, settle in at The Monarch, an industrial space with modern decor and scrumptious sandwiches.
We enjoyed the Spicy Italian and Chicken Caprese sandwiches with generous amounts of meat and hunks of fresh cheese and the homemade barbecue chips and sweet potato fries are on point.
If you have a fondness for bourbon, pair your meal with one from the massive selection behind the bar. If whiskey isn't your thing, wash it down with a local beer or hand-crafted cocktail.
Wander Around the Historic Delano District
The historic Delano District that you're in is known for its rootin' tootin' colored past when cowboys and gunfights were commonplace in the streets.
Today, you'll still find a spirited neighborhood with a thriving shopping district.
Two shops you won't want to miss are Bungalow 26, a boutique establishment with a nice selection of jewelry, home decor, and bath and body products, and Hatman Jack's, the third-largest hat store in the nation founded in 1976.
Discover the Great Plains Nature Center
After shopping, drive over to the Great Plains Nature Center, it's a wonderful place to learn about the natural side of things in Kansas.
It's free and has indoor interactive exhibits including a 2,200-gallon aquarium with local fish, an observatory to see wildlife, Great Plains, and a Prairie, Wetlands, River, and Woodlands display.
Look out for the rotating live animal exhibits, on our visit we saw a cute screech owl that wouldn't take his eyes off us.
Once you're done inside, check out the two miles of lovely outdoor paved trails on boardwalks, along ponds, and through woods.
Dinner at River City Brewery
River City Brewery is no exception to the belief that when a craft brewery offers food, it's usually very good.
Located in Old Town, RCB is Wichita's oldest brewpub. They've not only perfected their beer selection but the menu as well.
The flagship Emerald City Stout with hints of dark chocolate and espresso is a favorite and so is the fried chicken mac n' cheese and the chicken caprese entree.
Day 4. Coffee and Breakfast Sandwiches at Fairmount Coffee Co.
On your last day in Wichita, fuel up at Fairmount Coffee Co. just across from Wichita State University.
This upbeat casual coffee shop is known for its rotating pastries and seasonal drink menu.
We split a huge slice of coffee cake and a sausage, egg, and cheddar ciabatta sandwich. With your tummy full and the coffee kicking in, it's museum time!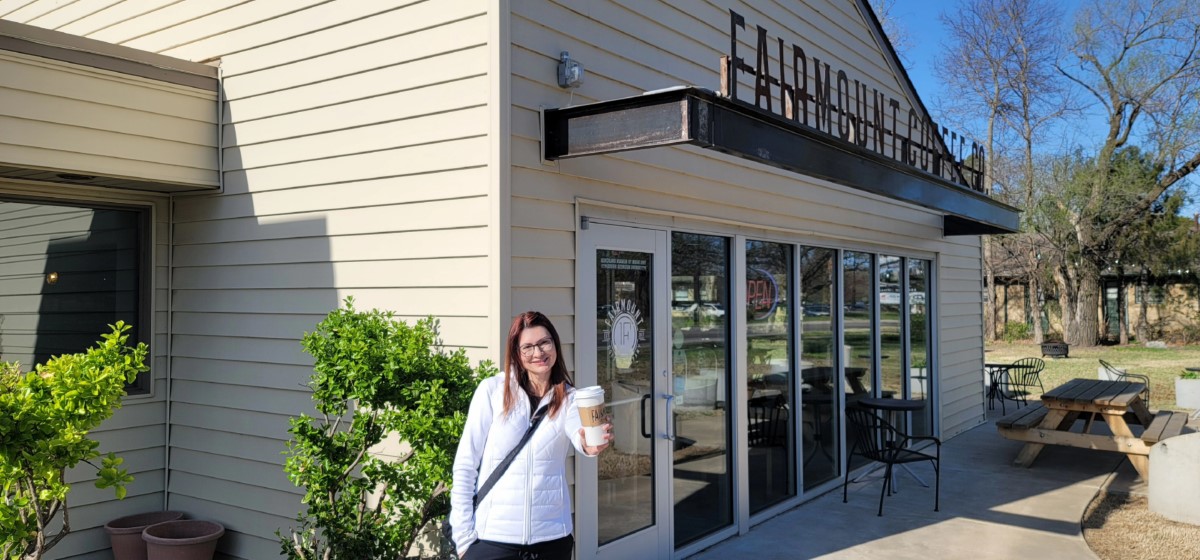 Learn a Thing or Two at Exploration Place
Think science museums are just for kids? Think again!
Exploration Place, on the banks of the Arkansas River, is a fun interactive museum for kids and adults alike.
The Design, Build, Fly is a super interesting exhibit on how planes are designed and built at Wichita's aircraft manufacturing plants.
Paint a plane, experience what it's like to fly in a flight simulator, and watch short videos about aviation research and production processes.
There's so much to see and do in the museum. Next, the Explore Kansas section gives an intimate look at the land, water, and weather of the sunflower state.
Continuing onto the rotating exhibit, Survival, explains the ins and outs of survival tactics including how to find shelter, avoid bears, build a fire, and treat a snake bite.
We will definitely be taking these life lessons on hikes with us in the future!
Survival is no longer at Exploration Place, but the museum brings in three new rotating exhibits per year. It's always exciting to see what's next.
Then you'll walk into Kansas in Miniature, one of the most detailed miniature displays we've ever seen including a 1950s Kansas town with moving trains, kids playing on swing sets, and operational carnival rides. In total, 51 animations, 125 buildings, 200-period vehicles, 1,000 people, and more than 3,000 trees and shrubs.
Another do-not-skip attraction is the Digital Dome Theatre, a 60-foot screen with a 360-degree view featuring Everest and National Park films.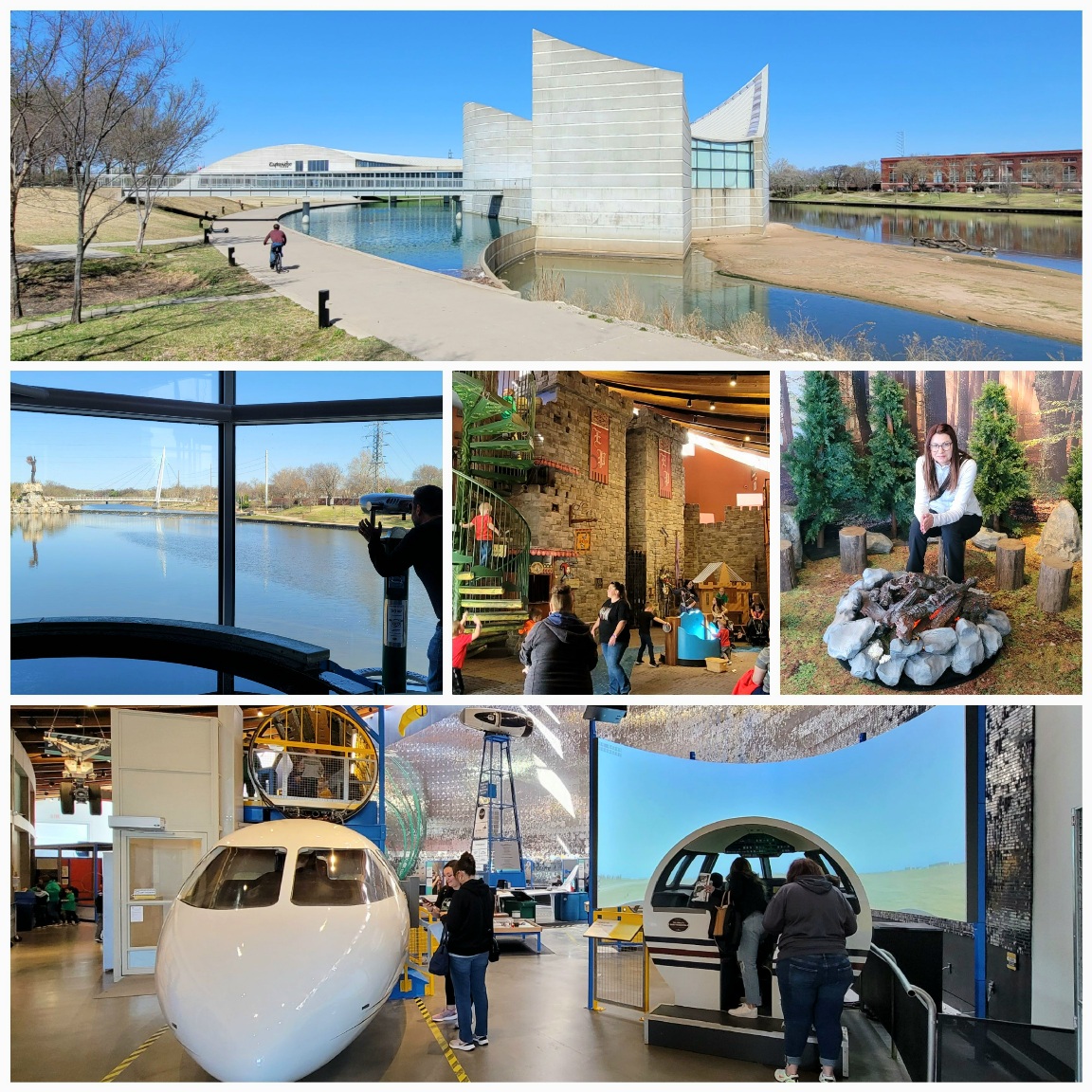 Enjoy the River
The Arkansas River Path is a gem of a place to walk or bike. The paved trail is roughly 10 miles long and is one of the most popular trails in Wichita.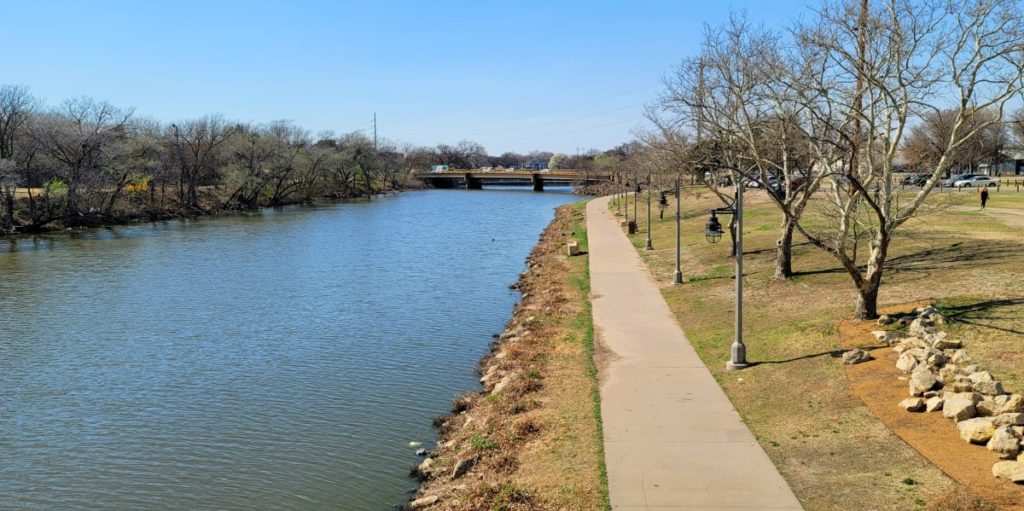 If you want to get up close and personal to The Keeper of the Plains, rent a kayak from Boats and Bikes at River Vista. It's a unique vantage point and an exciting adventure on the water.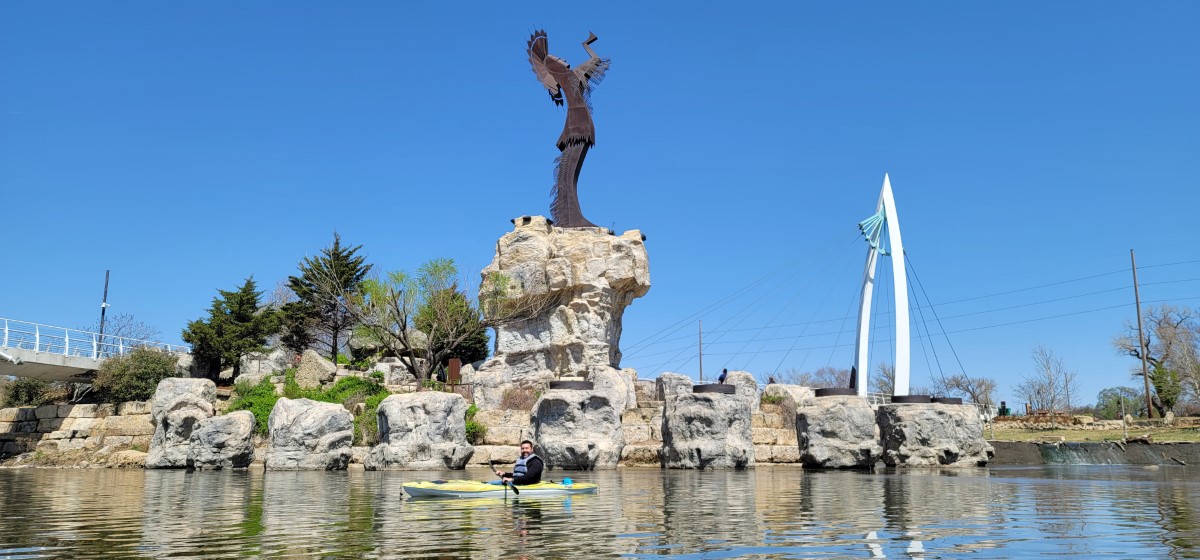 Lunch at Bella Luna Cafe and Shopping at Bradley Fair
Lunch at Bella Luna Cafe is an unforgettable affair. Begin with the creamy and perfectly blended hummus that comes with regular and fried seasoned pitas.
Then for lunch, we ordered a Greek salad with shrimp and chicken shish kabobs – I'd kill to find out whatever sauce they use for those kabobs!
If the packed dining room is an indication of anything, my guess is you can close your eyes and choose any item on the menu and you'd be happy with your choice.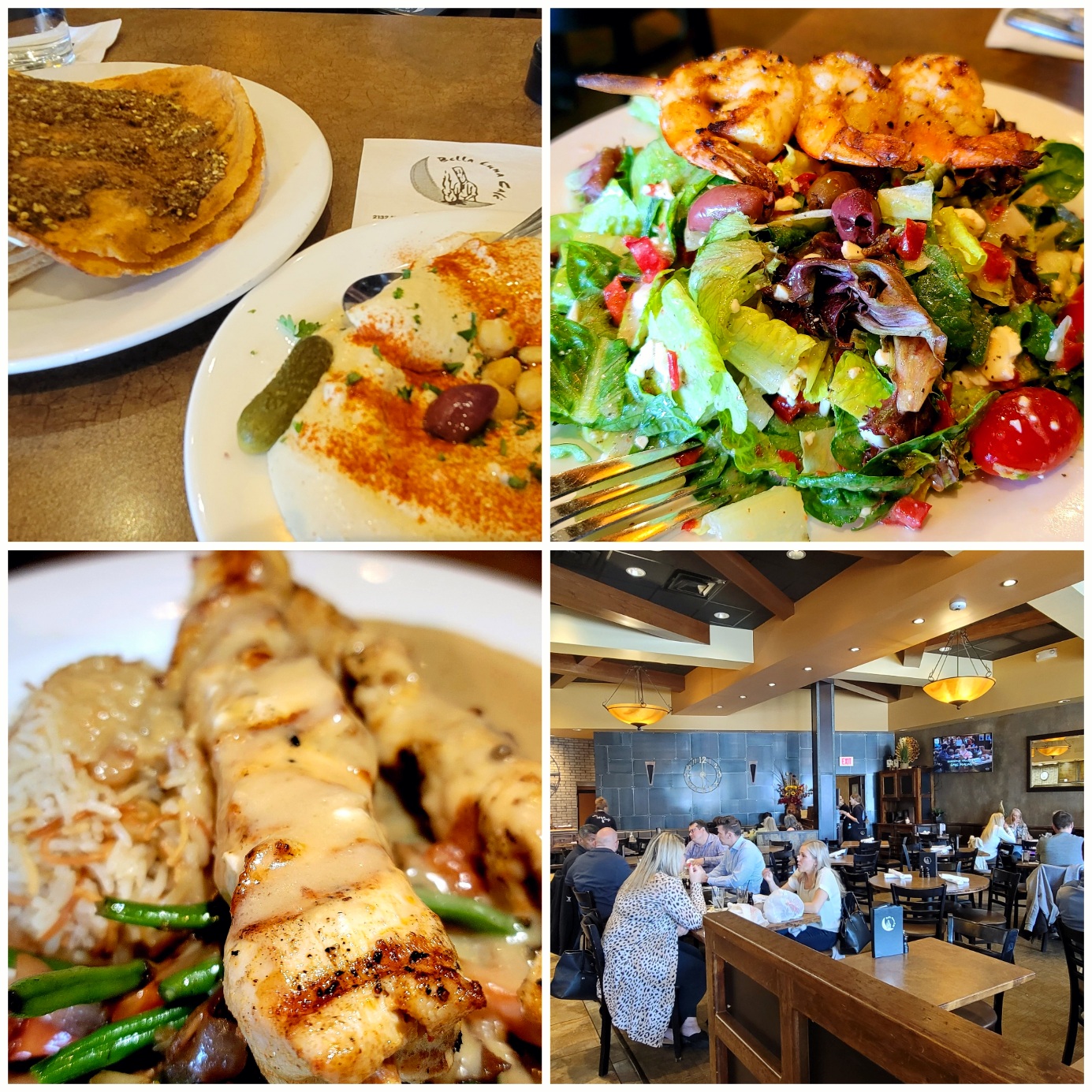 And for your last hurrah of the trip, shop around the plaza and duck into Cocoa Dolce Artisan Chocolates for dessert. These little nuggets of chocolate are heavenly!
And that's a wrap!
Wichita may not be the first city to come to mind when planning your next getaway, but I hope I convinced you to give this hidden gem a chance to show you all the wonderful things it has to offer.
You Might Also Like
Have you been before? What are your favorite things to do in Wichita Kansas? Tell us in the comments below!