Some of the best destinations in the Midwest are college campuses and the surrounding areas. And Indiana has a few trip-worthy ones including Lafayette and West Lafayette, home to Purdue University. When planning your trip, do not miss these fun things to do in Lafayette Indiana!
Snack on an Individual-sized Pie from Sweet Revolution Bake Shop
As we browse the selection through the display case, a conversation is taking place between an older gentleman and the young girl behind the counter.
"Do you want your usual?" she asks.
"Of course," he replies, not even glancing at the daily specials on the board behind her.
As he sits down in what I'm assuming is his usual seat, the exchange continues, "How did the visit with your son go?"
I take this as a clear-cut sign that we are in a quality establishment that is a favorite in the neighborhood.
The quaint Sweet Revolution Bake Shop is a dream come true for Sarah McGregor-Ray, a Culinary School graduate who worked as a pastry chef for over ten years before settling in Lafayette. With the help of her family, opening up her own bakery became a reality in 2017.
Serving up daily seasonal pastries, quiches, and pies along with coffee and tea, Revolution should be your first stop in downtown Lafayette, Indiana.
Where: 109 N. 5th Street, Lafayette, Indiana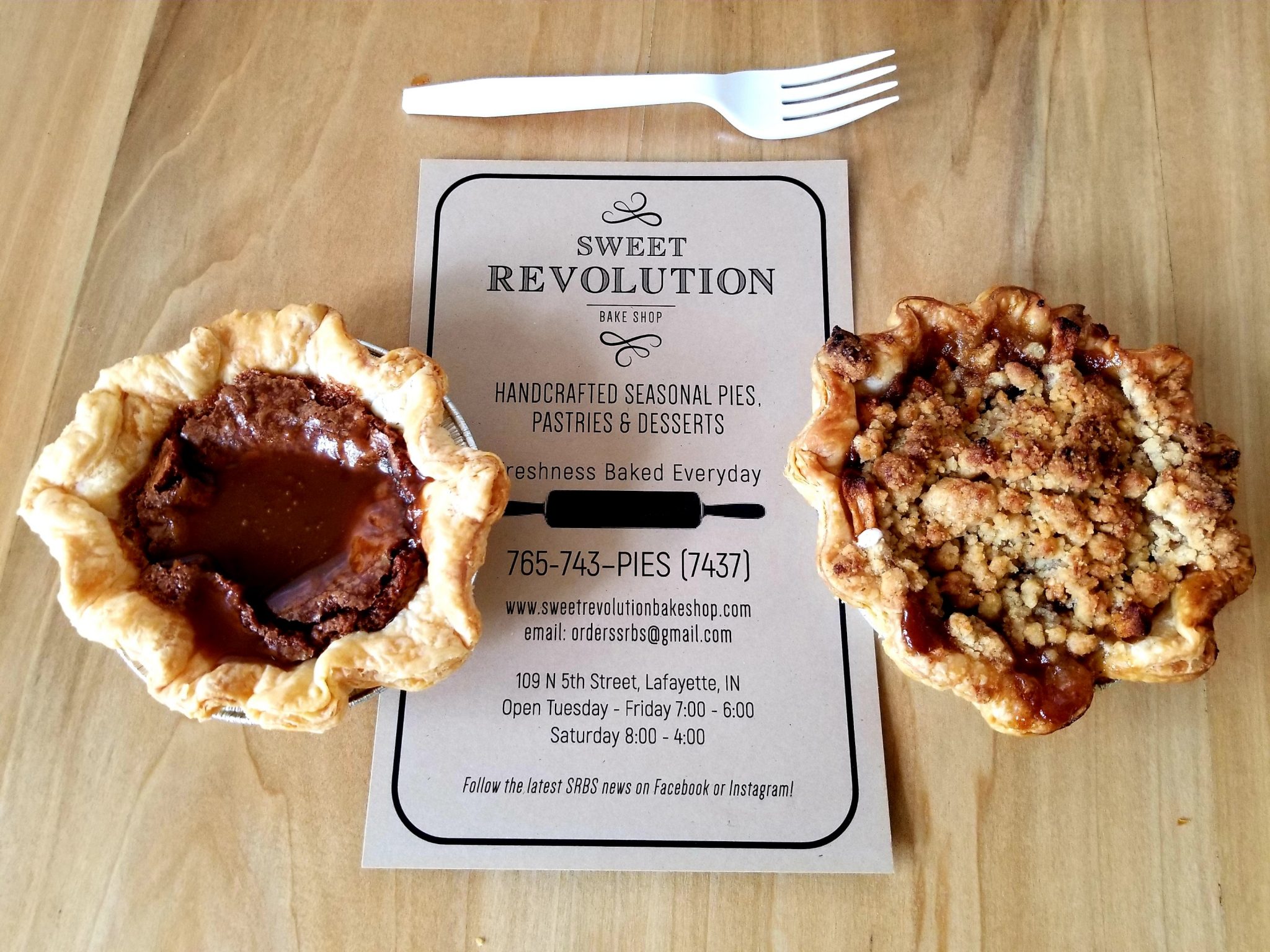 Check out the Tippecanoe County Courthouse
Listed on the National Register of Historic Places, the Tippecanoe County Courthouse stands tall at the epicenter of town.
The two-and-a-half story limestone building ornamented with one hundred columns, a 3,000-pound bell, nine statues, and a pointed dome topped with a liberty statue has been a fixture since 1884.
The Courthouse is definitely a must-see and one of the best places to take pictures in Lafayette Indiana!
Where: 301 Main Street, Lafayette, Indiana
READ NEXT: THE BEST INDIANA FALL DESTINATION
Grab a Burger & Root Beer from Triple XXX Family Restaurant
If you're looking for iconic places to eat in West Lafayette, look no further than Triple XXX, Indiana's first and oldest drive-in restaurant. The orange-and-black striped restaurant, named after the root beer it serves, is an old curbside diner.
You may not be able to pull your car underneath and get your food from roller-skating carhops, but you can sit at a picnic table and enjoy your meal outside.
Grab a signature "chop steak" burger and a cold mug of root beer for a must-do Purdue experience.
Where: 2 N Salisbury Street, West Lafayette
Snap a Selfie on the John T. Myers Pedestrian Bridge
Cross over the Wabash River by walking across the John T. Myers Pedestrian Bridge, connecting Lafayette to West Lafayette. A local hotspot for festivals and events throughout the year, the bridge is an iconic place to snap a selfie.
Where: 200 N. 2nd Street
Explore Prophetstown State Park
Just minutes from downtown Lafayette, Prophetstown State Park is open for visitors. The area is rich in cultural, natural, and geological history.
The glacial land is woven with river channels and streams and unique wetlands and prairies where you can hike, bike, and observe wildlife. Hiking trails include nine miles of dirt trails that range from easy to moderate and a five-mile paved walking/biking trail.
At the Native American Village, learn about the American Indians and the first European settlers in Indiana that used to call this tallgrass prairie home. You'll discover several teepees and shelters and various exhibits with rawhides and pottery.
The 1920s Farm is another highlight of the park with farm animals, an open-air museum, and living history exhibits.
A great way to cool off in the summer is to visit the Aquatic Center within the park. It offers a respite from the heat offering a 30-foot tube slide, lazy river float area, splash zones, and zero-entry wading area.
Have an Unforgettable Dinner at 8Eleven Modern Bistro
8Eleven is found inside the newly renovated Purdue Memorial Union Club Hotel and it should not be skipped just because it's out of the downtown area.
The contemporary restaurant pairs farm-fresh vegetables and local seasonal ingredients to create an exquisite twist on comfort dishes. My mouth is watering just thinking about the meal I had – braised beef with mushrooms, bacon, and carrots. Not to mention, the delicious croquettes and scallops.
Read more about our experience eating, drinking, and staying at Purdue Union Club Hotel here.
Where: 201 Grant Street Suite 100, West Lafayette
IN THE MIDWEST? CHECK OUT THESE FAMILY-FRIENDLY TRIPS
Take Self-Guided Tour of Purdue University
Established in 1869, Purdue University is one of the largest university systems in the United States with more than 68,000 scholars many of which are international students. A stroll through campus tops the charts on things to do in West Lafayette, Indiana.
Start at the Purdue Memorial Union to pick up a self-guided map from the Great Hall Welcome Center kiosk located inside the east door on the main floor. Another option is to download Purdue's free campus app, Purdue Campus Tour.
Walk through the Purdue Memorial Union building to see where all the action takes place. Inside you'll find the Union Club Hotel, dining options, banking services, and many gathering spots for students and visitors alike.
A few do-not-miss stops on the tour include the "Unfinished Block P" sculpture, the Gateway to the Future arch, the Stadium Mall, the Purdue Mall Fountain, and the John Purdue Statue.
Where: 101 Grant St, West Lafayette, Indiana
RELATED: ANOTHER COOL INDIANA COLLEGE TOWN YOU SHOULD VISIT
Fill up on Pizza and Pasta at Bruno's Pizza and Big O's Sports Room
UPDATE: As of 2020, Bruno's will not be open for indoor dining (the restaurant is currently only holding events and meetings inside the restaurant), but it is still open for carryout.
End your day of exploration with dinner at Bruno's Pizza, a local favorite since 1955.
Bruno immigrated from Switzerland to Indiana and eventually opened the only pizza joint in town back then. The restaurant is a classic West Lafayette experience. It is still family-owned and reflective of Bruno's Swiss heritage but also sprinkled with some Hoosier love.
The menu, similar to the décor, reflects a little bit of everything. Take your pick from pasta and pizza to Wienerschnitzel and bratwurst.
As for our meal, we chose to split a mushroom ravioli with spinach served in a garlic cream sauce that came with a bowl of homemade soup and a large margherita pizza topped with basil, tomatoes, oregano, and mozzarella. It's apparent all the dishes are made with fresh ingredients and prepared with a dash of expertise only an establishment with over sixty years of experience could add.
Where: 212 Brown Street, West Lafayette, Indiana
If you are looking for an indoor alternative, check out Arni's Restaurant, a family-owned pizza place that started back in 1965. It's another popular community restaurant located in Lafayette's Market Square. Offering soups, salads, pizza, pasta, and sandwiches, it's been a family favorite for decades.
Stay at the Purdue Union Club Hotel
If you are looking for a nice place to stay on your visit to Lafayette, check out the Purdue Memorial Union Club Hotel, situated in the heart of the campus.
They offer eleven types of rooms, but they are all delightfully decorated with Purdue paraphernalia and have a few great restaurants and bars.
Where: 201 Grant Street, West Lafayette
Try a Local Craft Brewery… or Five
We counted five local craft breweries in and around town. So why not add a brewery tour to your list of things to do in Lafayette Indiana.
Lafayette Brewing Company, the oldest, has been around since 1993 and is a staple downtown. Brokerage Brewing Company is known for its food trucks and gold medal-winning Imperial Stout, Charlie. Teays River Brewing and Public House offer a wide range of quality brews from seasonal yam beer to American stouts to blueberry sours.
Escape Velocity Brewing ranks really high on the ratings and people love the vegan food options. And the Thieme and Wagner Brewery is a small but friendly German-influenced brewery that has a loyal following.
Follow the Public Art Trail
With over 115 murals, fountains, and sculptures the Art Trail provides many "Instagram-worthy" backdrops. A few favorites were the Art Gallery Alley (off of 500 Main Street), the Farmers Market (500 Columbia Street), George the bison statue (on the side of the courthouse), the Elephant in the Room below (316 Ferry Street), the Boilermaker statue (across from Ross-Ade Stadium), and the Bell Tower on campus.
Wolf Park
Take a twenty minute drive north of Lafayette to Wolf Park in Battle Ground. It is a research, education, and conservation facility that is dedicated to the protection and conservation of gray wolves. Visitors can also see coyotes, foxes, and bison.
Wolf Park offers many events and public programs, the most popular tour, Follow the Pack Tour, is a guided 45-minute golf cart tour for all ages. Throughout the tour, you'll learn all the important facts about the wolf population and why it's important to protect them.
If you are looking for a unique experience, join a Howl Night where you'll visit the park in the evening and discover how wolves communicate firsthand.
The park is open from May through November (Tuesday-Sunday 1-5 pm) for guided tours and Howl Nights are offered on Saturdays at 7:30 p.m. year-round and also on Friday evenings from May through November.
*DISCLAIMER: We were hosted by two restaurants on our visit but it in no way influenced my opinion. Like always, all my experiences and thoughts are my own.*
Other Fun Things to Do in Indiana Nearby
What are your favorite things to do in Lafayette Indiana? Share with us in the comments below for our next visit!
Save a Pin for Later!