Indiana is fast becoming one of our favorite Midwest states. Whether you are looking for lively college towns, fun lake trips, wonderful hiking adventures, or noteworthy museums, the state is bursting with things to do. Our latest Turkey Run camping trip had us exploring deep gorges, walking across suspension and covered bridges, climbing wooden ladders, and discovering natural arches and rocky hollows.
As one of Indiana's oldest state parks, Turkey Run, offers a memorable and one-of-a-kind outdoor experience. We highly recommend you check this diverse park out yourself!
Below you'll find a beginner's guide to help you plan your vacation.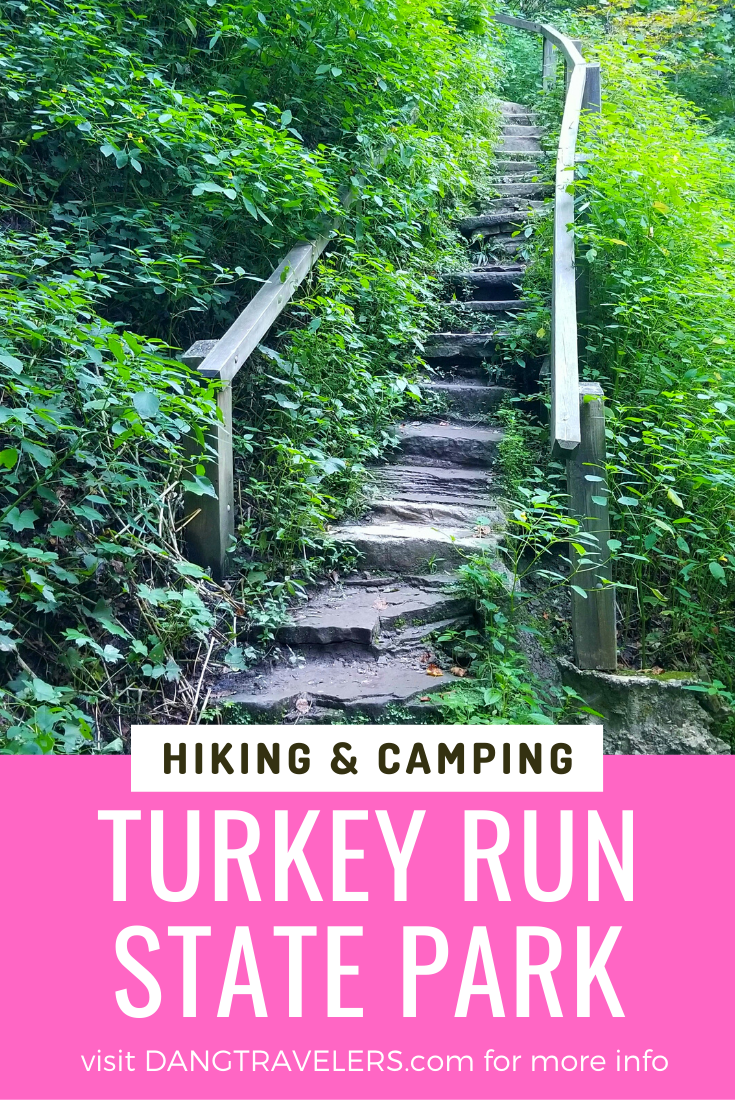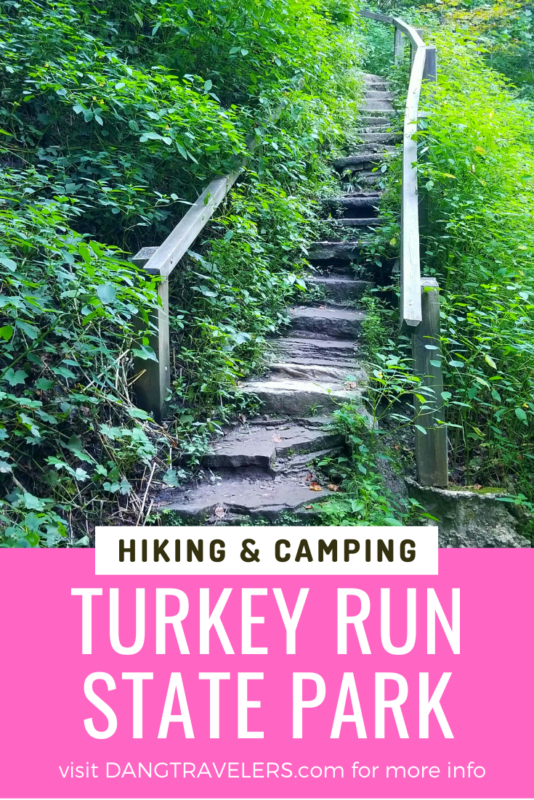 The Best Hiking Trails at Turkey Run State Park
Let's start with the hiking trails because my guess is that's what led you here in the first place.
Don't let the state park designation fool you, there are some tough hikes within the nature preserve. Since the majority include walking through deep ravines, climbing over rocks, and up and down ladders and stairs, every hike is considered moderate to strenuous.
So don't plan for days filled with relaxing strolls in the park, you'll be working out those leg muscles!
HOT TIP: Bring a good day pack that can hold lunch, water, and snacks. Most of the trails start at one point near the suspension bridge and it is sort of far to come back and forth to the parking lot. If you are short on time, I'd recommend planning to spend the whole day across the bridge versus walking back and forth.
Turkey Run Trail 3 to 5 to 9 Loop
Distance: 4.7 miles
Difficulty: Strenuous
Time: 2 – 3 hours
What is the best trail in Turkey Run State Park? I googled that a few times before our visit and didn't find much information so I was in search of that answer myself. To be honest, you can't go wrong with any trail because they each offer something special.
But if you only have time for one hike, I'd recommend making a 4.7-mile loop out of Trails 3, 5, and 9.
Combined, you'll experience the most scenic and unique highlights of the park.
HOT TIP: Use the restroom by the Nature Center because once you cross over the suspension bridge there are no toilets except on Trail 4 near the Salmon Lusk home.
Cross over Sugar Creek via the Suspension Bridge and turn left where you'll find Trail 3. It will lead you along the water before reaching the rugged Bear Hollow gorge dotted with big slick rocks.
NOTE: Almost every trail is impassible during high water so make sure to check the park conditions before hiking. Also, when wet the ladders, stairs, and rocks in the ravines can be very slippery. Be extra cautious during this time.
LIKE CAMPING? CHECK OUT OUR LIST OF FUN CAMPING ESSENTIALS
If you weren't having fun yet wait until you reach the next area where the climbing begins.
After making your way up the wooden ladders to a short section of Trail 5, you'll discover leaf-padded walls along with a series of stairs, the 140-step section.
The enchanting scene is what fairy tales are made of!
Continue to Trail 9 and scramble up a rocky grotto called Boulder Canyon.
Stay on the trail until it meets back up with Trail 5 in Falls Canyon. As you get back to the water the trail is lush with greenery from the ground up.
Lastly, you'll arrive at a craggy sandstone overhang known as the Ice Box before reaching your starting point at the bridge.
TIP: With so many stairs and ladders without rails, I do not recommend the hike for small children or dogs.
Turkey Run Trail 11 to 6 to 7 Loop
Distance: 1.7 miles
Difficulty: Easy
Time: 45 minutes – 1 hour
This easy hike was our second favorite hike in the park and we almost missed out since it starts near Turkey Run Inn. We figured it was just a nothing trail to lead to the good trails. We couldn't have been more wrong!
Begin on Trail 11, looking below at Turkey Run Hollow and pass the old Log Church and Colonel Lieber Memorial.
It will connect to the short .5 mile Trail 6, where you'll pass the Lieber Log Cabin. That name is familiar because of the memorial you saw earlier.
Richard Lieber was the founder of the Indiana Park System and spent his life dedicated to the conservation of natural resources.
Added to the National Register of Historic Places in 2001, the log cabin that served as the administration building was originally built in 1848 and rebuilt in 1918.
Lieber died in 1944, and his ashes along with those of his wife, are buried near the memorial at their beloved Turkey Run State Park.
After the log cabin, you'll climb a few stairs and cross a boardwalk over a creek to a picturesque canyon.
Trail 7 is the longest section of this particular hike at .7 miles forming a loop.
Traipse counterclockwise through a wide rock layered chasm. Eventually, the trail loops back around through a Virgin wood and hemlock tree forest. It's another magical trek that should not be missed.
Turkey Run Trail 4 Loop
Distance: 2 miles
Difficulty: Moderate
Time: 1 1/2 – 2 1/2 hours
Trail 4 follows the river with some nice water views past the old quarry and coal mine to the Salmon Lusk Home and Mill, another site on the National Register of Historic Places.
Right before reaching the Lusk home, take the short detour to climb up to the Narrows Covered Bridge, a Burr Arch structure looming over the creek since 1882.
When the trail turns into the forest from the water, you'll see a path down to the creek. Take it so you can see the bright red covered bridge from below before climbing to the entrance.
Skirt along the northeast part of the park before heading down toward the Punch Bowl, a glacial carved pothole. If you're lucky, water will be flowing from the bedrock above.
Then you'll climb through the tight crevice of Rocky Hollow Canyon. This portion is particularly pretty with a green sheet of moss on the surrounding rock walls. Finally, the trail loops you back to the bridge.
Trails 10 to 3 to 10
Distance: 1.8 miles
Difficulty: Moderate
Time: 1 – 2 hours
Trail 10 is our least favorite trail in the park. It's not that I wouldn't recommend it because it is fairly easy, not many obstacles, and in a nice wooded area. But if you have limited time, I would skip this one or do it last.
Follow signs for Trail 10 after crossing the Suspension Bridge and head up through Crevice Rock. On the map, the highlight of the hike looks like it is the Camel's Back overlook, but there's not much of a view anymore due to overgrowth.
There is, however, a nice bench available so it is the perfect lunch spot to take a break.
Once you head back down the other side of Trail 10, it connects back up with Trail 3 for a short jink then back to 10.
It sounds confusing, but I promise the trails are well-marked and easy to follow just bring your map with and have a plan before heading out.
TIP: If you are not adding the above Trail 4 hike to your itinerary you could take Trail 3 to Trail 4 after reaching the Camel's Back to go through the Rocky Hollow canyon instead.
Other Things to Do at Turkey Run State Park
Nature Center
The Nature Center is open all year round and has educational displays, interactive exhibits, a small theater, and a few live animals. Wildlife feeders are set up outside with a viewing area in the center. There are many scheduled programs throughout the year that include hikes, historical chats, junior naturalist programs, and planetarium events.
River Rafting & Fishing
Sugar Creek runs right through the heart of the park, making it a great location for water activities. Swimming is not allowed, but you can kayak, canoe, or tube the waterway. Contact Turkey Run Canoe and Camping for more information.
Fishing is allowed January through March and June through October. Bass, bluegill, catfish, carp, and panfish are found in the creek.
NEARBY: VISIT SHADES STATE PARK
Swimming
For a small fee, you can access a public Olympic-sized pool located near the Nature Center. It has a bathhouse and a wading pool for small children.
Swimming is otherwise prohibited within the state park.
The pool is typically open from Memorial Day to mid-August.
Horseback Riding
The Saddle Barn is open from April to October and offers guided horseback rides within the park.
Turkey Run State Park Lodging
There are a few on-property lodging options for your visit to Turkey Run including a campground, cabins, and an inn.
Turkey Run State Park Campground
Since the weather cooled down a bit, it was time for us to take out our minivan-turned-campervan for a spin. We enjoyed our stay at Turkey Run State Park Campground; it is close to the trails and offers hot showers and flush toilets.
In total, it has 213 Class A modern campsites with electrical hookups and modern facilities. Most of the sites are paved and the DNR site provides good descriptions as to whether or not they are shaded.
They also offer 8 handicap accessible sites.
The campground is sectioned off into three areas: Twin Oaks, Shady Lane, and Sugar Ridge.
Shady Lane is good if you don't mind walking or have an RV or trailer with your own bathroom since it does not have one in the loop.
Twin Oaks has the most sites but is a little condensed so if you are looking for a little more privacy, book in the Sugar Ridge section.
HOT TIP: Don't forget to pack a hanging toiletry kit with a handle because it's hard to find hooks at most campsites.
Also, Turkey Run has two primitive group camps with pit toilets (no showers or restrooms).
If you're looking for the best campsites at Turkey Run State Park, you can find the Turkey Run Campground Map here.
Turkey Run Camping Info:
State Park Entrance Fee is Also Required.
Pets are allowed.
Flush Toilets and Hot Showers Available.
Campfires Allowed.
Picnic Tables at each site.
Quiet Hours: 11 PM – 7 AM
Turkey Run Camping Cabins
Does Turkey Run have cabins? Yes, but they book up fast so make sure to reserve early.
Right next door to the main inn are a few cabin options. They share the amenities with the inn as well.
The park operates five buildings with four cabin rooms in each building. The rooms have two full beds, a full bathroom, coffee maker, and TV.
In addition, the park has family cabins that have two bedrooms, each with a full bed, full bathroom, coffee maker, and a living room with TV and sofa sleeper.
The Overlook is a separate cabin with one bedroom with a queen bed, a living room with a queen and single sofa sleepers, a kitchenette (with two-burner stove, microwave, and small refrigerator), a bathroom, and a large back deck.
The Roost is a fully equipped two-bedroom cabin with a full bed in one bedroom and two full beds in the other, a queen size sofa sleeper in the living room, dining room, full kitchen, bathroom, gas fireplace, outdoor porch, and picnic table.
Linens and towels are included in all cabins.
Turkey Run Inn
The two-story Turkey Run Inn was built in 1919 and has many renovations, changes, and additions over the years. There are not a lot of hotel options near the park so if that's what you're looking for the inn is perfect.
It has 61 rustic-designed modern rooms, a restaurant, an indoor and outdoor pool, game room, playgrounds, and an outdoor firepit and patio.
Turkey Run is one of the best state parks in the Midwest! The challenging and interesting hiking trails make for an unforgettable getaway and we hope you find your way there at some point.
FULL DISCLOSURE: Some of the links in this post are affiliate links. We will receive a commission at no additional charge to you if you book through our link.
Please Save it for Later!