Being a Midwesterner all our lives, it was shocking that we never heard about the Children's Museum of Indianapolis until this year. Only a three-hour drive from Chicago, we added it to our list of fun things to do this summer.
Typically, we plan a few adventures a year with our nephews to places like Branson and Springfield so this sounded like the perfect excuse to take a road trip to Indiana! Not only did we spend an entire day at the museum, but the kids were also asking to go back the next day.
Here are 6 reasons you need to add the Children's Museum of Indianapolis to your bucket list.
1. It is the Biggest Children's Museum in the WORLD.
I was under the impression that the Children's Museum of Indianapolis was the largest children's museum in North America, but after doing more research I quickly realized it has the designation of the largest in the world. As we were driving in and spotted the most over-the-top entrances we've ever seen, I said to my husband, "I still can't believe we never heard of this place until this year!"
The massive building is 472,900 square feet and sits on 29 acres with five floors of entertainment. It is not only the biggest but in my opinion, one of the top children's museums to visit.
And we aren't alone in that thought: 15 Best Children's Museums in America.
With over 120,000 artifacts and tons of interactive exhibits throughout, the museum does a fantastic job entertaining all day long. When is the last time you can say you took the family to a museum for almost eight hours and everyone was begging to stay longer?
Make sure to plan beforehand to get the most out of your experience, read our 18 Tips for Visiting the Children's Museum of Indianapolis next!
2. It has Something for Everyone.
Typically when you see "childrens" museum, it is for a younger audience, but not the one in Indianapolis! This museum has something for everyone.
We visited with two boys, ages nine and eleven, and they enjoyed every single exhibit. To be honest so did we as adults.
Whether it's touching a real Tyrannosaurus rex femur, learning about what it is like to be an astronaut, or uncovering some of the biggest mysteries on earth, the museum has a knack for keeping everyone's attention.
Looking for other things to do in the city?
Read about our favorite Things to Do in Indy with Kids here!
3. To be Inspired.
At the working lab, we talk to an actual paleontologist who had quite the discussion with the kids. He has their undivided attention about the new Jurassic Park movie and what he would consider realistic and what was completely exaggerated.
As we walk away, my oldest nephew asks if digging for fossils is a job he could do.
Then we head over to The Take Me There: China exhibit. After we learn how to say "hello" in Chinese – it is "Ni hao, pronounced "nee haow" in case you were wondering – both nephews announce they want to fly to China and see what it is like.
Museums are a fantastic way to learn and find inspiration without even realizing it is happening.
4. To get Active at the Sports Legend Experience.
The $38.5 million dollar permanent addition is jam-packed with things to do! We spent hours running, jumping, putting, pedaling, and shooting while outside exploring the twelve areas.
There is a miniature size baseball field, a street hockey rink, a football field, basketball courts, a soccer field, and pedal car race tracks; a basketball museum with an interactive hoops experience; a huge treehouse; miniature golf courses played with tennis balls and concession stands.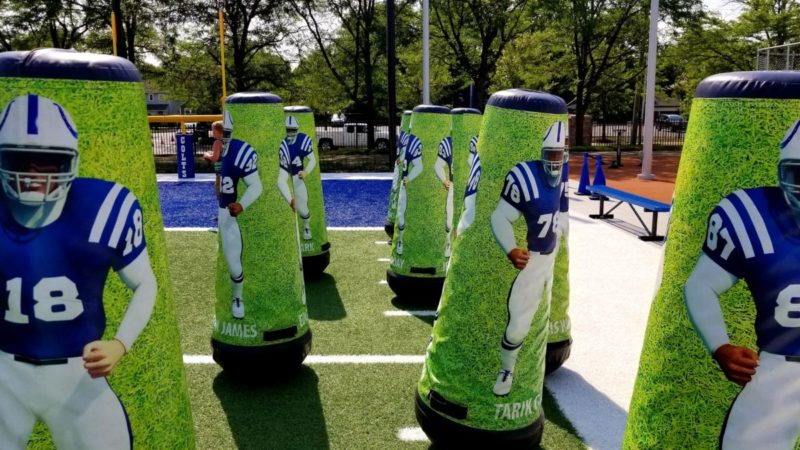 5. They not only have Interesting Permanent Exhibits but Rotating Ones too.
When I saw that two of the temporary exhibits this summer are Hot Wheels and DC Super Heroes, I knew these would be favorites with the boys. To celebrate its 50th anniversary, Hot Wheels set up racing zones with speed challenges and race tracks. The kids would have spent half the day in there if we weren't pushing them to move on.
One of their top experiences was the Build-A-Car Challenge in the Racing Test Center.
We spent roughly 30 minutes, building then racing then rebuilding to get our top speeds documented. Our oldest nephew looked over at me with a taller stance and a huge smirk on his face when it was announced he almost beat the all-time high speed documented so far at the exhibit.
6. There are Cool Historical Artifacts
and

Instagram-worthy Photo Ops.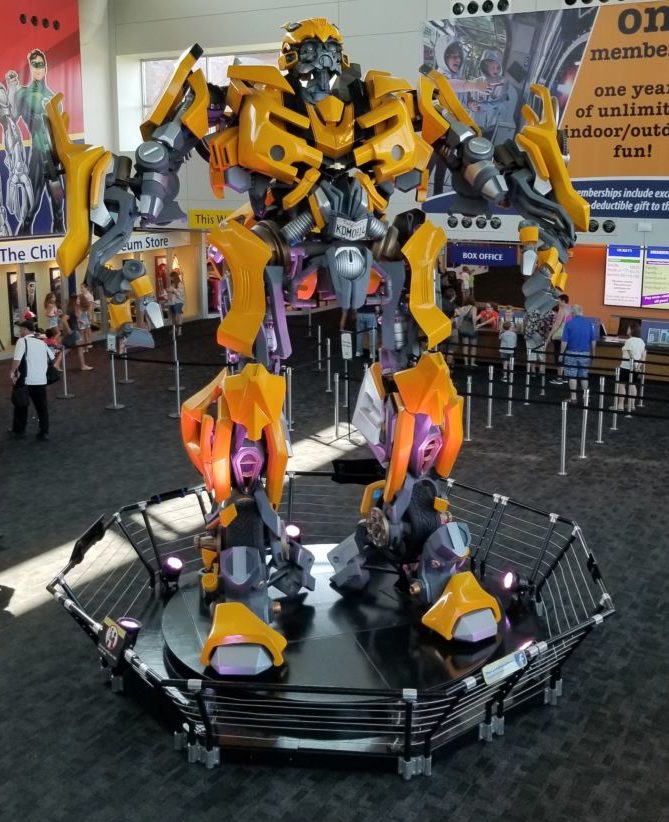 The first thing we see after crossing the skywalk is the 16-foot Transformer, Bumblebee, from the first movie. Then, we turn around and spot a Batmobile in the corner.
"I hope I brought an extra battery for the camera." I think to myself. I have a funny feeling we are going to take a bunch of pictures today. Throughout our visit, we discover a 55-ton steam engine, a working 1927 historical carousel, Terra Cotta soldiers from Shaanxi province, the largest water clock in North America, and Dale Chihuly's largest permanently installed glass sculpture, to name a few.
Continue below to find out about discounts and free days!
The Children's Museum of Indianapolis Discounts
The Childrens Museum of Indianapolis, 3000 North Meridian Street, (317) 334-4000
FREE ADMISSION: MLK Day (January), President's Day (February), El Dia de los Ninos (April), Christmas Eve and Day (December).
MILITARY DISCOUNT: 10% off the Plan Ahead Pricing. Must purchase at the museum.
$5 FIRST THURSDAY NIGHTS: First Thursday every month from 4PM-8PM.
Looking for other fun things to do in the Midwest?
Have you ever been to the Childrens Museum in Indianapolis? What did you think about your visit?
*Full Disclosure: We received complimentary tickets to the Children's Museum of Indianapolis but this in no way shaped my opinion. All thoughts expressed are my own based on our experience.*
Like it? Please share it!