Akron, Ohio wasn't our main travel destination for our latest road trip. It wasn't even our second choice; Cleveland took that spot. We sort of stumbled on it, only because we planned to visit a friend that lived nearby during our trip.
To our surprise, we discovered that Akron has it going on! You name it, they've got something for everyone: families, couples, history buffs, art enthusiasts, foodies, or nature lovers.
We booked a timeshare for two weeks in the beginning of October in the eastern part of Pennsylvania with the hope of catching fall color. We then worked backwards to plan our route out there.
From Chicago, the Poconos is about 12 hours, 760 miles away and smack in the middle of that route is northeastern Ohio.
We were indifferent about our plans to visit Akron, but now we are hoping to get back sometime soon!
Here are a few places we explored that convinced us that Akron is a fun and exciting city to visit.
Downtown Akron
Downtown Akron is a walkable area. It's quite hilly but walkable. Even though it was a rainy day, the baskets of flowers, bright murals and colorful sculptures brightened up the street.
It's home to a plethora of fantastic bars and restaurants, one-of-a-kind stores, Cuyahoga Valley Scenic Railroad station, the Art Museum, and the Civic Theater. Not to mention so many other things we didn't get a chance to experience like the symphony, zoo, minor league baseball, children's museum and roller derby.
Akron Art Museum
The Akron Art Museum (70 East Market Street) showcases a variety of art dating back to 1850 through present day.
The Northeast Ohio's Artists and Collectors Exhibit was one of our favorites. We happen to be earshot of a group of young boy scouts visiting the museum. It was amusing to hear the excitement in their voices when identifying with some of the artwork.
It's a nice reminder that we don't necessarily have to go far to stimulate creativity and inspiration. Sometimes it can be found right in our own backyard.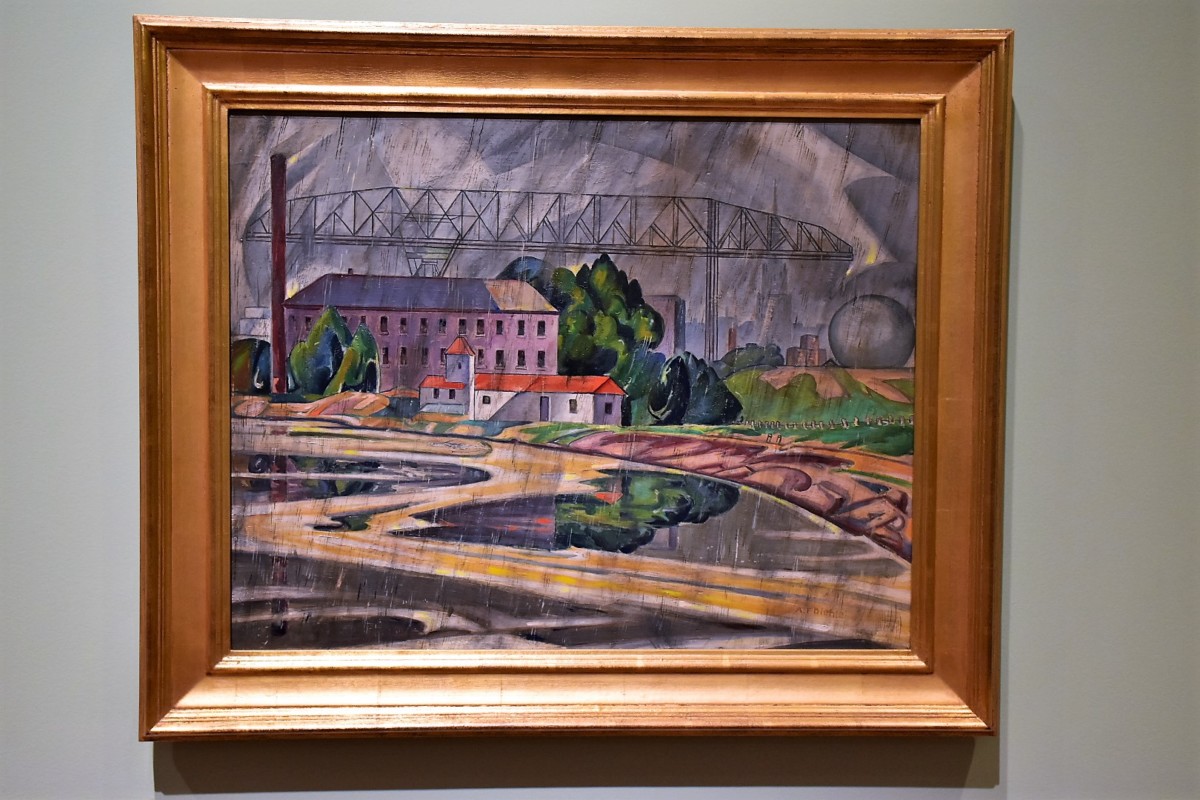 Recently coming home from an epic road trip to 13 national parks, Our Land Special Exhibit (through February 12, 2017) also caught our attention. It celebrates the 100th anniversary of the National Park Service by promoting the conservation of our land through sharing its beauty and development over time.
The photographs pull you in to the unique and stunning scenery the parks have to offer and leave you with a great appreciation for the fact that we have them to explore.
Tip: Thursdays are free at the museum! Open 11am – 9pm
Cuyahoga Valley National Park
What's cooler than being able to jump on a train and head into Ohio's only national park? Cuyahoga Valley Scenic Railroad's most southern station is located in downtown Akron.
Read more about our full day in Cuyahoga Valley National Park here!
33,000 acres of land along the Cuyahoga River is waiting to be explored. Hop on a bike or train, walk on your own two feet, navigate the river on a canoe or kayak or drive the scenic roads through the Cuyahoga Valley National Park.
Nuevo Modern Mexican and Tequila Bar
Update: Unfortunately, the Nuevo Restaurant is permanently closed.
We walked into Nuevo's (54 East Mill Street) and instantly felt the upscale yet casual and friendly vibe. The welcoming hostess, dim lights and contemporary art hanging on the walls set the tone.
A group of four women chatted and laughed enthusiastically at one table, a couple holding hands with puppy love eyes occupied another and two conservatively dressed men in the corner seemed to be having a work meeting. After a glance around, my first thought was Nuevo's is obviously a place for any type of dinner.
It took us about 10 minutes to decide what drinks to order. We had to get something with tequila in it. We are at a tequila bar after all! The menu includes a few unique margarita choices.
We finally settled on a mango with citrus sugar rim and a jalapeno cilantro margarita with a chili rim. After a few delightful sips, we both wished we ordered the margarita flight they offer (three 8 oz drinks) so we could have sampled more of their creative concoctions.
Maybe next time…
We ordered the Habanero Jelly Guacamole for an appetizer. I was worried it would be too hot for me, but it was perfect! The sweet jelly offset the heat and it was delicious!
Tip: If it's nice out, be sure to check out the rooftop outdoor patio!
At Nuevo's, the menu "features fresh, locally-grown produce, the finest locally-raised meats and artisan tequilas." The chorizo quinoa burrito was built with house made chorizo, pinto bean and roasted tomato puree, crispy quinoa and a house cheese blend. The carnitas (pictured below) is a succulent slow braised and roasted pork shoulder. Both entrees are served with Spanish brown rice and your choice of black or Borracho pinto beans.
The Peanut Shoppe
The Peanut Shoppe (203 S. Main Street) has been a staple in Akron since the 1930's.
Even though they are known for their freshly roasted nuts, the Buckeye candy (you know since we are in the Buckeye state) is what caught my eye. I asked the girl behind the counter and she couldn't believe I had never tried one.
I explained we were from out of town and with that I found my new favorite confection. Peanut butter fudge partially dipped in chocolate. So simple, so good!
Greater Akron Area
Stan Hywet Hall & Gardens
Stan Hywet Hall and Gardens (714 N. Portage Path) is Akron's first and largest National Historic Landmark. It also happens to be our favorite stop in the area. The tour of the manor and gardens is like stepping back in time. The 65-room Tudor Revival Manor House is well-preserved and still feels full of life.
Read here for more information and pictures on our day exploring the estate!
The Twisted Olive
The weather did not cooperate with us at all while in Akron. Here we are at another great spot for outdoor dining, but we couldn't take advantage. Located in Green, just south of Akron, The Twisted Olive (5430 Massillon Road) overlooks a fantastic piece of property.

We didn't fret, because the restaurant has many cozy spots indoor to choose from. We picked the main room with vaulted ceilings, a brick fireplace and enormous windows that let us look out at the beautiful view.
Once we settled into our spot, we were happy to find out it was Happy Hour! $5 appetizers, well drinks, and martinis with $2 select domestic beer and $1 off glasses of wine.
After recommendations from our waitress, we ordered what only can be considered a smorgasbord fit for a party. She warned us the portions were not small, but we didn't listen.
Tip: Happy Hour is Monday – Friday 2 – 6 pm
First off, the bread. Oh my goodness, the bread! I wanted to ask for seconds (ahem, okay maybe it was thirds) and put the whole basket in my purse to take home. It was fresh, soft and sprinkled with a hint of something sweet.
The calamari served with an herb aioli did not disappoint. The yummy Brussel sprouts are made with pancetta, truffle honey and parmesan cheese. We had the classic meatballs and the Greek chicken balls with garlic cream sauce and feta cheese. Overall, everything was tasty and we would love to come back and try their entrees.
Don't forget to sign up below to be the first to know when a new post comes out so you can follow along on our adventures!
Have you ever been surprised by a destination? Tell us in the comments below! Maybe we will add it to our next road trip!
Like it? Pin it!