The beaming sun is fading fast. The trees along the shoreline are ablaze with the fantastic glow that ushers in at dusk. There's not one ripple on the water's surface; it's smooth like glass. That is until my thirteen-year-old nephew casts his line out, and the bait lightly splashes into the water.
His cheeks have a pinkish hue just like his shoulders hiding under his shirt as evidence of the sunray's relentlessness today. I giggle to myself again just like I did when I first noticed his swimming trunks – a bright blue pair branded with at least a hundred colorful fishing lures. He is so ready to catch something, anything.
He spastically reels the line back in almost as fast as he threw it. His patience is wearing thin, and you can tell he is grappling with the fact that he knows his time is running out. What to do, what to do. He has to decide whether to fish or get one last swim in. He throws the pole over to the side and yanks his shirt and hat off. Evidently, he can't pass up one last dive into the inviting water. His uncle and brother don't waste a second and follow right behind him cannonball after cannonball.
Fifteen minutes later, we are motoring back across the lake as the sun sinks behind the forest. Today could not have been more perfect, I think to myself as we reach the dock.
With the current pandemic, I thought long and hard about whether or not to start traveling again. I knew once we decided to go, it would have to be somewhere not too far from home and a place where we could be outdoors.
After a few hours on the computer searching, "lakes near Chicago" we discovered Southern Indiana and Patoka Lake. There's a wide range of things to do at the lake whether it's fishing, boating, camping, swimming, or hiking. It's a great area we'd like to share with you.
READ NEXT: ROAD TRIP TIPS FOR TRAVELING RIGHT NOW
Here's your travel guide to the lake including things to do and area attractions:
What town is Patoka Lake in?
Located in the southwest section of Indiana, Patoka Lake lies in Dubois, Orange, and Crawford counties near the historic towns of French Lick and West Baden.
Patoka Lake directions: It is a short driving distance from many Midwest cities:
1 hour & 15 minutes from Louisville, Kentucky.
2 hours & 20 minutes from Lexington Kentucky.
2 hours & 30 minutes from Indianapolis, Indiana.
2 hours & 45 minutes from Cincinnati, Ohio.
3 hours & 10 minutes from Nashville, Tennessee.
3 hours & 30 minutes from Saint Louis, Missouri.
4 hours & 10 minutes from Columbus, Ohio.
5 hours from Chicago, Illinois.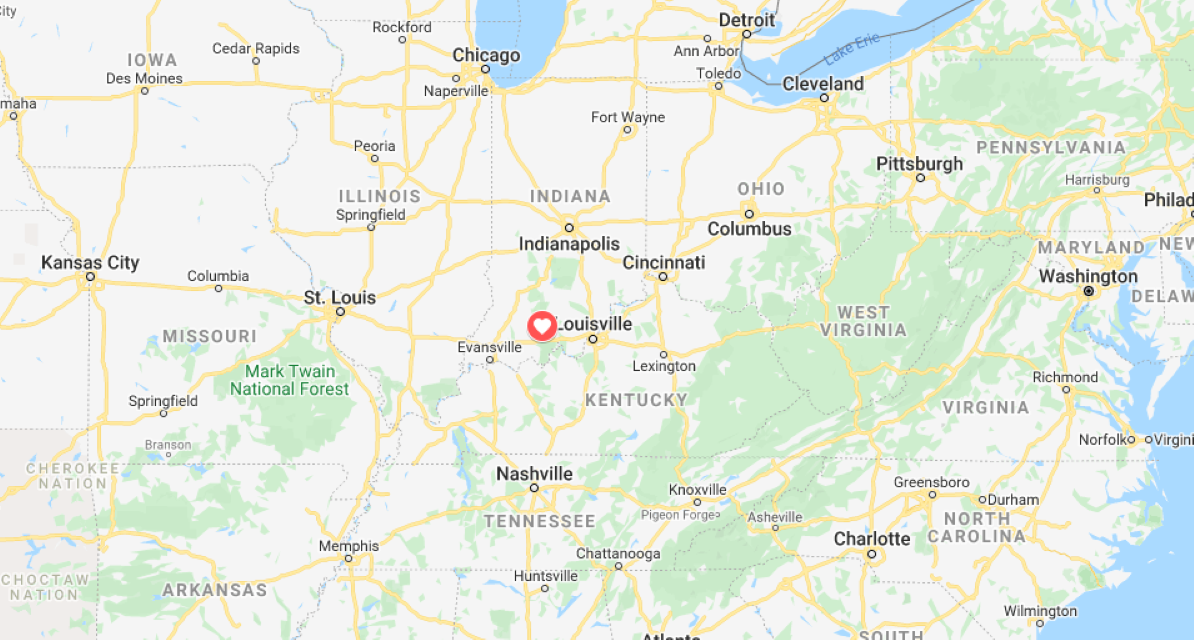 OTHER RELATED INDIANA ARTICLES:
Patoka Lake Weather
Spring brings warm days and cool nights. Fishing is popular in March, April, and May when the crappie are biting.
The warmest months are June, July, and August with average temps in the upper 80s. And since the lake is near the Ohio River, it can be quite humid.
If swimming or water-based recreation is on your agenda, summer is the time for you to visit. Average water temps during the summer can range from 77-82 degrees.
Fall welcomes crisp air and colorful leaves. The marina offers wine cruises on the lake for unspoiled views of the fall foliage.
Winter is frigid yet mild by Midwestern standards. At Paoli Peaks, adventurers can take advantage of the hills by skiing, tubing, or snowboarding.
Unique Lodging Options
Patoka Lake Cabins
Disclaimer: This post contains affiliate links, if you book through our link we will receive a small commission at no additional cost to you. Thanks for supporting the blog!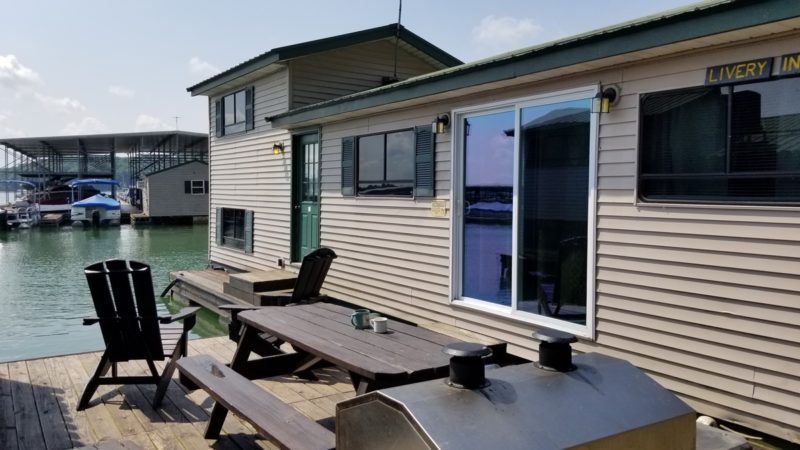 Newton-Stewart State Recreation Area Campground
The Patoka Lake Campground has roughly 450 partial hookup sites. The majority of the sites are paved with fire rings and have electric access. The bathrooms and shower houses are clean and well-equipped.
The Patoka Lake camping reviews are all great with almost all commenters stating they will be back.
You can find the Patoka Lake Campground Map Here.
Within the state park, you'll also find:
Archery
Beach
Bicycle Trails
Bird Watching
Boat Ramps
Frisbee Disc Golf
Hiking Trails
Horseshoe Pits
Marina
Nature Center
Picnic Shelters
Picnic Tables
Volleyball Nets
NOTE: There is a $7 in-state daily entrance fee and a $9 out-of-state daily entrance to the Newton-Stewart State Recreation Area.
State Park Beach on Patoka Lake
The Patoka Lake beach is quite large with soft sand and is clean and well-kept. The cordoned-off lake swimming area is shallow and the water is clean and clear.
The park offers modern showers, changing rooms, a few picnic tables with grills, and a concession stand.
*NOTE: The concession stand was closed during our visit due to the current restrictions, but bathrooms, showers, and changing rooms were open.*
In certain spots, the sand felt more like wet clay on the bottom of the lake so if you are grossed out by gooey stuff in between your toes, pack some water shoes or water ready sandals. It didn't bother us at all and the kids thought it was the perfect consistency for a mud wrap!
Overall, it is a great spot for families, friends, or couples to spend a relaxing day.
HOT TIP: Visit during the week to avoid crowds.
Patoka Lake Hiking Trails
Trails around Patoka State Park range from easy to rugged and vary in length from 2 miles to 6.5 miles.
Inside the Recreation Area (day pass required):
Main Trail is a 6.5-mile moderate loop hike that begins at the Nature Center. It is well-maintained but has very little signage so make sure to take a map. The average completion time is 3 to 4 hours. It is also a little overgrown with ticks as a possibility so for a summer hike, I recommend the below route instead.
Totem Rock is found on the Main Trail, but you can shorten it to a 2-mile out and back or longer loop by using any of the connector trails to view the large rock shelter used by Native Americans and early settlers. The average completion time is around 1 1/2 to 2 hours.
Wildlife Management Demonstration Trail is a moderate 2-mile loop trail beginning at the Nature Center as well. It is a good family hike that "illustrates habitat requirements of wildlife as well as wildlife management techniques used on the property. Demonstrations include food plots, protective cover planting, controlled burning, and much more. A booklet keyed to numbered posts is available for this self-guided interpretive trail."
Garden Rock Loop Trail is a short but hilly loop that begins across from the Nature Center. It's pretty with green fern, rock overhangs, and tall pine trees. The trail can be hiked in 30 to 45 minutes.
*NOTE: We were told the ticks are bad this year so make sure to ask the ranger when coming in before hiking. I highly recommend effective bug spray.*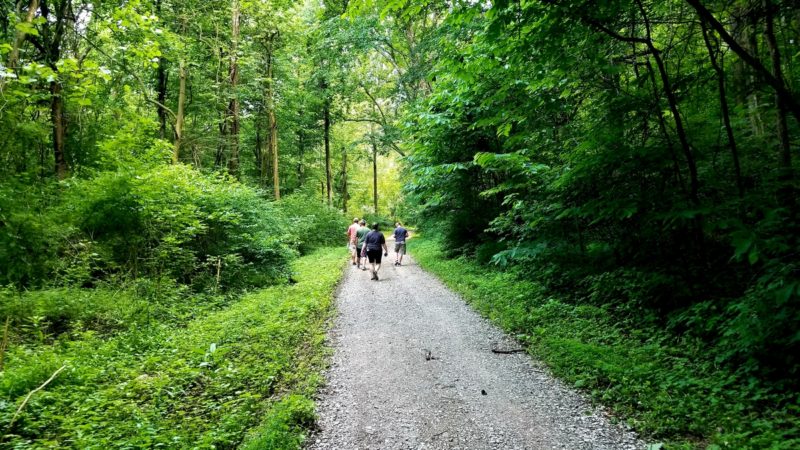 Outside the Recreation Area (no day pass required):
Bobby Hall Springs Loop Trails start at the Patoka Lake Dam with four different loop options after walking across the dam and along the lake. All are moderate with some steep hill climbs.
A Loop: 2.1 miles
B Loop: 2.3 miles
C Loop: 2.8 miles
D Loop/Main Loop: 2.7 miles
We hiked the A Loop and thought it was a fun way to get out and explore. The trail is well maintained and easy to follow.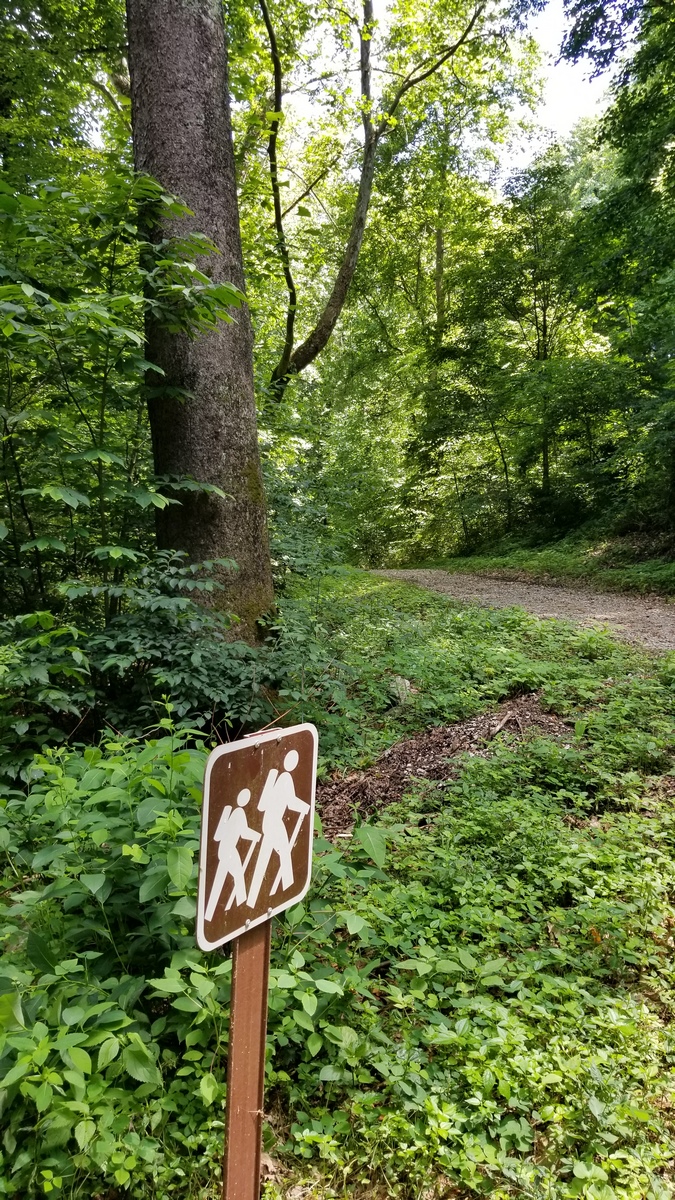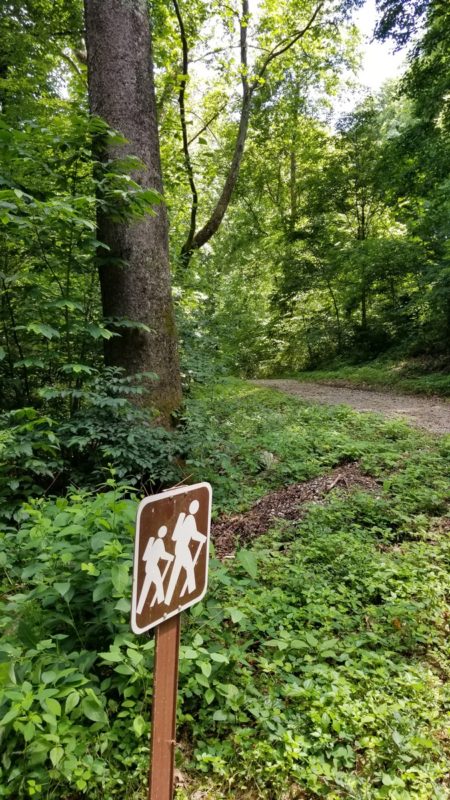 Bike Trails
There are roughly 6 miles of designated paved bike trails within the recreation area, but remember it is HILLY!
Patoka Lake Boat Rental
The best thing to do is get out on the water yourself. If you are looking for a weekend rental, make sure to book far in advance during the summer months. And remember, there are hefty discounts if you choose to rent a boat during the week instead.
There are a few boat rental options in the area:
Because our trip was last minute, there weren't many options for boat rentals. We ended up finding two pontoons midweek with Gilligan's Boats.
Once we submitted a reservation online, we waited 48 hours for the office to call and confirm. In the meantime, all passengers filled out the appropriate liability waivers and the two drivers submitted the boat safety operating guidelines sheet online.
We had no issues with our reservation and the boats were in decent shape.
HOT TIP: When comparing prices make sure to check if the rental includes gas or not. Gilligan's Boats included gas
Patoka Lake Fishing
Patoka Lake fishing is popular as the lake is stocked with all kinds of fish including bluegill, bass, catfish, walleye, and sunfish.
My nephew is obsessed with fishing, but we found out on the trip he didn't have much patience for it when the options were between swimming and fishing. It didn't help much that the fish weren't biting and he didn't catch a thing!
NOTE: In Indiana, kids under the age of 18 do not need a fishing license to fish public waters regardless of whether they are residents or not.
Know someone that would like a pair of those colorful board shorts, click here.
Patoka Lake Nature Center
The newly renovated Nature Center in Patoka State Park is a good spot for families to learn about the area's wildlife with interactive activities and displays. Plus, there's an old cabin that Swiss immigrant, Jacob Moery, built in the late 1800s.
The center is open Tuesdays through Sundays from 9 a.m. to 4 p.m.
Area Attractions – Other Things to Do near Patoka Lake
French Lick Springs & West Baden Springs Resorts
Welcoming visitors for over 100 years, both towns have must-see lavish and historic hotels. French Lick Springs Resort has been a popular destination since 1845 when the nearby therapeutic springs brought in notable guests from all over the country. Now, the property is a one-stop shop with a championship golf course, top-notch spa, and lively casino.
Once known as the 8th Wonder of the World, the West Baden Springs Resort is an architectural stunner. Do not miss the enormous atrium topped with a 200-foot dome where palm trees look like shrubs.
*NOTE: Check hours and availability for non-guests during the pandemic.*
Wineries
How about a cool wine slushy to end a hot day on the lake? You'll find Patoka Lake Winery just a stone's throw from the main gate. With flavors like Peach Bellini, Blueberry Pomegranate, Peach Margarita, and Strawberry, you can't go wrong!
French Lick Winery has a vintage cafe and tasting bar right in West Baden Springs where you can sample any of their 30 kinds of wine.
Cave Exploring
Avoid the heat by heading underground on the Indiana Cave Trail.
Bluespring Caverns – Explore the cave by boat along a river.
Marengo Cave – A U.S. National Landmark and one of the state's most popular attractions.
Indiana Caverns – An adventure park with a cave tour of the longest cave in Indiana, zip-lining, an escape room, and gemstone mining.
Squire Boone Caverns – A living cave with flowing streams and underground waterfalls.
French Lick Scenic Railway
Go back in time when train travel was the way to go. The French Lick Scenic Railway operates passenger trains with scenic excursions to the Hoosier National Forest going through the Burton Tunnel, a 2,200-foot long tunnel, past an 1850 log cabin and limestone cliffs.
They also offer rides over to the town of Jasper, dinner and tasting trains and themed rides like the Polar Express and Wild West Hold Ups.
Spring Mill State Park
Learn what it was like in the 19th century days at Spring Mill's restored pioneer village. Along with an operating grist mill, the park also has hiking trails and cave tours.
Jasper
Jasper is a short drive from the lake and has a lot to offer for a small town. Start with a short stroll along the riverwalk including the Jasper City Grist Mill and Schaeffer Barn.
Then head to the town square and duck into Chocolate Bliss for a sweet treat. There are also many restaurants in the area, but we didn't get a chance to try any of them yet.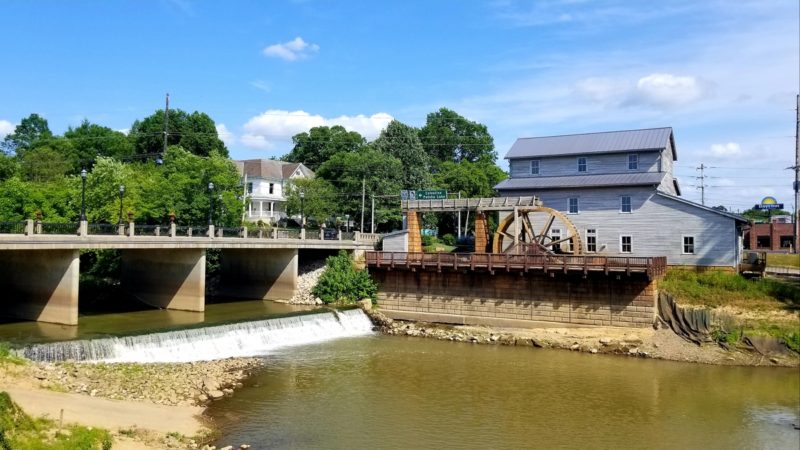 Frequently Asked Questions
Is it safe to swim in Patoka Lake Indiana? Yes, it is very safe to swim in Patoka Lake Indiana. The lake is clean and it is usually not very crowded especially if you visit during the week. Because it is not too busy of a lake, the water is smooth and calm.
Can you drink alcohol on Patoka Lake? Alcohol is allowed on Patoka Lake, but the operator of any watercraft is not allowed to consume alcohol.
Is Patoka Lake man made? Yes, Patoka Lake is a manmade lake. The lake was created by damming the Patoka River which was completed in 1978.
Is Patoka Lake clean? Yes, Patoka Lake is one of the clearest lakes in Indiana. The water quality of Patoka Lake is exceptional due to various factors. First and foremost, the lake's watershed area consists mainly of forested lands that help filter out impurities before they reach the water. This natural filtration process helps maintain the clarity and cleanliness of the lake.
I'm overjoyed we found this treasure trove of outdoor adventure so close to home. There is still so much more we'd like to explore in the area and plan to visit again soon.
You Might Also Like
Ever been to the Patoka Lake State Park? What was your favorite thing to do? Share with us below!
Pin It for Later!