A trip to Michigan's Upper Peninsula is not complete without a visit to Porcupine Mountain State Park. With 60,000 acres of old-growth forest, snaking rivers, spectacular vistas, and picturesque waterfalls, the "Porkies" will impress the most avid traveler.
Despite being referred to by its abbreviated name, the park is actually the Porcupine Mountains Wilderness State Park, Michigan's largest state park, and only designated "wilderness" area.
And that's exactly what it feels like.
As you stand overlooking the untouched tree-covered land, it'll amaze you that such an area still exists in the Midwest.
We spent some quality time exploring the park on our two-month road trip making our way around Lake Michigan and it was one of our favorite places.
This guide will go over the best time to visit, lodging options, must-do hiking trails, the best waterfalls, and frequently asked questions below.
Best Time to Visit
The Porcupine Mountains Wilderness State Park is most popular between May and October when temperatures are comfortable and there's no snow on the ground.
Be prepared if planning a visit from mid-May to late July because it is black fly season and they are not only annoying but bite as well. July and August have mild temperatures in the upper 70's, but near the lake can be much cooler so wear layers.
Cool temperatures arrive in early September. And peak fall foliage season typically ranges from late-September to mid-October.
While there are plenty of impressive places to experience fall color in Michigan, Porcupine Mountain State Park is one of the best.
Make sure to check out another favorite of ours, Keweenaw Peninsula in the Fall, it is close by and can be combined with a Porcupine Mountains trip.
Porcupine Mountains Lodging
There are various options for lodging in and near Porcupine Mountain State Park that include campgrounds, cabins, and a few motels and hotels.
FULL DISCLOSURE: Some of the links in this post are affiliate links. We will receive a commission at no additional charge to you if you book through our link.
Porcupine Mountains State Park Cabins & Yurts
There are 18 rustic cabins and a few yurts located inside the park. All except one require a bit of hiking (1 – 4 miles) to get to them.
The cabins are equipped with standard furniture including a wood stove, bunk beds, mattresses, tables, chairs, cookware, utensils, and an outhouse. They have no plumbing or electricity. TIP: Bring your own toilet paper.
The yurts can sleep four people and are equipped with bunk beds, mattresses, a wood stove, fire circle, cookware, utensils, and an outhouse. No running water or electricity is provided. TIP: Bring your own toilet paper.
Porcupine Mountains State Park reservations can be made six months in advance and are highly recommended.
Click here to go to the Department of Natural Resources and find out more information.
Porcupine Mountains State Park Camping
Modern Campground
We stayed at the Porcupine Mountains Union Bay Campground and the hosts made it one of our favorite stays during our van camping trip. It's the only modern campground in the state park with water, electric, flush toilets, and hot showers.
The campground hosts had hot chocolate, coffee, donuts, and homemade cookies every morning under a tent which was MUCH appreciated on our rainy days!
RELATED: 20 CAMPING ACCESSORIES WE CAN'T CAMP WITHOUT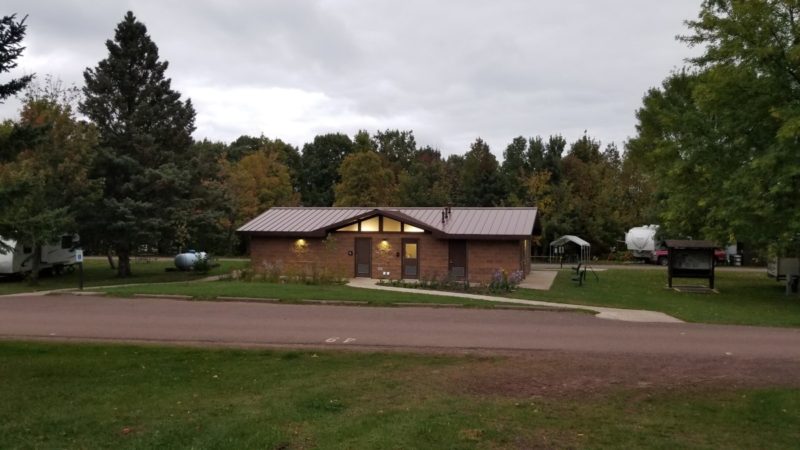 Rustic Campground
There's also the Porcupine Mountains Presque Isle Campground. It has 50 rustic sites near the river with vault toilets and hand pumps for water. Only the east side is generator-friendly.
As far as backcountry campsites, there are 63 throughout the park. Each outfitted with a metal ring, but with no other amenities. No pit toilets or water. A backcountry camping permit is required.
Click here to read more about Porcupine Mountains Backpacking
Porcupine Mountains Hiking
What I like most about Porcupine Mountain State Park is that you can enjoy the beauty of the area whether you are limited on time or have all the time in the world.
With more than 90 trails, there are many options to get out and explore. Hiking is the most popular Porcupine Mountains things to do and there's a hiking opportunity for the novice or experienced hiker so let's talk best hiking trails.
Here's the Porcupine Mountains Wilderness State Park Map:
Lake of the Clouds
The most popular spot in the park, and rightfully so, is the trail and lookout at Lake of the Clouds Scenic Area.
You'll take various boardwalks along the ridgeline where you'll see Lake of the Clouds snuggled amid a valley of trees in one direction. And in the other direction, the Big Carp River weaving through the forest along with the pretty bridge crossing the water.
Length: 1.4 miles
Difficulty: Easy
Time: 30 minutes – 1 hour
Escarpment Trail
The Escarpment Trail in Porcupine Mountain State Park is going on our list of favorite hikes in the Midwest. We wondered if it would be much different than the Lake of the Clouds because it follows the ridgeline as well.
Oh, and it was indeed!
If you ever read the words "escarpment" along with a hiking trail, know it's going to be fantastic views. And this one is no different.
The views kept getting better and better as we continued on the high rocky cliffside. It's an out and back with a few trailheads so you can still experience a portion of the hike even if you don't want to walk the whole thing. The further away from Lake of the Clouds you get, the less crowded it is.
It truly is one of the best hikes in all of Michigan, and possibly in all of the Midwest.
Length: 8.2 miles
Difficulty: Moderate to Difficult
Time: 4-5 hours
TIP: Fill up your water bottles before arriving, there are no water sources at the parking lot. There are bathrooms.
Presque Isle Falls Loop
Follow along the east and west sides of the Presque Isle River to pass a series of cascading waterfalls: Manabezo Falls, Manido Falls, and Nawadaha Falls.
The leaves were just starting to change on our visit and it was raining, yet it is another favorite. There's something about the sound of rushing water that's so soothing. Plus, it's not that difficult of a trail so it was very relaxing.
Length: 2.5 miles
Difficulty: Easy (but with stairs)
Time: 45 minutes – 1 1/2 hours
TIP: If you are trying to avoid people, head straight over to East River Trail and make it an out and back instead.
MORE INFO: On the East trail, you can take a short detour and hike out to Lake Superior.
The Presque Isle River trail is dog-friendly, but you must keep them on a leash.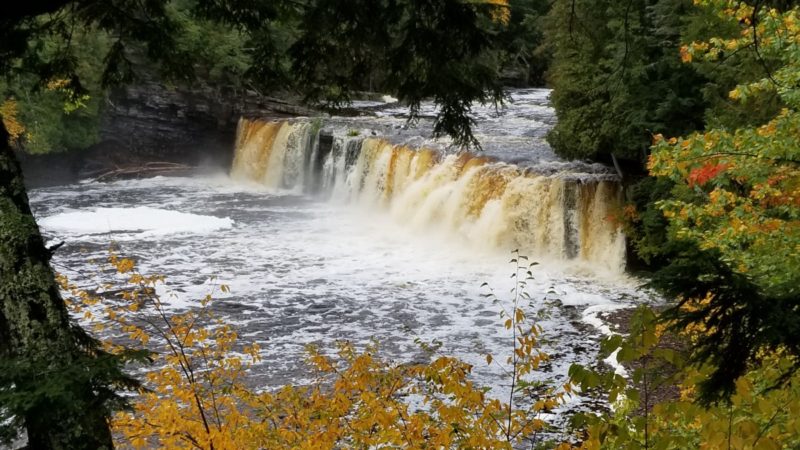 Summit Peak Observation Tower
Another must-do hike is the Summit Peak Observation Tower. It is the highest point in the park and the observation deck has outstanding views – especially in the fall!
It is a blanket of orange at nearly 2,000 feet above sea level atop the 50-foot tower.
Length: .9 miles
Difficulty: Moderate
Time: 30 minutes – 1 hour
TIP: If you have time to make this a longer hike, add Mirror Lake and Beaver Creek for the Summit Peak Loop hike. It's 5.2 miles round-trip and will take you from the highest point in the park to a quiet lake and scenic waterway. Plan for 3 – 4 hours. It's a good hike to get inside the park.
Big Carp River Trail
The Big Carp River Trail is a long out and back that begins high on the bluff at the Lake of the Clouds overlook and descends down into the river valley all the way to Lake Superior.
If choosing to do this trail, plan on staying at one of the three wilderness cabins on the way or at one of the backcountry campsites.
We hiked a few miles of it, before turning around and plan to hit this one in its entirety on a separate trip.
Length: 9.5 miles
Difficulty: Moderate on the way down, Strenuous on the way back up
Time: 6 – 8 hours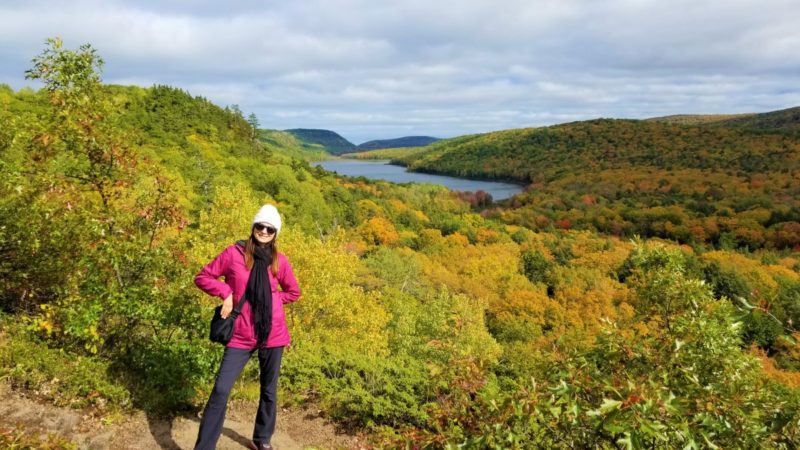 Union Spring Trail
Take a trek to the Union Spring, the second-largest natural spring in Michigan. The easy stroll will take you to a pier that looks out over the crystal blue water.
We ran out of time to hike this one, but it's on our list for the next trip.
Length: 4 miles
Difficulty: Easy (if only going to the spring and back)
Time: 2 – 3 hours
Porcupine Mountains Chairlift Ride
If your trip coincides with fall foliage and a weekend, make sure to check out the annual fall color lift ride.
You can hop on at the Porcupine Mountains Sports Complex (the ski hill) located half a mile west of the Union Bay Campground along County Road 107.
Porcupine Mountains Waterfalls
Do not miss waterfall chasing when you are in the "Porkies." Ontonagon County has more than 100 waterfalls, many that are beautiful year-round. Here a few notable ones:
Agate Falls – Short walk to one of the most picturesque and most popular waterfalls in the UP. Located in the middle section of the Ontonagon River. 7 miles southeast of Bruce Crossing at a roadside park. Toilets, water, and picnic tables available. Open generally early May to late October.
Bond Falls – Short boardwalk with six viewing stations a picturesque waterfall on the Ontonagon River. 3.5 miles east of Paulding. Picnic tables available near the top of the falls. Open year-round. *Highly Recommend*
Cascade Falls – A 2-mile loop with a 315-foot elevation gain to a multi-tiered waterfall on the west branch of Ontonagon River located 6.5 miles northeast of Bergland. Open generally from May until November. *Highly Recommend*
Greenstone Falls – Particularly pretty falls on the Little Carp River during the autumn season. *Combine with Overlooked Falls.*
Greenwood Falls – Small waterfall on the Big Iron River. 4 miles north of White Pine.
Nonesuch Falls – In the state park on the banks of the Iron River off South Boundary Road near the ruins of the Nonesuch Mine.
O-Kun-De-Kun Falls – One of the few free-falling waterfalls in the county. It's a short scenic hike to the Baltimore River. *Highly Recommend*
Overlooked Falls – Another small but gorgeous waterfall on the Little Carp River within the state park.
If you love waterfall chasing like us, also take a look at this Michigan Waterfall Guide!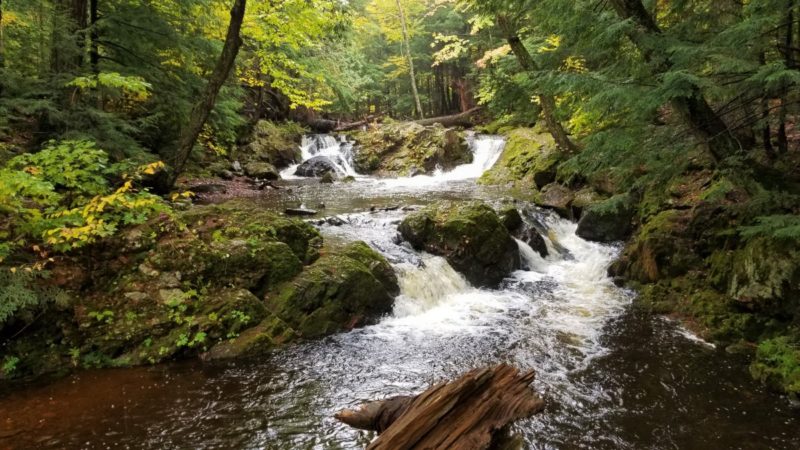 Frequently Asked Questions
Are dogs allowed in Porcupine Mountains State Park? Yes, dogs are allowed in the state park, but they may not be left unattended in a vehicle or at the campsite at any time. They must remain quiet and on no more than a six-foot leash.
Are there bears in the Porcupine Mountains? Yes, there are black bears in the Porcupine Mountains and are frequently encountered in the park. Do not feed them and keep a safe distance if you run into one.
TIP: Bring bear spray or wear a bear bell when hiking especially when alone or backpacking deep in the woods.
Are the Porcupine Mountains real mountains? Yes, even though they are not the type of snow-covered mountains you typically think of. Whereas Colorado has jagged peaks reaching 14,000 feet to the heavens, our Midwest "mountains" are only 2,000 feet high. But they are a group of small mountains nonetheless and in a section of one of the oldest mountain chains in the world.
Have you been to Porcupine Mountain State Park? What's your favorite thing to do?
Like It? Pin It!