After a $35 million makeover, the iconic Union Club Hotel is now welcoming guests.
It's updated. It's alluring. It's evolved. Yet, the building still holds its historic appeal.
Located in the Purdue Memorial Union building, the beating heart of Purdue University campus since 1929, the hotel is an ideal base for your visit.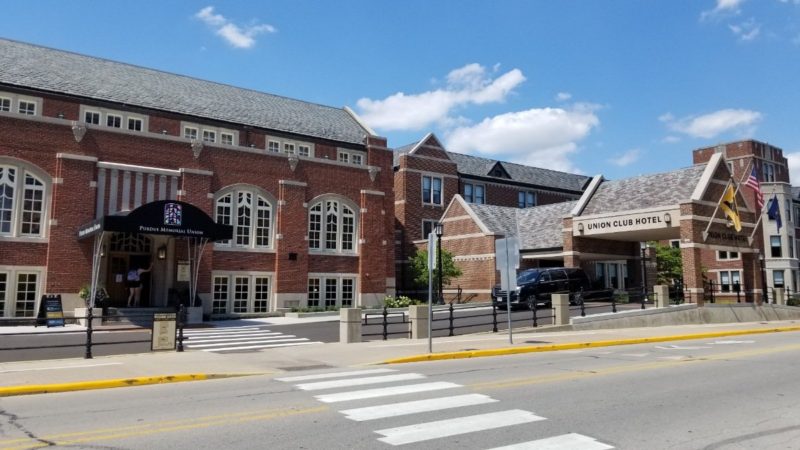 Full Disclosure: We were hosted on this stay, but all my thoughts, experiences, and opinions are my own.
Purdue Memorial Union Renovation
After the first major remodel in 30 years, the Purdue Memorial Union Club Hotel reopened August 5th with a whole new distinguished look and contemporary flair.
The moody dark tones are softened with warm lighting and orange and gold accents. The theme throughout the West Lafayette boutique hotel is a modern yet cozy vibe.
READ NEXT: HOW TO HAVE A PERFECT AFTERNOON AT PURDUE
Check-In
After parking in the Grant Garage, we rolled our luggage across the street to check-in. As we entered the beautifully decorated lobby, we could hear the excitement buzzing in the voices of the employees.
One was making reservations for dinner for a family describing her favorite dessert on the menu at the hotel's full-service restaurant. Another staff member was handing over keys with a cute Purdue string bag boasting about the new rooms.
The check-in process is smooth and the staff super helpful with recommendations and guidance for our visit.
It's All in the Details – The Boilermaker Rooms
And off we go to our deluxe King room! There are eleven types of rooms available at the hotel, ranging in size and price, including the standard double, standard king, deluxe king, one-bedroom suite, and bay suite rooms.
The first thing we notice when walking in our room is the Boilermaker-specific decor. Purdue's colors of black and old gold are prevalent throughout the entire room with a houndstooth rug pattern similar to the Purdue plaid.
A Purdue-Crested pillow lies across the bed and custom artwork of past alumni hang above.
RELATED: OTHER FUN COLLEGE TOWNS TO VISIT
The bathroom even has mirrors designed to mimic the Purdue crest in celebration of the university's storied history.
It has everything a gal needs. The bathroom is stocked with Pharmacopia products, plush robes, and a hairdryer. I like the separate makeup counter and sink for getting ready when it's more than just one in the room.
The King room also came with a mini fridge, rotating 55-inch LCD flat screen TV, coffee maker, and a small desk area. In addition to the great location, the beds are extremely comfortable and the rooms spacious, making the Purdue Memorial Union Club Hotel the perfect lodging option for a visit to Purdue.
RELATED: ANOTHER MUST-SEE INDIANA COLLEGE TOWN
Purdue Memorial Union Restaurants
Together with the updated rooms, the hotel opened three new dining spaces that are available to guests and the public. I HIGHLY recommend all three establishments.
Breakfast at 8Eleven Modern Bistro
Did you know Neil Armstrong, the famous astronaut and aeronautical engineer, went to Purdue University? The new 8Eleven Modern Bistro is named after NASA's spaceflights he took part in, Gemini 8 and Apollo 11.
And the food is living up to the name because it's out of this world! I could not miss the opportunity to throw that one in there. In all seriousness, even if you're not staying at the hotel, stop in for a meal at the new bistro, you will not be disappointed.
We experienced breakfast and dinner and both times the food and service were stellar. For breakfast, I tried the mouth-watering bread pudding French toast with bourbon caramel apples, toasted pecans, and vanilla whip cream. I had a difficult time holding up my end of the lets-split-our-meal-deal once the food came.
It was absolutely divine: not too sweet but candied just right.
Splitting the decadent French toast with a spinach and mushroom egg white omelet with Havarti and breakfast potatoes was an excellent pairing.
Dinner at 8Eleven Modern Bistro
For dinner, we chose crab croquettes with a pommes puree, lemon, chive, and citrus aioli for an appetizer. The bite-sized croquettes were lightly crisped with a unique flavor paired with the mashed crabmeat mix. I'll take these over crab cakes any day!
My husband wasn't starving so he ordered the scallops with tarragon, trumpet mushrooms, and wilted spinach. They were delicate yet full of flavor.
On the recommendation from our waitress, I ordered the braised beef with wild mushrooms, thick bacon, and heirloom carrots. Oh. My. Goodness. The meat melted in my mouth and I guess I have never had heirloom carrots before because all I could say was, "how is this delicious spear a carrot?" with every bite.
It's a dinner we will be talking about for a long time!
After Dinner Drinks at the Boiler Up Bar
The Union Club Hotel also operates a bar beside the bistro. We made sure to stop by after dinner for a few drinks.
Luckily, there were available seats in the private whiskey room, just off the bar. If you look close you'll notice the walls are lined with lit-up bourbon and whiskey bottles. The cocktail lounge has an extensive list available but also makes killer cocktails.
My husband could not resist ordering an old fashioned which he claims was as smooth as they come. And I had a prickly pear margarita pulled from their tap. A fantastic way to cap the night off!
Coffee at Leaps
Before we checked out, we walked over to the grab 'n' go Leaps Coffee, a coffee and pastry counter. Along with all-natural smoothies and specialty coffees, they also offer an array of freshly made pastries, cakes, cookies, muffins, and other sweet treats.
It was going to be a hot afternoon so we both grabbed a delicious nitro cold brew to kick off our day.
Overall, the Union Club Hotel exemplified excellent hospitality and we enjoyed our stay immensely. Between the exceptional food and comfortable rooms, I highly recommend it.
If you would like to make Purdue Memorial Union hotel reservations, click here to find prices.
*Please note the above link is an affiliate link and if you book through it we will receive a small commission at no additional charge to you.*
Do you have any questions about our stay at the Purdue Memorial Union Club Hotel? Ask us in the comments below!
Purdue Memorial Union Club Hotel
201 North Grant Street
West Lafayette, Indiana 47906
Please Save it for Later!