Scribbled in my notebook from our first afternoon is "Clear Lake: Where all the nice people are." Apparently, the small lake community charmed me from the get-go.
We have been traveling extensively through the states for some time now and with the internet age, there's not much that catches us by surprise. A few cities here and there. A museum or a restaurant once in a while. With the abundance of information out on the web and all the social media platforms, we usually have a pretty good understanding of what our visit is going to be like before we arrive.
But that was not the case with Clear Lake, Iowa!
The plan was to see a concert, bike around, and try to experience as much of the lake as we could. We did all these things and more, along with discovering that Clear Lake should have been on our radar a long time ago especially since it's driving distance from us in Illinois.
We were completely and utterly enamored with our weekend getaway locale. And for a June weekend, the weather wasn't really cooperating so that speaks volumes as well.
Here are all the best Clear Lake Iowa things to do so you can have a great trip like we did!
1. Have Breakfast at Cabin Coffee
With a slogan like, "Just Be Happy and Have Fun" and a line almost out the door, we knew having breakfast at Cabin Coffee was a good decision. The small-scale chain, which began in Clear Lake, serves up a mean breakfast sandwich with freshly roasted coffee.
From the wooden logs on the outside to the stone fireplace inside, you can't help but feel like you stepped into a warm and cozy cabin retreat.
Where: 303 Main Avenue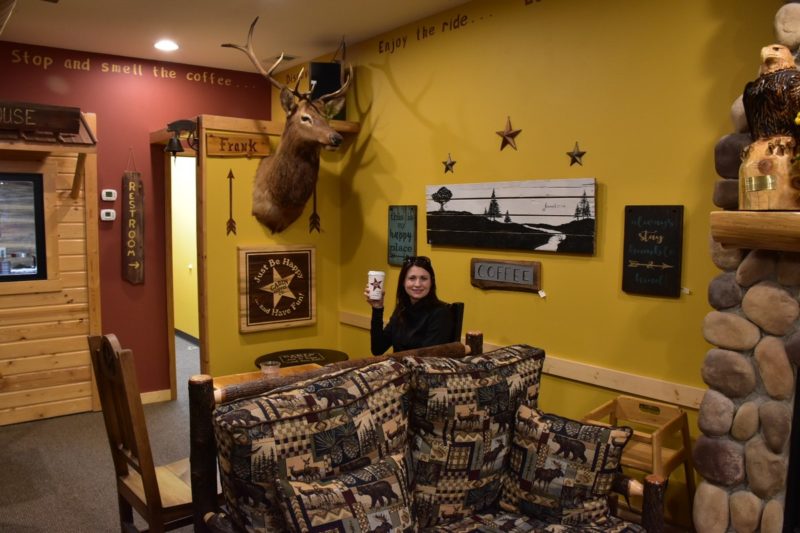 2. Lady of the Lake Boat Ride
The best way to experience what Clear Lake is all about is to get out on the water! The weather didn't seem like it was going to cooperate for us between rain and high winds but Mother Nature heard our cries and cut us a break.
We sailed away on the authentic paddlewheel boat for a 90-minute ride and learned a bunch of fun facts along the way.
Details:
Open Memorial Day – the End of September. Check the website for times.
$15 for adults, $6 for children ages 3 -12 and under 2 are free.
Cash only. Credit Cards and debit cards are not accepted. Purchase tickets onboard.
Boarding is 15 minutes ahead of launch time at Docks at the Seawall.
Full bar with soft drinks, beer, wine, and mixed drinks with a small snack bar.
ANOTHER GREAT IOWA DESTINATION: GRINNELL
3. Have Lunch and Desserts at Starboard Market
Despite only being open three and a half hours a day and only five days a week, Starboard Market has made a name for itself in Clear Lake and beyond. The common denominator in any conversations I had with someone that had been to Clear Lake before was to MAKE SURE YOU GET TO the STARBOARD MARKET.
I was borderline psychotic the day we took our bike ride, checking my watch throughout, and commenting on the time, making sure we did not miss the small window to catch a meal there.
And now we agree with all those admirers, with a variety of made-from-scratch soups and salads, it is a great place for lunch. Do not leave without getting a dessert even if you save it for later. From Sea Salted Caramel Bars to Triple Chocolate Hot Mess Caramel Fudge, I couldn't decide which one I liked the best. They are some of the best desserts we've ever had!
TIP: It's a little overwhelming on your first visit as you go up to the counter to order. Grab a to-go menu and sit down first to pick out what you want.
Where: 310 Main Avenue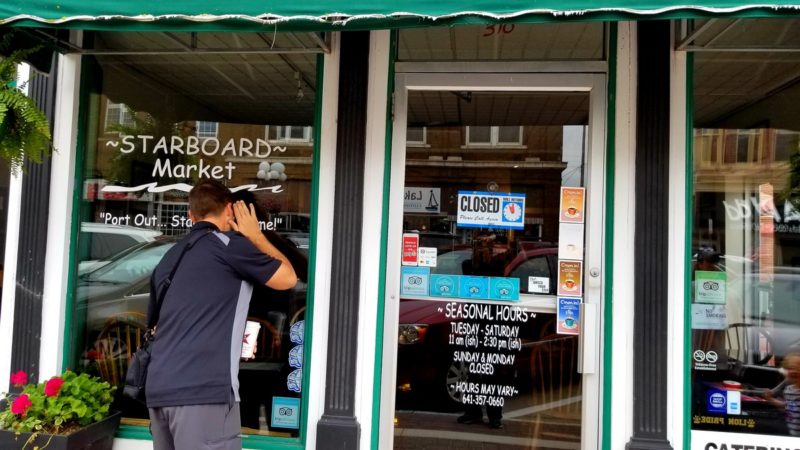 4. Take in a Show and Tour at the Surf Ballroom
What is Clear Lake, Iowa famous for? Right down the street from downtown Clear Lake is a little piece of rock and roll history. The Surf Ballroom is where Buddy Holly, Ritchie Valens, and JP "The Big Bopper" Richardson played their last concert.
I'll never forget watching the scene in La Bamba when Ritchie's family finds out about the crash on the radio. The dance hall is a total throwback to the fifties with loads of musical memorabilia collected from over the years and a shrine to the talented trio.
Take a self-guided tour during the day when it's quiet so you can focus on all the exclusive artifacts then come back at night to see a live performance. Listed as one of "America's Coolest Music Venues,"
the Surf is still a popular place for many well-known artists. Continue reading here about our visit and concert Surf Ballroom experience.
If you are looking for things to do in Clear Lake, Iowa in the winter, add the Winter Dance Party at the Surf to your list. Held annually in honor of the legendary trio who we lost, it is a party that's been added to our Midwest bucket list.
TIP: Before or after the show grab a drink or food inside the Surf District Rock 'n Roll Grill down the street.
Where: 460 North Shore Drive
5. Bike to PM Park for a Drink at the Tiki Bar
Either bring your own bikes or stay at a Clear Lake rental (check out the adorable cottage we stayed at) that has them included like we did and go for a ride.
From downtown to PM Park, situated directly on the lake, it is only about 4 miles one way and mostly on side streets with a short stretch on a designated bike lane along the road.
Check out the cottages on the water, ride through the state park which has bathrooms by the way, and then reward yourself with a drink at the festive Tiki bar and gorgeous views of the lake! Only two miles west, it's also a fun thing to do near Clear Lake State Park if you are staying there.
Where: 15297 Raney Drive
6. Eat a few Donuts at South Shore Donut Co.
On your way to PM Park on the bike, take a short break at South Shore Donut Co. for some tasty donuts. The husband and wife duo from Clear Lake turned a side gig out of their home into a full-fledged business. With no gourmet donuts in the area, it was a perfect example of finding a hole -quite literally- in the market. Both Whitney and John were behind the counter when we stopped in and were as nice as can be.
We couldn't decide between mini donuts like Oh Dough You Didn't and Go Shorty It's Yo Birthday and regular-sized specialty donuts like French Toast and Churro flavored so we grabbed both. It's okay we will burn them off on the bike or so we told ourselves.
Where: 1205 South Shore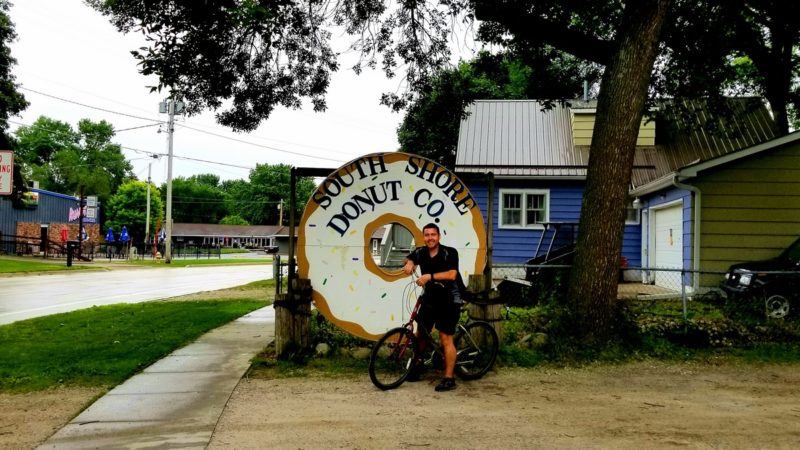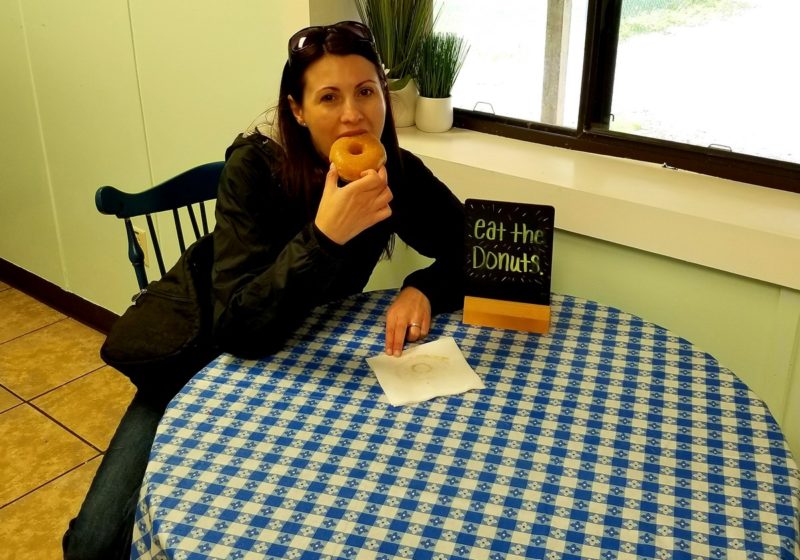 7. Sample a Few Beers at Lake Time Brewery
"Lake Time is not a time, but a state of mind – or an absence of time." Experience that ambiance at Lake Time Brewery's patio. Find a table, grab a flight, and sample some beers, all while channeling your inner lake frame of mind.
Must-try beers: Barrel-aged cherry-infused Gentleman's Porter, the complex tasty Haze of our Lives IPA, and the sounds-weird-but-is-good Peanut Butter Porter.
Where: 801 Main Avenue
RELATED: ANOTHER FUN MIDWEST LAKE VACATION
8. Dinner at Seven's Steakhouse
From burgers and wraps to steak and pasta, you'll find a range of options at Seven's Steakhouse. The place is hopping on a Saturday night so we order a local beer and wait the ten minutes to be seated while we peruse the menu.
It was an odd night that we both had the taste for chicken so we opted for the smokehouse chicken dish and garlic chicken pasta. Winner, winner, chicken dinner!
Where: 305 Main Avenue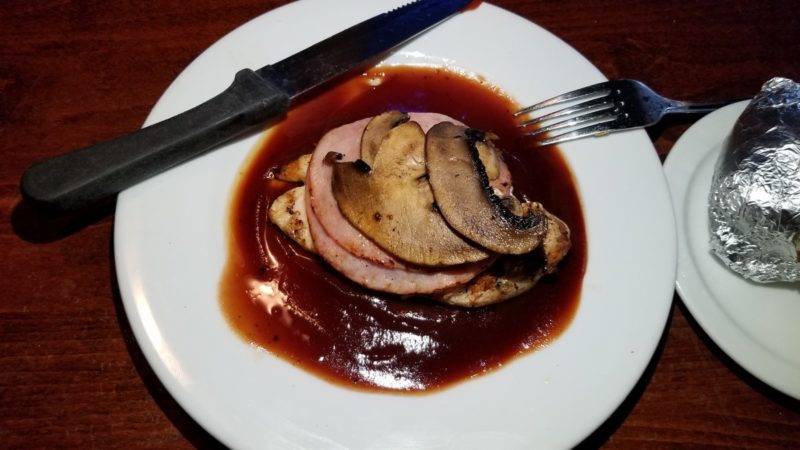 9. Walk through the Central Gardens of North Iowa
If there's a garden, we'll find it. A few blocks down from Main Street is the Central Gardens of North Iowa, a small community green space with flowing water and blooming flowers.
Every Friday morning from June through August, you can purchase freshly-cut bouquets from the gardens arranged by local volunteers. Or visit on a Sunday evening from 5:00 pm to 6:00 pm for Picnics & Performances where you'll be entertained by local talent.
Where: Corner of N 8th Street and 2nd Avenue N
10. Shop on Main Avenue
Take a stroll down Main Avenue and stick your head into a few of the shops. Larson's Mercantile reminds me of an old school general store with a little bit of everything. Another must-stop is Lake Lifestyle where you'll find the cutest accessories and décor for lake living. And if you are looking for clothes, hit up Unique Boutique.
Plan Your Trip
Hotels in Clear Lake Iowa
There are a few noteworthy hotels (see below), but we highly recommend a vacation rental. We had a great experience at Third & Surf, walking distance to downtown and the Surf.
Disclaimer: Some of the links included in this post are affiliate and/or referral links and will provide me with points or a commission at no additional cost to you.
Directions to Clear Lake Iowa
Clear Lake is in Cerro Gordo County which is in northern Iowa. It is a day trip from many major cities in the Midwest.
1 hr 45 min from Des Moines, Iowa
2 hrs from Minneapolis, Minnesota
3 hrs 40 min from Omaha, Nebraska
4 hrs 30 min from Kansas City, Missouri
6 hrs from Chicago, Illinois
6 hrs 35 min from St. Louis, Missouri
Clear Lake Iowa Weather
You are visiting the Midwest so summers are hot and wet and winters are cold and windy. Average temps throughout the year range from 9 degrees to 83 degrees Fahrenheit.
Those are our favorite Clear Lake Iowa things to do, what are yours? Or do you have another lake destination you think we should visit? Tell us in the comments below!
Please share on Pinterest!