Winter is upon us and if you're from an area similar to Chicago like me then you're looking for the warmest places in the US in February.
We've traveled extensively across the country and have figured out that there are not many places with warm weather in the USA, but rather warmer weather to escape the bitter cold.
Overall, the Hawaii islands and Florida beaches are the best places to go in February for sunny days and high temps. However, with fewer crowds and lower humidity, February is the perfect month to visit many destinations all over the country.
The below list rolls from hottest to coolest destinations, which I recommend for a fun and memorable trip in February.
1. Lahaina, Maui, Hawaii
High 82° Low 64°
*Update:* Obviously with the recent devastation in Lahaina, it is not recommended to visit right now. The Governor has urged travelers to postpone all nonessential travel to West Maui.
Lahaina, which was once known as Lele, meaning "relentless sun," comes in at number one for best places to go in February for the sun.
From beautiful beaches to unique shops, the town isn't just historically significant, landing it on the National Register of Historic Places, but it's a well-rounded vacation spot.
While you're there, don't miss the largest Banyan tree in the USA, Vladimir Kush's Fine Art Gallery, a Molokini and Turtle town snorkel tour, sunset sail, Fleetwood's on Front Street, and the Road to Hana.
2. Kailua-Kona, Island of Hawaii
High 81° Low 66°
Located on the west coast of Hawaii Island, Kailua-Kona tops the list of warmest places in the US in February.
Along with having fun in the sun, head out to "Coffee Country" where you can try and buy its most famous product, Kona coffee.
The capital is also a fabulous jumping-off point for many outdoor activities like deep-sea fishing, hiking, kayaking, snorkeling, and diving.
While you're there, don't miss Ocean Rider Seahorse Farm, the Pu'uhonua O Hōnaunau National Historical Park, Waikoloa Petroglyphs, Manta Ray Night Dive, and Kona Brewpub.
Read Next: Top Things to Do in Kailua- Kona
3. Honolulu, Oahu, Hawaii
High 81° Low 65°
Even though Honolulu is Hawaii's largest city, it is a tropical paradise. You'll find fun water activities like snorkeling and surfing in the clear blue water at Waikiki Beach.
Located northwest of downtown Honolulu, the Pearl Harbor National Memorial is a somber experience but a must-see on your visit.
Another unforgettable attraction is Diamond Head State Monument, a huge crater of consolidated volcanic ash created 3,000 years ago.
If you plan a visit, here's the ultimate list on What to Pack for Hawaii.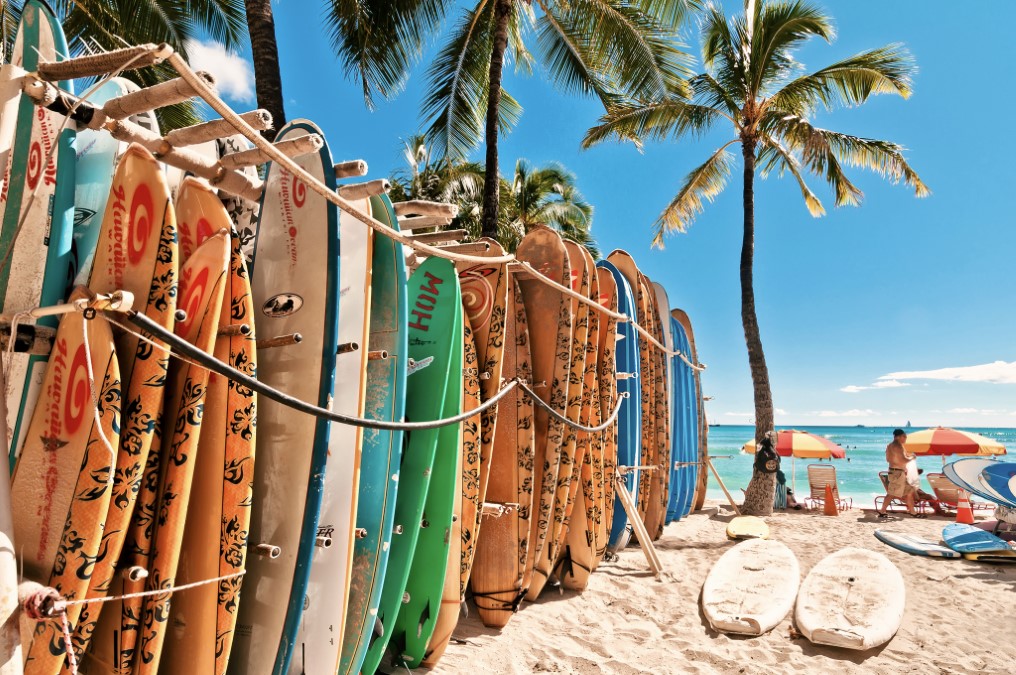 4. Miami, Florida
High 77° Low 69°
Comparing averages from a few different weather sites, Miami proves to be the warmest place in Florida in February.
On your to-do list include enjoying the white-sand beaches and make sure to pack a handy beach chair, taking an airboat tour of the Everglades, discovering the best Latin-American-infused cuisine, strolling through the Vizcaya Museum and Gardens, cruising along Millionaire's Row, and discovering the street art at Wynwood Walls.
READ NEXT: A UNIQUE WINERY IN FLORIDA
THAT MAKES WINE FROM AVOCADOS
5. Fort Lauderdale, Florida
High 77° Low 62°
Just north of Miami is another beautiful city on Florida's southeastern coast.
Known for its beaches and fresh seafood, Fort Lauderdale has many other things going for it. Hit Las Olas Boulevard for shopping and dining in a historic district. Don't skip the Fort Lauderdale Riverwalk and hop on the water taxi to see where the rich and famous live along Millionaires Row.
Full Disclosure: Some of the links in this post are affiliate links. We receive a commission at no extra charge to you if you purchase through them so a big thank you for that!
6. Naples, Florida
High 77° Low 58°
Naples is a classy town in Florida, known for its high-end shopping and upscale dining along with close proximity to laid-back beaches and outdoor adventure.
Make sure to check out the Naples pier, go shelling on Keewaydin Island, visit the botanical gardens, and walk the boardwalks at the Corkscrew Swamp Sanctuary.
7. Key West, Florida
High 76° Low 68°
Did you know that Key West is the sunniest and warmest place in the United States year-round?
The island has beautiful architecture, serene gardens, delicious food, and a wild bar scene with the added benefit of wavering palm trees, soft sand, and breathtaking sunsets. It's a fantastic destination for everyone.
To help plan your trip, here are my favorite 20 things to see and do in Key West, Florida.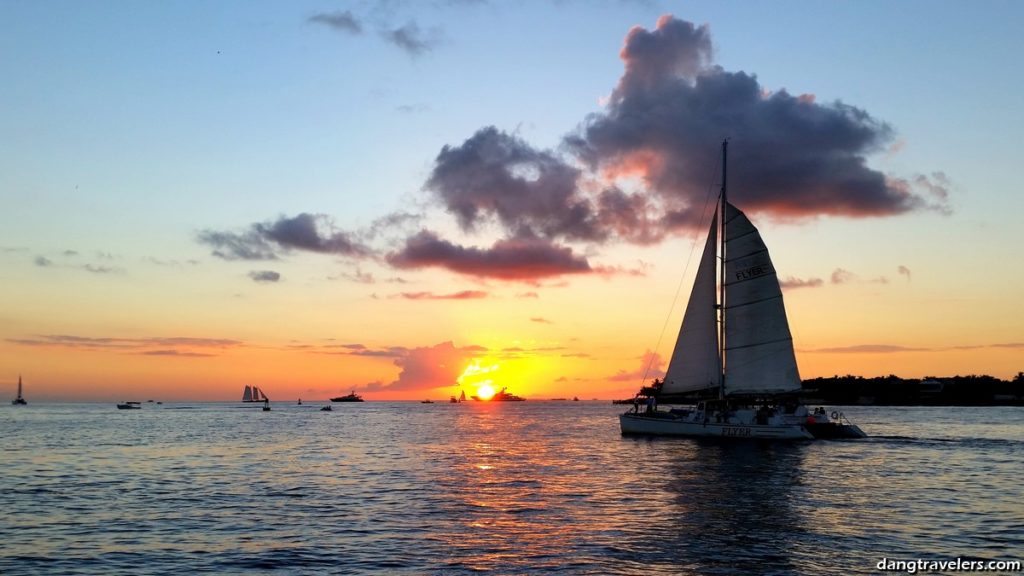 RELATED: WARMEST PLACE IN US IN JANUARY
8. Orlando, Florida
High 75° Low 54°
Do you know what's really cool about O-Town? It's home to the most magical place on earth, sure, but there are also so many other fun things to do in Orlando, especially in the winter months.
The city is the perfect base to explore Central Florida and because of Disney, there are a ton of lodging options that range from budget-friendly to 5-star accommodations.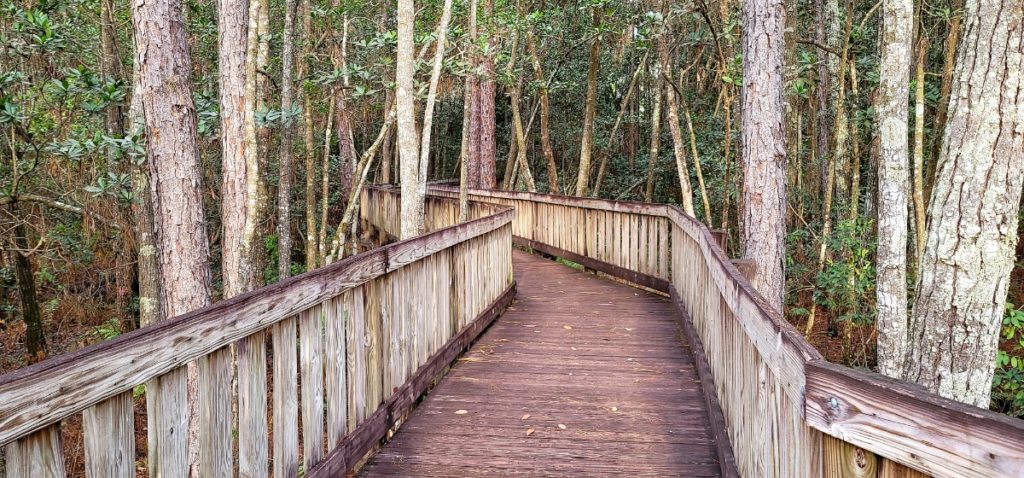 9. Yuma, Arizona
High 75° Low 46°
Not only does Yuma offer an unparalleled amount of sunny days – Guinness World Records claimed it as the World's Sunniest City – it also has historic sites and outdoor recreation.
Things to do and see include the Yuma Crossing National Heritage Area, Castle Dome Ghost Town, Sanguinetti House Museum and Gardens, the riverfront Trail, Colorado River State Historic Park, Yuma Territorial Prison, and rent an ATV at the Imperial Sand Dunes.
10. Tampa, Florida
High 74° Low 57°
Tampa is best known for its stunning Gulf Coast beaches and world-class amusement parks, but there's more to the city.
After riding the thrilling coasters and getting acquainted with the wild animals at Busch Gardens, explore the Tampa Riverwalk, visit the opulent Henry B. Plant Museum and Gardens, take a fishing charter, and go find some adorable manatees.
11. Death Valley National Park, California
High 73° Low 46°
Straddling the Nevada-California border, Death Valley National Park is the largest national park outside of Alaska sprawling across 3.4 million acres.
Also known as one of the hottest places on earth, the park holds the record for the hottest air temperature ever recorded.
Along with other fall and winter months, February is one of the best months to visit Death Valley National Park. Cruise Artists Drive, view Dante's scenic spot, stand at the highest point at Badwater Basin, and hike to Zabriskie Point.
We visited this year for the first time and couldn't believe the vast beauty within the park.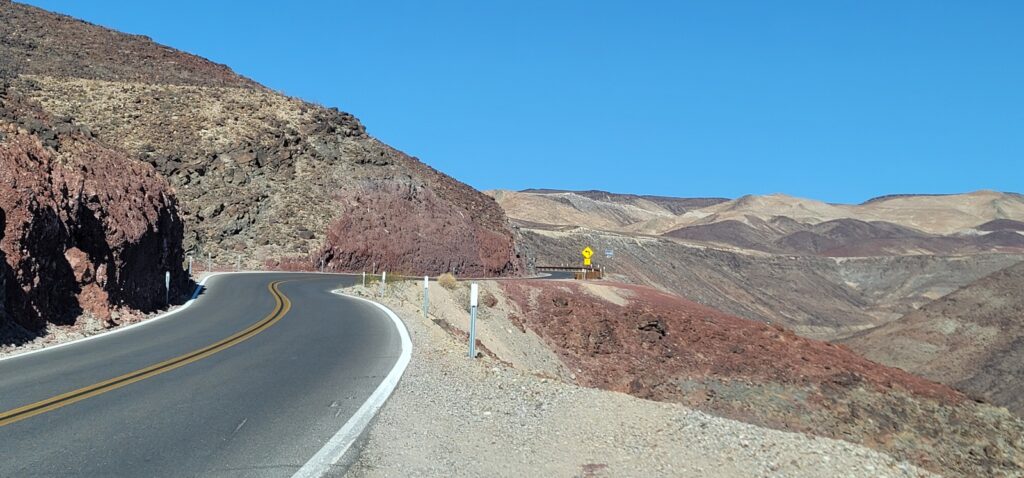 12. Crystal River, Florida
High 73° Low 46°
From mid-November to March, Crystal River is home to one of the most unique experiences in Florida – swimming with manatees. It's one of the few places in the entire world you can do this.
You'll see first-hand why they are called sea cows and will fall in love with the gentle giants the minute you mistake them for big boulders floating in the water.
Not being a very strong swimmer, I was very nervous beforehand, but I've done it a few times now and it's always an incredible experience. Here's how you can swim with manatees in Crystal River, Florida.
While you're there, do not miss Monkey Island, meet Lu at Homosassa Springs Wildlife State Park, eat at Waterfront Social Grill & Tiki Bar, visit historic downtown Crystal River, and kayak the Chassahowitzka River.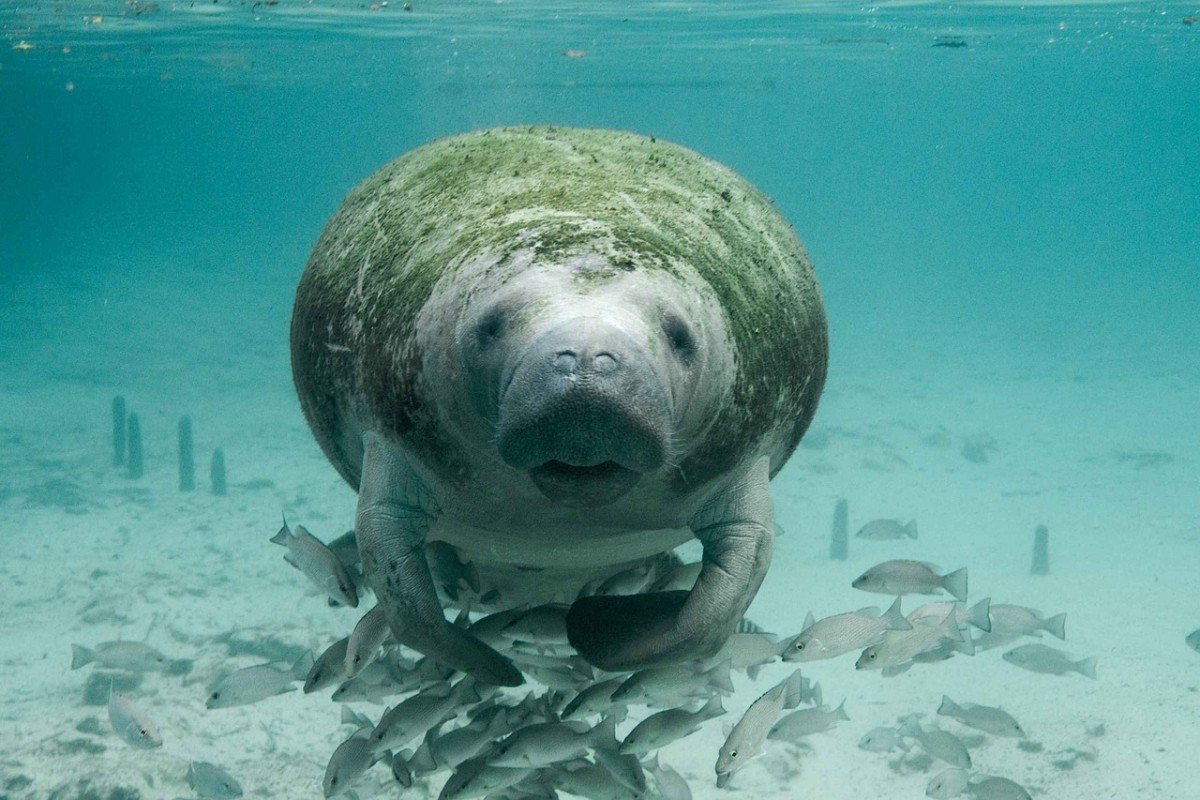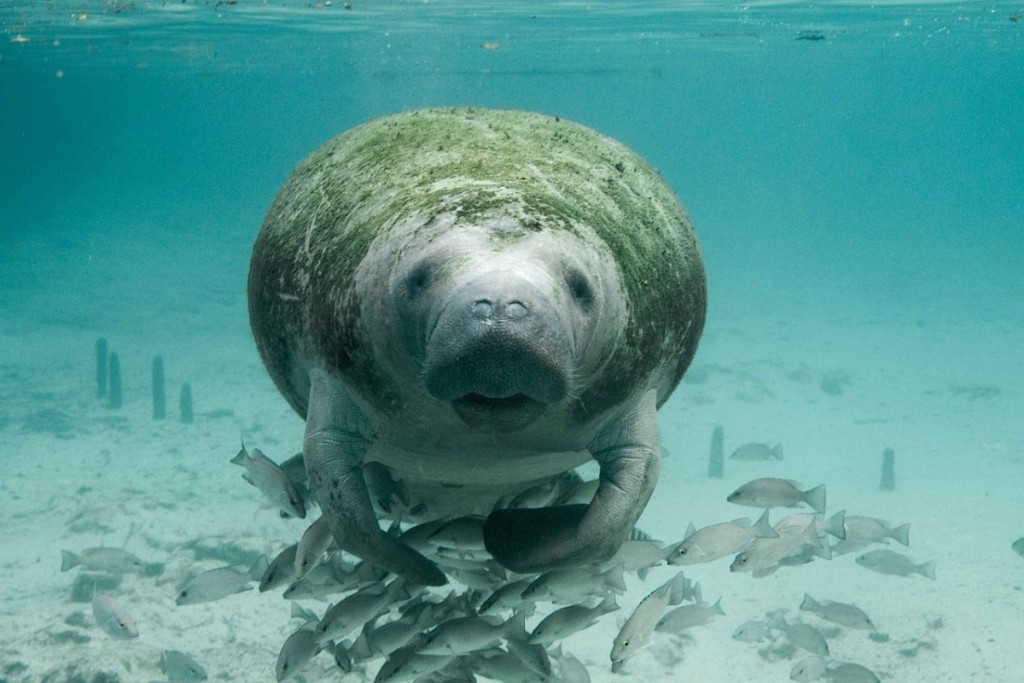 13. Phoenix, Arizona
High 72° Low 48°
From outdoor excursions to interesting museums, Phoenix checks all the boxes as a fun February getaway.
To make your trip memorable, here are a few hotspots: South Mountain Park and Preserve, Cosanti Originals, Desert Botanical Gardens, Phoenix Art Museum, Camelback Mountain, and Piestewa Peak.
14. South Padre, Texas
High 71° Low 57°
When you think of Texas, a tropical island might not come to mind. And that totally makes sense because South Padre is the only one!
There you'll find amazing sunsets, more than 30 miles of sandy beaches, dolphin and fishing boat tours, a sea turtle rehabilitation facility, horseback riding, nice hotels, and many places to enjoy eating on the water.
15. Lake Havasu, Arizona
High 71° Low 46°
Located on the border of sunny Arizona and California, Lake Havasu is a delightful manmade reservoir on the banks of the Colorado River.
It's an outdoor lover's dream with year-round hiking trails, fishing, boating (many more water activities), and biking routes. But that's not all the city is also known for – there are also breweries, historical places, casinos, and party bars.
Want to make a trip extra special? How about Driving Route 66 from Chicago all the way to Lake Havasu?!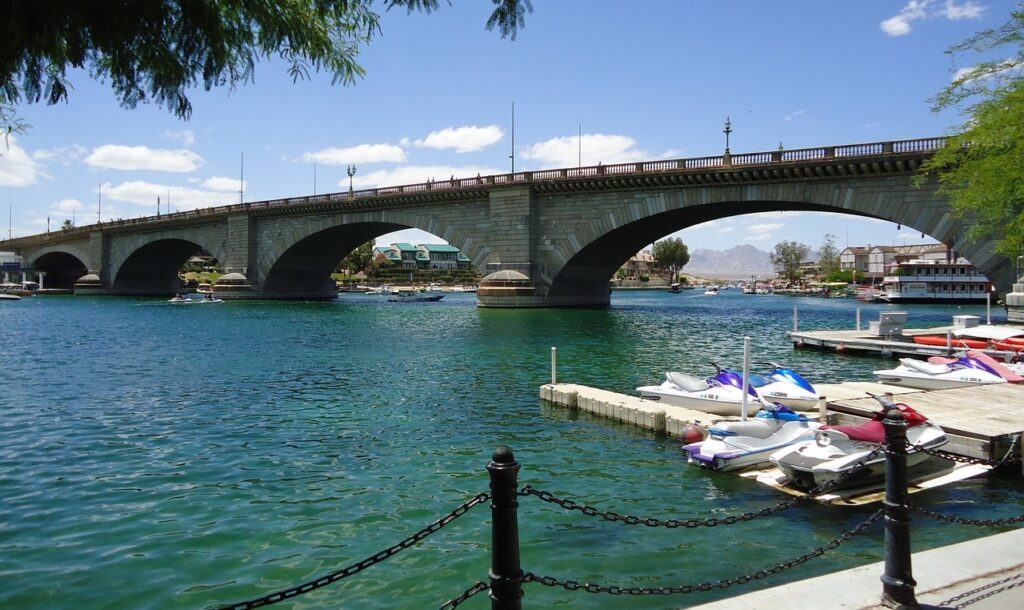 16. Los Angeles, California
High 69° Low 51°
One of the world's most famous cities, Los Angeles is as glitzy as it is glamourous.
Take the obligatory selfie with the Hollywood Sign on Mount Lee at Lake Hollywood Park, take the infamous Mulholland Drive over to the Jerome C. Daniel Overlook, visit the Griffith Park Observatory, walk down Hollywood Boulevard and look for your favorite celebrity stars, see where the Acadamy Awards are held, walk inside the Beverly Hills Hotel, and take a stroll on the Santa Monica Pier.
See here for my recommended self-driving tour of Los Angeles, California.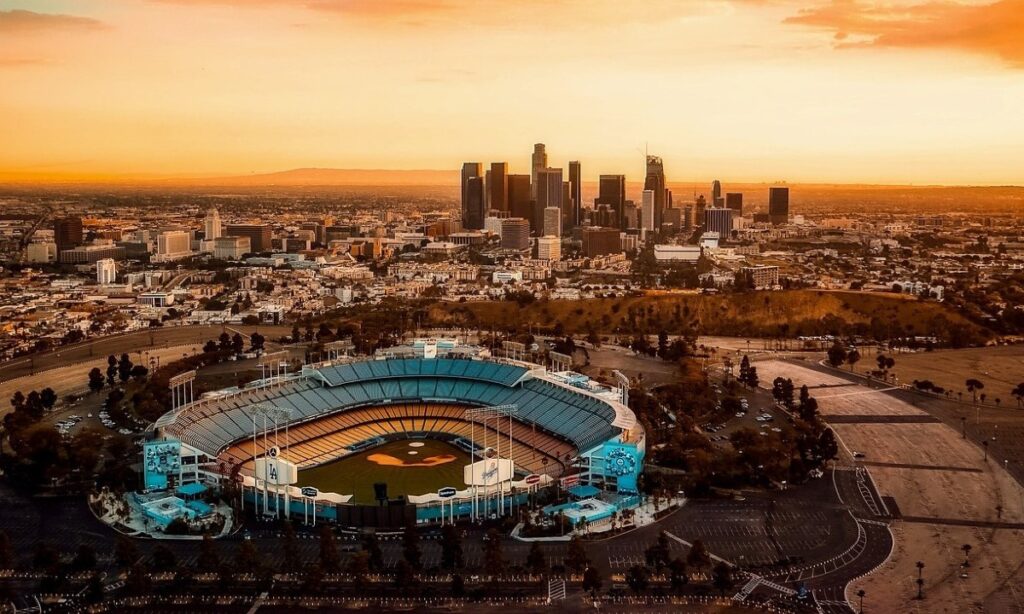 17. St. Augustine, Florida
High 69° Low 48°
In my opinion, St. Augustine is one of the best places to travel in the U.S. in February 2023. This historical town has managed to fly under the radar so far, but with a nice beach close by and a super fun downtown, it's a great destination.
Ride the hop-on-and-off trolley, visit the Castillo de San Marcos fort, take a scenic boat ride, climb the lighthouse, stroll down the famous St. George Street, or take a ghost tour. There's plenty to choose from to keep you busy.
18. Tallahassee, Florida
High 68° Low 40°
Another underrated city in Florida is its capital Tallahassee. There you'll find excellent food, a creative art scene, exciting outdoor adventures, and friendly people.
Among the towering Cypress trees are over 600 miles of trails for biking, hiking, and paddling.
Places that should be added to your itinerary include Alfred B. Maclay Gardens State Park, Tallahassee Museum, Food Glorious Food, Railroad Square Art Park, and the Tallahassee Capitol Building.
Complete List of Best Things to Do While Visiting Tallahassee
So where is the warmest place to go in February? I'm sure you noticed the trend of the same states popping up: Hawaii, Florida, Arizona, California, Texas, Georgia, Louisiana, and Alabama.
The key is to head south or hop on a plane over to the Aloha State.
Do you have any recommendations for the best places to visit in February USA? Tell us in the comments below!