A free walking tour is one of my top recommended things to do in Quito.
Why? Because it's the perfect introduction to the historical city and a great way to meet other travelers as well. I highly advise booking a tour for your first full day.
If you're planning a trip to South America, check out my checklist of
Important Things to Do BEFORE Arriving in Ecuador.
What to Expect on a Free Walking Tour Quito
There are a few options for tours (your hotel might even offer one), but we joined Community Adventures with about ten other people from different parts of the world.
We met a single guy from Ireland, another from St. Martin, a couple and single girl from Germany, a gal from Paris, a couple from Israel, and a few others.
The Old Town Walking Tour begins at Community Hostel. You can choose a morning or afternoon tour. The times are 10:30 am or 2:30 pm Monday through Saturday- rain or shine. It lasts around three hours and ends in the San Francisco Plaza.
The main attractions you'll see vary depending on what day of the week you schedule your tour and what is going on in the city.
Looking for other memorable things to do in Quito?
Read here about the Rucu Pichincha hike, an unforgettable adventure!
Mercado Central
The tour begins at the Central Market where you'll learn about different local herbs, flowers, and fruits.
Did you know Ecuador's major exports include cut flowers like fresh roses? It is said they have the largest blooms of any country in the world.
One of our favorite parts of the tour is trying unique fruits.
For $1 per person, a seller cuts up a bunch of different types to try including lilikoi, cherimoya, guayaba, tomate de arbol, granadilla, and pitahaya. It's fun sampling fruits we otherwise would not have tried on our own.
Read Next: What to Do in Quito for a Week
A Must-Try Local Drink
Afterward, you'll walk to a restaurant to try a popular Ecuadorian beverage called Canelazo for a small fee.
The spiced warm drink served in a shot glass is made with sugar cane alcohol seasoned with cinnamon and cloves. It's delicious and doesn't taste alcoholic – or maybe the spices hide that!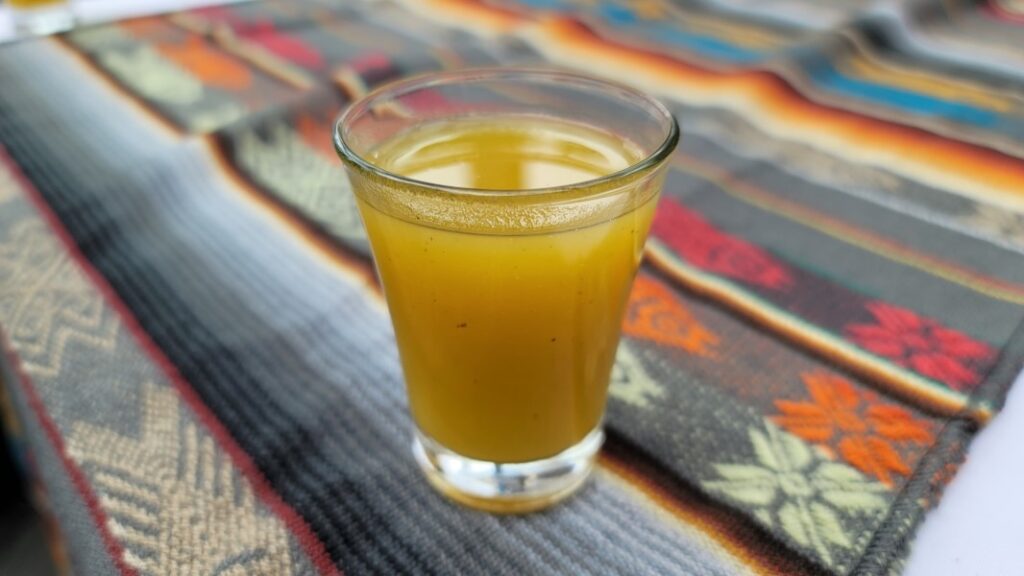 Once you've given your feet a proper rest, you'll walk over to a gorgeous boutique hotel. While inside you'll learn more about the history and culture of the city and country.
The guide will also take this opportunity to share some other useful information for visiting Quito. Obviously, this depends on the guide and their expertise, but ours talked about the best neighborhoods in Quito, other attractions we should check out and traditional food dishes to try while in Ecuador. He also answered many questions throughout the morning.
Another magical experience we booked with Community Adventures was an Amazon Jungle Tour in Ecuador.
Plaza Grande
Next, is the historical hub of the city- Plaza Grande.
Here you'll find the Presidential Palace, City Hall, Archbishop's Palace, and the Metropolitan Cathedral in the most significant area of Old Town.
Also known as Independence Square, the monument standing tall in the center is in honor of the first attempt at independence from the Spanish Monarchy.
Church of the Society of Jesus
Then, you'll walk down Sebastián de Benalcázar to one of the most striking churches in Quito.
Construction on the Church of the Society of Jesus was started in 1605 and didn't finish for over one hundred years in 1765.
The exterior is dark and dramatic with the inside glowing in gold sheet ornamentation. The main temple is carved in volcanic stone and every inch is covered in elaborate trimmings.
Note: Photos are not allowed inside.
The Church of San Francisco and Plaza
Before the tour ends, you'll head over to San Francisco Plaza, one of the largest public squares in Quito.
Head inside the Church of San Francisco, one of the oldest churches in Ecuador. Construction began in 1535 of this amazing structure, and it is considered one of the best examples of American colonial architecture.
Yumbos Chocolate
Finally, your afternoon will bring you to Yumbos Chocolate, a small artisanal chocolate store on the edge of San Francisco Plaza.
Discover all there is to know about the high-quality chocolate industry in Ecuador. From cocoa beans to chocolate, you'll learn all the ins and out of the process and be able to sample many final products.
Also don't miss the fantastic view overlooking the plaza from their balcony!
Again, this is just an example of a Quito free walking tour, they may differ depending on your guide and what day you are visiting.
How Much to Tip on a "Free" Walking Tour
The reason I put quotes around the word free is that even though the tour itself costs nothing, there are some other fees.
It is expected to tip your guide a minimum of $10 per person at the end and there are a few other minor expenses during the tour that I discuss above.
What to Bring and/or Wear
Cash for tips and tastings (don't forget Ecuador's currency is the US dollar)
A camera
Raincoat – the weather is so unpredictable in Ecuador
Sunscreen or a hat (the sun is no joke being so close to the Equator)
Comfortable walking shoes (you don't walk that far but there's a lot of standing)
See below for a Quito walking tour map of the places we visited in case you'd like to plan a self-guided jaunt.
Other companies that offer free walking tours in Quito:
Free Walking Tour Ecuador
GuruWalk
Civitatis
If you're looking for how to spend a day in Quito Ecuador, a free walking tour is a great place to start!