Finding the perfect gift takes time and a whole lot of planning and thinking. Nowadays, it seems like everyone already has everything. So why not consider giving experiences instead of gifts. Whether you are looking for a wedding, anniversary, or Christmas gift, we've got you covered with these creative experience gift ideas for couples.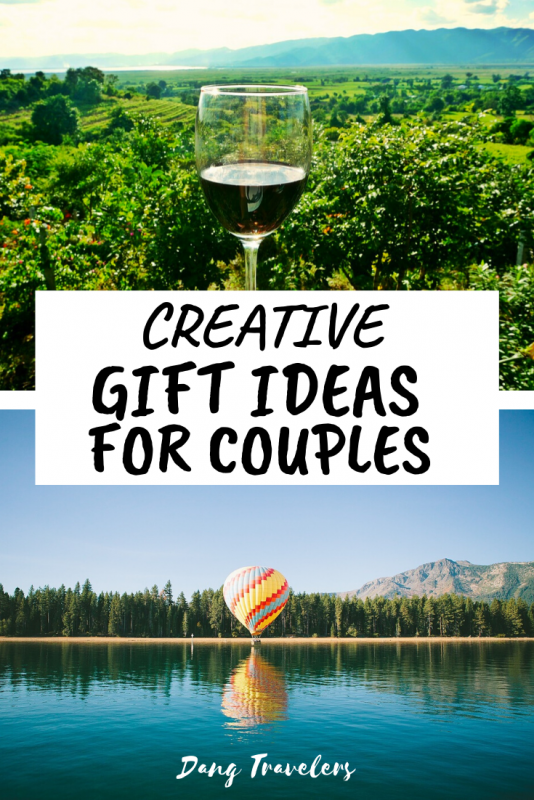 But first, let's talk about saving. Even though you won't be purchasing a gift you can still use third-party sites to get hefty discounts and/or cashback. Money back in your pocket is always a good thing so don't skip this step!
Cashback Monitor – Start with Cashback Monitor, a website that compares all the cashback programs to give you the one that is offering the highest percentage back. Type in whatever "store" you are purchasing from like Groupon and it will spit out all the cashback sites and which one is offering the best deal. I have a few favorites that usually place in the top three.
Disclosure: Some of the links on our site are through affiliate partnerships. We may receive a small commission (at no additional cost to you) if you purchase through our links.
Favorite Cashback Websites
Rakuten – Ebates, which is now Rakuten, was the first rebates program I ever used and I still tend to use it over the other ones because of that. Click here if you want more information on how to use Rakuten. Plus, if you haven't signed up already you can get a $40 sign up bonus!
TopCashBack – TopCashBack is another site that will give you the current promotion codes available for discounts and will give you cashback on your purchases. Open here for a new account and signup bonus!
BeFrugal – Founded in 2009, BeFrugal has over 5,000 retailers and passes its commission straight to the consumer. They do not make a commission themselves, instead, they make their money through promotional deals with the retailers. Here's $15 to get you started!
If you like to save money, check out my article on 50 Simple Ways to Save next!
Favorite Discount Site
Groupon – Is it just me or anytime you plan something, you hop on Groupon to see what's available? From botanical gardens to restaurants, Groupon usually has discounted tickets to many areas' top attractions. If you haven't signed up already, get $10 in Groupon Bucks here.
Let's get on with it, here are a few of the best experience gift ideas for couples.
Museum Passes
There are so many interesting museums out in the world, take your pick from history, art, military, music, or science.
Wine or Beer Tasting Tour
For the drinkers in your life, a tasting and/or tour is always a fun way to experience a new place. Find a local winery or brewery and purchase a tasting tour.
Concert Tickets
For music lovers, you can't go wrong with concert tickets. Check out Ticketmaster or StubHub for tickets or gift certificates.
Why You Should Buy Experiences Instead of Gifts For Christmas
Segway Tour
A segway tour is one of my top 10 experience gifts. A couple of years ago my mom got my husband and me gift certificates for a Segway tour in Chicago. It was a blast and informative. We learned a lot about the city and how well we could balance it!
Escape Room
I can't believe it but we've still never been in an escape room but it's on our list. The idea is to use clues, puzzles, and tasks to find your way out of the designated room. It's an adventure game in real life, the perfect gift for a gamer.
Kayaking Trip
For the adventurous couple who loves getting out on the water, a kayaking trip is a fun experience.
A Cooking Class
Learning how to prepare a few dishes together is a good bonding experience. Look for local cooking classes in your area for the foodie in your life.
Ziplining Course
Have you ever ziplined? Our first experience was in the Poconos with TreeAdventures and it was an exhilarating day. If you know any active couples who like to try new things this could be your ideal gift.
Food Tour
For the foodie couple, pick up a gift certificate for a food tour. What kinds of food are they into? They have all kinds of tours depending on where you live.
Hot Air Balloon Ride
One of the most unique gift experiences is a hot air balloon ride. Research companies or places close by that offer romantic rides.
An Animal Encounter
From penguins to giraffes, you can get up and personal with various animal encounters at local zoos, rehabilitation facilities, or state parks.
Tickets to Sporting Events
If the couple you're buying for likes a particular team, look for discounted tickets to a game. And don't rule out minor league games, sometimes they have a lot more going on with theme days and fireworks nights.
Weekend Getaway
Staycations are great, but a full-blown weekend getaway is even better. Take the area they are from and search a few hours drive away. If you're from the Midwest like us, some recent favorite destinations for us include St. Louis, Bloomington, or maybe even Clear Lake.
Hop On and Off Tour
A hop-on-and-off bus tour is a splendid way to taxi around town plus learn about all the major sights and sounds. CitySightseeing is a popular double-decker bus, you'll find in over 130 cities worldwide.
Paint Night
Paint Nights are creative experience gifts that are a fun way to get a couple out and about together.
Couples Massage
What's better than a little relaxation and a couples massage is the perfect way to get there.
CityPASS
CityPASS sells discounted ticket packages to top attractions for U.S. destinations including Atlanta, Boston, Chicago, Orlando, and New York.

Tandem Skydive
If you know an adventure couple, a tandem skydive might be the way to go. I'm not sure I'm up for jumping out of a plane, but there are many that might be.
A Date Night
Book a sunset cruise or find a romantic restaurant in the area and plan a date night with all the details figured out. Imagine having a complete night planned out for you and your significant other… no excuses not to have a wonderful time!
RELATED: Experience Gift Ideas For Him
Do you have any other thoughts on unique experience gift ideas for couples? Let us know in the comments below!