What does it cost to take a summer road trip like we are doing? Read further to find out what we've spent the first two weeks in the Black Hills and Yellowstone National Park. We have separated our costs by gas, lodging, restaurants, comped expenses, groceries, excursions, laundry and miscellaneous.

And so our epic 80 day summer road trip continues – 12 U.S. states, 1 Canadian province and 11 national parks. For the upcoming months, I will be sharing with you our highlights, lowlights, adventures, favorite spots, best tips and our thoughts on three months of road tripping and living in a pop up.  I'll try to answer any and all of your questions too!  You can also follow our journey via Facebook, Twitter or Instagram.


Miles Driven Today: 225


Total Miles Driven: 3,497


Average Gas Price per Gallon: $2.33


States: Wyoming & Montana


If you would like to see our full itinerary, start at the beginning here. And Start at Day One here.

Days 1 – 9 Illinois to South Dakota
2 Hotel Stays
6 Campground Stays
Total cost for week one in the Black Hills was $1,025, averaging $114 per day including the free comps we received for the blog and military discounts/passes since these are ordinarily incurred costs.
Days 9 – 16 South Dakota to Yellowstone
1 Hotel Stay = $0 Hotel Points Used
7 Campground Stays
Our cost for week two in Yellowstone  National Park (and side trip to Grand Teton) was $630, averaging $90 per day including the free comps we received for the national park military pass. Excursions included the canoe rental and Jenny Lake shuttle in Grand Teton National Park.
CLICK HERE TO FIND OUT HOW WE EASILY TRACK OUR TRAVEL EXPENSES
Total Expense Recap Days 1 -16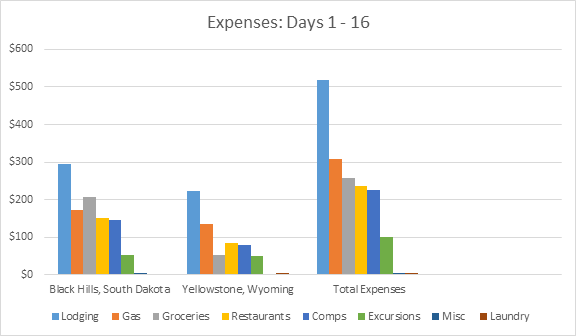 Today, we are driving from Yellowstone National Park to Butte, Montana for a hotel overnight before heading to Glacier National Park.

Next Stop: Glacier National Park