The month of October has been crazy! We arrived back in Chicago from our Mediterranean cruise September 30th exhausted and sick with colds. We were looking forward to our road trip, but had a lot to do including get healthy, pack and catch up on the blog. We started out in St. Louis for a few days so Dave could work, then headed to Louisville to visit friends, then we were off on our 7-week US road trip!
So far we've hiked to the tallest waterfall in the Smokies, went bird and alligator watching, met up and had a blast with a Myrtle Beach local that we met in Tennessee, toured the plantation where part of the movie The Notebook was filmed, watched wild horses run free on an island in Georgia, and visited the oldest settlement in America. Here's what was happening for Dang Travelers in the month of October.
Exciting News
We had our first guest post on the site this month from Alana at Runaway Bunny in Seoul. Since our cruise plans of having two days in Istanbul were derailed, we collaborated with her to get some insight to the food and culture that we missed out on: Top Five Places to Eat Like a Local in Istanbul.
We were approached and asked to do an interview for Travel Blogger Interviews and will be featured in November! We will definitely let you know when that gets posted.
Our Travels
Our 7-week road trip (it's more like 8 weeks since we are now heading to St. Louis at the end and won't be back home until December) began with a stop in Red River Gorge, Kentucky. What an awesome place! They had suspension bridges, sandstone arches and beautiful walking trails. We really enjoyed our day there.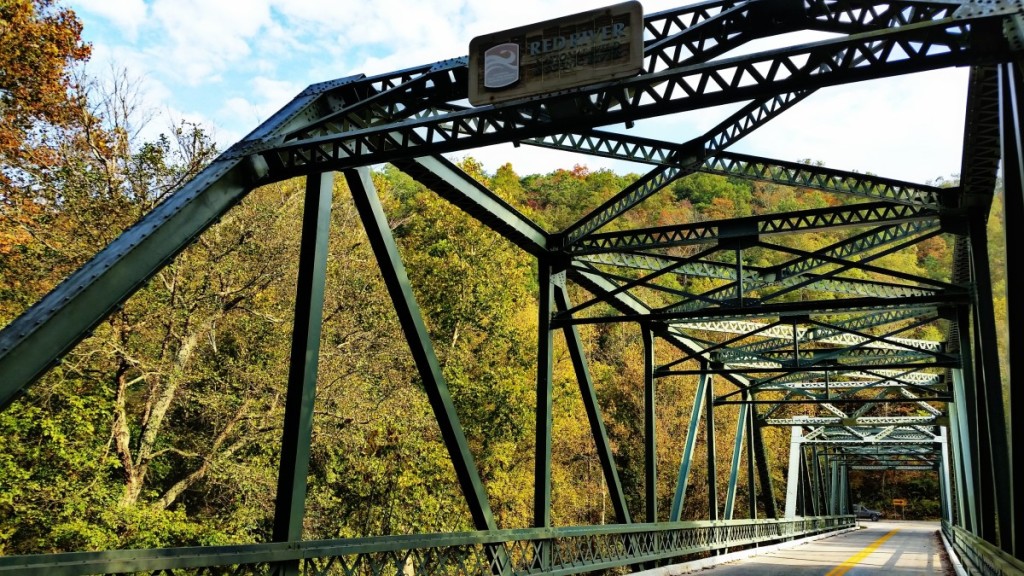 Our first full week was spent in Pigeon Forge, Tennessee next to Smoky Mountain National Park. The timing was sort of chosen for us based on availability at a timeshare. We don't own one, but rent them. At some point we will write a little something explaining where we book and how we pick where we are going to stay. Anyway, it was the beginning of October so we weren't sure if we were going to get any fall color. Well, we did and it was wonderful! We hiked, then hiked some more. We also took a few scenic drives and had a moonshine incident that I plan on writing about here in the near future.
On our drive out of the Smokies, on the way to our next destination, we took a little detour to drive a section of the Blue Ridge Parkway. Wow, all I can say is WOW! We drove from south side of the Smokies to Asheville, North Carolina. The drive and the fall color was fantastic. I was a little car sick with all the turns, but it was SO worth it.
We spent the next week in Surfside Beach, South Carolina, about 8 miles south of Myrtle Beach. It was a nice change of pace. We went from mountains and hiking to palm trees and laying at the beach. We had a few colder days (by cold I mean in the sixties) so we adventured around and found some neat places for side trips from Myrtle Beach.
We had a short visit in Georgia so we could spend the day at Cumberland Island. I had read about it a few years ago and really wanted to see it firsthand. It was a little pricey for the day as we had to spend $53 on a ferry to get there and $32 for bike rentals, but it was a surreal experience. It is an exotic island filled with dense forests, ruins, historic mansions, and wild horses, turkeys, and hogs.
Upon a recommendation from a friend, we stopped in St. Augustine, Florida on the way to our next destination. It is such a cool town. It has a fort, pedestrian only street with restaurants, wineries, shops and bars, great architecture, and the most important, the Fountain of Youth. We will definitely make it a point to go back at some point in the future.
And that leads us to where we are now: Lauderdale-by-the-Sea, Florida. We are a half a block away from the ocean in this super cute, cozy motel-type place. We've been in this area before so it's nice to feel like we can relax a bit and not be on the go all the time. The plan is to catch up on some writing while we are here.
The Blog
Our biggest challenge with the blog is keeping up with our writing. Our days have been filled with so many adventures, it has been hard trying to make time to sit down and put together our thoughts. I promise we will get better at this as time goes on! It's definitely a learning experience. We also realized we should have brought both laptops on this trip instead of one so we could both be productive at the same time.
That being said, we've had some great posts this month! Our Kansas City Highlights article was shared on Visit KC's Facebook page, so that brought us some new readers and great feedback. We wrote up Unusual Things You Didn't Know About London from our experience in the city. It touches on most of the major attractions and we included some great pictures from our trip there.
We also wrote about our two favorite stops on the cruise: Santorini and Dubrovnik. I put together a fabulous video on YouTube of the island of Santorini. You have to watch it here!
16 Things I Wish I Knew Sooner – A Letter to my Younger Self is an introspective piece about some of the things I've learned along the way about life, love and relationships with myself and others.
Social Media
We've seen some substantial growth on our social media accounts. At the end of September, we had 723 followers on Twitter. By mid-October, we hit 1,000 and now we have over 1,550! We've been working on our Pinterest account this month and now have 36 boards, 362 pins and over 200 followers.
At the end of September, we had 225 Instagram followers. By mid-October we hit 300 and today we have over 430 followers! We have been posting a picture a day to document our road trip.
Most Popular Photo on Instagram
Our most popular photo on Instagram in October was from our time in Tennessee. It is of Ramsey Cascades, the tallest waterfall in the Smokies. We hiked 8 miles round trip, the constant climb (over 2,000 feet in 4 miles) was rough on our knees, but it was totally worth it!
What's Next
We will be in Florida for the entire month of November! We are making our way around the entire state hitting:
Lauderdale-by-the-Sea
Weston
Key West
Homestead
Naples
Sanibel Island
Inverness
Orlando
Have any recommendations for Florida? Let us know!