Come with us on our adventure as we learn how to travel in Thailand! Visiting Asia is a first for both of us so I'm sure we will be learning a lot as we go and we plan to share everything you need to know about traveling to Thailand.
It's known as the "land of smiles" and I'm guessing we will be joining them. But first, we have to get there!
Thailand Map
Preparations Before Getting to Thailand
What kind of Tourist Visa do you need to visit Thailand? Even though you can travel visa-free for 30 days, we opted to apply for the 60 day visa so we wouldn't have to hop over to another country during our trip -which is called a visa run.
The process was pretty simple. We found a Thai Embassy downtown in Chicago so we used it as an excuse to spend the day down there.
Download an application and provide information on how long you'll be there, passport data, a bank statement to show you have enough money to get back to your own country, money order for $40 per person and the lodging for your first stay.
The last one goofed us up a bit because we didn't do as much research as we normally do and ended up booking a nonrefundable room near a crazy part of town that doesn't have the greatest reviews the last few weeks!
Oh well. It was $35 USD a night with taxes so at least it's cheap! The hardest thing about the process was giving up our passport with the acceptance that they would mail it back. We didn't read that beforehand so that caught us off guard, but our passports and the visa came within a week of us applying.
You can find great information here in this Thailand travel guide book.
Packing for Thailand
Packing light was a goal for both of us, and we managed to bring only one backpack each.
For me, it was a challenge to pack for the heat but also conservatively for visiting temples. I read women, in general not only when visiting temples, should cover their shoulders and knees just walking around. The country is quite modest and it is considered respectful to the Thai people.
The problem with that is the hot temps and humid air. 95 degrees feels like 105.
Here's what I'm starting with and I may buy or leave some items if necessary.
Hoodie
Light Long Sleeve Zipper Up
1 Hiking Pants
2 Palazzo style pants (all the above for temples, plane, trains and malls with air conditioning)
3 Short Sleeve Quick Dry Shirts
2 Cotton Tshirts
4 Tank Tops
2 Skirts
2 Capris
1 Pair of Shorts
2 Swimsuits
1 Coverup
1 Pair of Flip Flops
1 Pair of Merrells Sandals
1 Pair of Trail Runners
What it's like to fly on Korean Air to Thailand from Chicago
Our flight left O'Hare Airport at 11:25AM arriving 14 hours later in Seoul, South Korea.The flight was smooth, the attendants very helpful and friendly, and the food decent. If you're not flying first-class, I'm not sure airline food can ever be considered good.
The first meal was a choice between a hot beef bun, chicken and rice and vegetable noodle dish. Dave ordered the beef and I the chicken.
Then in between, we were offered a snack of a banana, warmed beef bun (which were delicious), or brownie.
With about two hours left, our next meal came up with a welcoming hot towel. This time it was between fish, chicken and pasta marinara. There was no way either of us were choosing fish on a plane!
Neither of us slept so we rotated between watching movies and listening to music.
We had a four hour layover in Seoul, South Korea so we walked around to stretch our legs then checked out two of the lounges.
The last leg of our day was 6 hours into Bangkok. The flight attendants brought out a meal as soon as we leveled off then both of us slept the rest of the way since we were exhausted.All in all, the travel day went faster than I expected.
After 24 hours, we finally arrived in Bangkok!
And now discover the sights and sounds of southeast Asia with my Thailand travel blog.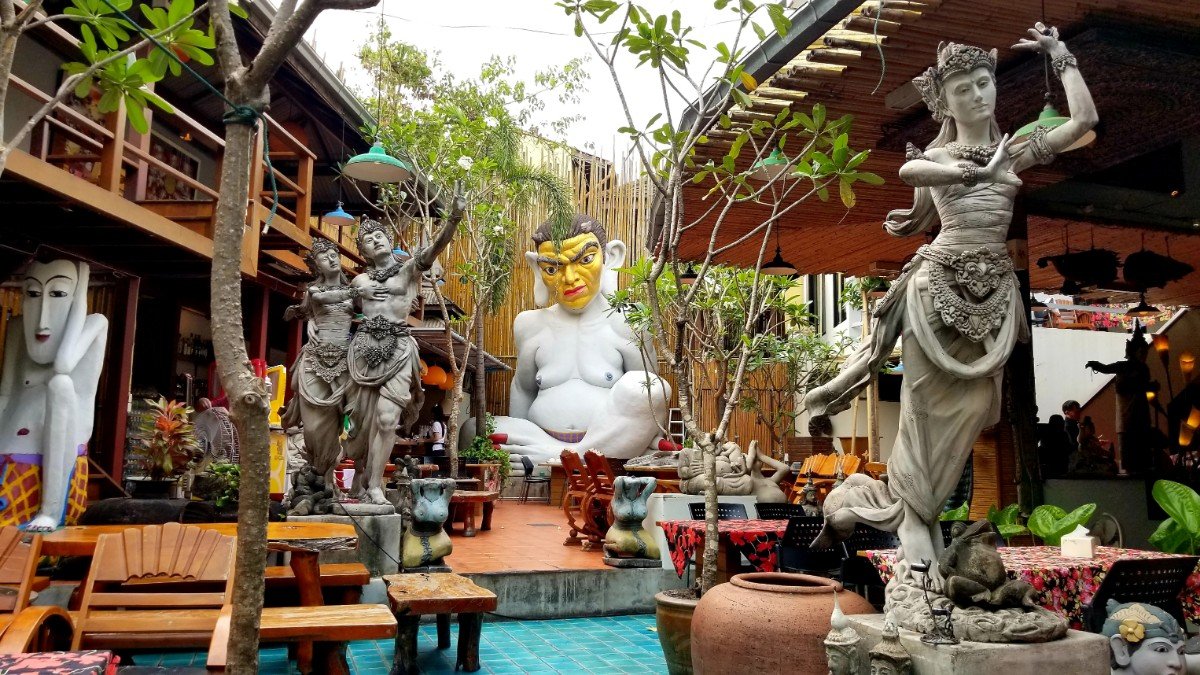 Day 1 in Bangkok
Sensory overload are the words that come to mind to describe our first day in Bangkok.It's one bright colored sign after another along Khaosan (or Khao San Road), one of the most touristy areas in the city where we inadvertently booked our nonrefundable room a few months ago.
More to come on that, but luckily it is working out so far even though we read some really bad reviews before we arrived.
Various aromas fill the air with every step; deep fried chicken here, body odor there, then savory smells of stir fry meals sizzling on giant woks.
Along with aromas, different languages can be heard with almost every step as well. Thai here, German there then sprinkle in some English and Australian accents in between.
As we walk along the road, tuk-tuks and scooters whiz by and taxi cabs inch forward right next to you. I can't believe there's not a hundred rolled feet in the emergency room every day!
Men are out on the streets coaxing us to buy tailored suits. A tray of deep fried scorpions are waved in front of our faces. Women next to a long line of massage chairs are waving us over with a smile.
It's mass chaos but somehow it works.
Khao San Road is the hub of the ubiquitous backpacker scene and an extremely touristy part of the city. It seems as though the very heartbeat of Bangkok is here emanating from this precise thoroughfare.
It is right outside our hotel so this will be our walk every day for a week or so.
Oil Massage in Bangkok
After that long travel day, I am ready for a massage! I've read it is a MUST-DO thing here and I plan to get a few.
We price the shops near us and the average cost in this part of town for an hour long oil massage (not the rough Thai massage – figured we'd wait to try that one) is 350 baht, roughly $11.50 USD.
Our hotel has one right next door so we figure we'd give them our business and they say 300 baht each since it's the two of us. Two massages for $20!
It's not like getting your typical massage back in the states. There are a few ladies in a small room with tables side by side.
We have NO idea what to expect. They tell us to take off our clothes, leave underwear on and they pull a curtain around us. Then the two women come back in and lay a light sheet over us.
We start on our stomachs and this part is similar to massages I've gotten before. She rubs my back, arms, legs, butt and a little on my feet.
There's no music playing in the background so it is completely silent except when they tell us to move or quietly talk to each other.
Then she has us lay on our back and this is when it gets strange. Good but different than what we are used to. She pulls, twists and contorts our bodies just to where it hinges on pain then releases.
She has me sit up and presses her whole body against my back pushing down. Then, she has me lie my head in her lap as she finishes the massage with rubbing my scalp, neck and forehead.
IT WAS GLORIOUS! Definitely going to do that again.
Rooftop Pool
Most days here in Bangkok are "feels-like-100-degree" days so since jet lag was setting in and we were so relaxed, we decide to hit our roof top pool for a bit in the afternoon.
Street Food for Dinner
Once our stomachs started grumbling, we clean up and head out for dinner. We round the block over to Soi Ram Buttri Street. I heard it is a quieter version of Khao San with quality authentic Thai food.
Always pick a place with a line and look for locals.
So, that's what we did. We didn't know if the vendors would have tables to sit, but we were happy to find small ones set out on the street and sidewalk.
We both pick a chicken dish. Mine came with rice and soup and Dave's with noodles- similar to Pad Thai. A little on the spicey side and super fresh, it was absolutely divine!
And all for 85 baht, 100 with tip so that comes out to roughly $3.30 USD.
Since we are feeling a little off getting used to the time change, we call it an early night looking forward to tomorrow!
What a first day. I think we are going to like Thailand…
Day 2 in Bangkok
Is the Grand Palace worth visiting? That's a big fat YES from Dang Travelers.
It is 500 baht per person to enter which is roughly $16 USD. Plan to spend a few hours inside especially if you like to see everything and take lots of pictures like us.
The compound is one of the main attractions to see in the city, therefore, one of the busiest. But it is definitely a do-not-miss place.
Established in 1782, the collection of buildings once housed the king and Royal Family. Now, it is open to the public and has ceremonies and state functions periodically.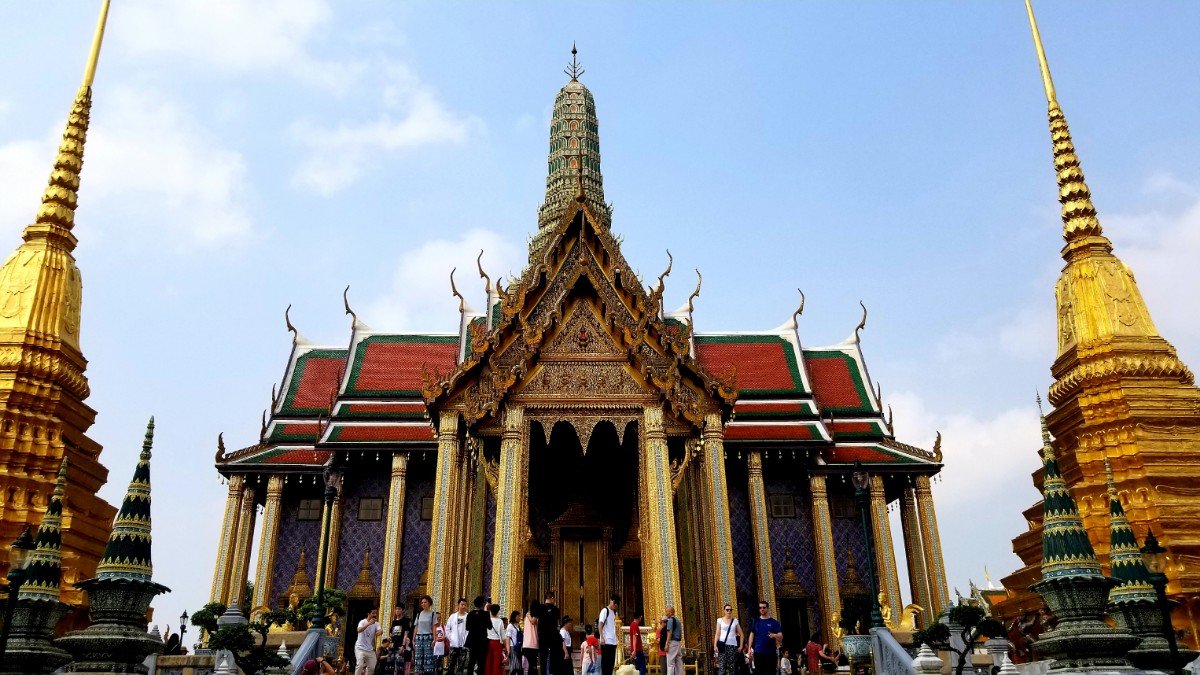 Between the Grand Palace's four walls, you'll find breathtaking building after building. We did not do much research beforehand which worked out well. We were taken aback by all the beautiful architecture.
Glistening gold and pastel porcelain mosaic pieces line outer facades. Demon guardians stand at gates with watchful eyes. While ancient stories unfold with colorful mural paintings.
The crowds are horrendous and we are not sure if it's because of extra travel for the Chinese New Year on January 25th or if it's typically crowded in the winter months. It looked intimidating as we entered but once we were inside exploring it wasn't too bad.
HOT TIP: ARRIVE AS EARLY AS POSSIBLE TO AVOID SOME OF THE CROWDS.
The only temple we are allowed to go in was the Wat Phra Kaew, home to the Emerald Buddha. Carved from an entire block of jade, the meditating Buddha is cloaked in gold and sits looking out at us tourists as if he knows a few secrets.
But beware, no pictures allowed. Even though we saw a few people sneak a pic or two, we weren't about to take our chances!
The Royal Residence, Chakra Maha Prasat Hall, looks rather stately versus the over-the-top ornate halls and temples. But it is here that the crowd thins and you can take a breathe for once.
Before leaving we walk through the Queen Sirikit Museum of Textiles. Three reasons to make sure not to miss this: it's included in your ticket, it has air conditioning and you can learn a lot about the Royal Family and Queen plus Thailand's textile arts.
Lunch at the University
As we are walking back to our hotel, we pass through a local university. There are a few eatery stalls set up outside and the lines are long so we figured it would be good. And cheap!
It's set up for broke college students after all. And we were right! We ordered Chicken Pad Thai and Chicken and Noodles, both for 30 baht each which is $1.00 USD and they were delicious.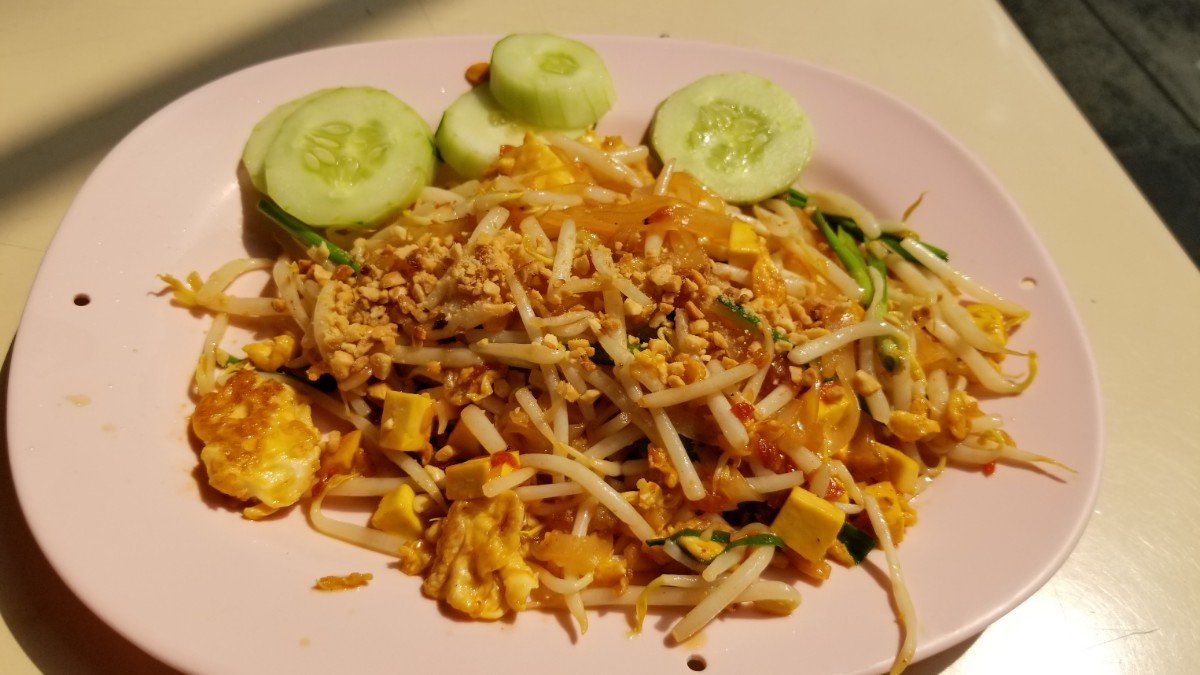 It's been a little tough for me exploring four or more hours at a time in the heat like we usually do. It takes A LOT out of you.
Dave is the Energizer Bunny and can just keep going and going. Me, not so much. So afterward, we hit the pool for the afternoon and to try some local beer.
Chao Phraya Express Boat, a Cheap and Fun Way to Get Around Bangkok
We do a little research and find out we can take the Chao Phraya Express Boat on the river for a cheap way to get around.
It's only 15 baht ($0.50 USD) for the Orange Line and it goes up and down the river with numerous stops along the way. So off to Chinatown we go!
Bangkok's Crazy Chinatown
I thought we had seen the busy part of the city. Oh how wrong we were.Chinatown is a special kind of crazy!
Bright red ribbons drape across Yaowarat Road. Tourists, locals, vendors and motorists all share the road.
A walk down the road is an assault to the senses. In one minute flat, I smell pungent fish, sweet fruit, putrid sewage, mouthwatering pork, and fried goodness.
I lose my appetite, get it back then lose it again over and over. It is a strange affair.
Whole roasted ducks hang from their heads. Expensive white strawberries called pineberries are on display in a big case.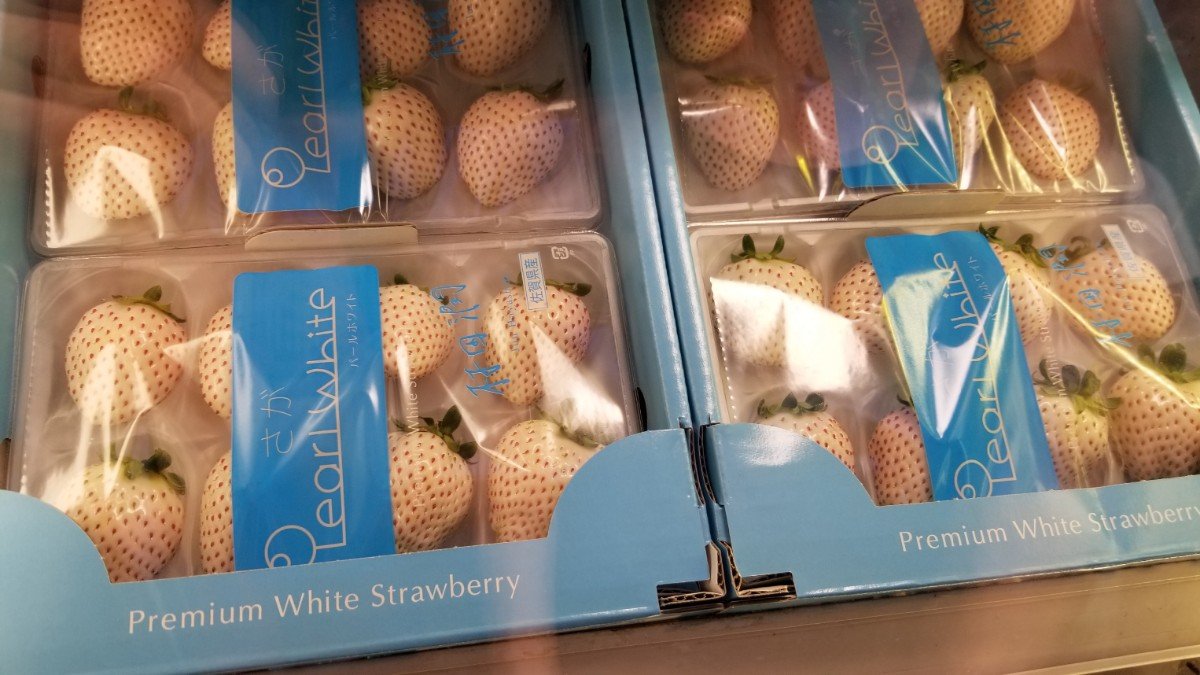 Lobster tails and big squid sit on top of blocks of ice. Waves of heat hit me as I walk past huge deep fryers with sizzling hot oil.
Talk about a recipe for disaster!
There are people everywhere on the main street and even more on the offshoot side streets!
When we've had enough of the pandemonium, we head back to the hotel for some shut-eye. It's so much fun walking at night when all the temples are lit up. And I must mention, we have felt safe the whole time we've been here even when walking in unknown areas at night.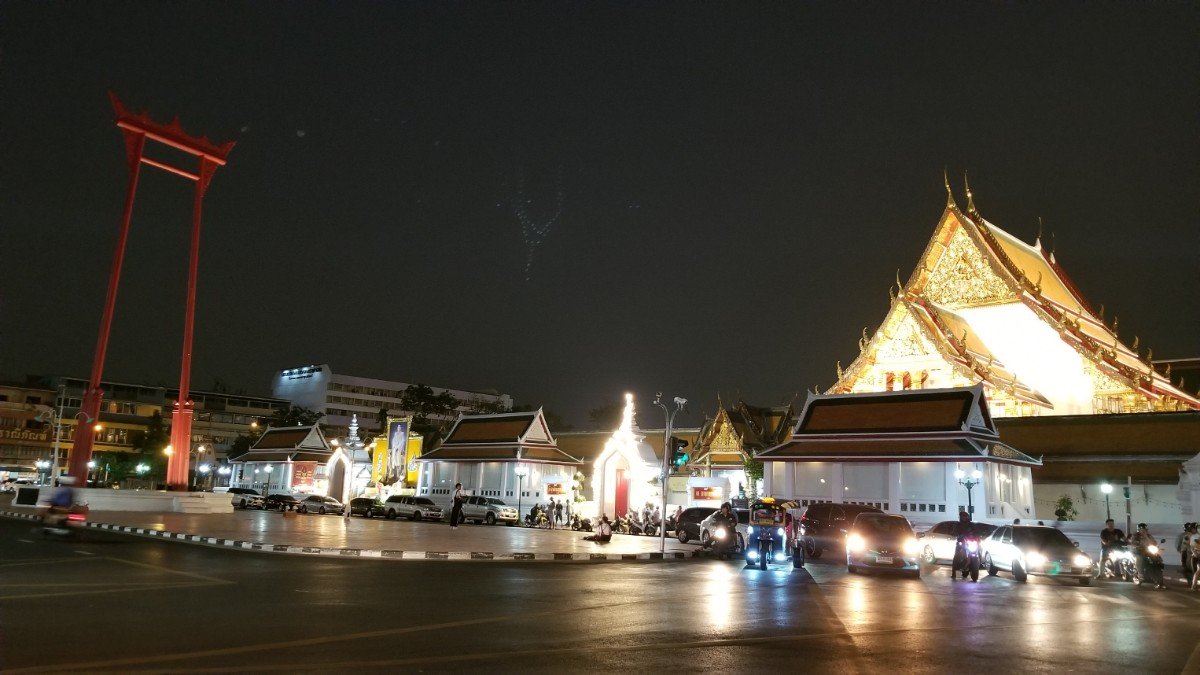 Day 3 in Thailand Bangkok
A few things we have picked up by day three.
1. The Thai people really appreciate when you try to speak the language even if you royally screw it up.
2. Hot is a whole new level here. Between the temps and the spicy food, it's hot, hot, hot.
3. Street food is so cheap and tastes so good.
4. Pointing and thumbs up signs are considered rude but it is so hard not to default to one or both when trying to communicating.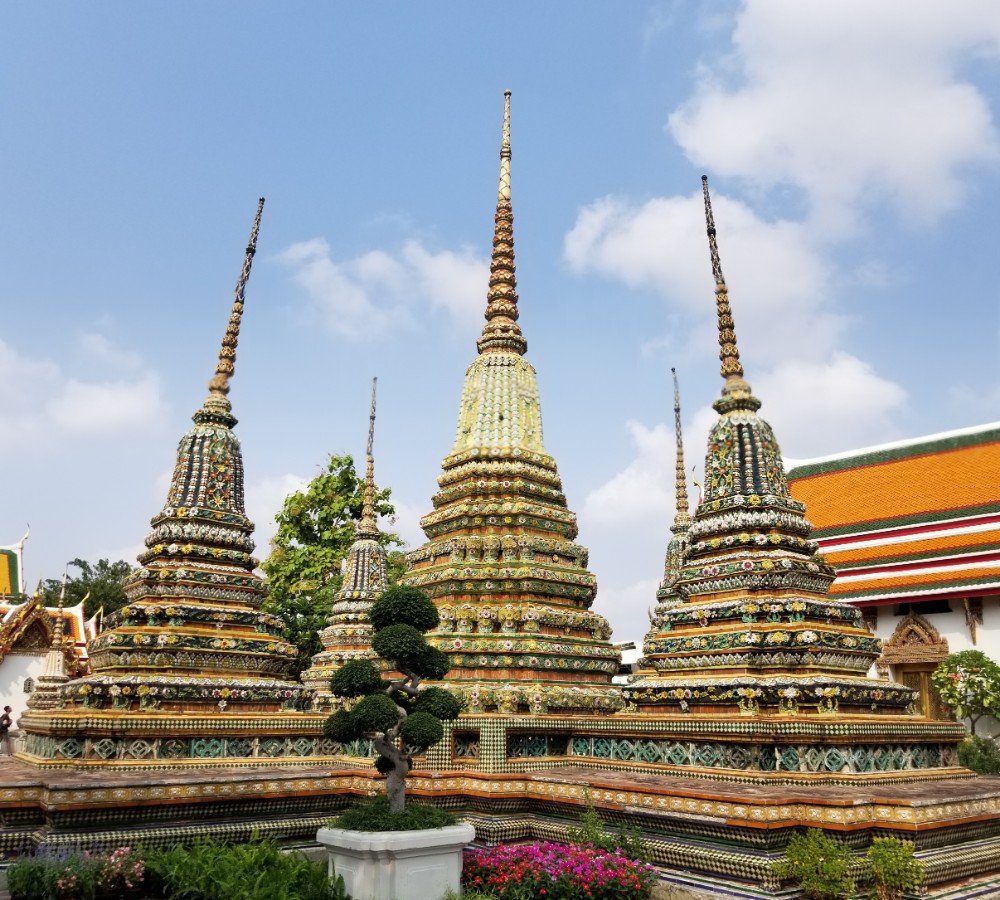 Since Chinese New Year is this weekend, we decide to visit the temples during the week so off to another one today.
Wat Pho is one of Bangkok's oldest and largest temple complexes. It is right behind the Grand Palace yet it isn't as busy, and it's beautiful!
The cost is 100 baht per person, roughly $3.30 USD. It's significantly smaller than the Grand Palace, but there's still a lot to see – about a good two hours worth.
It is also known to be the birthplace of the traditional Thai massage which is still taught and practiced on the grounds.
You can experience one inside at the school, but when we saw that the prices were more than the places we've seen already, we decided against it. Plus Dave isn't sure he is going to get one since he has back issues so I didn't want to leave him waiting for me for an entire hour.
We continue to wander around the towering spires decorated with flowery mosaic tiles and numerous Buddha figurines.
Wat Pho is not only home to over 1,000 Buddha images – the most at any temple in Thailand, but also to the 150-foot Reclining Buddha.
The statue is the main attraction inside the complex. We take off our shoes and enter only to be stunned at the sheer size!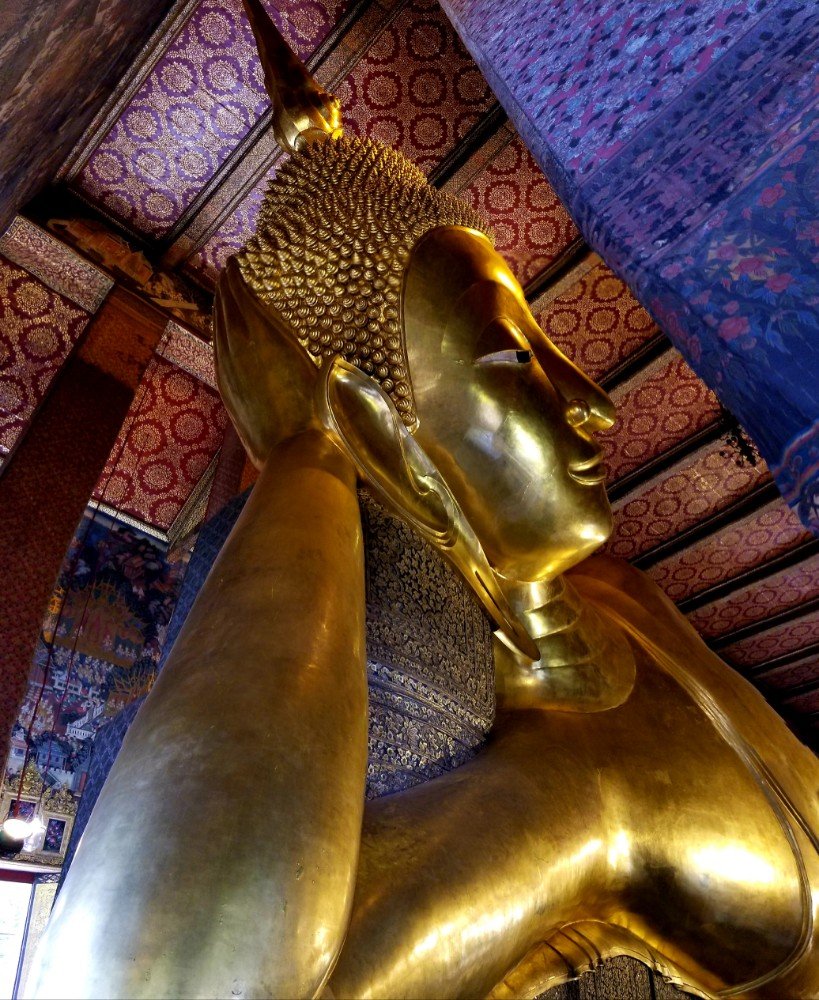 There's a women selling buckets of coins and I overhear someone say it's good luck to drop them in the bowls that line the one side of the building.
And our favorite part is when we get to its huge feet, decorated with all different scenes in Mother of Pearl.
It is such a unique thing to see and experience!
Foot Massage
Speaking of feet, mine are aching on the way home so I announce my plan to go for a foot massage. Dave isn't interested in one, but decides to get a head, neck and shoulder massage instead.
For mine, the gal focuses mainly on my feet – top and bottom – and my calf muscles for about 40 minutes.
Then at the end she has me sit on a stool where she focuses on my head, neck, shoulders and back.
And where she pulls out a few of those yoga/ninja positions! A stretch here and a pull there. It feels so good – weird but good – I think I'm ready for a real Thai massage.
Both are one hour and cost us 450 baht, roughly $15 USD… for two, one hour massages. I love this country!
The Golden Mount
After chilling in our room with some air conditioning in the late afternoon, we walk over to The Golden Mount, Wat Saket.
It's a little over a mile southeast from our hotel and we find an open temple on the way. There is so much going on this city!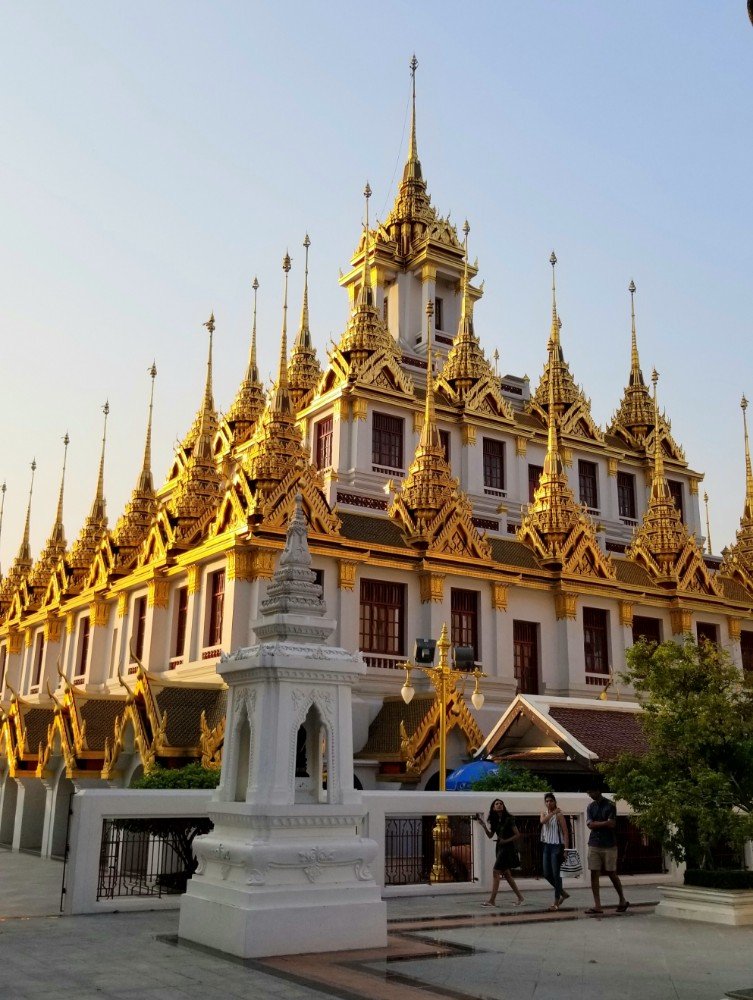 We couldn't find much info on the wat beforehand so we weren't sure what we were getting ourselves into.
The gleaming gold stupa sits atop a man made mound overlooking the city. A perfect thing to do for sunset in Bangkok.
We pay the 50 baht per person fee, roughly $1.66 USD, before heading up the stairs.
The staircase is lush with greenery and has trickling waterfalls, rock grottoes and smiling Buddhas along the way.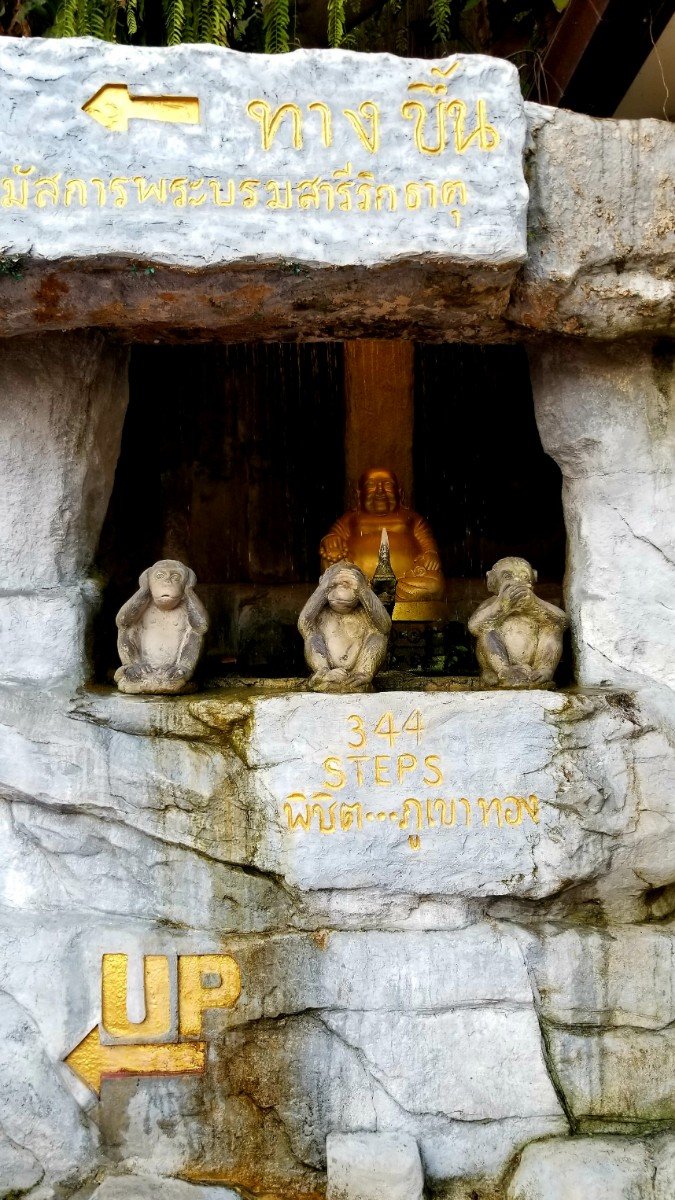 A climb to the top is 344 steps and loud chants play from the speakers. We stop midway to ring the bells and smack the gong.
Once we arrive at the top, we are rewarded with spectacular views of the city. A fantastic thing to do at sunset!
The temple is open until 7PM
Day 4 in Bangkok
It's about a 2 mile jaunt from our hotel. We take a different route than yesterday and pass through shops, homes, and construction areas. Nothing I'd particularly recommend, but we figured we'd explore a new area.
Wat Arun, Temple of the Dawn
Opposite the Grand Palace, Wat Arun's central tower dominates the landscape along the Chao Phraya River. The prang, as we learn it is called, is surrounded by four smaller pillars.
From afar, the temple looks plain white but as you get closer you can see the beautiful floral designs in pink, green, and yellow. And upon closer inspection, you will start to uncover porcelain dishes and ceramic pieces.
During construction, the king invited the Thai people to donate any broken ceramics they had and the rest came from Chinese trading ships.
The views of the city are supposed to be grand from the top of the temple but unfortunately the stairs (to heaven) were closed on our visit. At least you can still walk around the first level where you can see out to the river.
After climbing the temple walls, we walk the grounds and find perfectly manicured lawns and and an Ordination Hall. If you visit, make sure not to skip this section.
How to get to Wat Arun: There are various tours and tourist boats that will get you to Wat Arun but the cheapest option is the quick ferry that goes pier to pier across the river.
Lunch at a Hostel
On the other side of the river, we find some random hostel with a coffee shop and cafe attached. We've been out in the blistering sun all day so air conditioning sounds fabulous at the moment.
Eating in at a sit-down restaurant is more expensive than street food. But it's usually the cost of our fast food, between $6.00 and $15.00 USD.
I order the chicken teriyaki and Dave orders an eggplant curry dish. Both are excellent.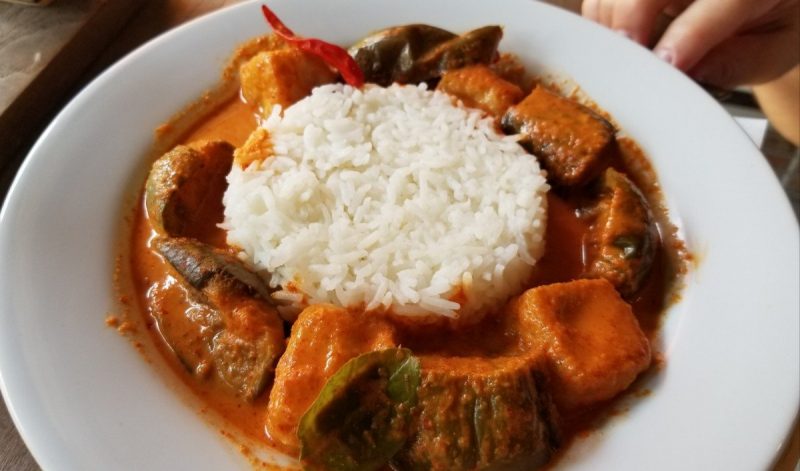 There are Temples Everywhere!
Since we had a full morning and early afternoon, we decide to hit the pool for the rest of the day.
On the way back, we run into an open temple. It is free admission and absolutely stunning! I think you could be here for months and not see every one.
Relaxing at the pool is a great way to end our busy day.
Day 5 Just Might Be Our Favorite Day Yet
There are many floating markets in and around Bangkok. The most popular one is about an hour and a half away called Damnoen Saduak. Since it's so well-known it is also the busiest. We decide to put that one on the back burner and find one closer and less busy with tourists.
Conveniently located only six miles from the city center, Khlong Lat Mayom Floating Market is our pick for the day. But how do we get there?
Grab Taxi to Travel Around Thailand
Before we left the states, we downloaded the Grab App, it's just like Uber but for southeast Asia.
Note: We couldn't load our credit card info in the app till we actually landed in Thailand.
There are four reasons we like the app: it takes credit cards, we don't need to try to communicate where we are going, we get a rough estimate up front and there's no arguing with the driver about putting on the meter.
The Grab App is super user friendly. Once you book your ride, a picture (if provided) and license plate number is sent to you via the app.
But a major negative with the Grab app is that drivers can drop trips, leaving you hanging. We had this happen three times at the airport at 2:00 AM when we arrived.
After three attempts and 45 minutes later, we chose GrabTaxi instead of JustGrab. It's a little more money, but it finally worked with the driver arriving about 7 minutes after he accepted. After one other failed attempt a few days later, we vowed to only choose GrabTaxi from the get-go.
And so we went on our way to the market, one GrabTaxi and 141 baht ($4.50 USD) later we arrived.
Khlong Lat Mayom Floating Market
Why will the Lat Mayom make your top things to do in Bangkok list?
Because not only can you taste authentic Thai food and desserts, but boat rides are offered through the waterways as well.
Check out our video below!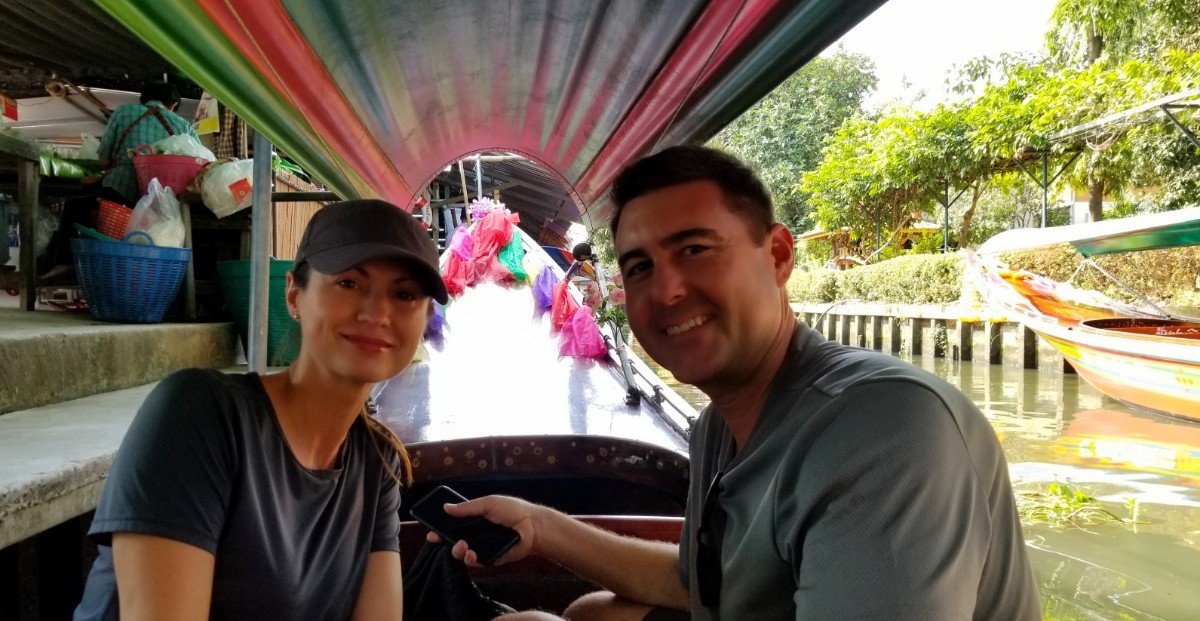 Since we arrive in the morning and it isn't too busy yet, we decide to hop on the boat first.
The ride is one hour and thirty minutes through the canals with two stops: Wad Saphan Floating Market and Niyom's Orchid Farm. It costs 100 baht per person ($3.20 USD).
With the exception of getting stung on the eyelid by who knows what on the ride, it was so much fun! I swear it was the only bug I saw all day and it went straight for me.
Don't worry, I was fine after the burning sensation dissipated fifteen minutes later.
The long-tail boat ride starts out passing by some of the vendors on the water then past authentic Thai houses, green trees and flowering bushes.
Each stop is around 20 minutes long. The market is first where we pick up some coconut ice cream and see a small temple.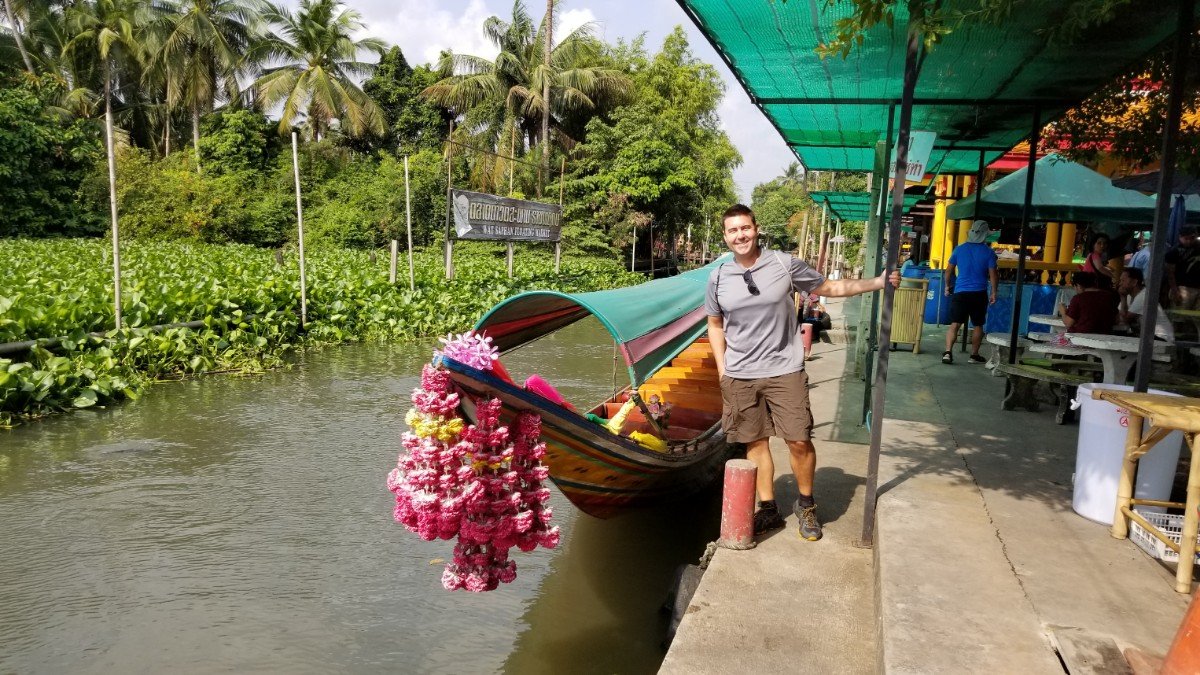 The second is the farm. I don't think I've ever seen so many orchids in one spot!
We circle back to the market just in time for lunch. And the food. Oh my, the food. We ate so much wandering around.
And the nice part is that most tables have small samples so you can taste the flavor before buying anything.
We eat mango sticky rice, grilled pork, coconut deep fried bananas, BBQ skewers, jackfruit, Thai cookies and so much more.
Once we realize we can't eat one more bite, we grab a taxi back to the hotel to relax a bit.
It's Chinese New Year so we grab a few beers at the restaurant right by our place overlooking Khoa San Road. We love to people watch!
To finish up the night, we head back to Rambuttri Alley. Just can't get over the food here!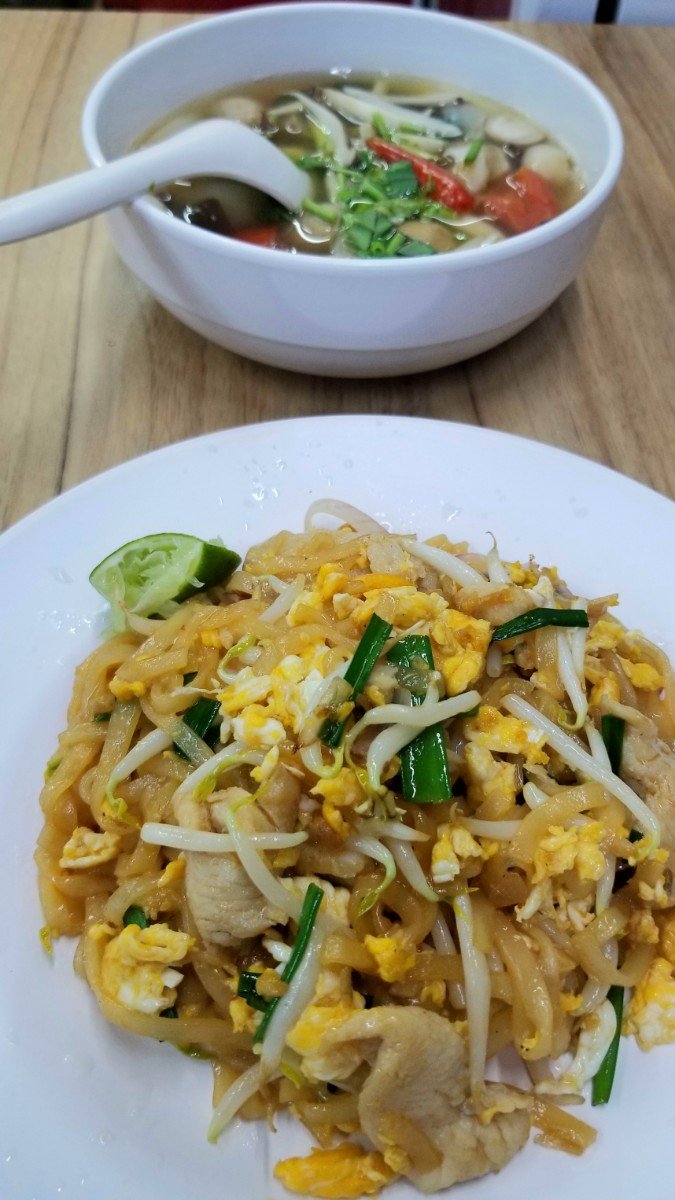 Day 6 The Biggest Market in Bangkok
Every article I read recommended the Chatuchak Weekend Market. We got a late start this morning and headed over.
The stalls seem to go on forever. You probably couldn't get through them all in one visit even if you had a map.
We browse through the items from housewares to artwork and from souvenirs to clothing but since we still have 6 weeks to go, we don't want to pick up much.
To be honest, it was pretty suffocating in the heat and very busy so we didn't enjoy it as much as we thought we would.
Instead, we grabbed some lunch on the way out and went just behind the market to a collection of parks.
It's unbelievable how few people were walking around after we just left a swarm of them.
Inside, we found the free Bangkok Butterfly Garden and Insectarium. It's small but worth a visit.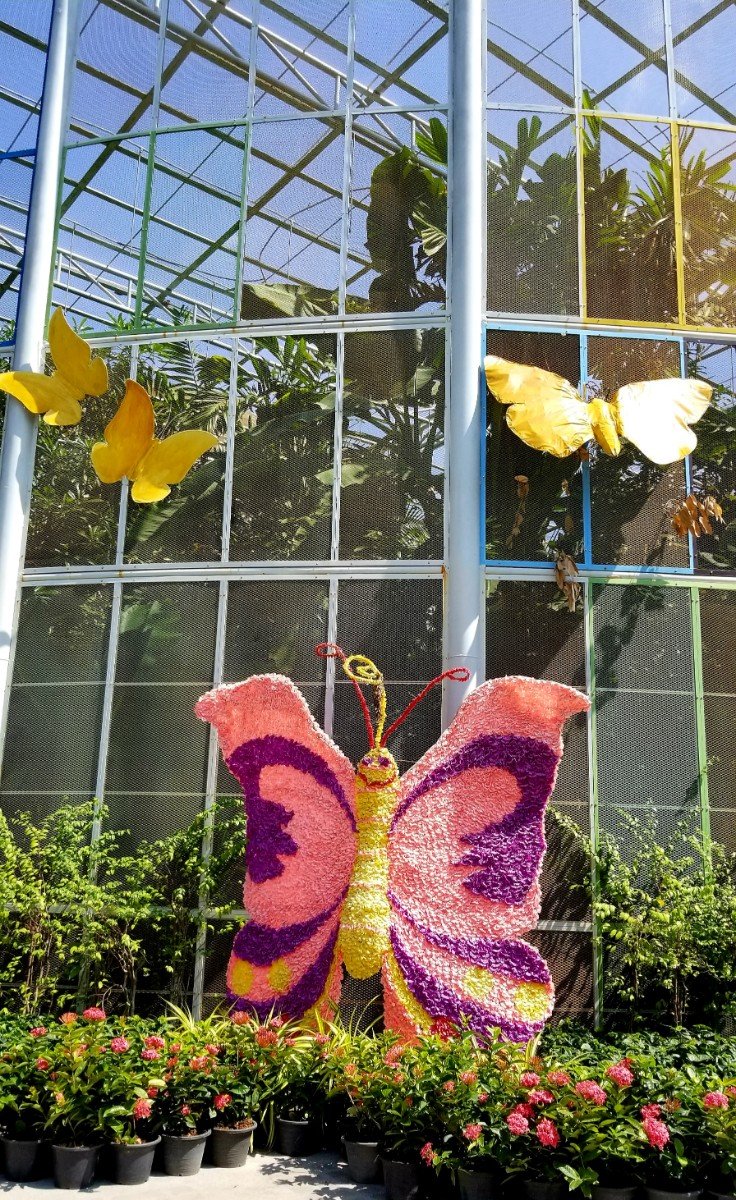 If you've been following our adventures, you know if there's any parks or gardens around we will find them!
After the Chatuchak Park, we walked through Queen Sirikit Park. It's beautiful, we highly recommend it.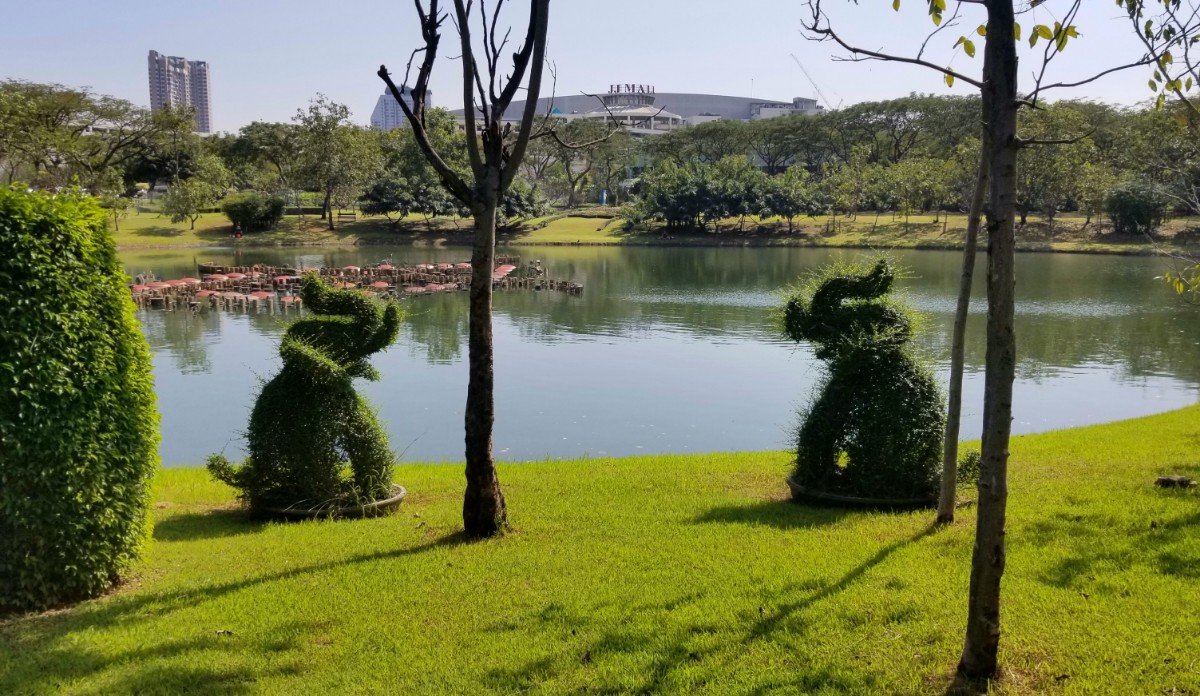 And we finish the day at our favorite street cart for a bowl of chicken noodles. It's strange eating soup when it's so hot out, but that's the thing to do here and we are acclimating!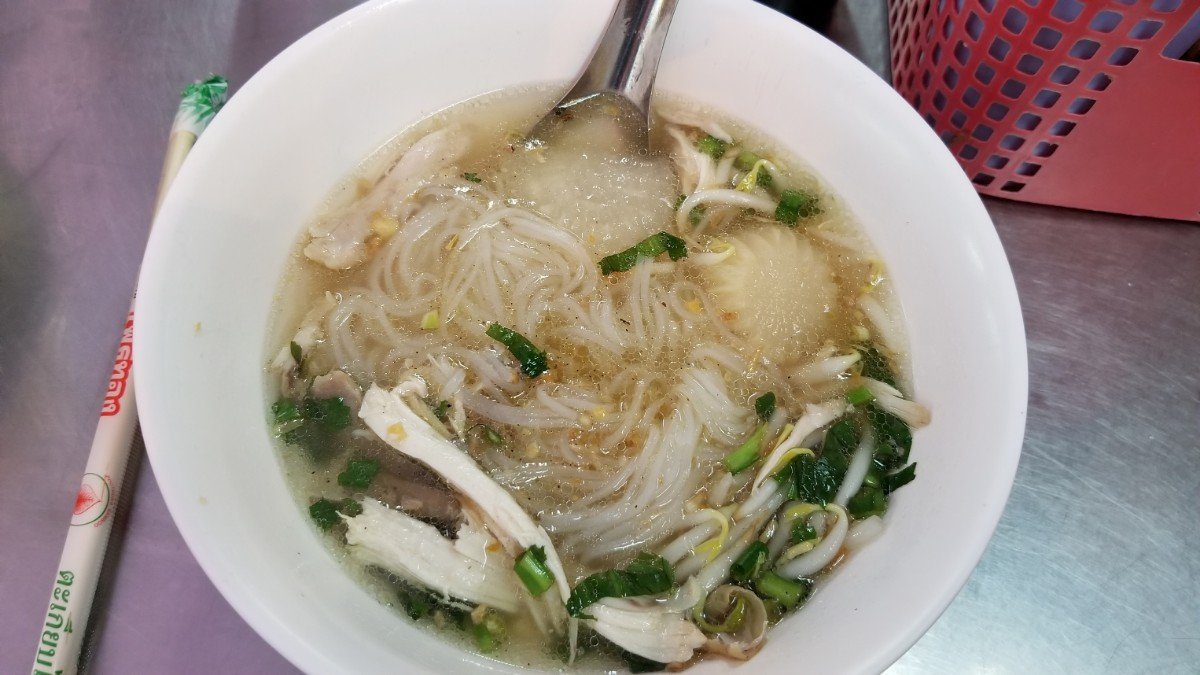 Before hitting the hotel, we stop at the Roti cart for some dessert. It's a Thai pancake (thin like a crepe) filled with bananas and topped with nutella. Mmmm.
Day 7 An Authentic Thai House Tour
Today we took a really cool tour of the Thai home of Jim Thompson, an American architect who revived the silk industry here in in the 1950s and 1960s.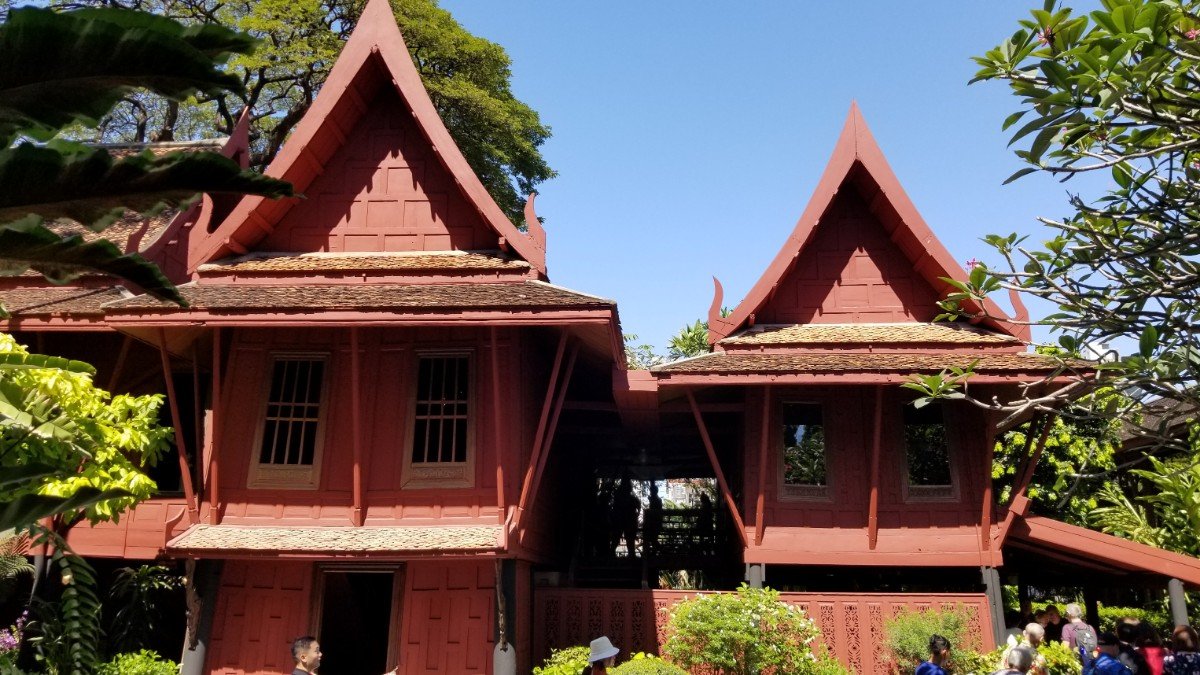 He built the home with the desire for authenticity using parts from old homes in the countryside.
Some units are elevated a full story, the tiles on the roof fired in a Thai design and the red paint is a preservative used years ago.
Inside, the doorways are elevated to ward off evil spirits and the walls are decorated with traditional Thai paintings.
In 1967 at age 61, Thompson went missing on a trip to Malaysia, never to be heard from again. There's not a single clue regarding his disappearance.
Bangkok Malls
A nice break from the brutal heat is the many malls in Bangkok.
After the Thompson home tour, we walked over to the MBK Center. I heard every mall here is huge and this one is no exception. With seven floors and a large food court, the mall would put a smile on any avid shopper's face.
But shoppers we are not, so we didn't spend too much time getting retail therapy. We noticed most name brand items and electronics are more expensive than home but Thailand-made 'souvenirs' (on the 6th floor) were very reasonable.
And popular brand name knock-offs like Gucci and Chanel are all over and very cheap versus the real deal.
Lumphini Park
What if I told you there was a park overrun by the cousins of the Komodo Dragon?! That's what is going on over at Lumphini Park in Bangkok.
Because of the parks upcoming anniversary and fear from many visitors, the city has been trying to relocate as many lizards as they can. But there are still a bunch, just take a look at our video below!
It's the making of a thriller film if you ask me! Guess I know what I'll be dreaming about tonight.
XXX