One of the many things I love about Missouri is the large number of state parks. As of today, the Missouri Department of Natural Resources has over 50 parks listed with new ones being added every couple of years. They seem to be around every corner! My husband and I are in the state often and have always wanted to spend quality time exploring as many as we could. With travel being what it is this year, we decided now is a perfect time. Less than an hour southwest of St. Louis, we discovered the beautiful Don Robinson State Park.
Don Robinson State Park History
It all started in the 1960s with one man's goal to acquire the same amount of land as the size of Central Park in New York City, 843 acres. Don Robinson fell in love with the wild and rugged landscape of Jefferson County and wanted to keep it that way for years to come.
After reading a few articles and watching this YouTube video with Robinson, I came to the conclusion he was not only a self-made entrepreneur but quite the character as well. He made his fortune by creating a spot remover called "Off" which he promoted himself on late-night television commercials. Picture floppy hat-wearing grandpa meets infomercial type of thing.
Following his death in 2012, Robinson left the land (and his quirky stone house) to the state of Missouri, and in 2017 it opened to the public as the Don Robinson State Park.
Now, you will find a delightful picnicking area with rocking chairs overlooking the forest, the house, and two hiking trails that will guide you through sandstone canyons, dry woodlands, and rock shelters.
RELATED: GREAT STATE PARKS IN MISSOURI
Don Robinson State Park Sandstone Canyon Trail
Sandstone Canyon Trail Distance: 4-mile loop round trip.
Elevation Gain: 550 feet (280 feet in the valley and another 270 feet up in the hills)
Difficulty: Moderate.
Length of Time: 2 – 3 hours.
Best Time of Year: Spring through the Fall.
NOTE: Wear bug spray. Ticks and chiggers are a problem May through Mid-October. We had no issues with bugs, but it's always better to be prepared.
Missouri Weather: The park is open all year long with the coldest months being January, February, November, and December. May is the wettest month with January being the driest. Summers are hot and humid with the occasional thunderstorm.
Sun Exposure: Mostly shaded except for the beginning paved section.
Pets: No pets allowed.
Bathrooms: Yes, at the picnic shelter in the upper lot.
Parking: A few handicap spaces and regular parking near the trailhead and more in the upper lot near the picnic shelter.
TIP: It's a small parking lot so plan a visit during off times like midweek.
Hours: The entrance gate opens at 7 am and closes 30 minutes after sunset.
NOTE: You can shorten the trip to a 2-mile loop by taking white connector #1.
Don Robinson State Park Map
The Sandstone Canyon loop starts out with .60 miles on a wide paved trail which leads to a few picnic tables and benches. Here, you'll see a bright red arrow leading you to the wooded section of the hike. The trail is well-marked throughout and the red arrows will guide you on the entire loop.
NOTE: This paved section of the trail, along with the handicap parking spots next to the trailhead, make the short pretty walk accessible to anyone with limited mobility.
TIP: Depending on what time of year you are exploring, keep an eye out for butterflies and flowers near the turnoff into the woods.
Walking counter-clockwise on a narrow path, we pass various trees including hickory and oak before reaching sandstone overhangs and layered rock walls. Even though it's a super humid day, the temperature is bearable under the canopy of treetops. And for mid-August, the bugs aren't pesky at all.
As we continue to walk we see mushroom after mushroom. Each one a different shape and size. The entire park is like one big mushroom oasis!
We can't help but notice all the fleshy fungus ornamenting the forest floor. With the number of shrooms we saw, we decide the trail should be renamed the Magical Mushroom Trail!
Not knowing much about mushrooms, I type in a few searches and think I figure out a few of the types: Rusulla, Lepiota, and Chanterelle.
If you have any Mycology background and know what kinds of Missouri mushrooms these are, please let us know in the comments.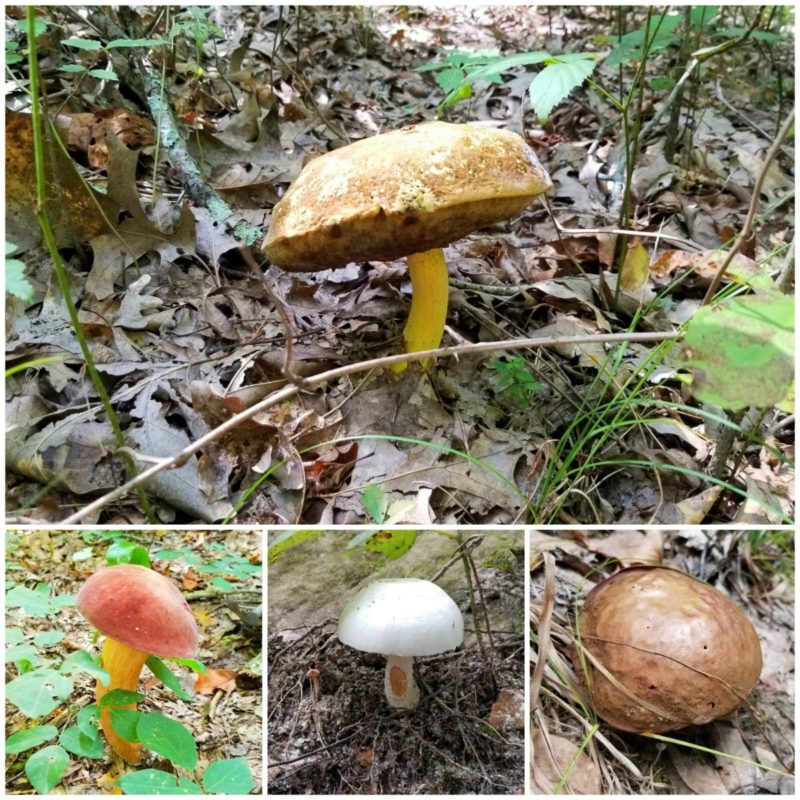 A small clear creek appears and opens up to a few large pools. You'll have the opportunity to explore the large sandstone canyon here from below or stay on the ridgeline trail above. Beyond the canyon, the path levels out as you loop back to the paved section.
We both enjoyed walking the 4-mile Sandstone Canyon Trail and finally exploring Don Robinson State Park. It is a good workout and offers a quiet and refreshing escape into the unspoiled countryside. And the colorful mushrooms provide an aura of enchantment to the hike. Thank you Mr. Robinson for protecting this wonderful and wild landscape.
Can't wait to get back and get out on the LaBarque Hills Trail.
Other Fun Missouri Adventures
Don Robinson State Park Trail Directions
Located off MO-30, Don Robinson State Park is 38 miles southwest of St. Louis, Missouri. Take I-55 south to MO-30 west. Exit at Gravois Road in Meramec and turn left on Byrnesville Road.
Address: 9275 Byrnesville Road, Cedar Hill, Missouri
Phone: 636-257-3788
Have you ever been to Don Robinson State Park? What was your experience like? Tell us in the comments below.
Pin for Later!